Injection mold firms ramp up Montana Mask production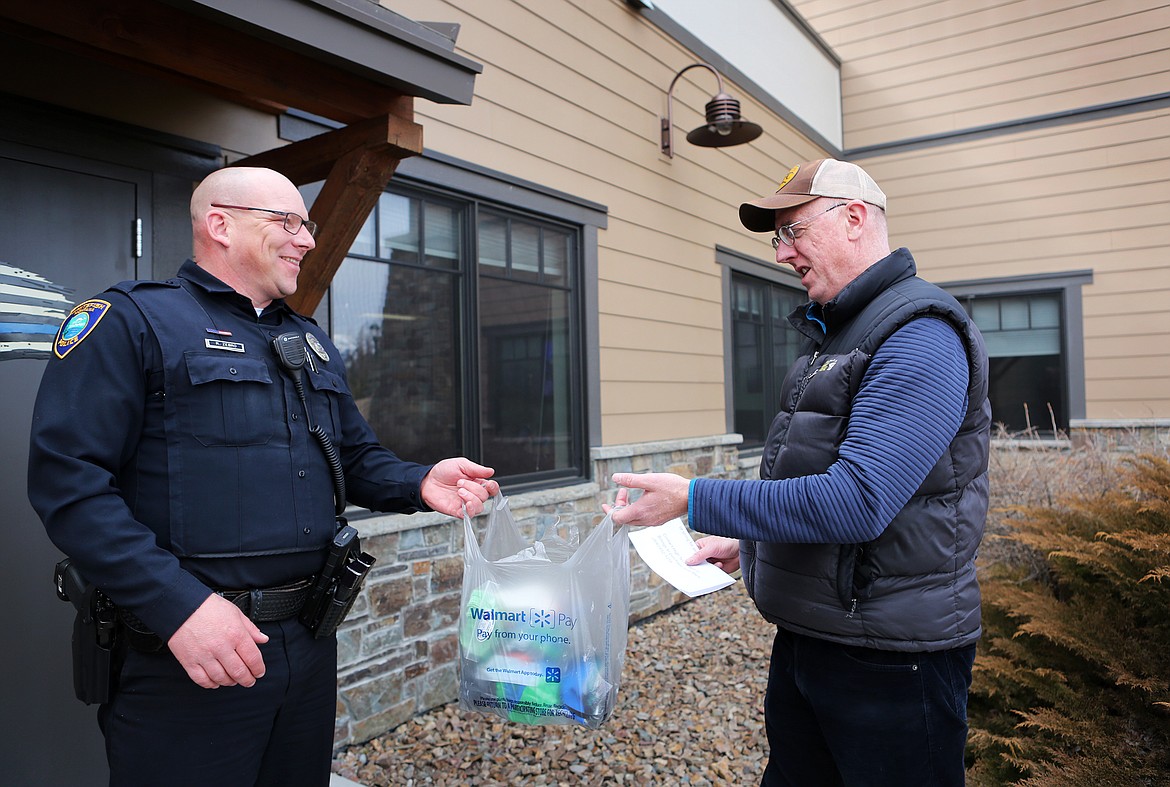 Ryan Zebro with the Whitefish Police Department accepts 30 donated Montana Masks from Todd Spangler. Spangler is one of many locals who have fired up their 3-D printers to make the masks. (Mackenzie Reiss/Daily Inter Lake)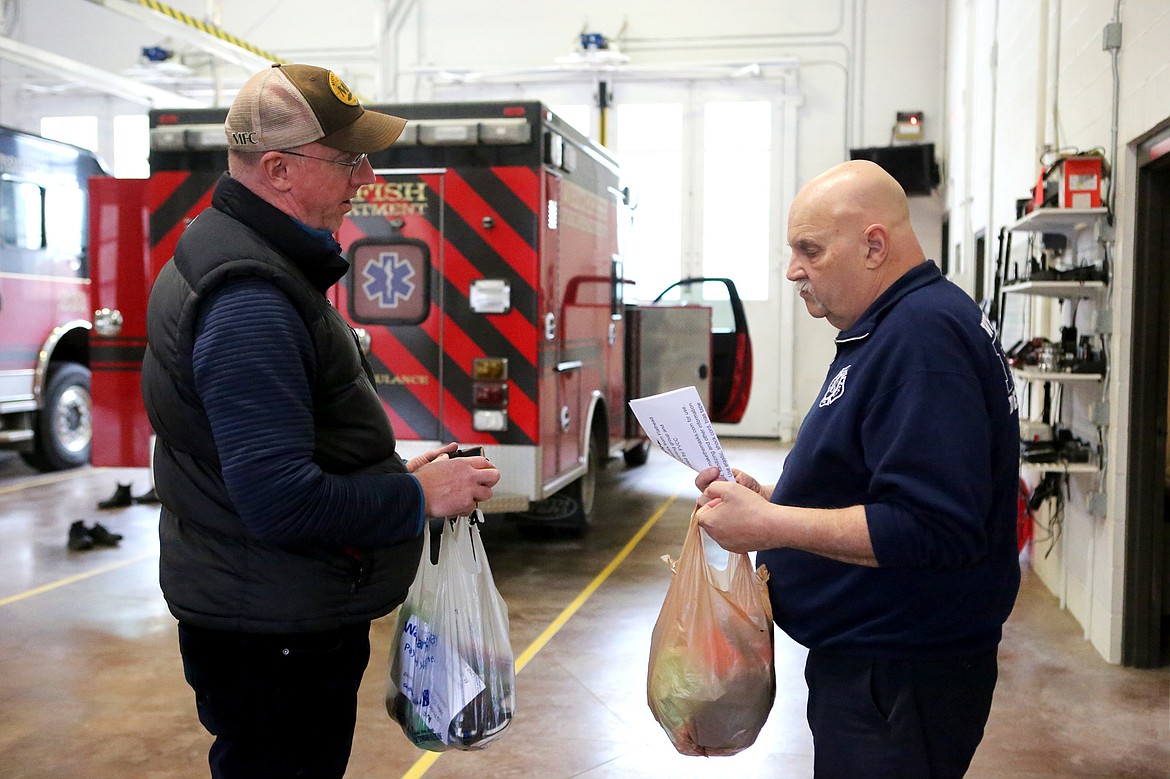 Whitefish High School chemistry teacher Todd Spangler drops off 30 Montana Masks to Whitefish Fire Chief Joe Page. (Mackenzie Reiss/Daily Inter Lake)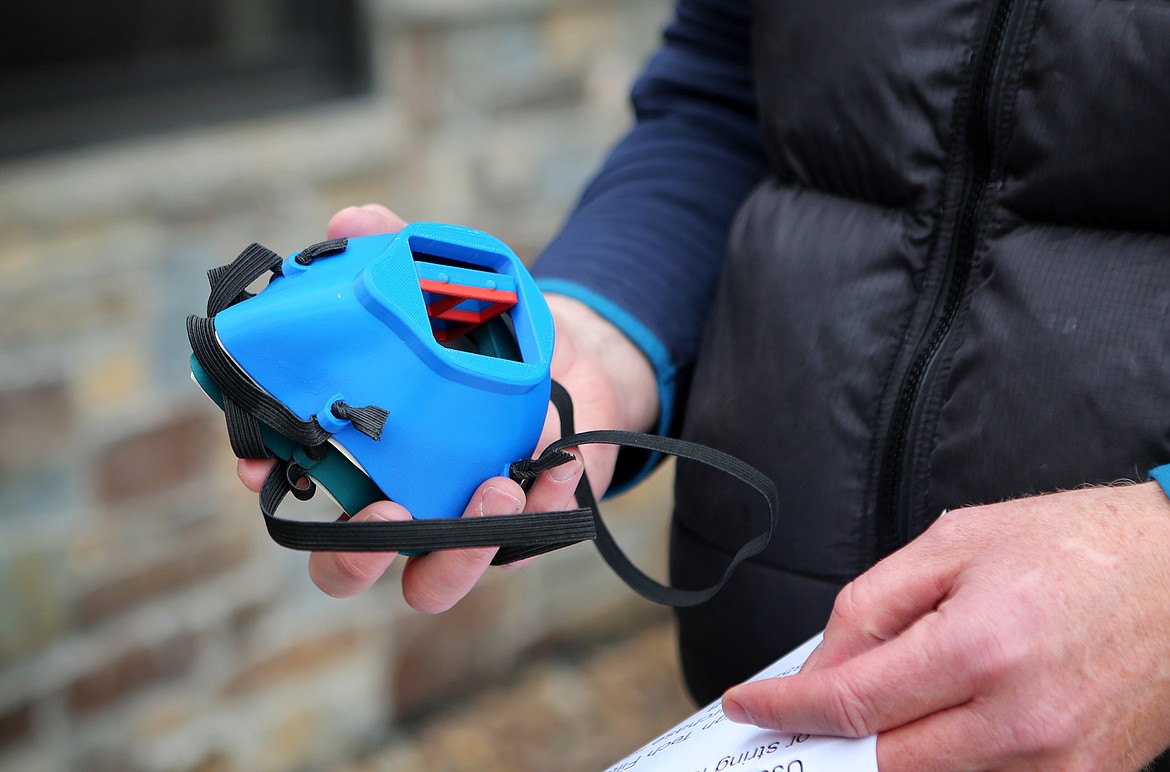 Todd Spangler gives Ryan Zebro with the Whitefish Police Department a closer look at the 3-D printed masks. (Mackenzie Reiss/Daily Inter Lake)
Previous
Next
by
MACKENZIE REISS
Daily Inter Lake
|
April 13, 2020 1:00 AM
Local makers of the sought-after Montana Mask are taking operations to the next level in an effort to equip a wider swath of front-line responders with filtration masks to protect against the coronavirus.
The plastic face mask, designed by a group in Billings, was created to fill the shortage of N95 filtration masks — the standard for effective shielding against the virus. In the early weeks of the pandemic, people across the country bought up these supplies, resulting in a shortage that affected the very people who needed them the most — health-care workers and first responders on the front lines of the pandemic.
But the 3D printer design files for the Montana Mask were released for public use, inspiring a wave of citizens to turn on their printers for a good cause. The masks have been accepted by hospitals in at least five states and according to reports by the Billings Gazette, the design file has been downloaded or shared in 148 countries around the world.
Flathead County has also joined in the mask-making effort.
In the early weeks of the COVID-19 outbreak, a group of industrious teachers, students and professionals who had access to 3D printers began producing masks. Among them was Whitefish High School chemistry teacher Todd Spangler, who estimated the collective of ad-hoc creators made 500 masks in the last two weeks with requests for more. But Spangler, whose wife works in medicine, and others wanted to find a way to make masks even faster.
According to models from the University of Washington's Institute for Health Metrics and Evaluation and the website CovidActNow.org, developed by a former Google data scientist, Montana has yet to see its peak of COVID-19 infections. The IHME predicts that hospital resource use will peak April 20 and the state will see 81 total deaths, while the Act Now displays a potentially grimmer forecast. If strict stay-at-home protocols are followed for the next three months, the model shows a peak June 15 with 59 hospitalizations. If protocols aren't strictly followed, the model anticipates more than 550 hospitalizations by early July.
SPANGLER, WHO has a background in engineering, consulted with Dan Leatzow, an advanced manufacturing instructor at Flathead Valley Community College, local plastics manufacturers and the area's largest hospital, Kalispell Regional Medical Center, to find a better solution.
They landed on injector mold manufacturing, which could be a game-changer for the local mask inventory as the process generates 80 to 90 masks an hour, far more efficient than the 3-D printers that take around four hours to produce a single mask.
"We are interested in getting on the bandwagon here and help," said Glen Hufstetler with Northern Plastics. "We've got the equipment. We're high-volume production people."
Hufstetler is working on a way to make production even more efficient by utilizing a four-cavity mask instead of a single cavity, which could generate up to 360 masks per hour.
Another local injection mold producer that's getting on board is the Creative Sales Company in Columbia Falls. Leatzow is building their single-cavity injection mold and said Creative Sales hopes to be in production by the end of next week.
In addition to efficiencies in volume and cost, the other advantage to injection mold manufacturing is the material.
"This will be a soft, more flexible [mask] and much more durable — it won't break," Hufstetler said, as opposed to the less forgiving plastic used by 3-D printers.
UNTIL THE injection mold producers are up and running, Flathead Valley citizens will continue churning out 3-D printed masks to meet a need that they perceive will only increase. Spangler and other local producers have provided hundreds of masks to medical facilities such as Kalispell Regional and Glacier Medical Associates, along with first responders such as Montana Highway Patrol, Kalispell Police and Whitefish Fire, among others.
Whitefish Fire Chief Joe Page said his department's supply of N95 masks was beginning to dwindle and happily accepted a donation of 30 3-D printed masks last Friday.
"We're not quite at zero, we were pretty well stocked, but the use that we're going through now, it's not going to last long," Page said. "Unfortunately what's happening now, is we're reusing a lot of the masks."
His crew goes through up to five masks for each patient they encounter, since a paramedic is often accompanied by other medics or assistants during a call, especially if that patient needs to be moved. And if another call comes in, that PPE needs to be exchanged or decontaminated. The contributions from the local mask printers is helpful, but Page hopes the supply chain recovers by the time the coronavirus peaks in the valley.
Ryan Zebro with the Whitefish Police Department also received a batch of 30 masks.
"When the school offered an opportunity for us to get some, we were pretty excited," Zebro said.
In the meantime, the local fleet of 3-D printers will keep on running.
Spangler has personally received requests from people as far off as the East Coast for the 3-D printed mask, although for now they are concentrating their efforts on supplying first responders and medical workers.
PERHAPS THE largest player in the local mask market is Kalispell Regional Medical Center, which recently ordered 20,000 of the injector mold masks, funded with dollars from the recently established First Goal Fund. The fund got off the ground thanks to a $150,000 donation from Candy and Eddie DeBartolo, with the objective of providing support and supplies for workers on the front lines of the pandemic.
"The hope is to deliver the masks to all first responders and front-line hospital workers, not just in Kalispell, but in the region, especially to rural areas," said hospital spokesperson Mellody Sharpton. However, she noted the injector mold masks, while an improvement over their 3-D counterparts, are not as effective at filtering out airborne particles, like viruses and bacteria, as the N95 respirator masks. The Montana Masks "have filters that are better than a procedure, or light duty mask, but they are not equal to a N95 for particle filtering," Sharpton noted.
The hospital has received donations of more than 230 3-D printed masks and 1,000 cloth masks, plus thousands of commercially made ones. To date, KRH has amassed 5,700 masks — well on their way to achieving its 10,000 goal. While the hospital's supply of traditional N95 masks is meeting current needs, Sharpton said, having a stockpile of Montana Masks is also helpful.
"What concerns us is that supply in the event of a possible patient surge. Having a supply of the Montana Masks gives us options; it lets us concentrate the N95 masks with the specific front line service providers who are in need of N95 level protection," Sharpton said. "For many other employees, a mask may be in order, but most do not need N95 level protection. This is where the Montana Mask and the other community-donated masks step in to cover our other employees."
Local residents contributing to the 3-D printed mask supply effort include:
• Ben Butts, Flathead High School technology education
• Will Crary, Bruce Composites
• Yvonne Cruse, 3-D printing prototyping
• Peter Fusaro, FVCC Trades and Industrial Arts director
• Young Hahn, Stebbins Orthodontics
• Sean Kelley, Edgerton Elementary technology instructor
• Dan Leatzow, FVCC Advanced Manufacturing instructor
• Dr. Tyler Ofstad, Glacier Eye Clinic ophthalmologist
• Ron Pothoff, dentist
• Ben Schaeffer, Columbia Falls High School
• Trevor and Lincoln Seals
• Troy Smith, Glacier High School Technology Education
• Todd Spangler, Whitefish High School chemistry and physics teacher
• Todd Spangler's independent research students
• Kyle Streitmatter, Kalispell Middle School technology education
• Gabrielle Thorsen of Bigfork
• Scott Wood, Wood Design Studios
— This list may not be comprehensive, but the Daily Inter Lake wants to share the names of as many local contributors known to us as possible.
Reporter Mackenzie Reiss may be reached at 758-4433 or mreiss@dailyinterlake.com.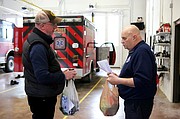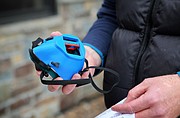 ---