Impromptu event drives away boredom of staying at home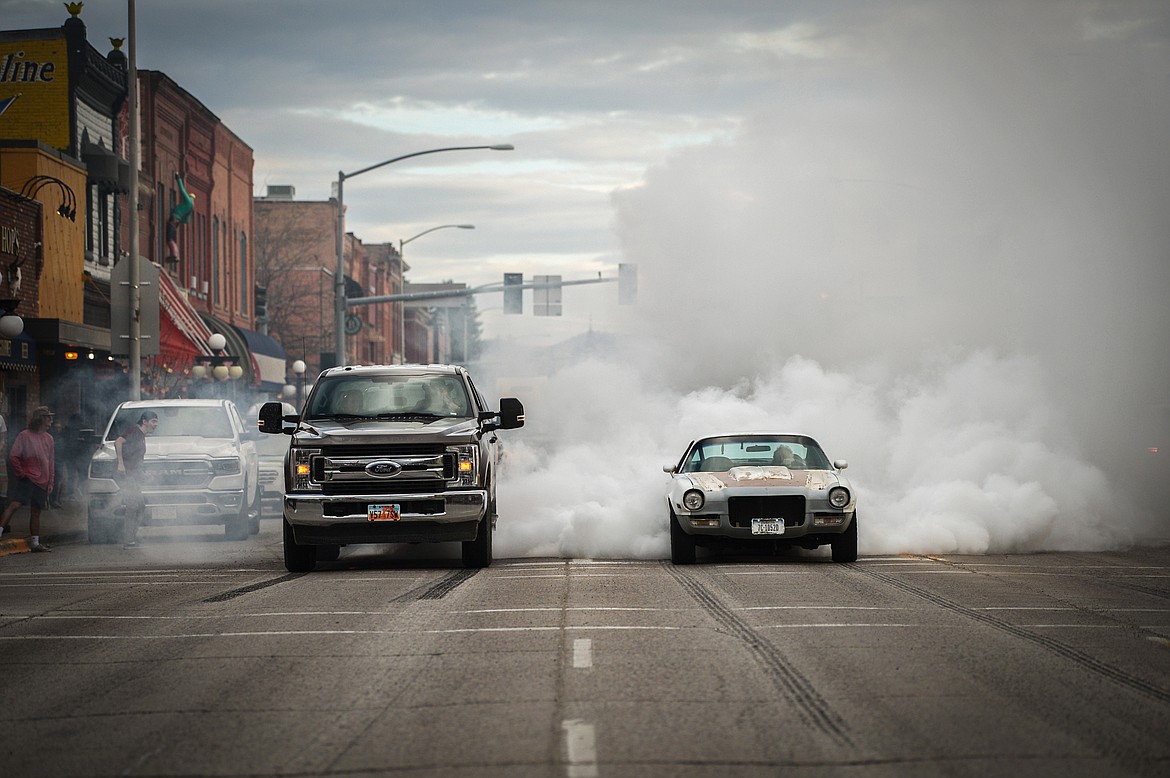 Vehicles spin their tires at a traffic light on Main Street during the Kruise Kalispell event on Friday, April 17. (Casey Kreider/Daily Inter Lake)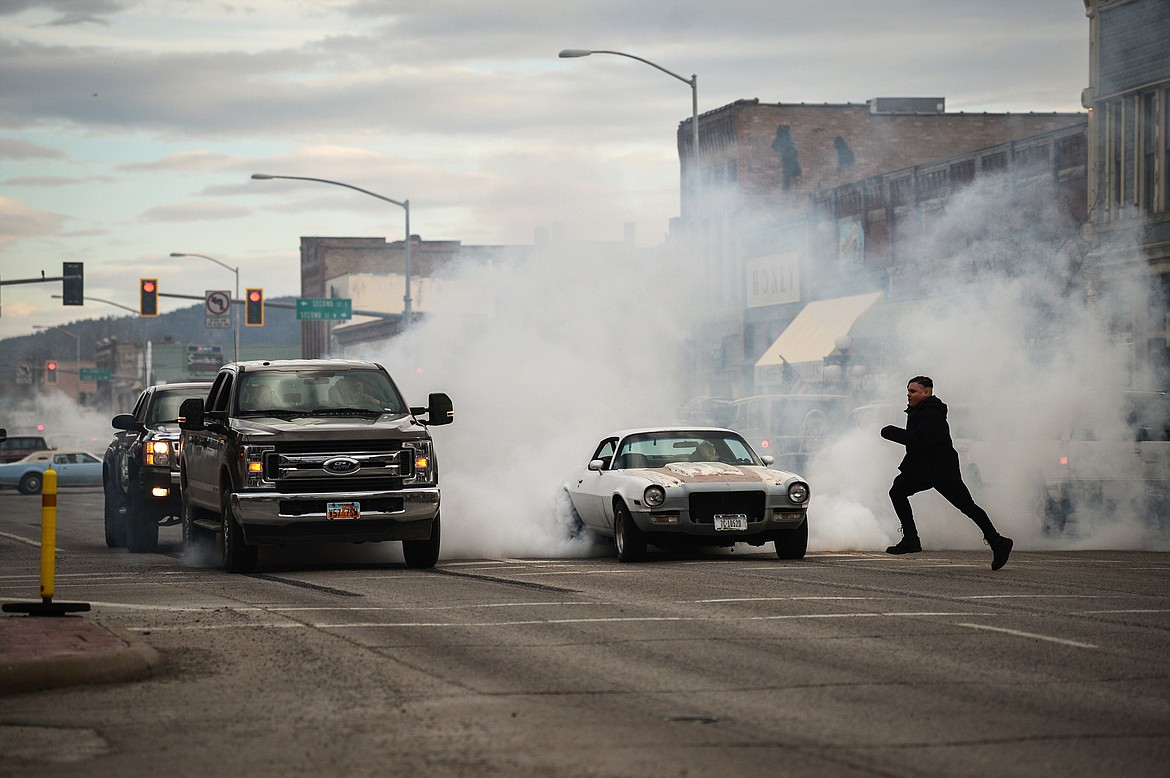 Vehicles spin their tires at a traffic light on Main Street during the Kruise Kalispell event on Friday, April 17. (Casey Kreider/Daily Inter Lake)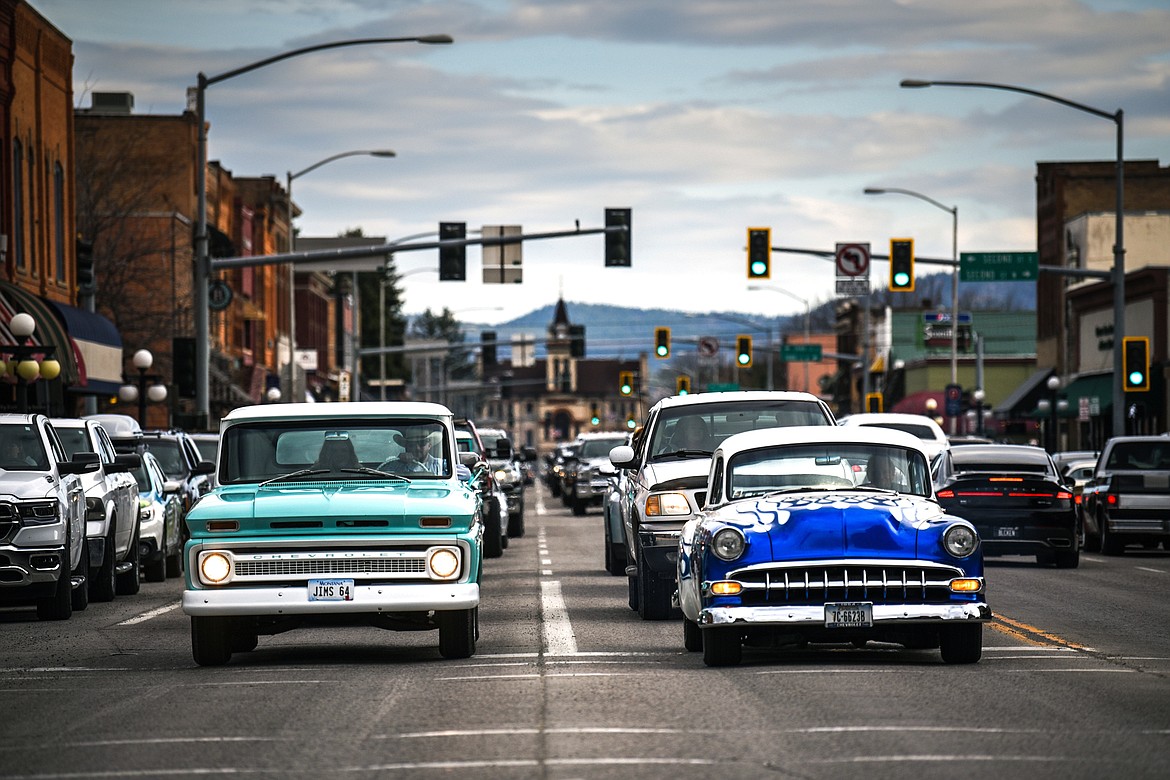 Vehicles stop at a traffic light on Main Street during the Kruise Kalispell event on Friday, April 17. (Casey Kreider/Daily Inter Lake)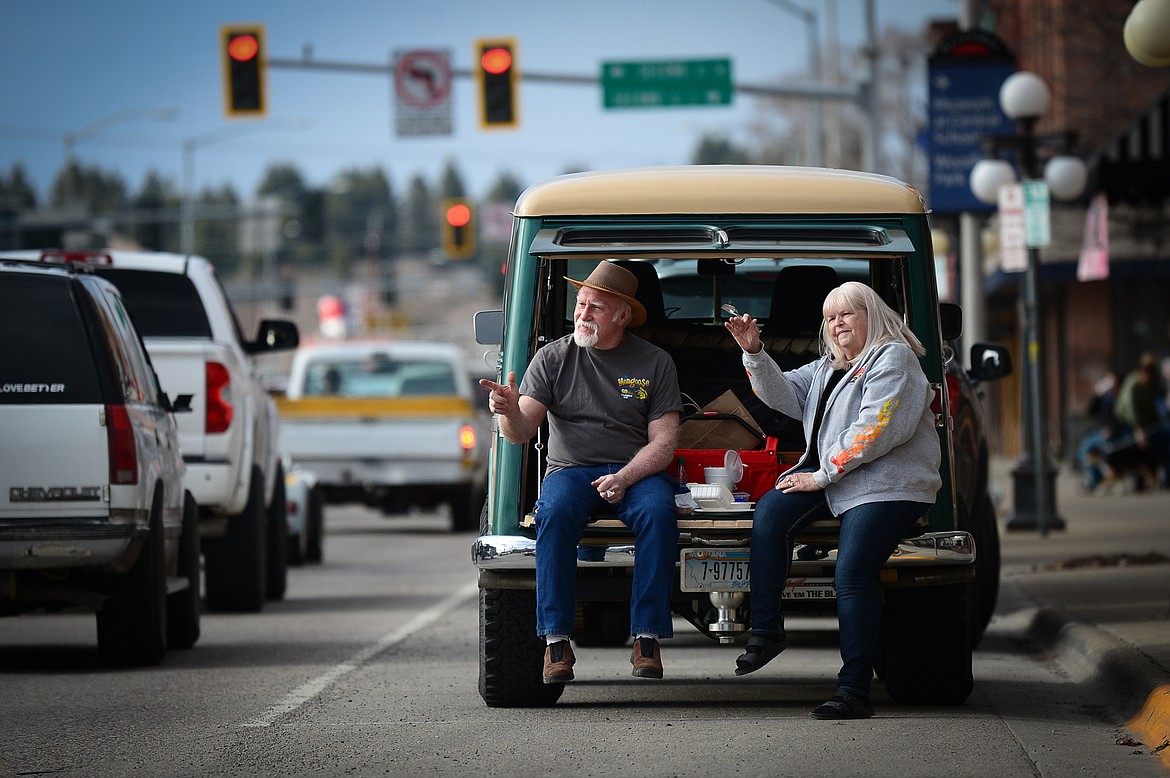 Mike and Jenise Lithgow, of Kila, wave to passing vehicles along Main Street during the Kruise Kalispell event on Friday, April 17. (Casey Kreider/Daily Inter Lake)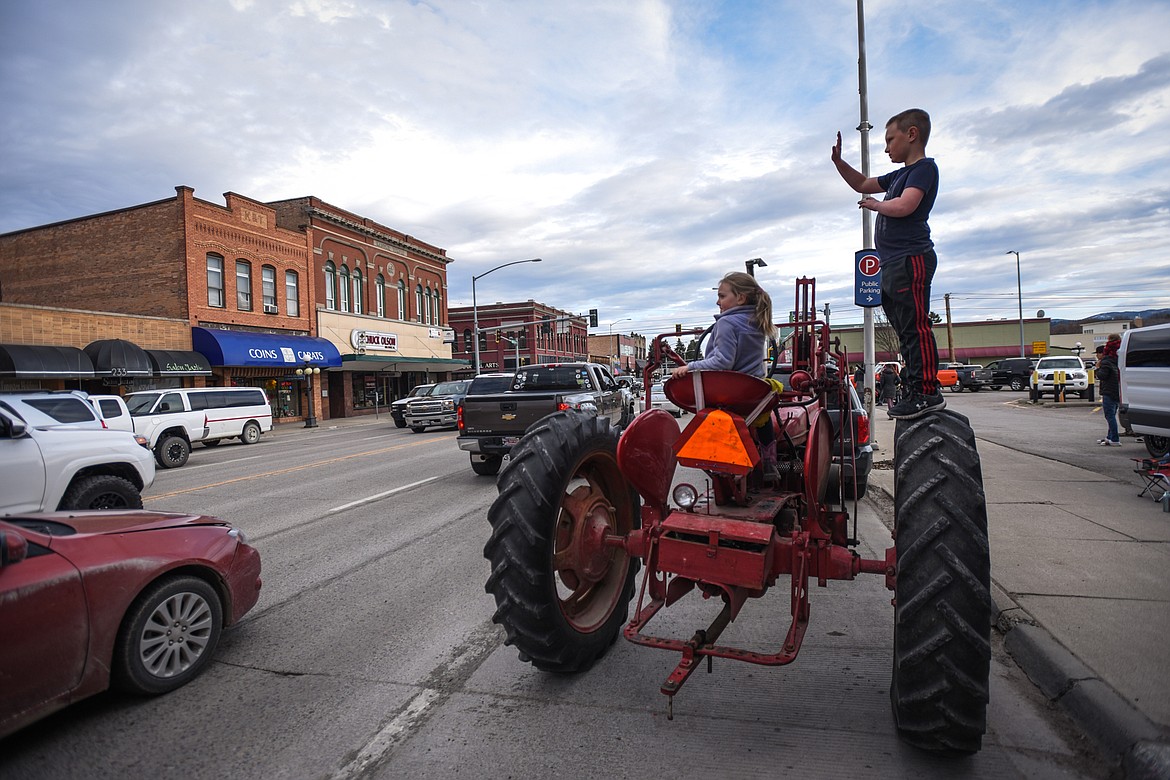 Children watch the Kruise Kalispell event along Main Street from a 1947 Farmall International tractor on Friday, April 17. (Casey Kreider/Daily Inter Lake)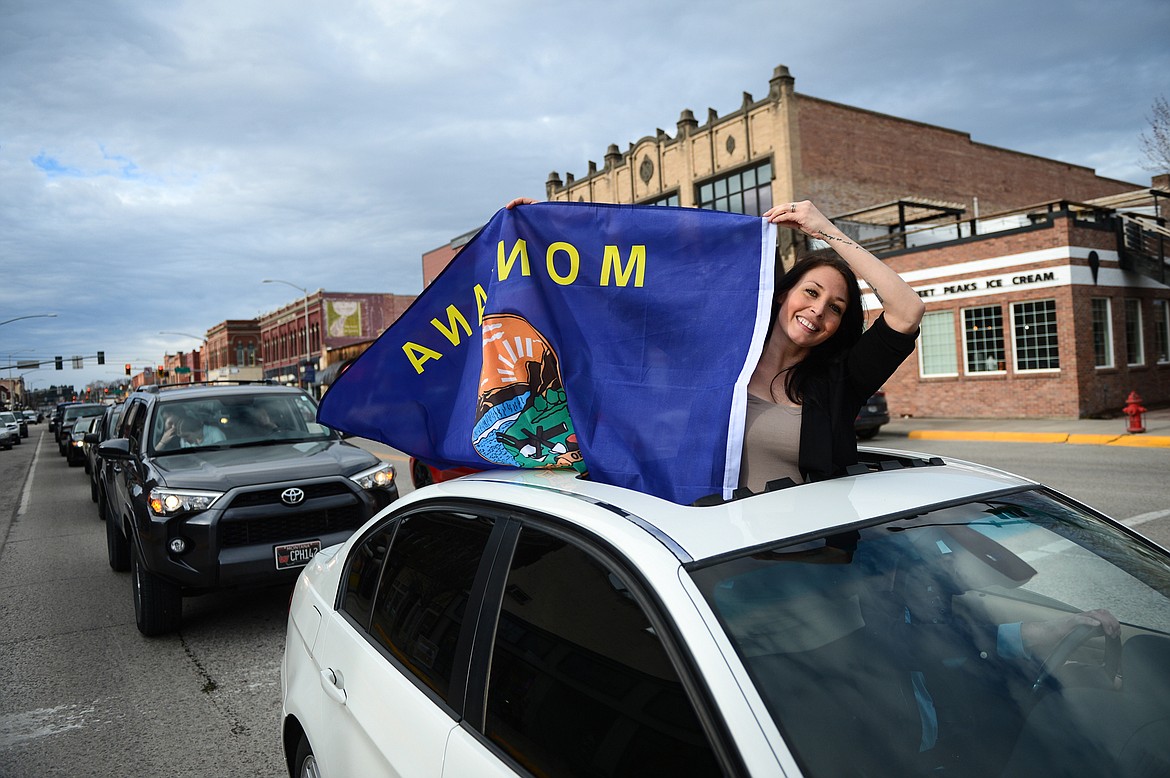 A passenger waves the Montana state flag from a vehicle during the Kruise Kalispell event on Main Street on Friday, April 17. (Casey Kreider/Daily Inter Lake)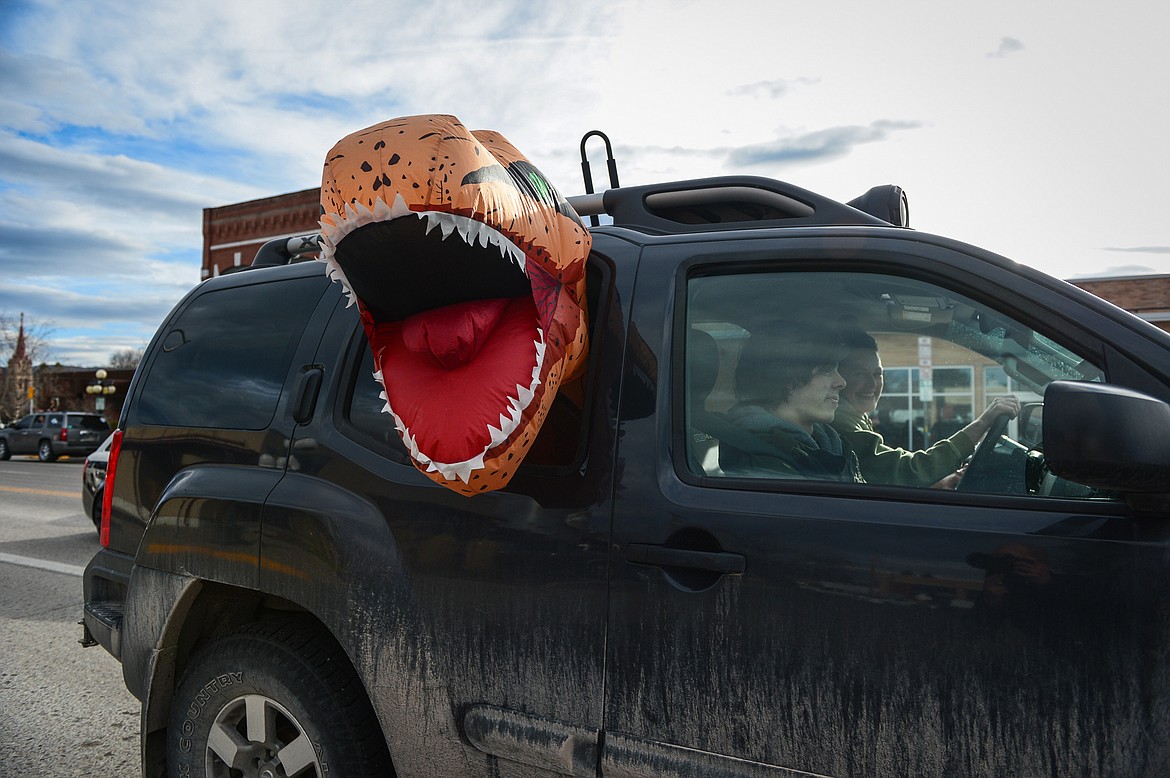 A vehicle with an inflatable Tyrannosaurus rex costume sticking out the window participates in the Kruise Kalispell event on Main Street on Friday, April 17. (Casey Kreider/Daily Inter Lake)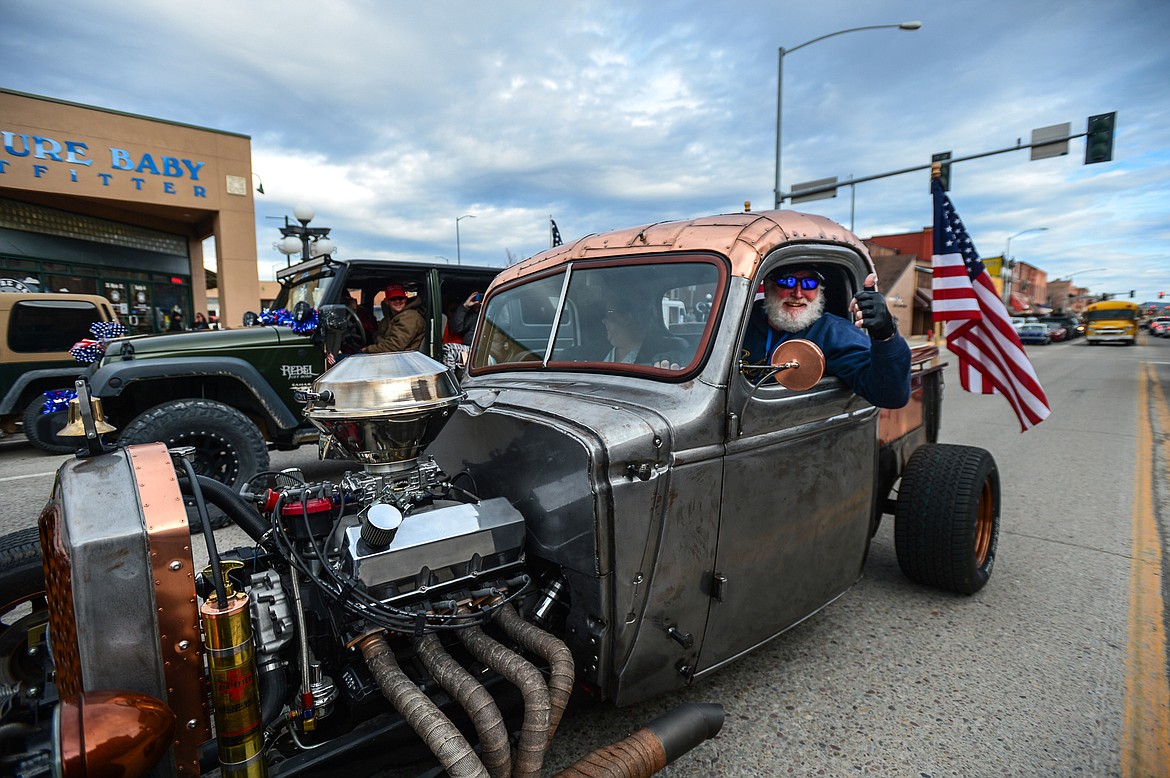 A driver of a vehicle gives a thumbs-up during the Kruise Kalispell event on Main Street on Friday, April 17. (Casey Kreider/Daily Inter Lake)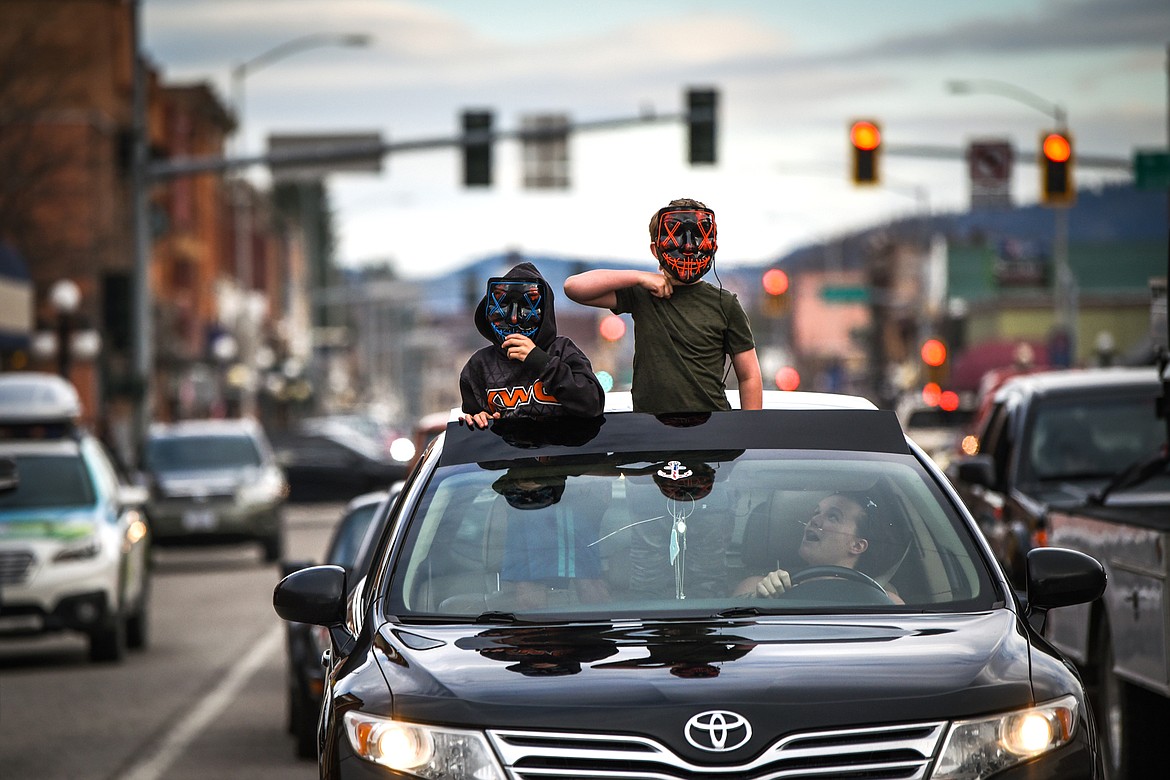 Two kids dance and wave out of a vehicle's moonroof during the Kruise Kalispell event on Main Street on Friday, April 17. (Casey Kreider/Daily Inter Lake)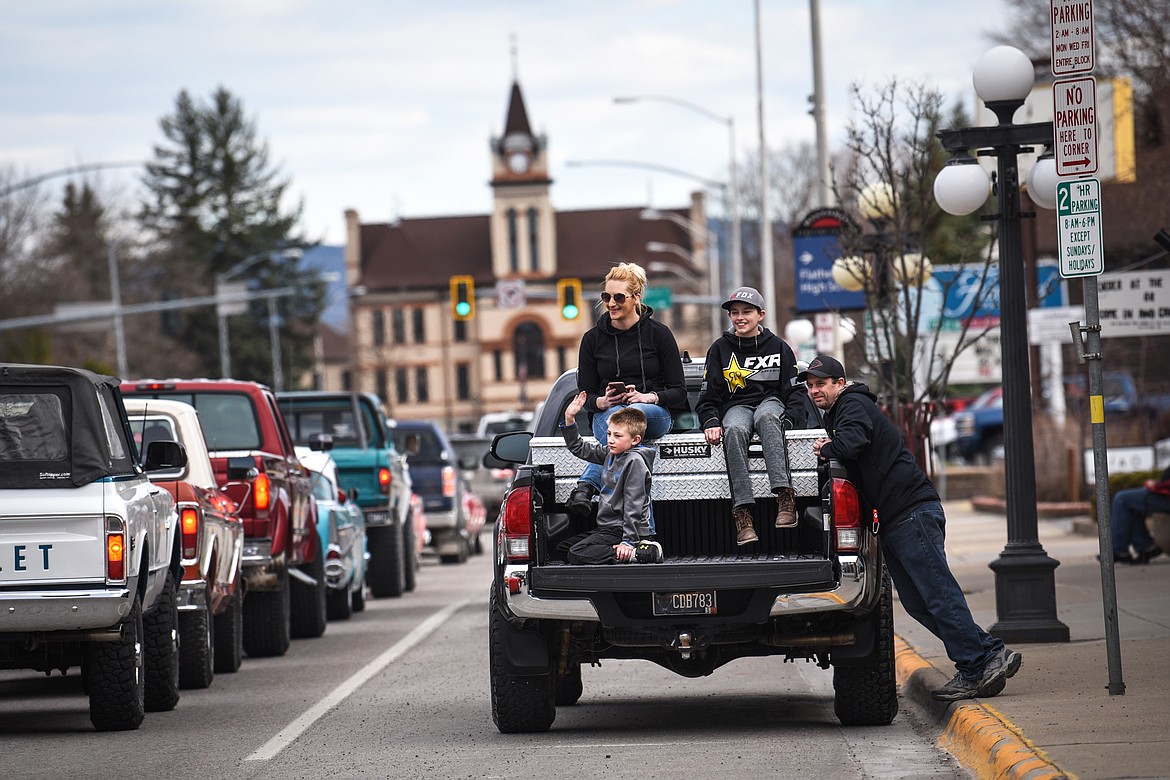 A family watches as cars and trucks make their way down Main Street during a Kruise Kalispell event on Friday, April 17. (Casey Kreider/Daily Inter Lake)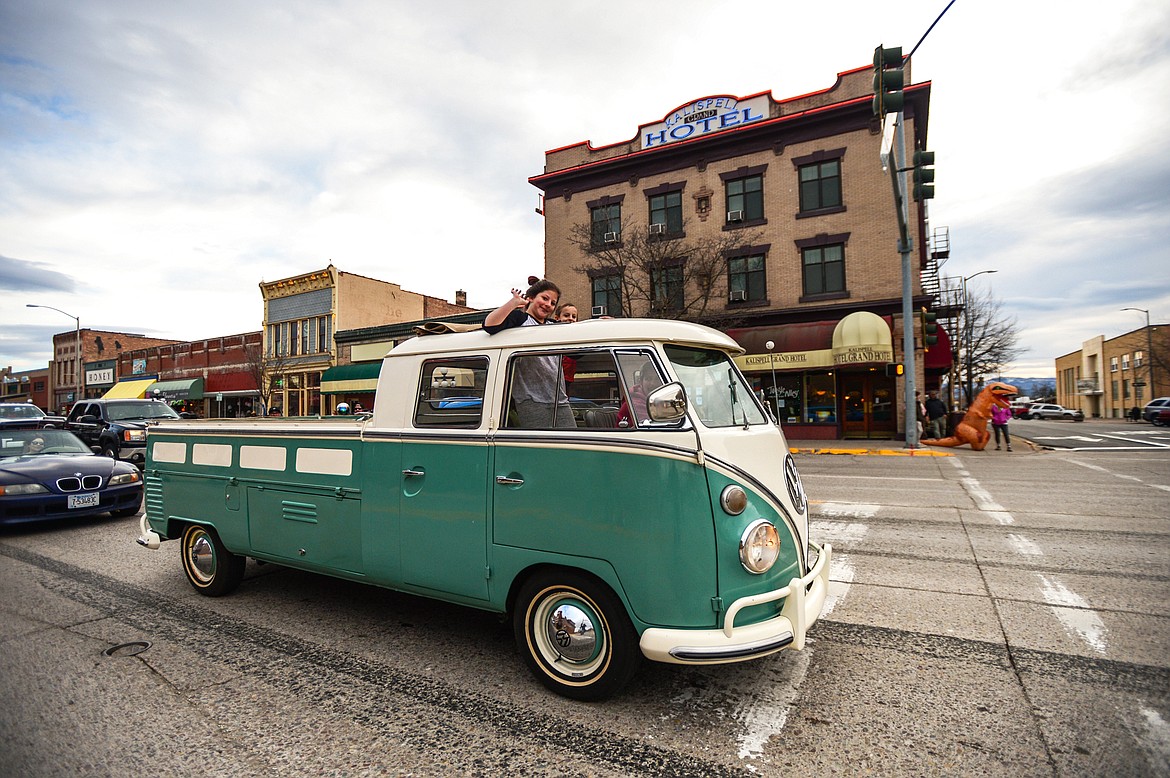 Passengers wave from a classic Volkswagen during the Kruise Kalispell event on Main Street on Friday, April 17. (Casey Kreider/Daily Inter Lake)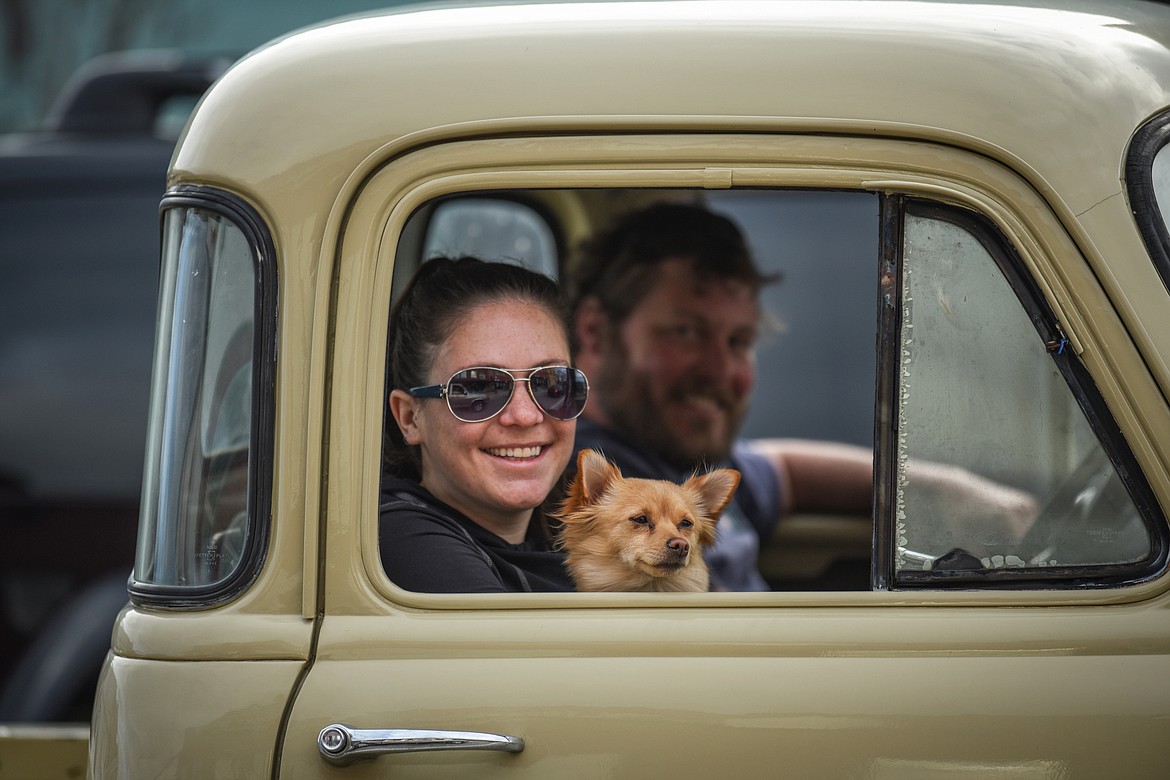 Passengers in a classic truck smile as they drive through the Kruise Kalispell event on Main Street on Friday, April 17. (Casey Kreider/Daily Inter Lake)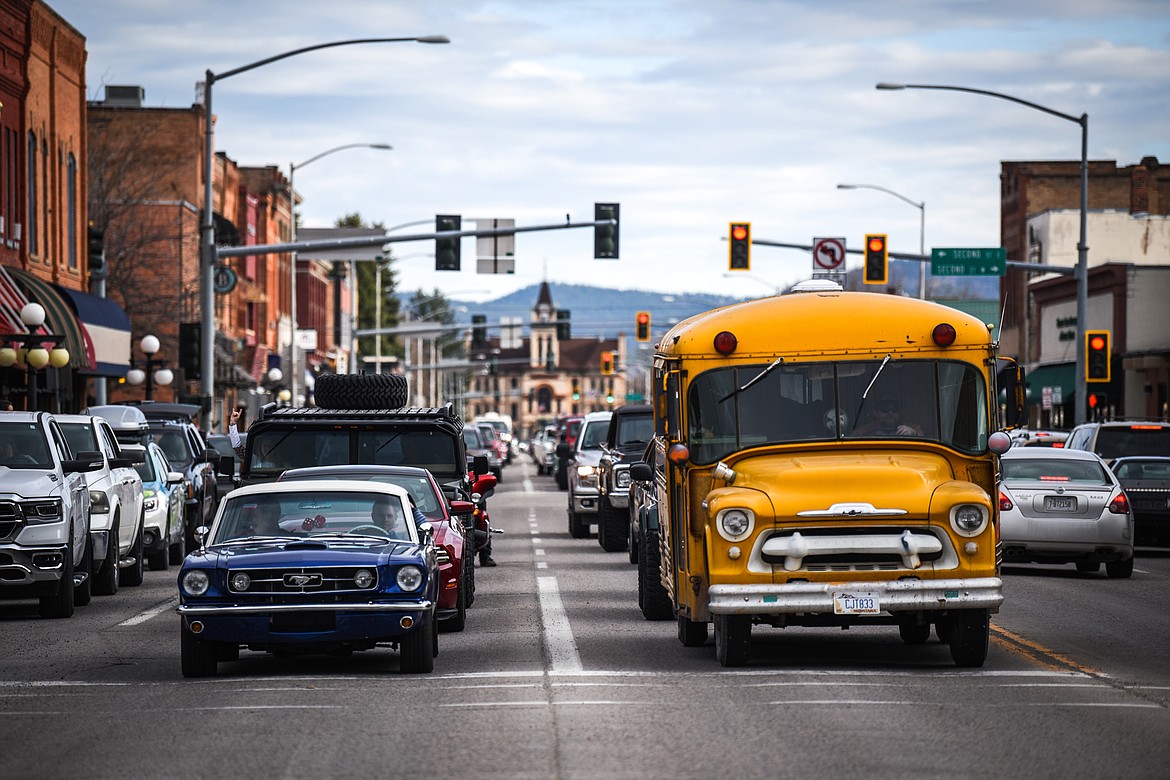 Vehicles stop at a traffic light on Main Street during the Kruise Kalispell event on Friday, April 17. (Casey Kreider/Daily Inter Lake)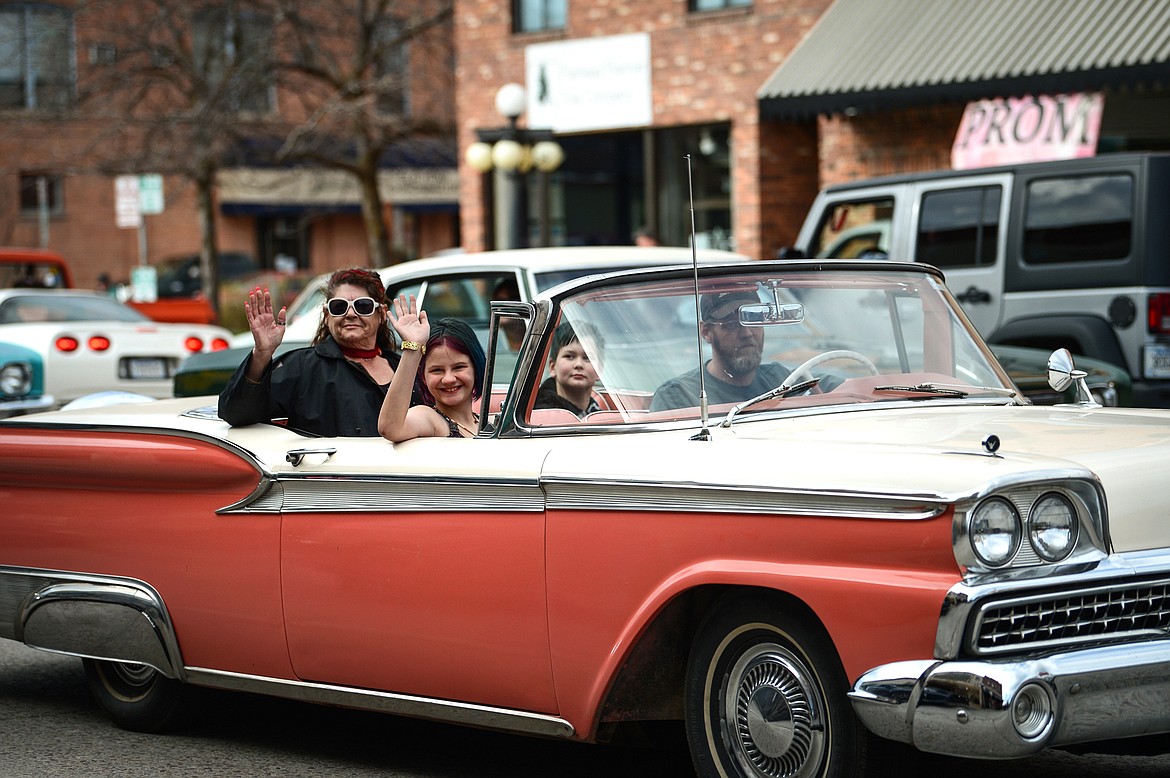 Passengers in a classic Ford wave as they drive through the Kruise Kalispell event on Main Street on Friday, April 17. (Casey Kreider/Daily Inter Lake)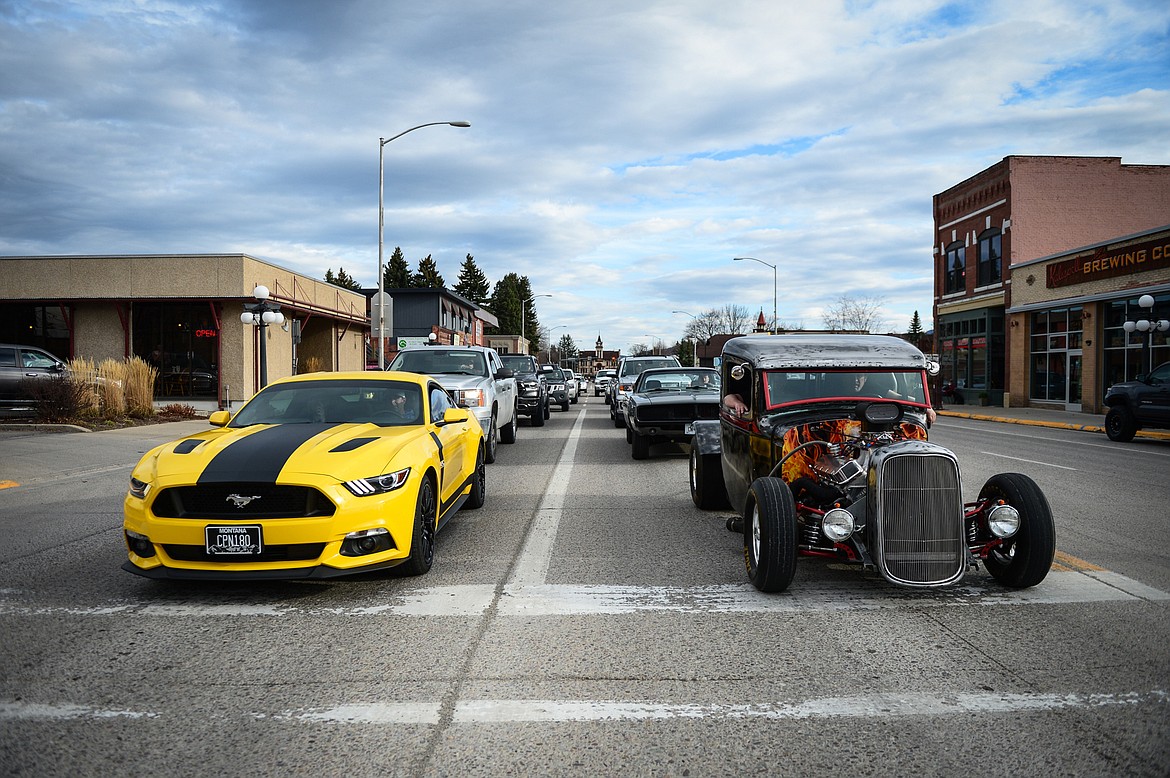 Vehicles stop at a traffic light on Main Street during the Kruise Kalispell event on Friday, April 17. (Casey Kreider/Daily Inter Lake)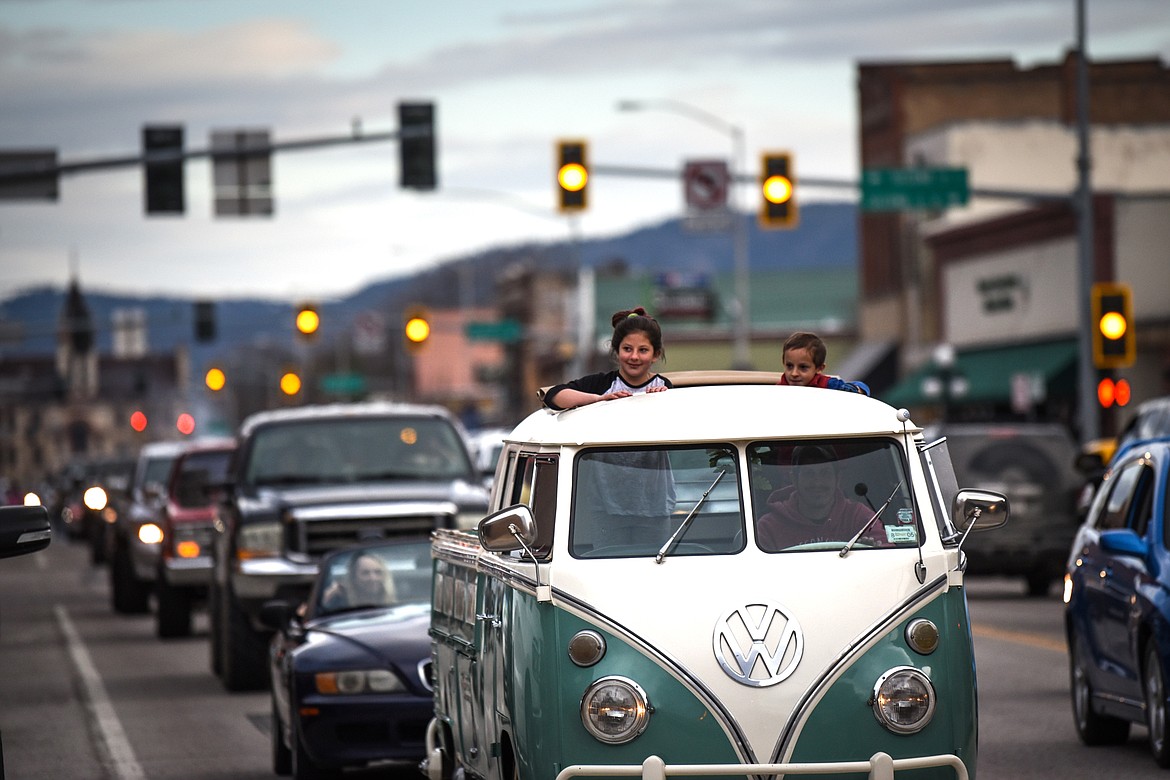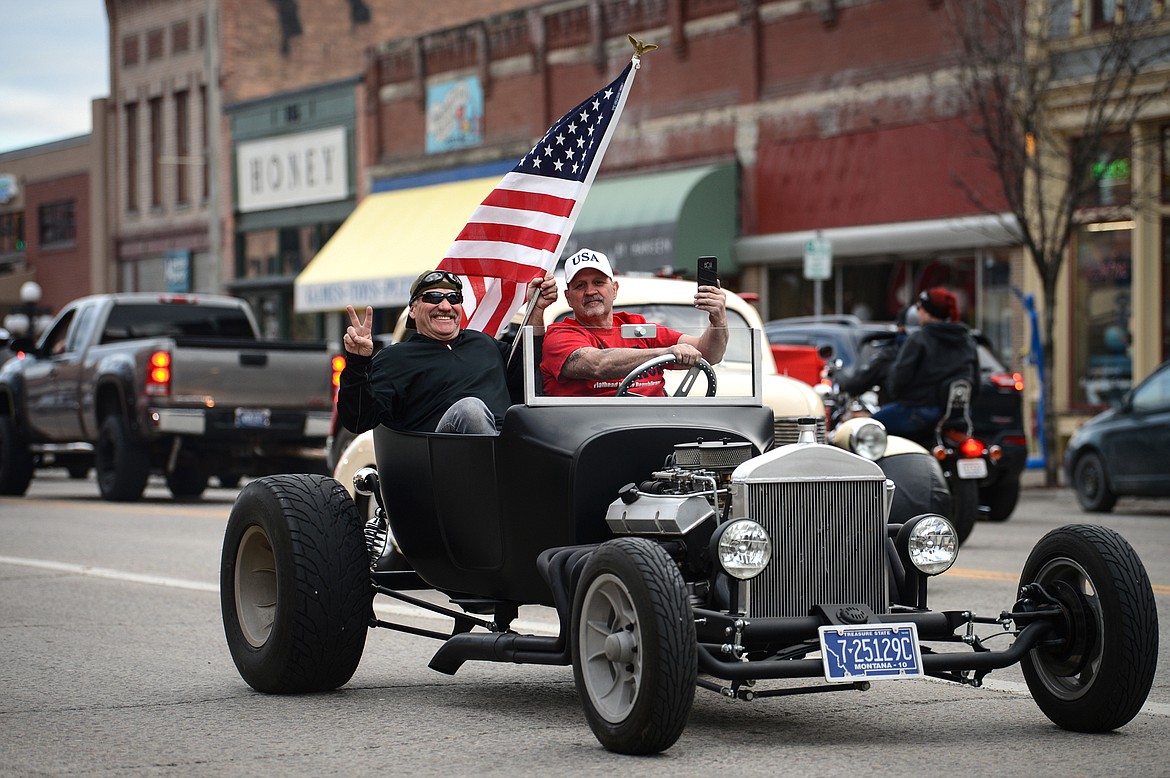 Vehicles drive up and down Main Street during the Kruise Kalispell event on Friday, April 17. (Casey Kreider/Daily Inter Lake)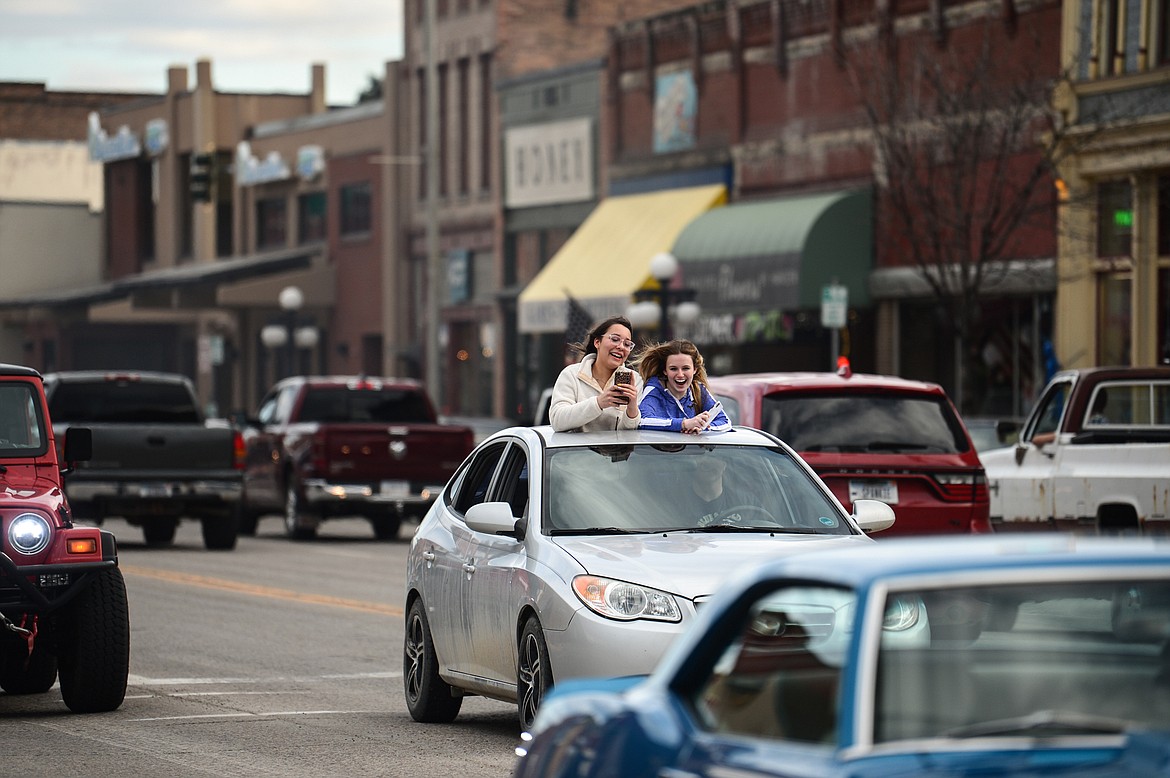 Two girls stick out of the moonroof of a vehicle during the Kruise Kalispell event on Main Street on Friday, April 17. (Casey Kreider/Daily Inter Lake)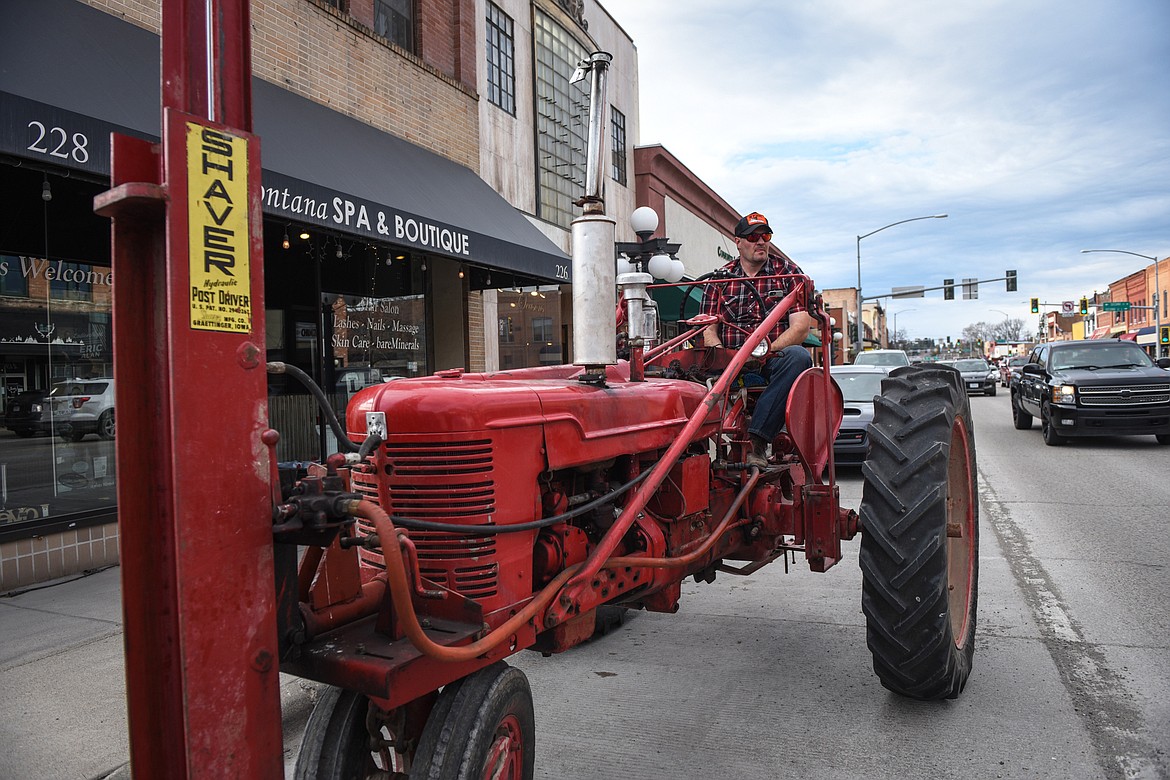 Tim Viano drove his 1947 Farmall International tractor from West Valley to participate in the Kruise Kalispell event on Main Street on Friday, April 17. (Casey Kreider/Daily Inter Lake)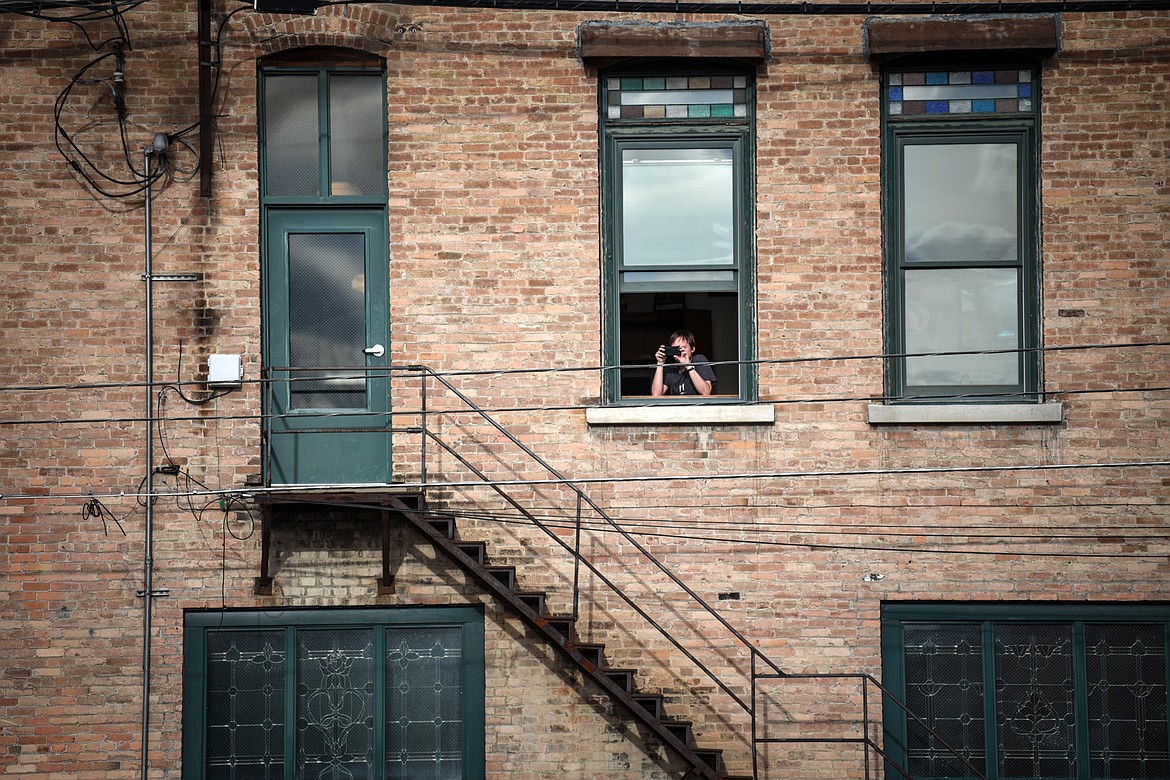 A spectator watches the Kruise Kalispell event from a second story window on Friday, April 17. (Casey Kreider/Daily Inter Lake)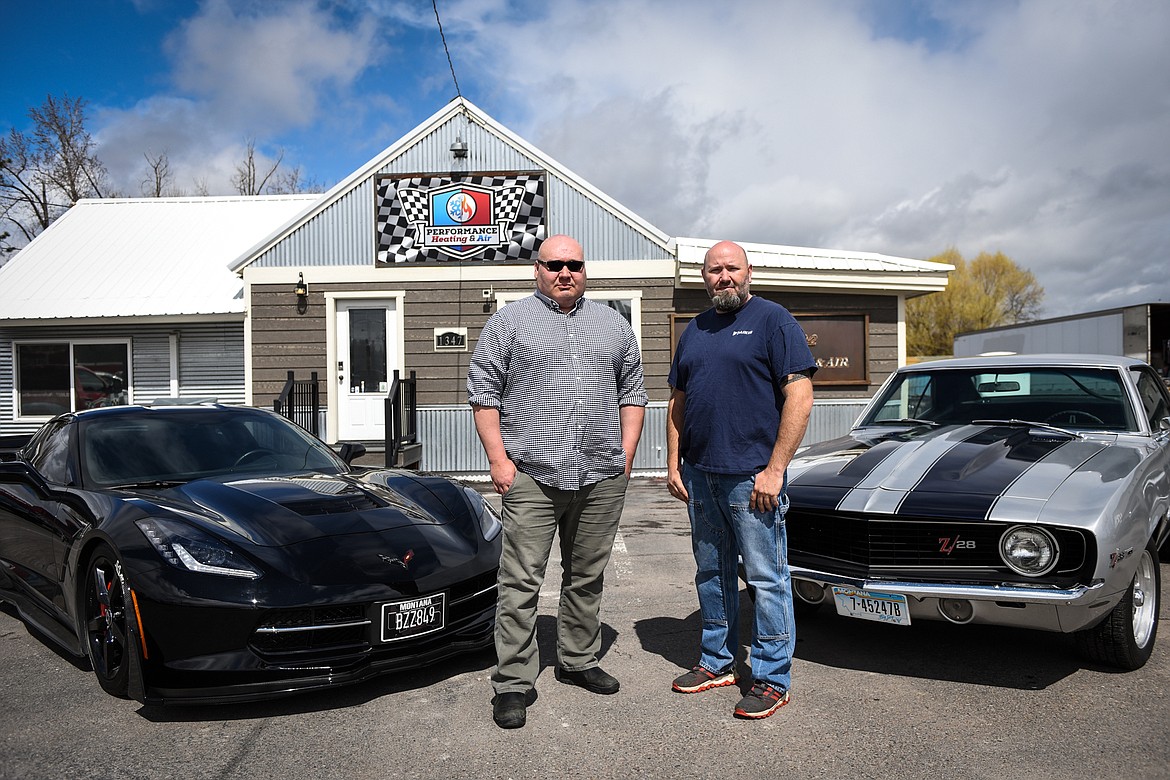 Monte Klindt, left, with his 2015 Chevrolet Corvette Stingray, and Jeremy Reese, right, with his 1969 Chevrolet Camaro Z28, outside the business they co-own, Performance Heating & Air in Evergreen on Thursday, April 23.
Previous
Next
by
JEREMY WEBER
Daily Inter Lake
|
April 26, 2020 1:00 AM
Editor's note: The photographs accompanying this story are from the April 17 Kalispell cruise. The Inter Lake's Montana Life section went to press before the April 24 event was held.
What started as an off-the-wall idea born of boredom has quickly turned into the talk of the town in Kalispell.
An estimated 2,100 vehicles of all makes, models and years took Main Street April 17 as the town hosted the first Kruise Kalispell event. With approximately 3,700 people in those vehicles making the trip, it was easily the largest event Kalispell has seen since the start of the coronavirus pandemic.
According to organizers Jeremy Reese and Monte Klindt, the idea started small and quickly took on a life of its own.
"I threw the idea up on my Facebook page out of boredom one Sunday and Monte came to work the next day and was ready to get it going," Reese said. "I sure didn't see it growing this big, especially as fast as it has."
Klindt, who said he had seen similar ideas online, quickly put together a Facebook group that Monday and then watched as the membership steadily grew.
"I thought to myself, that's a great idea and a way to get outside and see your friends while still being safe and practicing social distancing. When Jeremy brought it up, I jumped on the idea," Klindt said. "We both have cars and friends who have cars. We know it is kind of a 'car culture' around here, so we thought it would be a good time to do it, but we had no idea this many people would be interested in it."
The idea spread like wildfire. The Facebook group had a few hundred members by Tuesday, April 14, a thousand by Wednesday and more than 3,000 before the first Kruise event Friday, April 17. As of Thursday evening, April 23, the group had more than 7,400 members.
"I knew it was going to be big, but I am a bit blown away by how many people came out. I think it was an idea that hit at the right time. If we would have tried this without this illness keeping everyone indoors, it probably wouldn't have taken off the way it has," Reese said. "There was definitely a nostalgia element to it. People want to remember a more innocent time when the world was a little less scary."
For Reese and Klindt, the Kruise Kalispell concept is a step back into their high school days, when the duo would take to the roads with their buddies for some old-fashioned cruising.
"Cruising was a rite of passage for us when we were kids. Once you got your license, cruising is what you did," Klindt said. "There were no cellphones or internet back then, so cruising is how we got out to see all of our friends. Cruising was our social network."
FOR MORE than an hour April 17, the Kruise Kalispell cars filled U.S. 93 from Reserve Drive to Kelly Road. While there was traffic congestion and one DUI arrest was made, Kalispell Police Chief Doug Overman said his officers were aware the event was going to happen, but did not expect it to be as large as it was. He added that his department was glad to see it go smoothly.
"I think it is a great event and a great way to get people out to support each other. People just need to be responsible while they are taking part. All it takes is for one burnout to go wrong and it would change everything. People should have fun with the event, but do it safely," Overman said. "I'm into old cars myself and I think it is a great idea. It's good to see the community coming together to find a safe way to have a good time with everything we are all having to deal with right now."
While others may have seen the success of the event as a way to cash in, Reese and Klindt, who own and operate Performance Heating and Air, saw it as a way to give back to the community while also helping out their fellow small business owners in the area. The pair encouraged local businesses to use their Facebook page to promote specials during the event and for free advertising.
"We really wanted the local businesses to be able to use this to boost business. We had around 40 businesses tell us they saw a great influx with the event," Reese said. "We were just glad we were able to help."
"We want this to be a fun event, but the idea is also that the more people we can get to come out, the more people we can get to spend some money and help out these businesses that need it," Klindt added. "We are small business owners ourselves and it is a scary time. Everyone is excited about helping our community and our economy."
Not ones to think solely about business owners, Reese and Klindt also arranged for a number of cars to drive by the house of Nathan Brewer, a Kalispell teen who is battling a rare blood disorder that prevents his blood from clotting normally. A small parade of roughly 35 vehicles had made their way past Brewer's home on his birthday earlier in the week, but the Kruise Kalispell group came by with nearly 400 vehicles carrying cards, gifts and donations.
It was this kind of generosity that Reese and Klindt wanted to keep going when they registered Kruise Kalispell as a nonprofit organization earlier this week. The duo say they intend to keep the event going with any profit made going to local charities.
"We want people to know that any money they spend with Kruise Kalispell is going to the right place," Reese said.
While another cruise through town was scheduled to take place Friday, April 24, Reese and Klindt say the event may have to be a little more spread out in the future, possibly taking place once a month.
"We know people want it to continue, but we think the town might get a little tired of us if we drive 5,000 cars through downtown every Friday evening," Reese said. "We're more than happy to keep it going, but we are not sure how it is going to evolve. No matter what happens, we are excited about the future."
Reporter Jeremy Weber may be reached at jweber@dailyinterlake.com.
---