Retired physics teacher harnesses old-time energy source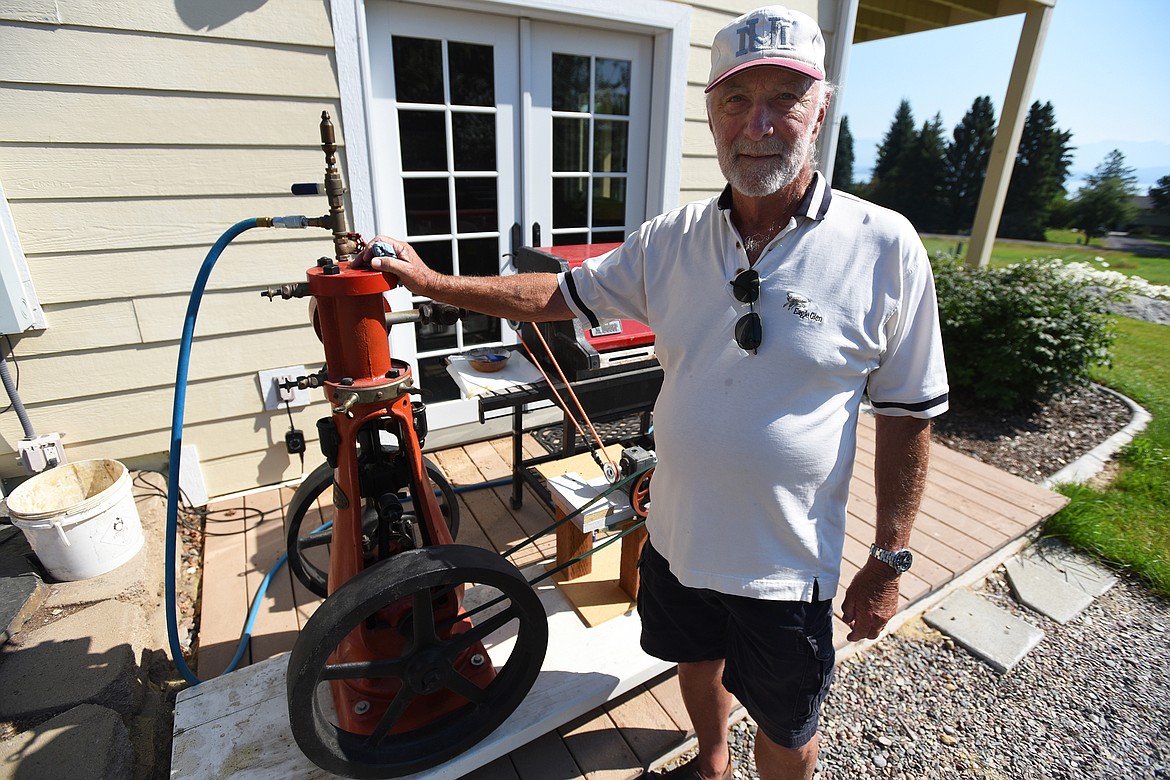 Lakeside resident Don Bumgarner shows off his steam-engine-driven rotisserie grill, powered by an 1890s model New York Safety Steam Power Company 500-pound engine. (Jeremy Weber/Daily Inter Lake)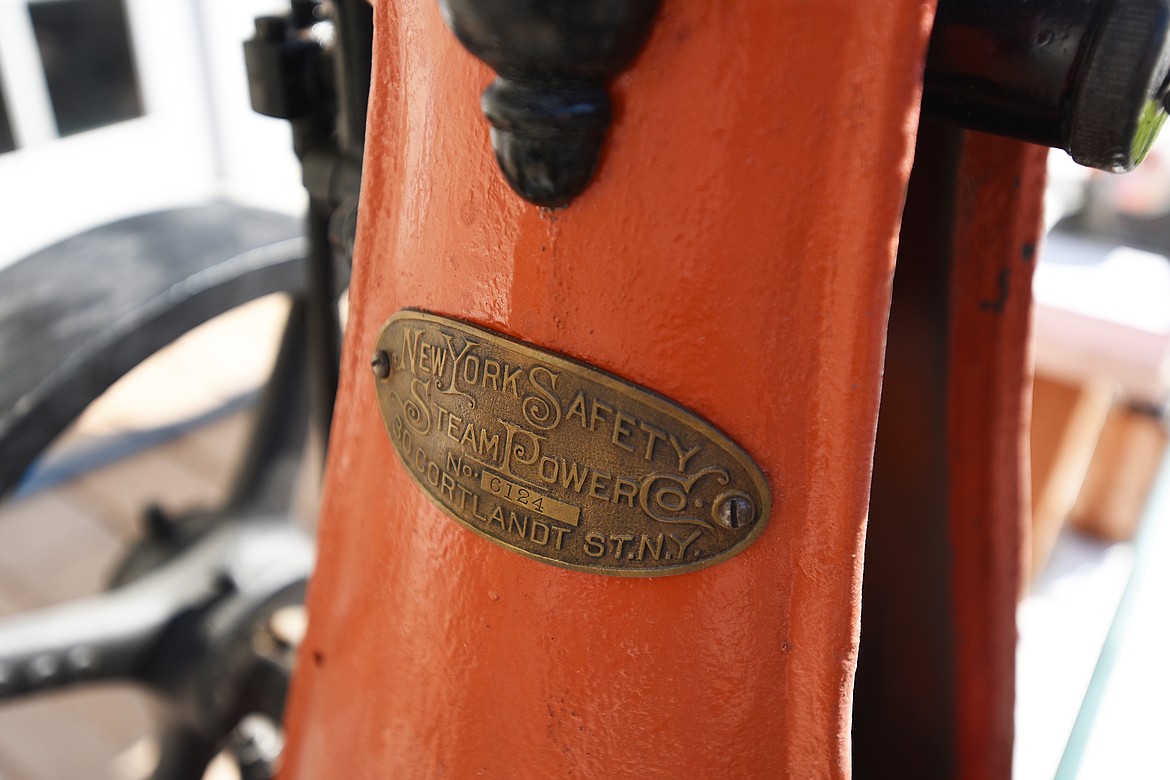 The steam engine used to power Don Bumgarner's rotisserie grill was built by the New York Safety Steam Power Co. in the 1890s. (Jeremy Weber/Daily Inter Lake)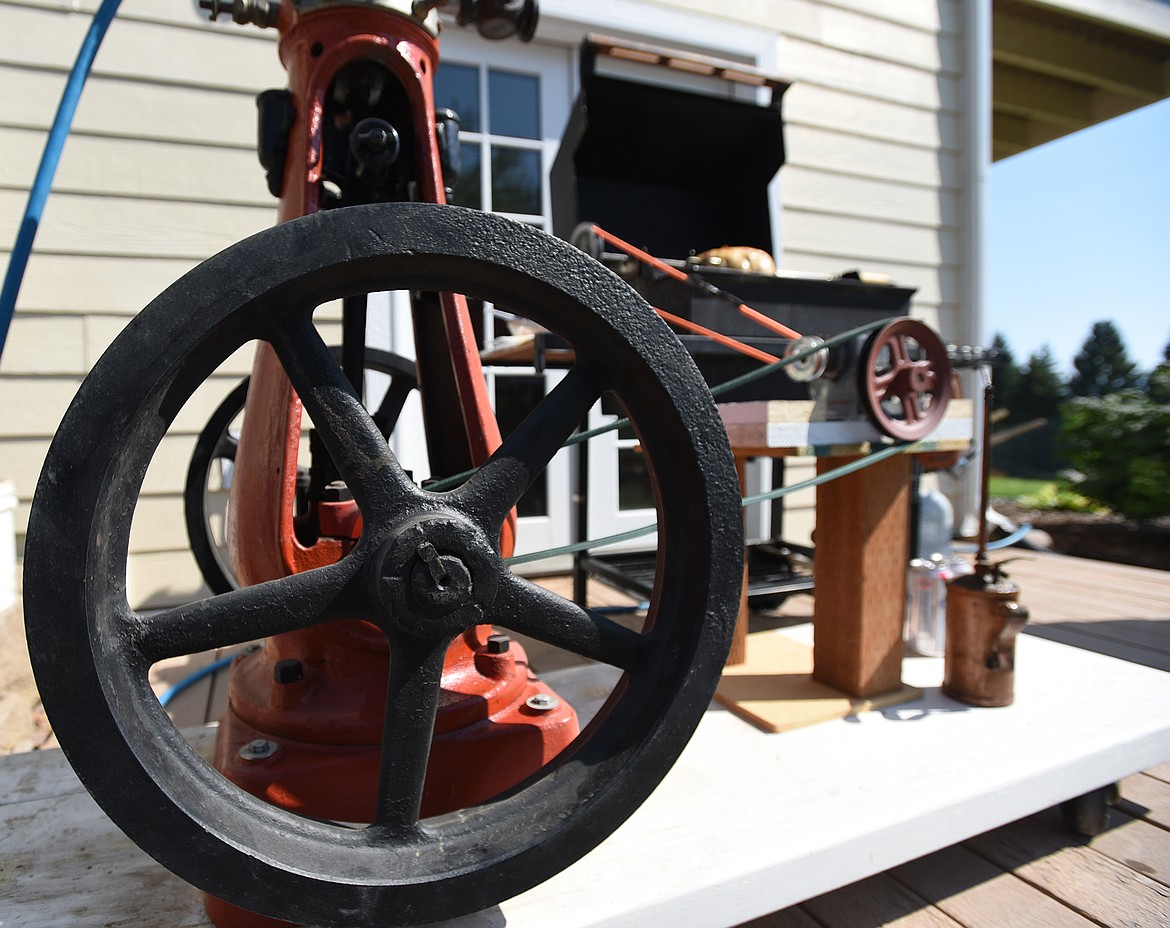 Built from an 1890s steam engine, a Weber grill and a collection of scavenged parts, Don Bumgarner's rotisserie grill sits outside his house in Lakeside. (Jeremy Weber/Daily Inter Lake)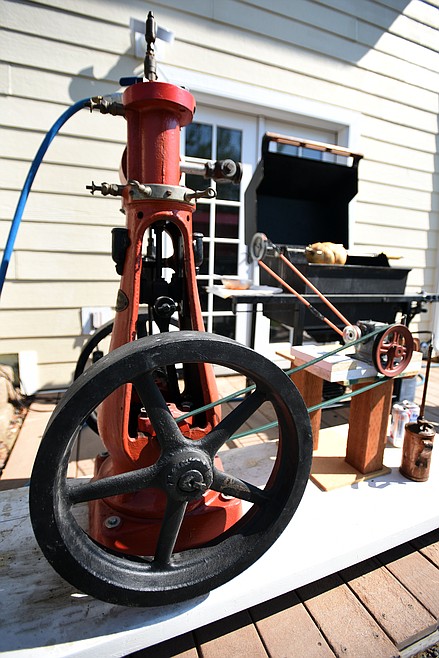 Built from an 1890s steam engine, a Weber grill and a collection of scavenged parts, Don Bumgarner's rotisserie grill sits outside his house in Lakeside. (Jeremy Weber/Daily Inter Lake)
Previous
Next
by
JEREMY WEBER
Daily Inter Lake
|
August 2, 2020 1:00 AM
Faced with hours of newfound free time during the COVID-19 pandemic, Lakeside retired physics teacher Don Bumgarner decided to take a step back in time. Wanting a rotisserie for his grill, Bumgarner set to work on his own design using not electricity, but a 500-pound steam engine from the 1880s.
Why would he do this? The answer is a simple — why not?
"I had this idea for a while, but had been putting it off for years. When the virus forced us inside the house most of the time, I decided to take the project on," Bumgarner said. "I'm just an eccentric, retired old school teacher with nothing better to do."
With the help of a 15 horsepower New York Safety Steam Power Company bottle engine, Bumgarner's Weber grill now features a rotisserie perfect for cooking pork roasts, chickens and more at a perfect one revolution per minute.
His fascination with steam engines began at an early age. At age 11 in 1955, Bumgarner and his fellow sixth-graders in Pontiac, Michigan, took a field trip to the Henry Ford Museum in nearby Dearborn. The museum featured the original contents of Thomas Edison's Menlo Park, New Jersey laboratory, including a steam engine that powered all the machines and tools.
Bumgarner's next experience with steam engines came while in college in California as he was working toward a bachelor's degree in math with a minor in physical science. His neighbor at the time, an avocado farmer, had invited Bumgarner and his friends over for a social event when Bumgarner heard mechanical sounds outside and investigated.
"I heard this noise behind his house, so I had to check it out. Inside a shed I found a big commercial steam engine running a rotisserie large enough to cook six chickens at a time," he said. "I remember thinking, 'This guy is crazy. He's crazy like a fox.' It took me 55 years, but I finally built one for myself."
After receiving his college degree, Bumgarner spent what he called a "full year, all expenses paid trip" to Vietnam with the U.S. Air Force before returning to California and receiving his teaching credentials.
Bumgarner then began his teaching career in Las Vegas, where his classroom featured a miniature steam engine used to demonstrate how boiling water could turn into mechanical energy.
After spending his entire teaching career in Las Vegas, Bumgarner retired in 1996 and once again rekindled his love of steam engines with the purchase of his bottle engine. Upon arrival from Florida, the engine was covered in a thick coating of battleship gray paint and in need of much work. With determination, he set to work stripping down the old engine and rebuilding it. He soon found the work was nearly as hard as finding replacement parts, but after a few weeks of work and with a new red and black paint job, he had a working steam engine.
"It was pretty simple, actually," he said. "All steam engines work basically the same way."
When Bumgarner and his wife Marylou made the move to Lakeside in 2006, the engine came with them. Don had thoughts then of building his barbecue rotisserie, but the desire to travel and see the world once again put the project on the back burner.
Fast forward to 2020 and Don has now visited all seven continents, all 50 U.S. states and sailed several of the world's oceans and seas. When the COVID-19 pandemic forced him to slow down, he figured it was finally time to finish his steam engine project.
With the help of a reducer gear scavenged from an old homestead, a gear he found and restored to working order, an oil can he saved from his father's garage, a bungee cord and some duct tape, he put his contraption together.
Working off the power of an 80-gallon commercial air compressor (because steam is inherently dangerous), Bumgarner has so far cooked a pork roast and chicken on his rotisserie and can't wait to try out more recipes.
"I was procrastinating for 14 years, but this COVID virus left me bored at home with way too much time on my hands. It took a few various parts and some jury rigging, but I now have an operating steam-engine driven barbecue just like I always wanted," he said. "My wife calls me the eccentric old man, but I do what makes me happy and I have to admit, I am a pretty happy boy."
Reporter Jeremy Weber may be reached at 758-4446 or jweber@dailyinterlake.com.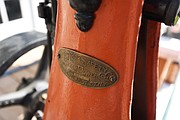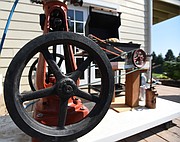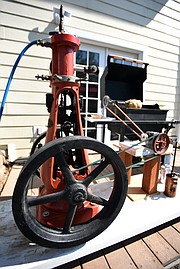 Recent Headlines
---