Triplet threats: Ben and Jack Corriveau bolster solid Lakers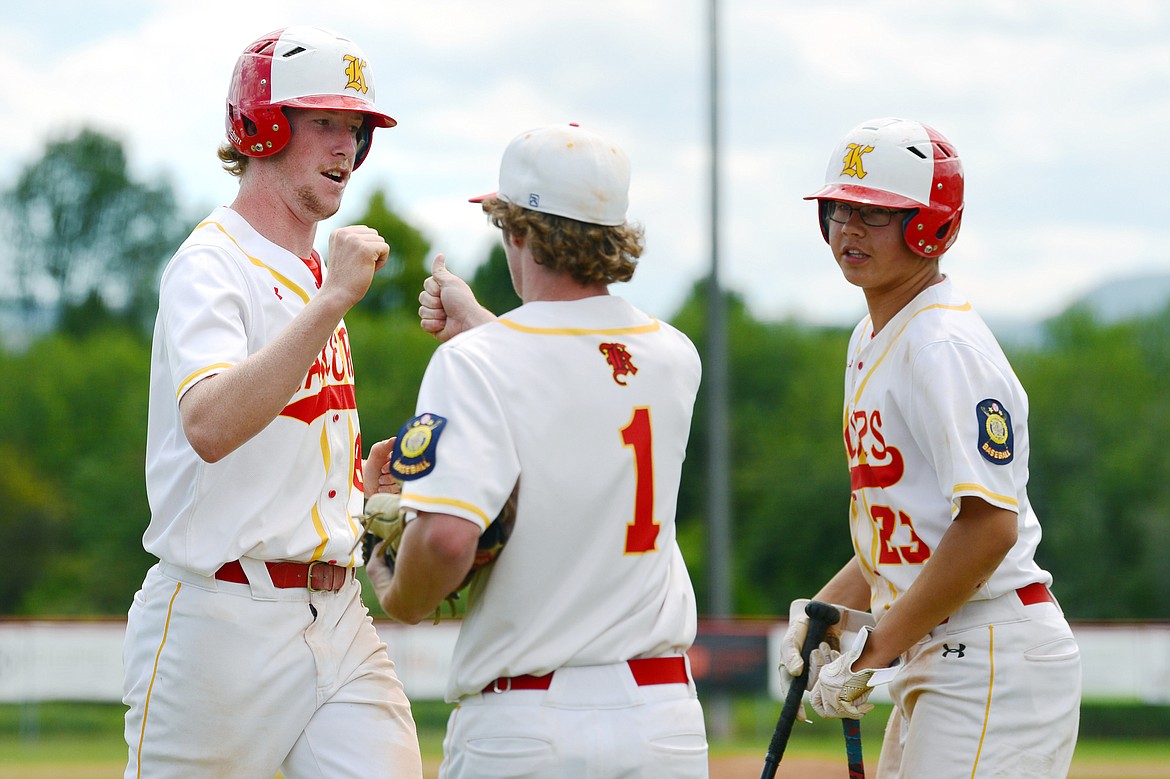 Kalispell's Jack Corriveau, left, is congratulated by Ben Corriveau and Kostya Hoffman after scoring a run in the bottom of the fifth inning against the Belgrade Bandits at Griffin Field on Thursday, July 16. (Casey Kreider/Daily Inter Lake)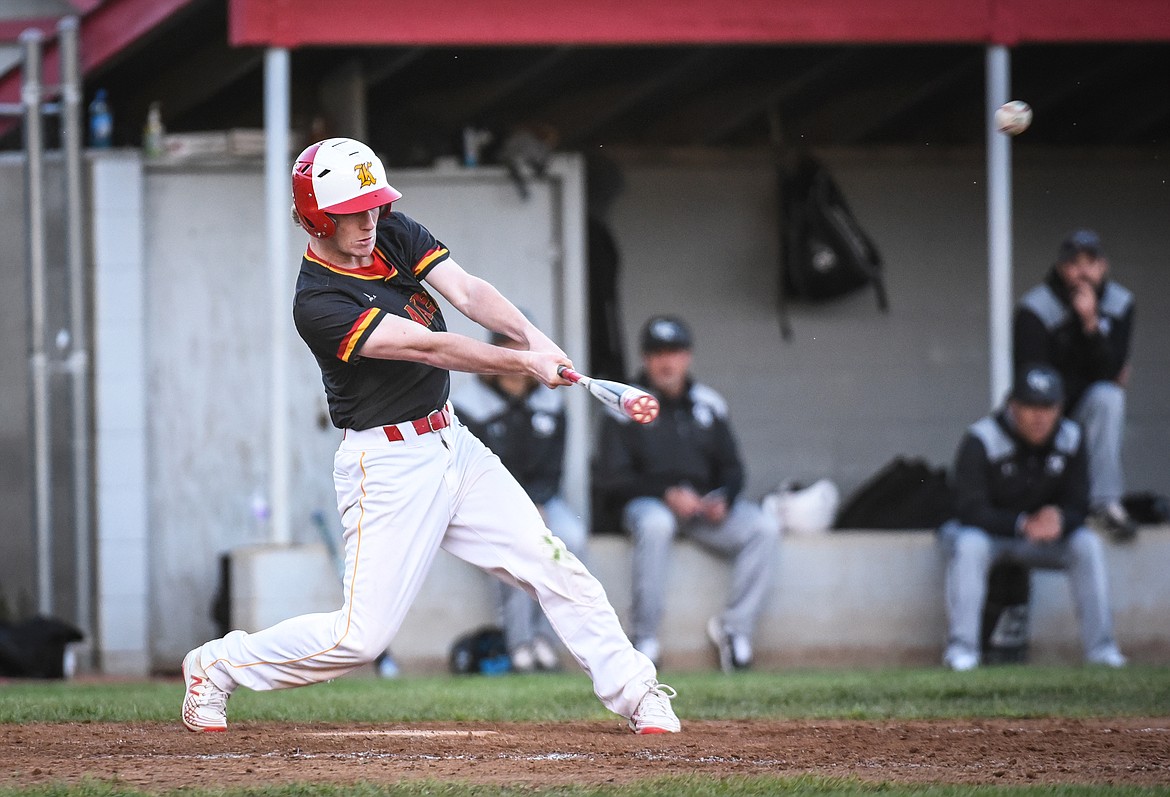 Kalispell Lakers AA's Ben Corriveau connects on an RBI triple in the bottom of the fifth inning against the Glacier Twins A at Griffin Field on Saturday, May 23. (Casey Kreider/Daily Inter Lake)
Previous
Next
by
FRITZ NEIGHBOR
Daily Inter Lake
|
August 4, 2020 8:20 PM
In the span of about six minutes in 2001 the Corriveau family grew by three: Mike and Susie became the proud parents of triplets named Jack, Marie and Ben.
A rivalry was also born.
"Jack's the oldest," Ben Corriveau said this week. "That's why he got all the height."
The youngest Corriveau – Ben arrived two minutes after Marie, and she arrived four minutes after Jack – stands 5-foot-7. Jack is 6-2. Together they have helped the Kalispell Lakers overcome the loss of several seniors off last year's team and forge an excellent 2020 American Legion baseball campaign.
The Lakers are 30-14 going into their 1 p.m. Wednesday game against the Missoula Mavericks, in the State AA tournament at Dehler Park in Billings.
It helps that Jack has gone 7-3 on the hill with a 4.36 earned-run average. It also helps that Ben is a fleet center fielder. Both can run and have hit all over the top of the Lakers' lineup.
It started in a field across from their house in Lincoln, California, on the outskirts of Sacramento. The field has since been developed but in the 2000s it was a perfect spot – once Ben and Jack rolled out of their bunk beds – to have a catch, chase pop flies and play burnout.
"We've always been competitive with each other," Ben says. "Not so much anymore since we're playing on the same team but in practice – we still compete a lot.
"I think we fell in love with baseball right there."
It continued when the family moved to Kalispell ahead of their freshman years. Each boy played a year on the B Lakers; the next year Ben moved up to A and Jack didn't.
"We left him there," Lakers coach Ryan Malmin said. "That was tough on him but he had a great year. From that year he was able to jump from B to AA and he's been a two-year starter.
"That's his personality. He's driven to succeed."
"I remember that day," Jack said. "All my friends were on the A team. It was pretty devastating.
"But I probably wouldn't be the player I am today if I didn't play my second year on B. It kind of built a chip on my shoulder."
Case in point: Jack ended last season at a wiry 170 pounds; he came into this season a solid 200. Malmin noted that his fastball topped out at 85-86 this season, compared to 78 a year ago.
"That's through relentless hard work and commitment in the offseason," Malmin said.
Its been a solid year at the plate as well for Jack, who's hitting .326 with one home run, 36 runs batted in and 36 runs scored. That gives him the edge over Ben, who is hitting .324 with 26 RBIs and 27 runs.
Jack is 23 for 26 on steals and Ben is 10 for 12. But the younger Corriveau is miles ahead in another department.
"Ben brings an excessive amount of energy to 8 a.m. practices, or to the Billings Royals or whatever," Malmin said. "You see that rivalry in practice from time to time – they argue who is faster and who has the better batting average.
"But Ben, he's the guy with that energy. He allows things to be a little light, puts kids at ease. You constantly hear that kid talking. All the time."
Malmin is laughing; he wouldn't trade any of his seniors.
"As a coaching staff we teach, demand and expect players to prepare and perform," he added. "You can clearly see the improvement with them over these last three years. It's clearly visible. That's just buying into the program and the culture that we create."
If the Lakers get past the Mavericks Wednesday – they're 3-1 against Missoula this season – they'll draw either Helena or Great Falls Thursday. Concievably they'll get another chance at the defending champion Bozeman Bucks, who hung a four-game sweep on Kalispell in July.
"I thought we could have competed better that first game," Ben Corriveau recalled. "We were down 3-1 in the seventh inning (of a 6-1 loss). Then we let it slip away in the last game (a 12-11 setback). Next time we face them it's going to be a lot better. I think we're going to compete really well."
It could be a dream season, which didn't seem a strong possibility in April and early may. Both brothers count their blessings – they have friends that haven't got on a diamond all summer because of the COVID-19 pandemic.
"It's been pretty surreal to play the season we have," Jack said. "My friends in California had their seasons get canceled. It's a blessing, I'd say, just to be out there."
Both players are 2019 Glacier High graduates and took a gap year. Now Ben plans to play ball at Lamar (Colorado) Community College; Jack will play in-state at Miles Community College. Before then Dehler Park, set under the Billings Rimrocks, awaits.
"I'm excited to play on that field," Jack said. "It's a cool environment. I think we'll be able to do some damage. It should be exciting."
"I think we were so fortunate to have a season and start in May, which wasn't too late a start," said Ben. "And to get to have a state tournament – not many people in the country get to do that."
State AA
Aug. 5-9
Dehler Park, Billings
Wednesday
Bozeman Bucks, bye
1 p.m. – Missoula Mavericks vs. Kalispell Lakers
4 p.m. – Great Falls Chargers vs. Helena Senators
7 p.m. – Billings Royals vs. Billings Scarlets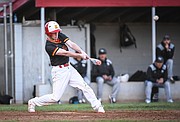 ---