On Flathead Lake's islands, trespassing, improper use are growing concerns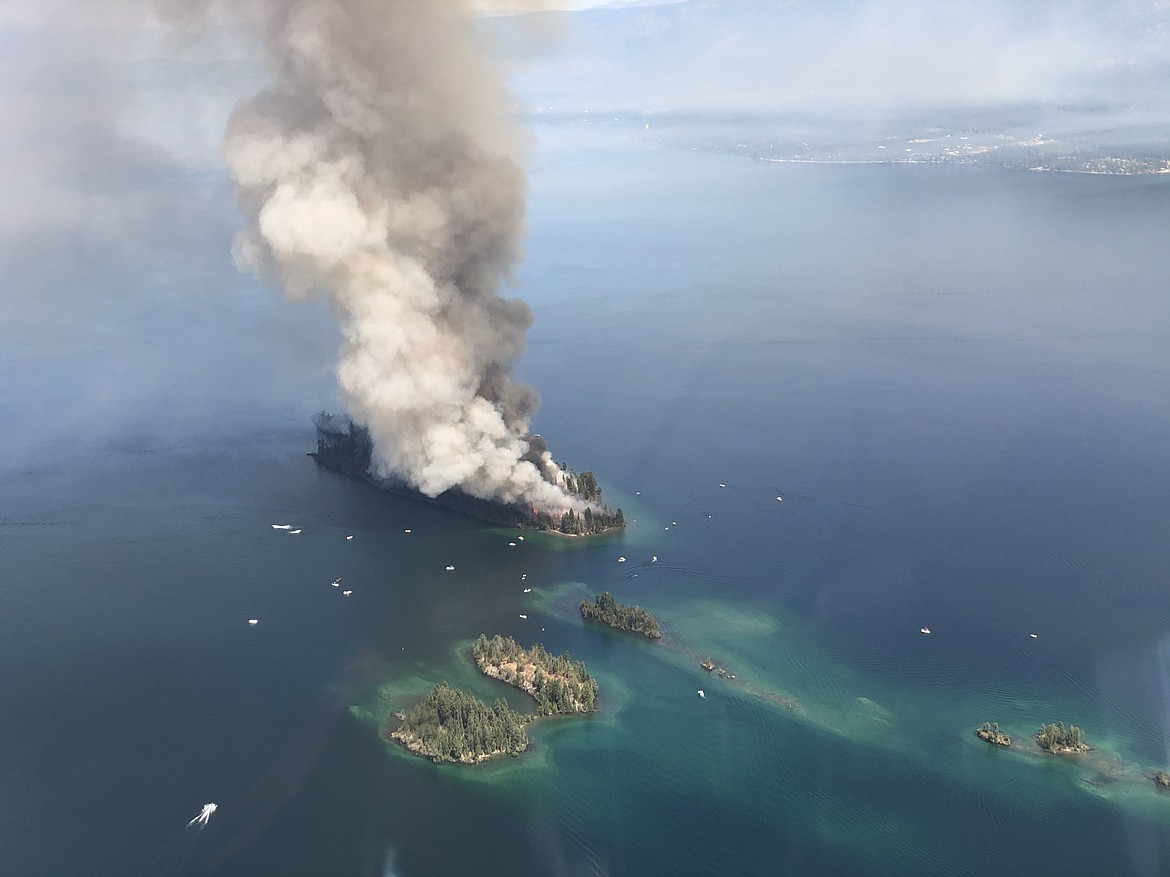 An aerial photo of Bird Island taken by David Green in an airplane on Tuesday shows the heavy smoke from a wildfire burning on the 30-acre island. The island is managed by Montana Fish, Wildlife and Parks, and officials opted not to suppress the blaze due to safety concerns for firefighters. Both state officials and the private owners of other small islands in the lake are concerned about trespassing and unauthorized land use. (Photo by David Green)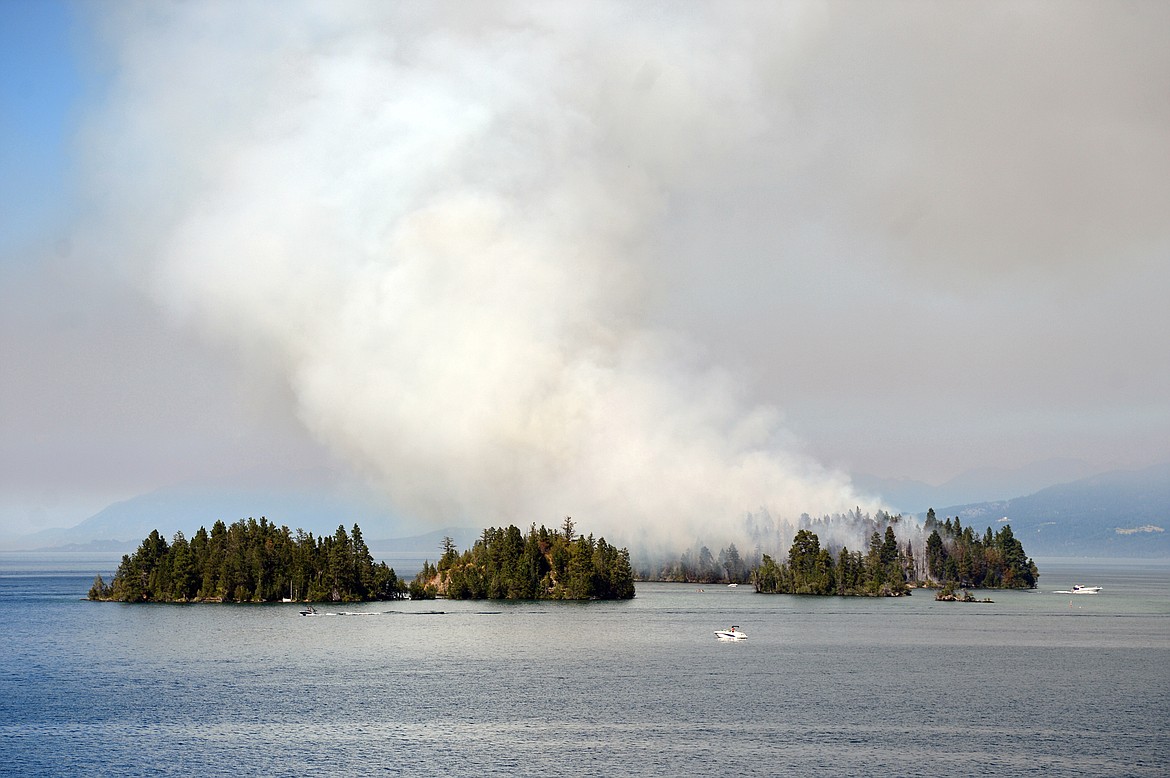 Smoke billows from a wildfire on Bird Island on Flathead Lake near Finley Point on Tuesday, Aug. 4. (Casey Kreider/Daily Inter Lake)
Previous
Next
by
JEREMY WEBER
Daily Inter Lake
|
August 7, 2020 1:00 AM
This week's fire on Bird Island has rekindled trespassing and unauthorized land-use concerns among landowners on Flathead Lake's islands.
While the cause of Tuesday's fire that burned the 30-acre island south of Blue Bay near Finley Point is under investigation, Montana Fish, Wildlife and Parks Regional Information and Education Program Manager Dillon Tabish said there have been reports of illegal campfires on the island Monday evening.
"We allow public access to our islands in Flathead Lake as well as camping, but campfires are prohibited on all of them," he said. "People are allowed out there, we just need folks to follow the rules to prevent things like this happening."
Montana Fish, Wildlife and Parks owns Cedar, Bird, O'Neil and Wild Horse islands on Flathead Lake, managing Wild Horse Island as a state park and the others as wildlife habitat protection areas.
State parks are managed for both resource protection and public recreation while the protection areas are more passively managed with the original intent to provide nesting habitat for Canada geese and other birds — recreation is incidental to the primary purpose. While the 2009 FWP Flathead Lake Management Plan allows public use of Wild Horse Island and the three smaller islands, there are a number of restrictions, including the prohibition of fires and pets.
Five campsites are allowed nightly on Cedar Island and two on Bird Island, but sites must be a minimum of 75 feet from the shoreline with a limit of six people per site confined to designated tent pads. Gas canister type stoves are allowed at designated campsites on Bird and Cedar Islands and along the shoreline, but not more than 5 feet inland from the high water mark.
Comprising two small rocky knolls located just south of Table Bay on the west side of the lake, the O'Neil Islands are open to day use only while the 23-acre Cedar Island was purchased from the Marshall family in 1954 and receives the second most visitation among the FWP islands in Flathead Lake.
Purchased by FWP in 1953, Bird Island is in close proximity to a cluster of small islands that comprise the Flathead Lake Bird Preserve, established by the Montana Legislature in 1947. An interagency agreement with the University of Montana closed the island to the public for research purposes in 1983, but the no-trespassing signs were removed in 1997 and the island was once again made open to the public, with restrictions.
Locals say those restrictions go largely unheeded and unenforced.
According to Kitty Sondreson, whose family has owned a pair of islands to the southwest of Bird Island since 1910, campfires are a common occurrence on the state property.
"I see fires on that island every weekend — I mean every weekend. I can look out from my cabin and see little campfires over there all the time," she said. "Our current human society does not care about a sign or following certain rules, especially if they get away with it once or twice. After that, they will continue to do whatever they want, once they know there are no consequences."
With more than a dozen inhabited islands and several more smaller ones scattered across its 197-square-mile surface, Flathead Lake and its islands present a difficult challenge for the law enforcement officers and game wardens tasked with enforcing the rules.
"We only have so many people available to us to watch over the lake, so we really rely on people reporting violations to us," Tabish said. "It's a big lake and we can't respond to issues if we don't know about them."
In addition to the issues involving the FWP islands, Sondreson said she and her neighbors are also having an increasing issue with people trespassing on privately owned islands and private property on the larger islands. The private property and no-trespassing signs posted on her two islands do little to keep the violators away, leaving Sondreson to confront several unwanted visitors a week.
"I just want people to realize that many of these islands are private property and they can't just go on them whenever they want to. Just because people do land wherever they want, everyone thinks it's OK, but it's not," she said. "The number of people on the lake this summer doing things they should not be doing has been astounding. So much more than usual. I get that there are not enough people available to patrol all of the island, especially on the weekends, but something needs to change."
Coleen Kennedy, who watched the Bird Island fire grow from the deck of her cabin on Bull Island, said that while she does worry about trespassers on her property, she is more concerned with the near nightly parties occurring on the south side of the island on land owned by the University of Montana's Flathead Lake Biological Station. According to her and others on the island, the parties leave the area littered with trash and human waste.
"It's only a matter of time until something happens down there. I can walk over there right now and find all kinds of cigarette butts. All it takes is one to wind up with a tragedy," she said. "I don't want to have to keep telling people to stay off private property. I don't want to have to live like that. I understand what draws people to these areas, but things are only going to get worse if people refuse to follow the rules. We are frustrated and scared."
As recreation continues to increase on the lake and the FWP islands, Tabish said it is everyone's responsibility to make sure the areas are protected for future generations.
"We just need people to follow the rules. Pack it in and pack it out, people need to remember that. If you are going to the bathroom on these islands, you need to pack it out. We really promote the leave no trace mentality. We have had a real problem with people leaving waste and dirty tissues on the islands and there are fire restrictions on these islands for a reason," he said. "We really need people to respect the land and follow the rules so we don't ruin and wreck these natural treasures."
Reporter Jeremy Weber may be reached at 758-4446 or jweber@dailyinterlake.com.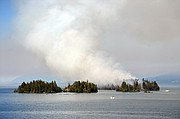 ---