Building, real estate bright spots in Montana economy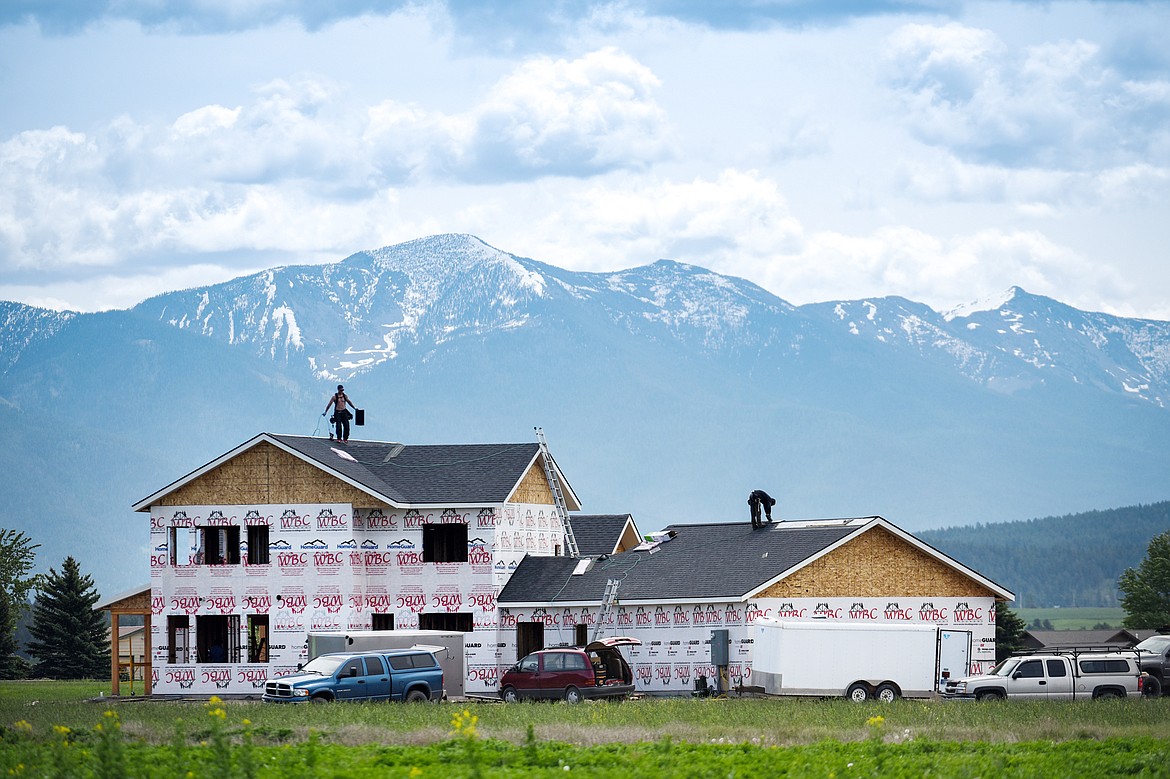 Roofers work atop a house under construction in the lower valley on Wednesday, June 3. (Casey Kreider/Daily Inter Lake)
by
BRET ANNE SERBIN
Daily Inter Lake
|
August 8, 2020 1:00 AM
At the mid-point of the year, the national and state economies look predictably bleak as businesses continue to contend with the fallout of the COVID-19 pandemic. But expert analyst Patrick Barkey, director of the Bureau of Business and Economic Research at the University of Montana, sees a few surprising—perhaps even heartening— highlights in Montana's economic situation.
"We're in a very, very deep hole," said Barkey during the Bureau's quarterly economic update event, held as a virtual webinar Thursday. "This is not surprising."
Barkey pointed out the national Gross Domestic Product for the second fiscal quarter from April through June was among the worst the country has ever recorded. The U.S. economy contracted by about 33% in the last quarter, and the ongoing recession is of a "completely different order of magnitude to any other recession we've experienced in post-war history," Barkey said.
The most significant drop-offs occurred in consumer spending and international trade. Both of these areas have direct impacts on many Montana industries, including consumer spending for services such as dining and decreased trade for goods like agricultural exports to Asia.
"Restaurant spending cratered," Barkey observed, and many imports and exports are down almost 50%.
Even so, Barkey believes the most recent analyses show some reasons for optimism.
Looking at the pronounced downturn during the second fiscal quarter, Barkey noted the most severe effects were concentrated back in April. In May and June, some economic indicators—like employment and consumer spending—were actually on the upswing.
"That first month was a doozy," Barkey admitted, but he pointed out, "almost all of the downturn in the quarter was concentrated in April…We saw dramatic increases in employment and consumer spending in the last two months."
Consumer incomes also rose during the second quarter, largely due to government financing such as expanded unemployment benefits. Spending on groceries—particularly liquor and cigarettes—increased during the most recent economic time-frame.
And one major barrier to consumer spending has been shoppers' physical inability to spend at stores, rather than their disinterest in spending as a whole. Barkey was encouraged to see businesses adapting to continue providing goods and services through innovations such as curbside service.
However, trends away from restaurants and service industries, in general, are hurting Montana's tourism-heavy regions like the Northwest, which lost the largest number of jobs in all of the state. Looking forward, Barkey warned businesses tied to tourism, travel, entertainment and large gatherings—generally categorized under discretionary spending—are in the most precarious positions for recovery.
Overall, Barkey reported most analysts are more optimistic about the national economy in 2020 than they were in the first financial quarter. He said some forecasts suggest the country's economy could expand by 17% in the third quarter.
In Montana specifically, the existing information appears less clear, Barkey explained.
"COVID is not respecting state boundaries," he said, so many national phenomena are generally relevant in Montana as well. He noted, however, that cases started spiking earlier in more populous states, so Montana was somewhat "late to the party."
Montana has not been spared from trends like unemployment; there was a national decline of about 20 million jobs through the second quarter. But Barkey said Montana's job losses haven't been quite as significant as the national declines.
Industries like crude oil production in Eastern Montana have taken some of the hardest hits in the state, according to Barkey.
Another major decline occurred in credit card transactions, particularly at Montana restaurants. Credit card spending dropped into a "huge hole" in late March and early April, and so far it has only experienced a "very tepid recovery," he said.
Fortunately, some aspects of the Montana economy are outperforming their national counterparts. Industries related to construction and real estate have stayed strong in Montana. Construction employment seems to be back on track with pre-COVID levels. "At least that is one sector of the economy that seems to be doing a little bit better," Barkey said.
Housing prices have been largely unaffected, too, maintaining the upward momentum that existed for years prior to the pandemic. Rental properties in Montana also seem to be performing better than rentals in the rest of the country. Barkey seemed surprised by the success of the real estate industry in Montana, although he isn't enthusiastic that an alleged influx of new residents from urban areas will create a serious impact on the state economy.
The takeaway for Barkey was the preliminary nature of the existing data, particularly for smaller populations like Montana, and the fluidity of the overall situation. "We're still learning," he insisted.
Reporter Bret Anne Serbin may be reached at (406)-758-4459 or bserbin@dailyinterlake.com.
---