Daycare center adds consignment shop
by
BRET ANNE SERBIN
Daily Inter Lake
|
August 9, 2020 1:00 AM
Giggles Consignment and Kids' Shop in Columbia Falls opened last month with the intention of creating a high-end retail location for gently used children's apparel and toys.
"There is a need for it in the valley," owner Leesa Blackwood said.
Blackwood has owned Giggles Playcare, a drop-in daycare center, since 2016, but took a two-year hiatus in Denver while her partner managed the day-to-day operations in Columbia Falls. It was in Colorado that she noticed the popularity of upscale children's consignment shops and decided to bring the concept to parents of the Flathead.
"I think there are a lot of moms like me that do buy higher-end [clothing]," said Blackwood, who has a 6-year-old son, Dean.
She's looking for consignors to bring in brands such The North Face, Patagonia, Carter's and Ralph Lauren. She explained she won't accept off-brand apparel, and drop-offs must be "very gently used"—no stains, rips or major signs of wear and tear.
"These clothes are not for outdoor play," she added.
She estimated most items will be priced between $2 and $15. Consignors will receive 60% of the profits, and Blackwood will receive the other 40%. Items will go on sale for 90 days in the store and those that don't sell will be marked down during their final 30 days. Anything that is still on the shelves after 90 days will be donated to nearby thrift stores such as The Garden of Eden.
As a daycare owner, Blackwood has her finger on the pulse of children's fashion and parents' preferences. She was inspired by the success of 406 Consignery, a pop-up children's consignment event that has been immensely popular year after year during its annual stop in the Flathead.
With her existing clientele and business acumen, Blackwood decided to take that concept and make it permanent.
"My family is all business owners," explained Blackwood, who is originally from Seattle. "It's in our blood."
That background helped her realize the time was right to repurpose part of her daycare facility, since COVID-19 restrictions won't allow her to accommodate as many children in the daycare as she used to.
Now, she has an expansive place to shop and drop off items right next door to the daycare center. "There's nothing quite like this in the valley," she noted. "It's so spacious."
Blackwood believes the roomy store will make for a comfortable shopping experience, even with social distancing measures, and her management will make her business partners feel comfortable, too.
"That trust factor is something I'm really going to focus on," she insisted. Even though she expects to run the store without any additional staff, she still plans on tagging every item and keeping consignors updated with an online tracking system to let them know whether their goods have sold. "I am super detail-oriented," she stressed.
Plus, she recognized, "even if you sell an article of clothing that's only $1, that's still your dollar."
Since the grand opening on July 20, this approach seems to be resonating with the community. "We've had quite a few people dropping off items. That's been really good," she reported. Consignors are welcome to drop off clothes and toys anytime during the shop's business hours or during special drop-off days, which are announced on the shop's Facebook page.
She admitted the shopping side has been a little slower than she had hoped, but if things pick up, she already has her sights set on ways to build the business. "We've talked about Kalispell," mused the ambitious businesswoman. "Maybe we will expand."
"I've made this one pretty good," she pointed out, gesturing to the daycare side of the building while she perused the racks in the consignment shop. "Let's see what I can do over here."
Giggles Consignment Shop is located at 734 Ninth St. W., Suite 7, Columbia Falls. Hours are 10 a.m. to 5 p.m., Monday, Tuesday, Friday and Saturday.
Reporter Bret Anne Serbin may be reached at (406)-758-4459 or bserbin@dailyinterlake.com.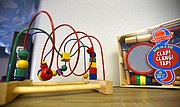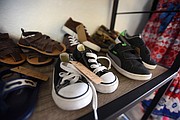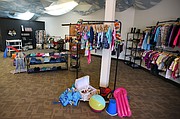 ---