Frontline workers keep Flathead Valley moving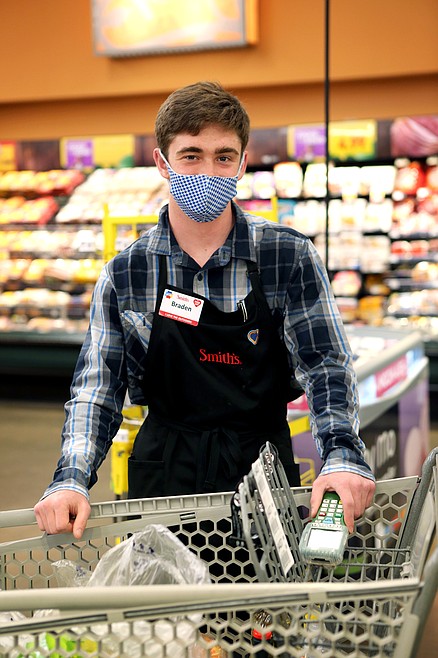 Braden Comer, who fills Clicklist orders at Smith's, pauses for a photo during his shift at the local grocer in Kalispell. (Mackenzie Reiss/Daily Inter Lake)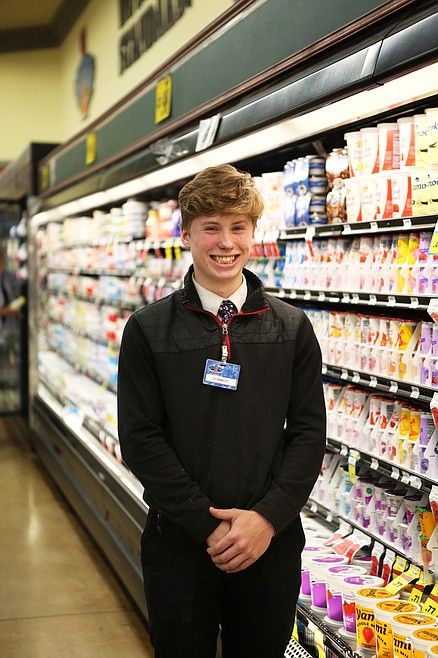 Connor Wride, a dairy stocker at Super One Foods is pictured in front of the diary display at Super One in Kalispell. (Mackenzie Reiss/Daily Inter Lake)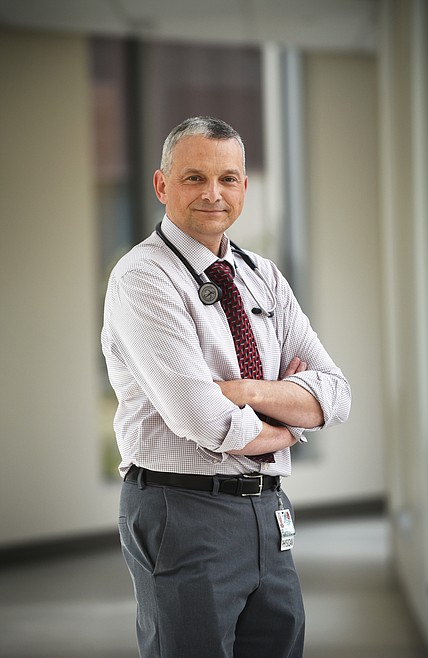 Dr. Jeffrey Tjaden, an infectious disease physician, is pictured at Kalispell Regional Medical Center where he's been at the epicenter of the hospital's planning efforts in combating the novel coronavirus. (Mackenzie Reiss/Daily Inter Lake)
Previous
Next
by
BRET ANNE SERBIN
Daily Inter Lake
|
August 9, 2020 1:00 AM
Under the new designation of "essential workers," employees from grocery stores to hospitals seem to be taking the situation in stride on the front line of defense against the COVID-19 virus in the Flathead valley.
"At the beginning, it was stressful," recalled Connor Wride, a dairy stocker at Super One Foods in Kalispell who started working on March 2. "It's starting to calm down," he said in June.
At first, Wride said one of the toughest parts of the job was unhappy customers grappling with shortages. He remembered being berated by shoppers because commodities like toilet paper disappeared within a day of arriving in the store.
But as the shelves refilled, Wride said customers are calming down. "People were a bit more on edge," when he first started work. Now, he laughed, "They're not getting as grumpy."
At Smith's Food and Drug down the street, Braden Comer noticed a similar trend in his job filling Clicklist online orders.
"In the beginning, people were frustrated and angry," he remembered. "Toward the middle, they were more caring and grateful."
Online orders, which quadrupled in May, put a serious strain on the Smith's staff, but Comer said he and his colleagues have largely acclimated at this point.
Smith's in Kalispell is still bustling, Comer reported, but he said he wasn't too concerned about being exposed to the virus at work. "I knew there was a risk of exposure," he noted, "but I didn't let that stop me."
At other stages in the supply chain, local essential workers seemed to have a similar outlook. "We're running right through," said Rocky Sampson, the co-owner of Sampson Trucking in Kalispell.
Sampson and his 10 employees drive to California two or three times every week to pick up items ranging from rocks for landscaping to beer and wine for beverage distributors.
Sampson said he hadn't heard of any truckers picking up the COVID-19 virus on their travels, so he still feels comfortable making his weekly rounds. The two-day trip includes stops in Missoula and California's Napa Valley, following a route that passes through Idaho and Nevada.
"Everybody's pretty careful," Sampson reported, adding he wasn't afraid of getting sick from rest stations along the way.
One of his biggest challenges has been the changing requirements in every state. "They're all different," Sampson pointed out. "Nevada's different than California." Most individual businesses have their own safety practices the drivers have to keep in mind, too.
It's made life a little trickier, but Sampson was mostly grateful just to stay in business. Besides a decrease in rock loads, Sampson Trucking has avoided disruptions that have afflicted other area trucking companies.
"They're keeping us busy all along," he said. "It's been good."
Some essential workers have had to find new ways to keep busy. When tourism slumped in Bigfork in the spring, Austin Ramey started driving for DoorDash as a way to shore up some savings and support the local economy overall.
"I went all over the valley," said Ramey, who fulfilled about 40 orders over the course of a few weeks during the evenings and weekends. "It was a way to save up some extra money and help people out," he said.
Ramey reported it was easy to get started and his interactions with restaurants and customers went smoothly overall, even though working with DoorDash was a new experience for most people.
"It's a whole new process of integrating delivery into your business," Ramey pointed out. But he said restaurants made it convenient for drivers to get in and out with orders, and most of his customers were friendly — that is, the few he interacted with face-to-face.
"I was pretty uninvolved. Most people I didn't come into contact with at all," he explained.
DoorDash diners seemed grateful to have a "touchless" way to get food from their favorite restaurants, especially older clients, although they made up only a small portion of Ramey's deliveries. "It's huge for that population," said Ramey, who would often use the application to coordinate specific drop-off sites or unique precautions tailored to each order.
Even though he and most of his customers were new to the app, Ramey said delivery driving during the pandemic was "pretty simple."
Even Dr. Jeffery Tjaden, an infectious disease specialist at Kalispell Regional Medical Center, said his experience has been a lot smoother than health-care providers' in other areas.
Tjaden has been on the forefront of the valley's coronavirus response since the novel virus first emerged in China, and he said local health-care workers have been in advantageous position compared to most.
"I think we've been pretty fortunate that we've had adequate PPE throughout this and I think that was because some of their early strategies — stopping elective surgeries and those types of things that use a lot of gowns and masks," Tjaden said of KRMC's response to the outbreak.
"I think that's where the community was really helpful initially — we had some drives and things to get gloves and made a lot of cloth masks," Tjaden recalled. "It's been nice to have that support from the community."
As the only infectious disease specialist in the county and surrounding area, Tjaden still has his work cut out for him.
"Basically it's 24 hours a day, seven days a week since it's emerged," he reported.
In his position, Tjaden has had to be diligent about his own health. So far, he said he hasn't had any exposure or need to isolate himself from his family.
But the situation continues to change for frontline workers like Tjaden.
"I think we still have to be realizing that the virus is still out there, the numbers are increasing and we need to still do social distancing and think differently about our interactions with people," he urged.
Reporter Bret Anne Serbin may be reached at (406)-758-4459 or bserbin@dailyinterlake.com.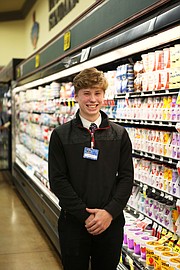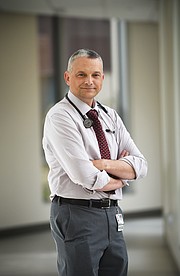 ---