New Muldown School ready for students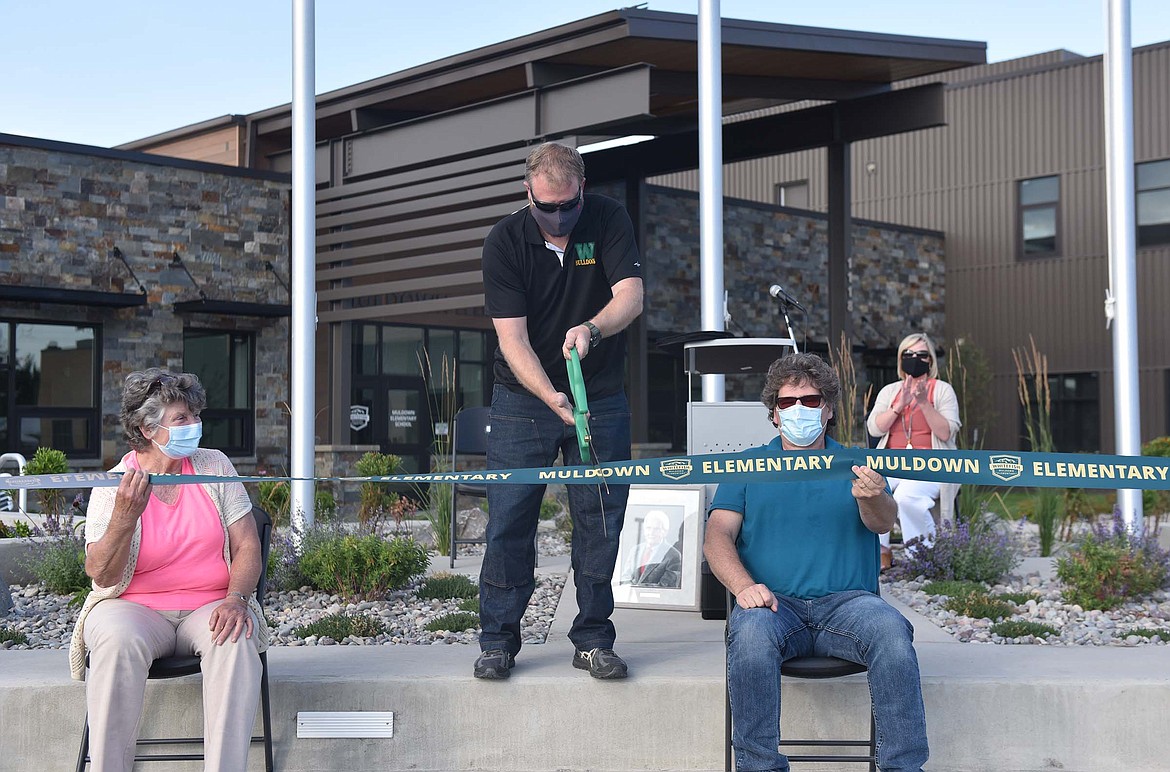 In front of the new Muldown Elementary School, Joe Akey cuts the ribbon last week, held by School Board trustees Ruth Harrison and Shannon Hanson, officially opening the new school. (Heidi Desch/Whitefish Pilot)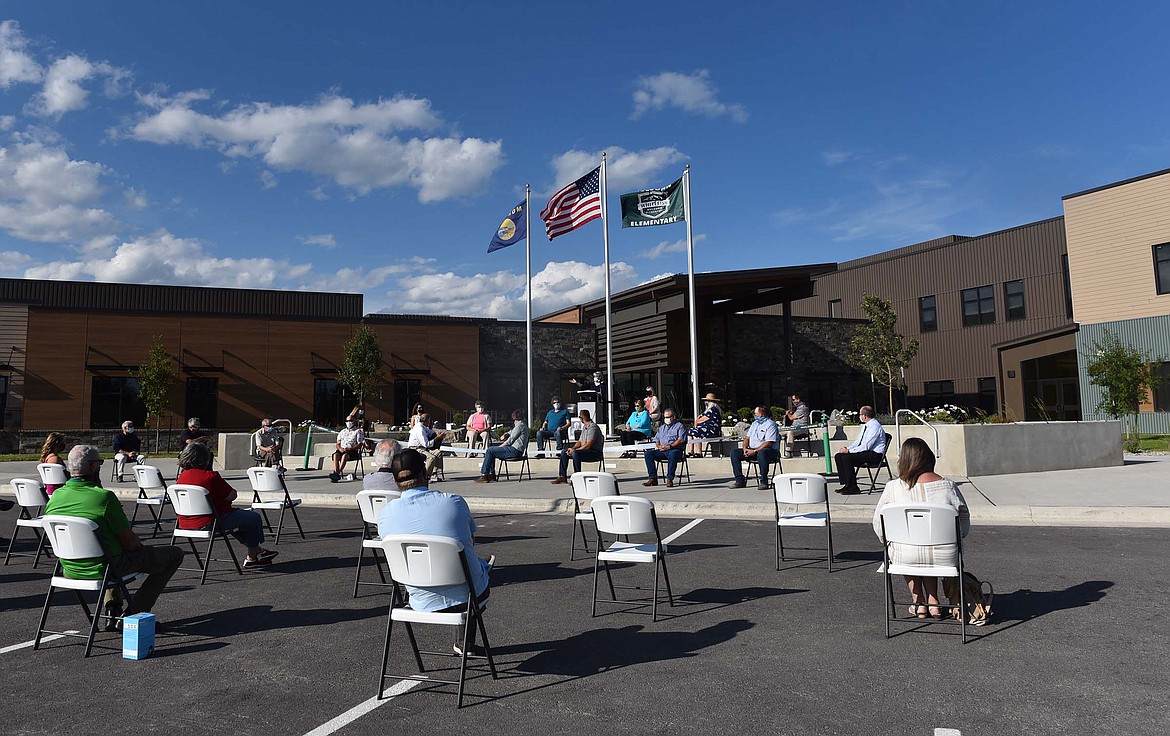 While sitting spaced apart to maintain social distancing, Whitefish School District officials, school board trustees and a few invited guests attended a ceremony last week in front of the new Muldown Elementary School to celebrate the completion of the new school building. (Heidi Desch/Whitefish Pilot)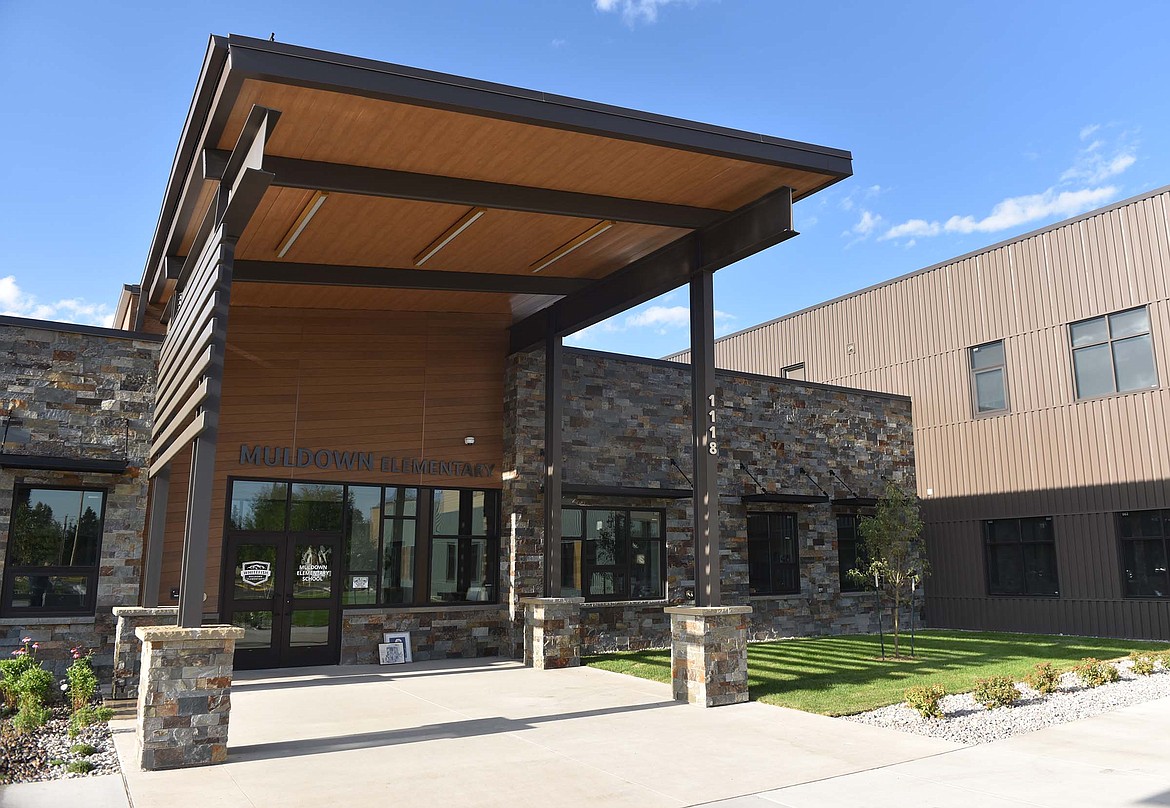 The main entrance to the new Muldown Elementary School building. (Heidi Desch/Whitefish PIlot)
Previous
Next
by
HEIDI DESCH
Daily Inter Lake
|
August 26, 2020 1:00 AM
A pair of giant green scissors were used to cut the ribbon last week officially celebrating the completion of the new Muldown Elementary School building.
A ceremony recognizing the new school building was held outside the front entrance on Pine Avenue. The ceremony was limited in attendance to the Whitefish School Board trustees and key people involved in the project while maintaining social distancing due to the COVID-19 pandemic.
Muldown Principal Linda Whitright began by speaking to the audience, simply saying the date — Aug. 13, 2020, and time of 6 p.m.
"Here we all are," she said. "Here is your brand new L.A. Muldown Elementary School — it's amazing."
Standing in front of the building, Whitright thanked the people involved from early discussions on the need for a new school, voters who approved a $26.5 million bond for construction, those who worked to design the building and those who oversaw the project through construction.
"Thank you to everyone for everything you've done for our kids and for all of us," she said.
"I only wish I could now invite you into the new school," she added, noting that tours of the new school aren't feasible due to the COVID-19 pandemic.
The original Muldown Elementary School, located just east of the new building, opened Sept. 5, 1967, and was named for L.A. Muldown, who taught school in Whitefish for 31 years before becoming superintendent of the district for 11 years. The school underwent major renovations in 1992, but in recent years it became apparent that it was time to consider constructing a new building.
The building faced water leaks from the roof and relied on a 50-year-old heating system that was threatening to fail. Enrollment of roughly 700 students at the state's largest elementary school also meant full classrooms and crowded hallways.
Former Whitefish Superintendent Heather Davis Schmidt returned to Whitefish to take part in last week's ceremony, saying the new school is an amazing accomplishment for the community and the students of Whitefish.
She pointed to the words of L.A. Muldown wrote about the once innovative design of the original Muldown school that opened in 1967.
"Whatever choices we make, it is vitally important to remember that this school was an attempt, a serious attempt, by the members of the community and the School Board to provide quality education to their children," Muldown said. "What form that education takes is not the point; the point is that we continue to make quality education our top priority."
"It was true then and it's true now," she said. "There's nothing more important to the future of our democracy, no investment more critical, than the one we make in our children's education."
L'Heureux, Page and Werner Architecture designed the building and Martel Construction was the general contractor.
The school district is planning to create a video tour of the school that will be available on its website, www.wsd44.org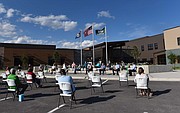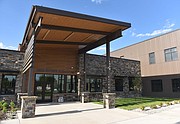 ---