At-home workout program isn't Kalispell cowboy's first rodeo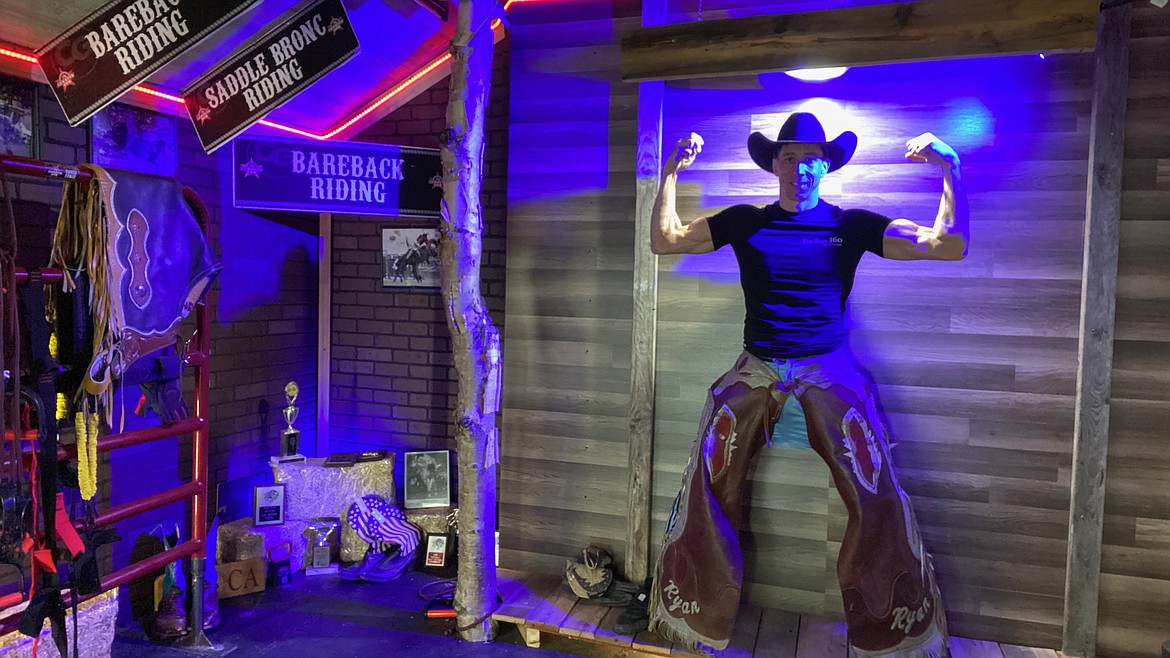 Former rodeo competitor Ryan Ehmann of Kalispell has created ...
by
BRET ANNE SERBIN
Daily Inter Lake
|
August 31, 2020 1:00 AM
Finding success has been a bit of a bumpy ride for Ryan Ehmann, but that's just the way he likes it.
The Kalispell businessman—known to most simply as "Cowboy"— has built a small fitness empire out of his background as a rodeo rider. It's what he believes sets him apart, makes his workouts so effective and earned him national attention with two stints on the ABC reality TV show "Shark Tank."
"It all comes back to…being a rodeo rider," said Ehmann, who transformed his passion for rodeo into a one-of-a-kind exercise regimen. "It's been a neat journey. It's weird where life takes you."
The native of Darby certainly never expected his active lifestyle and go-getter attitude would lead him to where he is today. But this fall, he'll be featured on ABC's "Shark Tank" for the second time to showcase his new "Healthy at Home" program, a tailormade set of digital workouts designed to help people stay in shape, even while staying at home through the COVID-19 pandemic.
Like all of Ehmann's health and fitness endeavors, his latest program is rooted in rodeo. Thirteen years after launching his fitness career, Ehmann has lost a few pounds, but not a single shred of his cowboy heritage.
"I grew up being a rodeo guy," he said. "If there's a rodeo in Montana, I've done it."
EHMANN MADE his rodeo debut later in life at the age of 20, but just as soon as he caught the "rodeo fever," his career got derailed by chronic lower back pain.
"Rodeo was all I wanted to do," Ehmann said. He moved to Texas to rodeo full-time, but doctors there told him he would have to retire to save his back.
Ehmann hit his low point—physically, emotional and financially. For two years, he lived in a camper in a field in Texas and mourned his short career.
"I was lost in life because my rodeo dream went out the window," he related.
Finally, his cowboy attitude kicked back in, and Ehmann decided to take up personal training in order to better understand his body and what was bothering it. For Ehmann, the best fix was building muscle, and in just a few months his back pain vanished, his attitude improved and, best of all, he got back on the horse.
"I returned to rodeo again. It was incredible," said Ehmann, who had earlier been told by experts that there was "no way" he could ever ride again.
Everything was looking up in 2004, when he won a national bareback riding competition, the Mesquite Texas Championship on Fox Sports. But Ehmann still wasn't out of the woods.
Another serious injury jeopardized his rodeo dreams shortly after winning the national championship, and this time, Ehmann decided to start down a different path.
ALREADY A sponsored personal trainer with Gold's Gym in Texas, Ehmann realized his own fitness journey had given him a special knack for designing effective workouts and motivating people to improve their health.
He decided to open his own personal training studio in Texas, using rodeo-inspired equipment and an almost impossibly upbeat inspirational style, created, in part, through 10 years of work with motivational speaker Tony Robbins.
"People always tell me, 'I hate working out but this just looks fun, let me try it,'" Ehmann said. Most of the time, they get hooked on the results, the rodeo-inspired experience and Ehmann's trademark expression, "Woohoo, that's what I'm talking about!"
At his studio, Ehmann's trainees were finding they could lose weight with his help, even though they had never found success in other attempts at weight loss, so Ehmann started to look beyond the small space to reach an even broader audience.
In 2013, at his wife's urging, he applied to appear on "Shark Tank," a competition show that provides investment funding to entrepreneurs with unique business ventures. When he got a chance to appear before the panel of investors, known as "sharks," the cowboy made it count—he showed up decked out for a rodeo, ripped off his shirt to reveal the personal results of his fitness regimen, and won the support of New York clothing guru Daymond John.
John didn't have any experience in fitness training, and Ehmann didn't know much about fashion—but they put their heads together and developed a gym franchise, DVD set and meal service under the Cowboy Ryan brand.
"It was pretty ironic: a cowboy from Montana gets a partner from New York that's into clothing," Ehmann said with a laugh. But the unlikely partnership worked out.
"It was the hit thing," Ehmann said.
WITHIN THE first 60 days of opening a Cowboy Ryan's gym location in Colorado, there were already 100 members signed up. Ehmann said it usually took him at least a year to generate a following of that size at his small Texas studio.
He started hearing from dozens of people from across the country interested in opening franchise locations in their cities and towns, so Ehmann and his team began developing a franchise model just as the COVID-19 pandemic closed the doors to most fitness centers.
Ehmann quickly turned the garage of his Kalispell ranch into an at-home gym, but he still wanted to reach his followers and help others improve their fitness, too. So he started the digital "Healthy at Home" program, created to make working out easy and sustainable for athletes of all levels while they are cooped up in their houses.
"Healthy at Home" has three levels of workouts that utilize household activities like walking a flight of stairs or making a trip to the mailbox in order to keep participants active in an easy, accessible way.
"It's so simple to do but it's challenging enough," Ehmann explained.
Ehmann's contacts at "Shark Tank" were impressed by his continued creativity, so they came out to Montana to get a look at his latest idea. "Healthy at Home" will be included in a special episode of the show this fall that will focus on how show competitors have adapted their businesses in light of the coronavirus pandemic.
"Shark Tank" attracts more than 10 million viewers each week, so Ehmann is excited about the opportunity to bring his most recent breakthrough into even more homes across the country.
"It's totally awesome," he gushed.
Depending how his business develops, Ehmann also hopes to deepen his business connections in his home state: he's eyeing potentially opening a Cowboy Ryan's gym in Kalispell, and he's thinking about teaching some personal training classes at Access Fitness in Kalispell as well.
He said he feels fortunate to be able to continue having a healthy impact on people's lives despite restrictions on in-person gatherings, but he's looking forward to a day when he can get back to the real deal, too.
"I miss working with the people," he said, but it doesn't seem like the endlessly upbeat cowboy will have trouble keeping his spirits up in the meantime.
Reporter Bret Anne Serbin may be reached at (406)-758-4459 or bserbin@dailyinterlake.com.
Recent Headlines
---