County begins tough task of replacing health officer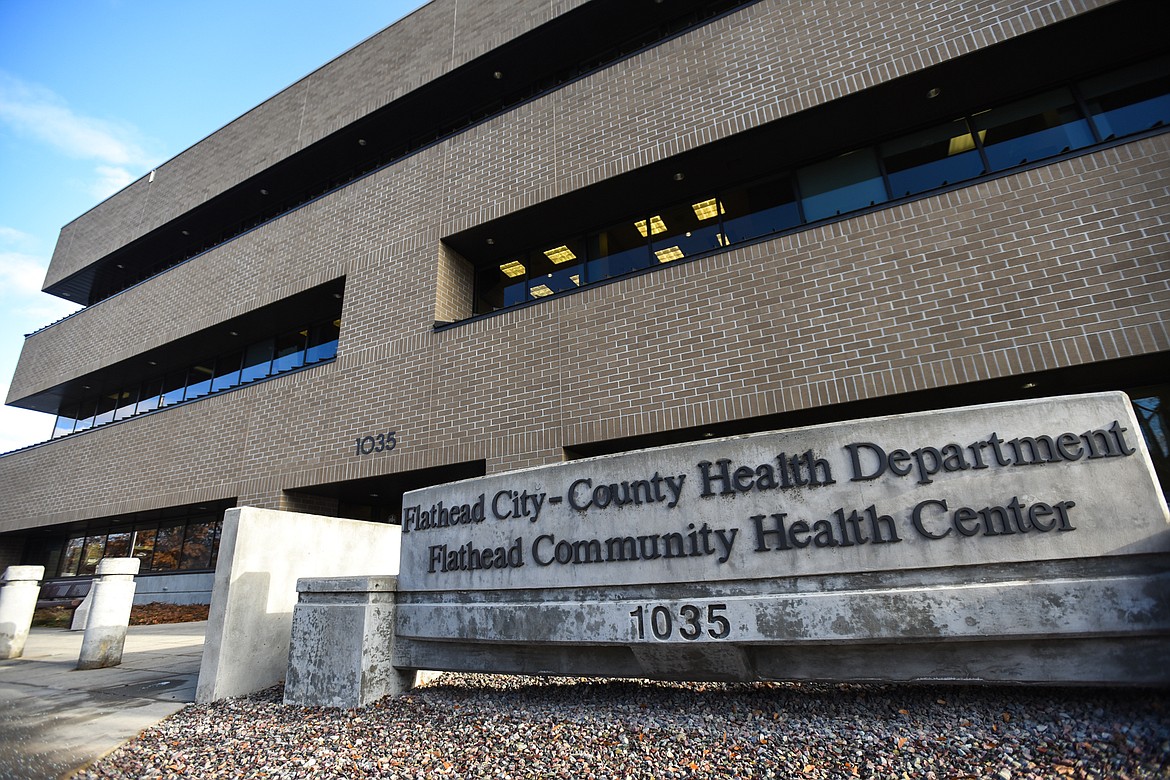 The Flathead City-County Health Department and Flathead Community Health Center at 1035 1st Ave. W. in Kalispell on Tuesday, Dec. 1. (Casey Kreider/Daily Inter Lake)
by
KIANNA GARDNER
Daily Inter Lake
|
December 1, 2020 2:45 PM
The Flathead City-County Health Department is in flux after the Interim Public Health Officer Tamalee St. James Robinson announced she will step down at the end of the year — a decision that set a tight deadline for a hiring team to secure her replacement in the midst of a pandemic.
Those in charge of finding a new public health officer have been searching for a permanent, qualified individual since spring, but have had no success. The team has launched two separate hiring rounds that have lasted about three months each, but according to Flathead County Board of Health member Kyle Waterman, they have yet to "come to mutual" agreement with any of their top candidates.
Waterman, who also chairs the board's personnel committee, said given the short timeline, the board most likely will bring on another interim health officer to guide the department through the next several months until they can launch a new, more robust search for a permanent individual sometime in the spring.
Regarding the difficulty in hiring a health officer, Waterman said the issues are wide-ranging. For example, some candidates expressed concerns over the Flathead Valley's vaccine-hesitant population, while others who would have had to relocate for the job said Flathead County's tight housing market was a deterrent. But overall, he said one of the most daunting hiring challenges has been trying to persuade a public health leader to join a county health department during a public health crisis.
"We have 30 days to hire a public health official in the middle of a pandemic and the people we want are the people who already have a job, which means they are the hardest people to recruit," Waterman said.
Not only will the individual have to ensure contact tracing and case investigations continue uninterrupted, he or she also will be tasked with leading the community through what is expected to be one of the darkest stretches of the pandemic and will eventually guide the local vaccine deployment process.
"Whoever we bring on, interim or not, will be put in the driver's seat for all of this," Waterman said. "Right now, I would describe this as being a crisis management role."
BOARD OF Health Chairman Bill Burg said it is his hope, as well as the hope of others, that whoever is recruited comes from a strong educational background, possesses supervisory skills and bases his or her decisions on the best medical science available. In addition, he said the individual must be an effective leader who can be a "convincing voice" that communicates "thoughtfully and clearly, but calls a spade a spade."
Burg and Waterman said these traits come with a price, and in order to recruit such an individual, the county needs to offer a competitive wage. The position normally pays a salary ranging from $95,000 to $110,000, depending on experience, but Waterman said that's a "pot that needs to be sweetened" considering the new hire would be coming on during an extraordinary time.
An increase to that offer also would have to be approved by the Flathead County commissioners, who have made it clear they rarely, if at all, grant wiggle room to salaried positions. As a more recent example, those elected officials denied overtime pay for a handful of health department managers who had been working extra hours since the start of the pandemic. And according to Burg, candidates are paying attention to those decisions. He explained that qualified individuals who might already be taking a pay cut to accept the position, are even less inclined to do so if they know their paychecks may not be flexible during a time when they will most likely be logging overtime.
Burg and Waterman said they both hope the commissioners will approve a raise or bonus of some kind, considering pay was a primary concern expressed by three different candidates who were offered the position but eventually turned it down. Waterman said Monday morning he is hoping to go before the commissioners soon to discuss the possibility of additional financial incentives.
PANDEMIC LOGISTICS aside, the incoming health officer will also have to help mend strained relationships among Health Board members and elected officials, which have largely been fueled by COVID-19-related disagreements.
St. James Robinson, who not only steps down from her job on Dec. 31, but also from her position on the Board of Health, touched on these challenges in her resignation letter sent to the Board of Health and Flathead County Commission last week. In it, she stated deep divisions within those two groups and consistent inactions were chief among her reasons for submitting her notice.
"The Commissioners' and Board's failure to enact or publicly support even the most basic recommendations regarding mask usage, along with any type of recommended group meeting restrictions, has not only increased public health risk, it has demonstrated a clear lack of support for the county health department," said Robinson, who has spent more than 30 years of her career in the public health arena. "This lack of support has undermined morale within health office personnel, leading to numerous resignations."
Robinson, who assumed the job in June after her predecessor Hillary Hanson accepted another job offer, said the "toxic environment" is making it difficult to recruit an incoming officer. Her letter then goes on to say, "finally, it's clear that the underlying motivation by several members of your groups is more closely aligned with ideological biases than the simple desire to do what's best for the health of the community."
Burg and Waterman said they expect those biases will be the biggest challenge the new hire faces. Specifically, they both said board member Annie Bukacek is someone whose medical views contradict traditional missions of public health. Bukacek is a local physician and an outspoken critic of vaccines, which Waterman describes as "the cornerstone of public health."
"Doctor Annie is a very colorful person and I think she has very deeply held beliefs, but those beliefs are antithetical to the position of public health," Burg said. "She's three-to-four standard deviation units from the center of medical science."
Burg also said Bukacek's role in organizing anti-mask rallies around Flathead County is another "outward demonstration" of how her views are not congruent with those of the health department. Health officials have consistently asked the public to wear facial coverings in order to slow the spread of the virus, which has infected nearly 7,000 Flathead County residents to date, 39 of which have died.
THE COMMISSIONERS, who appointed Bukacek and Ardis Larsen to the Health Board in December 2019, have insisted diversity on the board is good for the community.
Larsen and Bukacek replaced former members David Meyerowitz and Wayne Miller, two doctors who had sat on the board for a decade and were seeking term extensions at the time. Meyerowitz described their decision as "unconscionable" and some health-care officials, including Burg, have alleged it was politically motivated, though the commissioners have said otherwise.
And in the coming weeks, the commissioners will be tasked once again with filling two vacant seats, one that was held by Robinson and another that is currently occupied by Roger Noble, whose term expires at the end of the year.

According to Burg, all eight members of the board have recommended Noble's term be extended, though the final say is up to the commissioners. As for Robinson's seat, he said it's anyone's best guess as to who they may choose to fill it.
"It is my genuine hope and prayer that the commissioners do not repeat what happened last time," Burg said. "We need board members that will advance the mission of public health and make hard decisions based on what is best for the entire community."
Reporter Kianna Gardner can be reached at 758-4407 or kgardner@dailyinterlake.com
---