Avalanche dog needs help with cancer treatment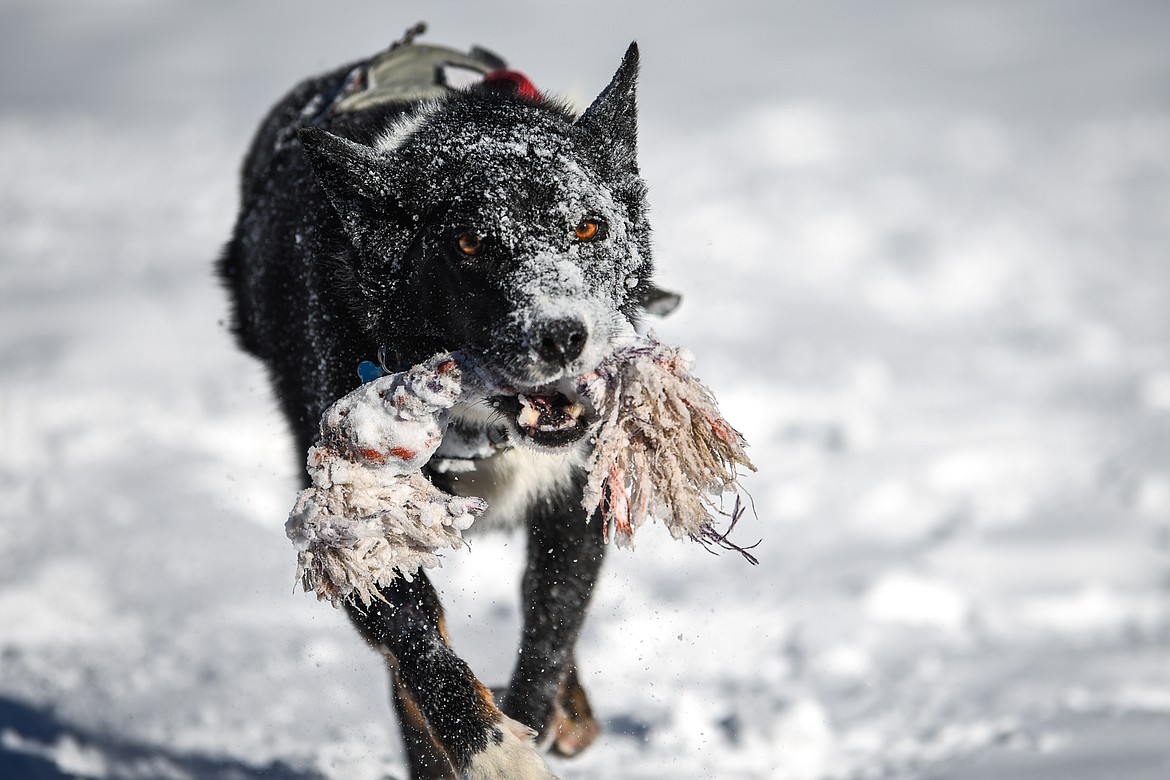 Jett, an avalanche rescue dog with Whitefish Mountain Resort ski patrol, retrieves a toy outside the resort on Wednesday, Dec. 3. Jett was diagnosed with B-cell lymphoma after his owner and Whitefish Mountain Resort snow safety coordinator Lloyd Morsett found a lump on Jett's neck.(Casey Kreider/Daily Inter Lake)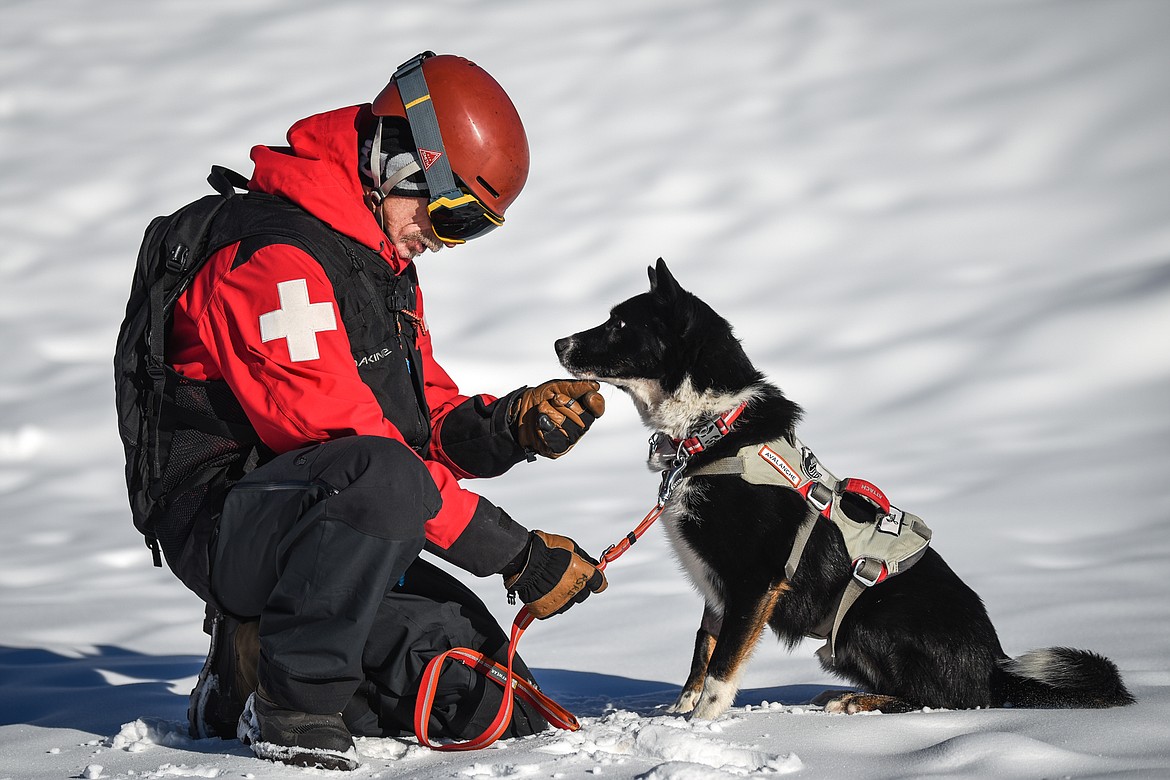 Jett, an avalanche rescue dog with Whitefish Mountain Resort ski patrol, listens to Lloyd Morsett, his owner and snow safety coordinator on the mountain, outside the resort on Wednesday, Dec. 3. Jett was diagnosed with B-cell lymphoma after Morsett found a lump on Jett's neck. (Casey Kreider/Daily Inter Lake)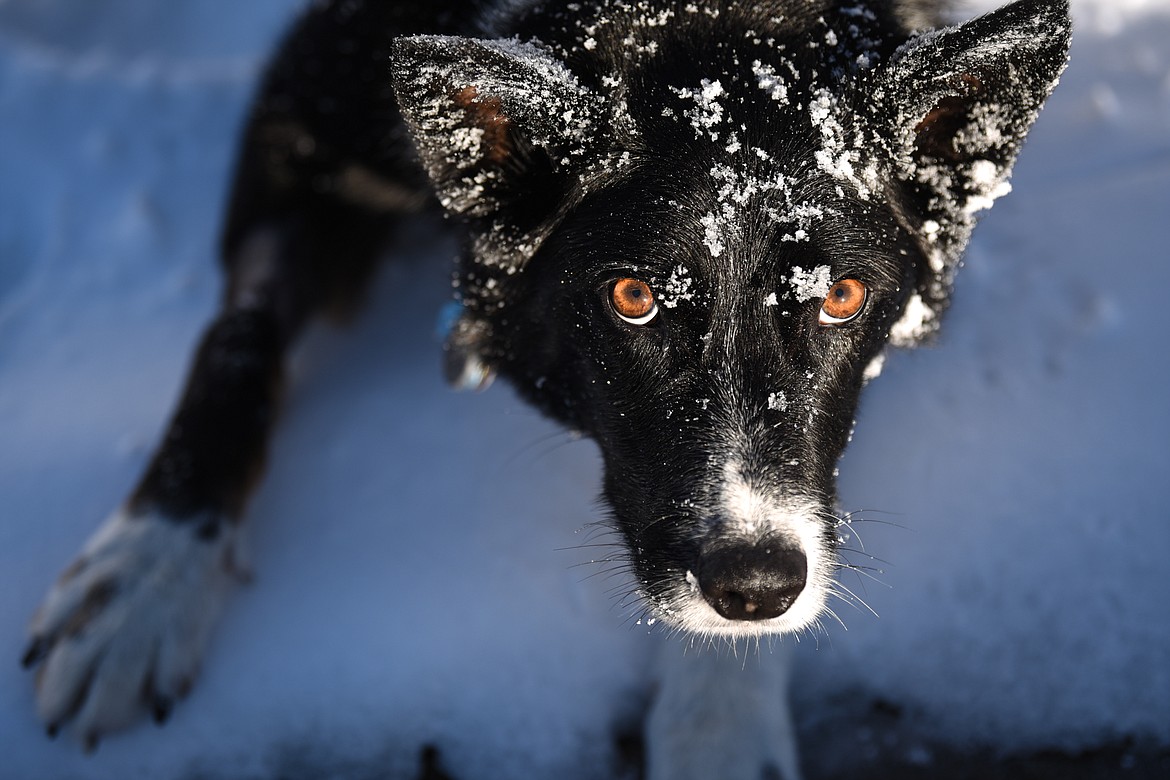 Jett, an avalanche rescue dog with Whitefish Mountain Resort ski patrol, waits for someone to toss his toy outside the resort on Wednesday, Dec. 3. Jett was diagnosed with B-cell lymphoma after his owner and Whitefish Mountain Resort snow safety coordinator Lloyd Morsett found a lump on Jett's neck.(Casey Kreider/Daily Inter Lake)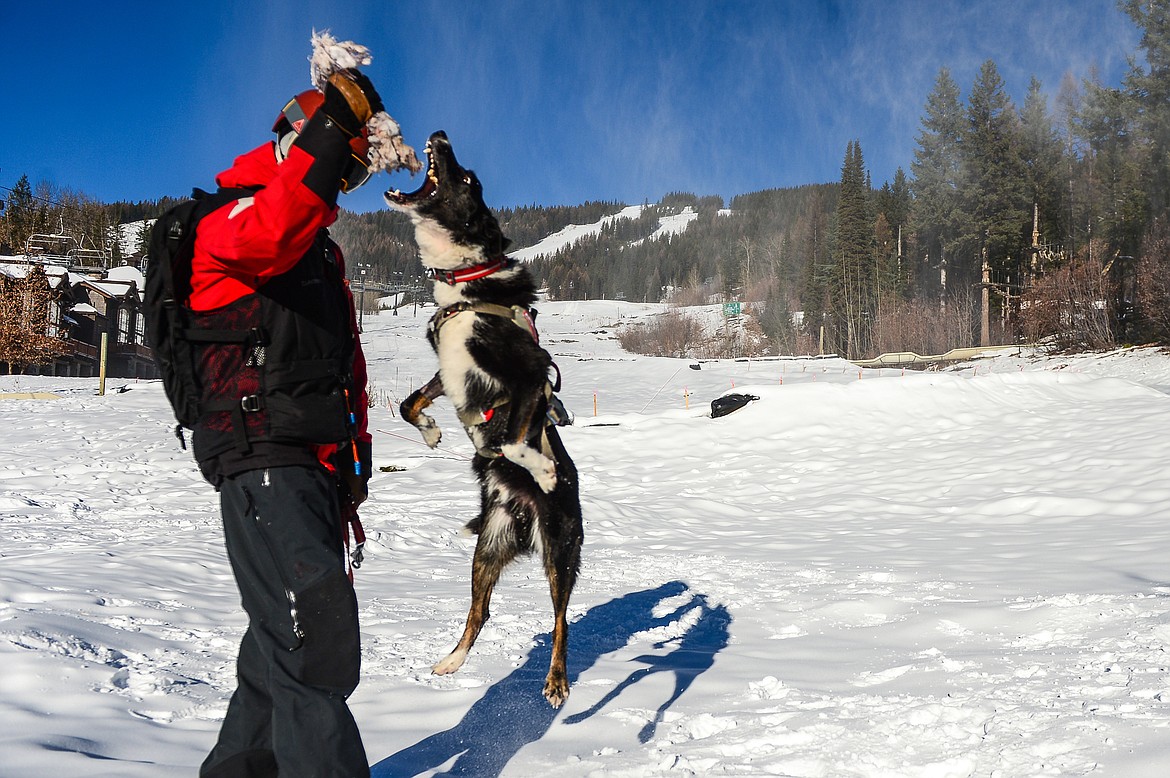 Jett leaps for a toy held by Lloyd Morsett, snow safety coordinator for the Whitefish Mountain Resort ski patrol, on Wednesday, Dec. 2. Jett, a 7-year old smooth-coat border collie, was diagnosed with B-cell lymphoma after Morsett found a lump on Jett's neck.(Casey Kreider/Daily Inter Lake)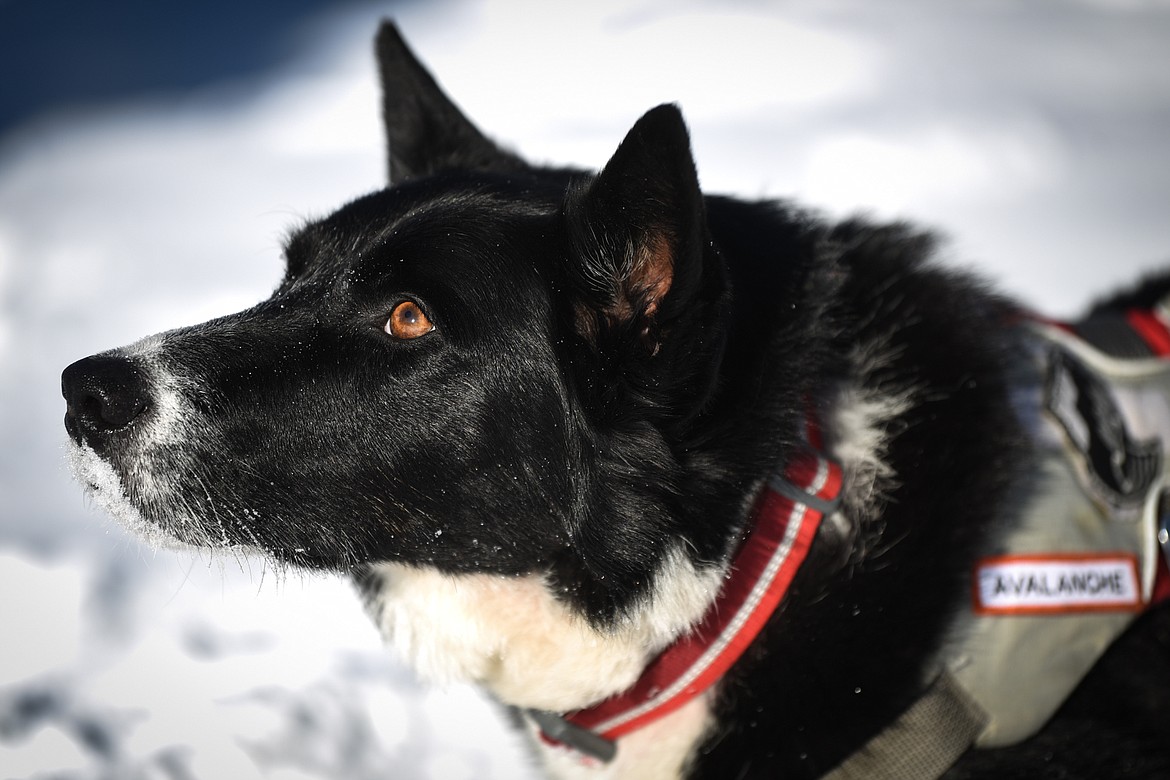 Jett, an avalanche rescue dog with Whitefish Mountain Resort ski patrol, waits for someone to toss his toy outside the resort on Wednesday, Dec. 3. Jett was diagnosed with B-cell lymphoma after his owner and Whitefish Mountain Resort snow safety coordinator Lloyd Morsett found a lump on Jett's neck.(Casey Kreider/Daily Inter Lake)
Jett and owner Lloyd Morsett, a snow safety coordinator for Whitefish Mountain Resort ski patrol, pose outside the resort on Wednesday, Dec. 3. Jett, an avalanche rescue dog, was diagnosed with B-cell lymphoma after Morsett found a lump on Jett's neck. (Casey Kreider/Daily Inter Lake)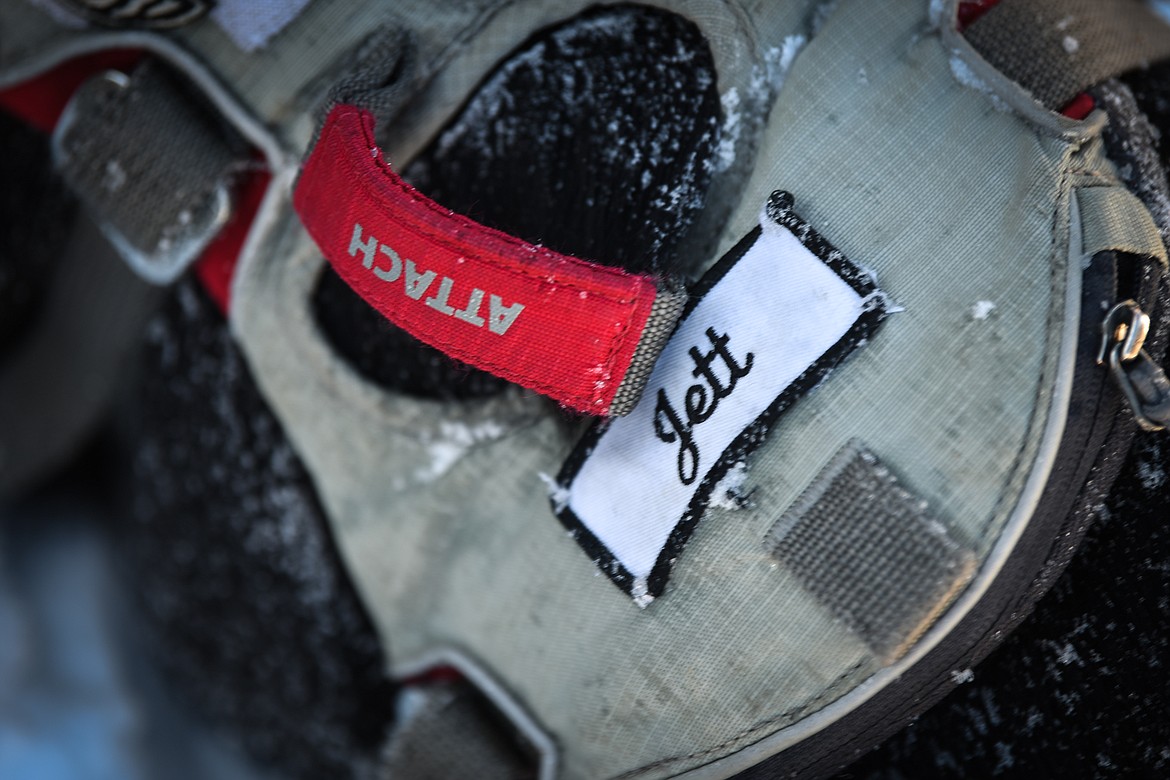 Jett's nametag on his safety harness outside Whitefish Mountain Resort on Wednesday, Dec. 3. (Casey Kreider/Daily Inter Lake)
Previous
Next
by
BRET ANNE SERBIN
Daily Inter Lake
|
December 5, 2020 12:00 AM
Jett has been serving the Flathead Valley almost his entire life as an avalanche dog. Now, he's looking for some help from the community.
Seven-year-old Jett was recently diagnosed with b-cell lymphoma, a form of cancer, and his handler Lloyd Morsett is seeking donations to help cover the cost of Jett's treatment.
"Our job in moving forward with his life is to get him better," said Morsett, the snow safety coordinator at Whitefish Mountain Resort. Jett happens to be both a co-worker and a family pet for Morsett, making it especially important for the longtime ski patroller to get Jett the help he needs.
Watching the smooth border collie romp through the snow on Big Mountain, you'd never know he's in his sixth week of chemotherapy treatment.
"He's strong, he's fit, he's super hardy," said Morsett as he tossed a snow-matted rope for Jett to retrieve for what felt like the millionth time. "We're optimistic. He's responding well to the treatment."
Morsett was a lot more worried a few weeks ago when he noticed a lump on Jett's neck, followed by a few more growths days later. B-cell lymphoma affects the lymph nodes and could jeopardize Jett's immune response without veterinary care.
Jett's being treated at Glacier Animal Hospital in Columbia Falls, and Morsett said the staff there has been extremely accommodating. "They were great," Morsett raved. "They cleared their schedule to get his biopsies."
Jett is scheduled to go through rounds of chemotherapy until March 2021. Luckily, Morsett said the prognosis looks pretty good—but Jett's recovery will certainly come at a cost.
Jett's vet bills are estimated at around $3,500, in addition to the regular costs the Morsetts take on in the normal course of keeping Jett as a pet and a working dog. Morsett explained handlers usually shoulder the costs of raising avalanche dogs, and it's estimated they rack up anywhere from $20,000 to $40,000 in expenses over their lifetimes.
Luckily, Morsett said Jett has already received a lot of support. The resort contributed a portion out of its Whitefish Community Fund to Jett's treatment, and donations have started to pour in from around the valley.
"They've been coming in right and left," Morsett said. "I couldn't be more thankful to the community."
Even though Jett is hard at work on the slopes throughout the ski season, his day job simply doesn't cover the costs of his treatment. Morsett said his family could use any donations to help get Jett back on track.
JETT HAS worked alongside Morsett every winter since he was rescued out of Utah at 9 months old, and it looks like he'll be able to keep coming to work throughout his chemo regimen.
"He's feeling good. He's looking good," Morsett reported. "So far, there's been no effect on his fur, his energy or his sense of smell."
He and everyone else on the mountain hope it stays that way, because Jett is the most experienced avalanche dog on Big Mountain. He was the first fully certified avalanche dog in Whitefish's avalanche dog program, and he's been deployed to two rescue situations over his career.
During the ski season, Jett and Morsett wake up at 4 a.m. every morning to check on weather conditions before heading out to patrol the slopes and practice drills.
"He's not very good on the computer," Morsett joked, but he excels at digging people out of 3 to 6 feet of snow, a trick he practices at least once a week.
Jett never seems to get cold, tired or agitated as he accompanies Morsett around the mountain, whether he's running alongside a snowmobile or being carried in Morsett's arms onto a chairlift.
"He's been a great fit," Morsett said.
And he's clearly in the right hands: Morsett and his wife are both cancer survivors themselves. If anyone has a winning approach to treatment, it's them.
"We fought and won," said Morsett. "In our mind, there's no other way to go than to fight it head on."
Reporter Bret Anne Serbin may be reached at (406)-758-4459 or bserbin@dailyinterlake.com.
How you can help:
Donations to help defray the cancer treatment costs for local avalanche dog, Jett, can be made at thepatrolfund.org
---