Spirits are high, business brisk at Whistling Andy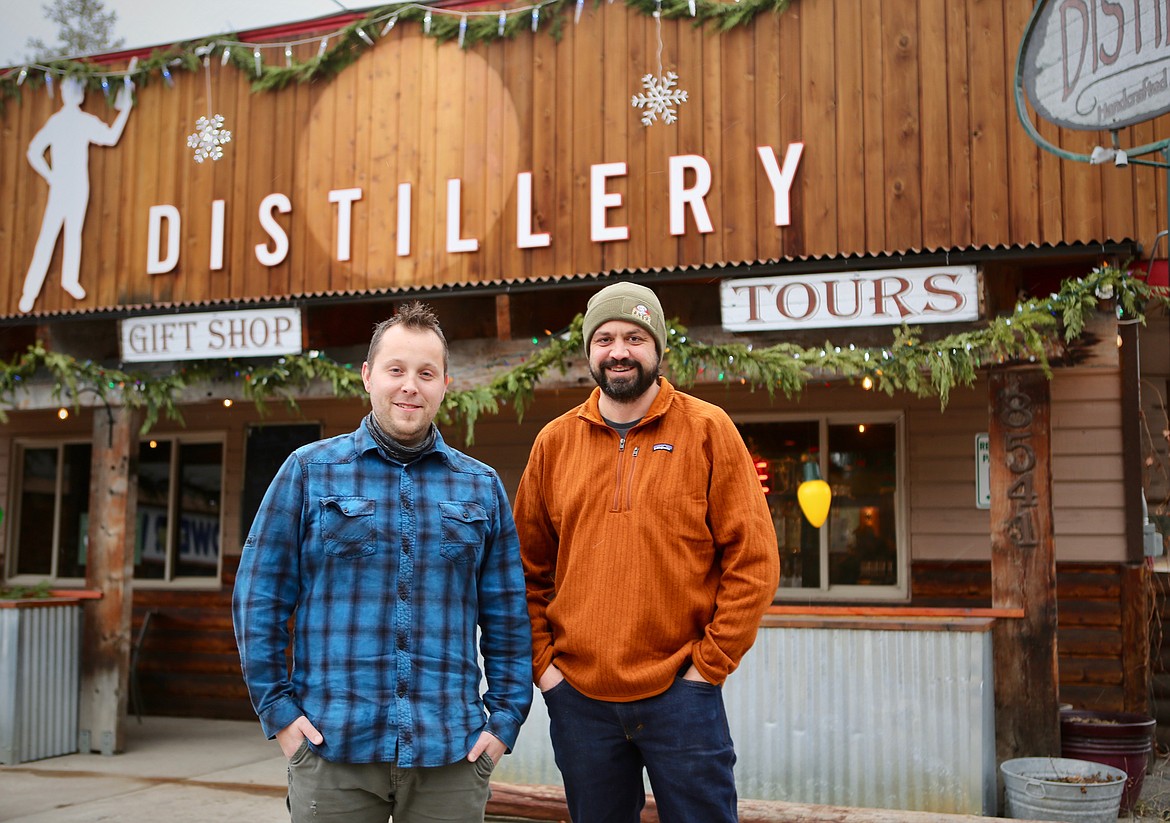 Mackenzie Reiss/Bigfork Eagle Distiller Gabe Spencer and distillery owner Brian Anderson are pictured outside of Whistling Andy Distillery which will celebrate 10 years in business on New Year's Eve.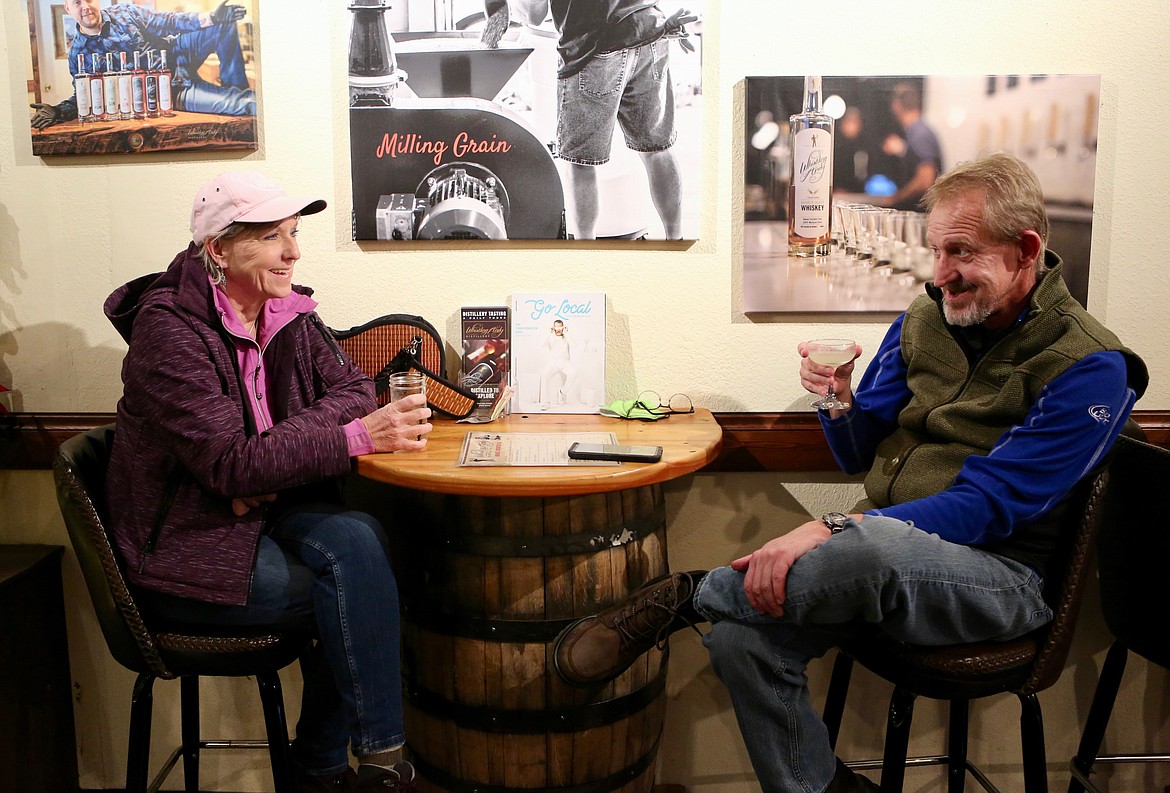 Mackenzie Reiss/Bigfork Eagle Tauni O'Brien, of Bigfork, enjoys a drink with Trevor Brenton, of Boise, Idaho on Monday evening at Whistling Andy Distillery.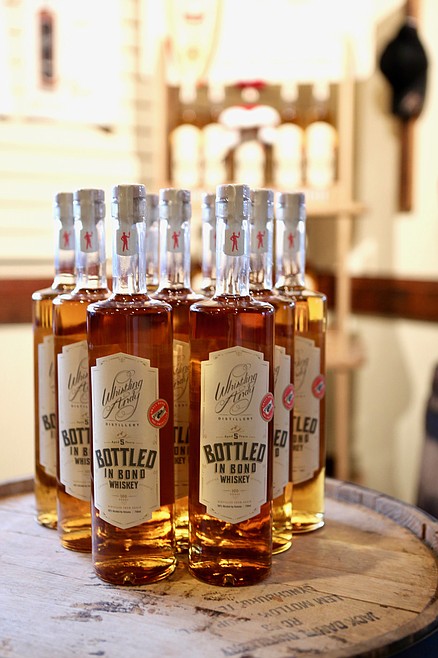 Mackenzie Reiss/Bigfork Eagle Whistling Andy Distillery's latest release is their Bottled in Bond Whiskey.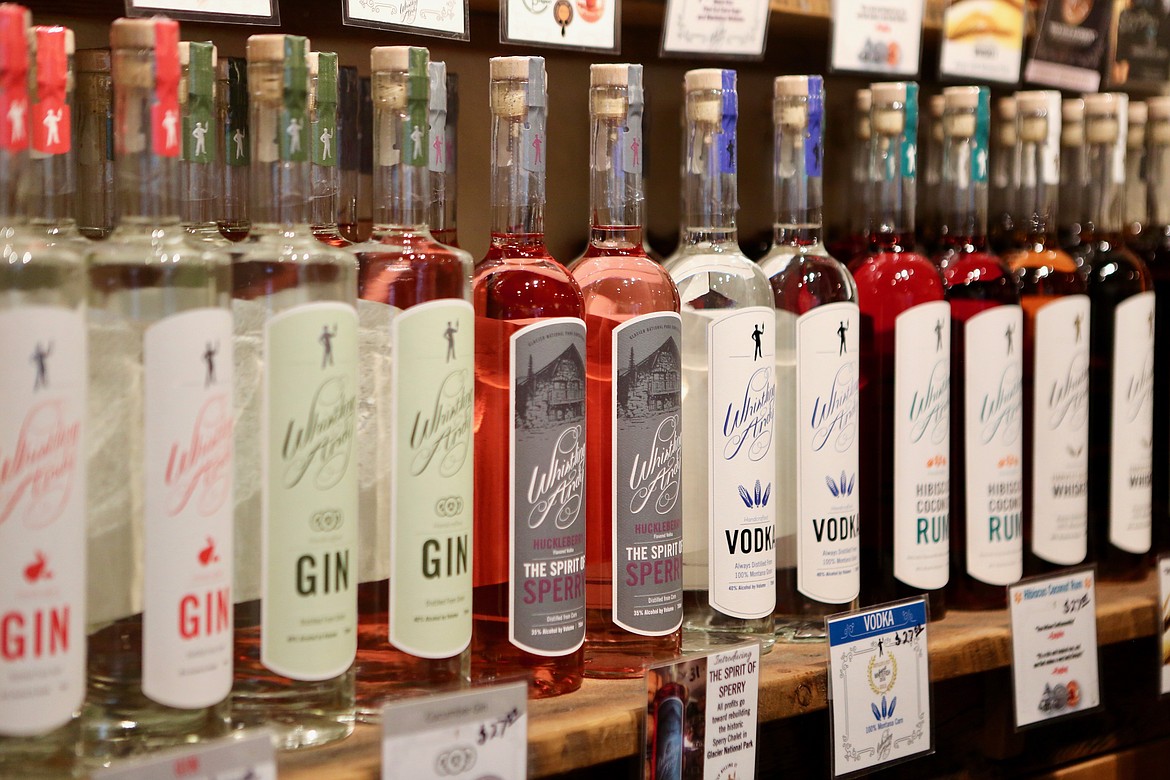 Mackenzie Reiss/Bigfork Eagle Whistling Andy Distillery in Bigfork offers 13 varieties of spirits ranging from vodka and rum to a variety of bourbon whiskeys.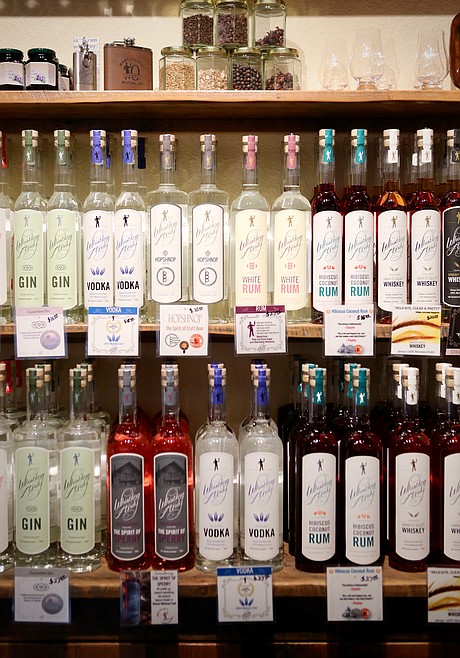 Mackenzie Reiss/Bigfork Eagle Whistling Andy Distillery in Bigfork offers 13 varieties of spirits ranging from vodka and rum to a variety of bourbon whiskeys.
Previous
Next
by
MACKENZIE REISS
Daily Inter Lake
|
December 6, 2020 12:00 AM
From the get-go, Whistling Andy Distillery co-founder Brian Anderson wanted to create a world-class product.
His vision was to make spirits that tasted so good they'd be distributed well beyond state lines, so his business wasn't limited by its location in small-town Montana.
Anderson, his wife Lisa Cloutier and then partners Mike and Dana Marchetti, opened the distillery in Bigfork on New Year's Eve in 2010 with three offerings — rum, vodka and moonshine. As competitors entered and left the burgeoning handcrafted spirits market, Whistling Andy endured, earning the company the title of Montana's longest operating craft distillery. After 10 years in the game, countless lessons learned and 13 products on the market, Whistling Andy is hitting its stride.
Its array of handcrafted spirits can be found anywhere from the Las Vegas strip to cocktail menus in Taiwan and Australia. Whistling Andy's White Rum graced Wine Enthusiasts' list of the top 100 spirits in the world and its Hibiscus Coconut Rum was named among the seven flavored spirits worth drinking by Esquire magazine. The distillery has two gold medal spirits in its lineup, including the popular Straight Bourbon Whiskey and Cucumber Gin, and four beverages rated above 90 points.
IT ALL started in a modest building along Montana 35. Anderson, with the help of a few handy locals, did nearly all the construction himself, turning a former chiropractor's office and health-food store into a distillery and tasting room.
"It's been a very bootstrapped business all the way, though. We didn't come in with big money supporting it or anything," he noted.
Anderson had the dream to bring a distillery to Bigfork in 2003, but back then state law didn't allow craft distilleries. In 2005, the legal tide turned, but a hefty 38% state tax made opening the doors economically unfeasible. Finally, two years later, taxes were significantly reduced for smaller operations and Montana distillers were permitted to open tasting rooms, too. It was the green light Anderson had been waiting for. He named the distillery after his father, who had been given the nickname "Whistling Andy" during his military days.
Anderson, a geohydrologist by trade, was equipped with the scientific background to get the operation off the ground, but the early days weren't without a few stumbles.
"It took us a while. The very first vodka we made was horrible; I really apologize to anybody who had that," Anderson said with a laugh.
They pulled that initial offering off the shelves until they could acquire the proper equipment. Six years later after lots of research and development, a new and much-improved vodka hit the shelves — one that Anderson could be proud of. He continues to be selective with the spirits he releases — sometimes spending years tweaking recipes until they're just right.
"We're firm believers that if we don't have anything new to bring to the conversation, we don't bring it out," Anderson said. "We have a couple products that we've been working on for well over three years that we still have not released because they just aren't perfect yet."
That tenacity and attention to detail has paid dividends. Head distiller Gabe Spencer recalled one of the distillery's milestone moments — seeing their spirits in Las Vegas.
"It's pretty cool to see something that's made in Bigfork and people are drinking it in Vegas or in New Jersey or Seattle — all over the country," Spencer said.
When MGM picked up the distillery's offerings for its craft spirits program, Anderson flew out for the launch, expecting to see Whistling Andy products just offered in restaurants. But when he arrived, not only was Whistling Andy on the menu — its spirits were featured in one of just four cocktails available on the casino floor.
"Really, really high-end people that know what they're doing picked up our stuff and ran with it. It's really incredible," he said.
ANDERSON SAID the distillery's focus on community and quality ingredients makes it stand apart from other spirit makers. Whistling Andy's rum, for example, isn't made with just any sugar — the company imports true cut raw cane sugar from Colombia. Rum might seem like an unusual fit for a Montana distiller, but Anderson has an intimate knowledge and passion for the liquor. He learned more than a thing or two about quality rum during his time in Anguilla, a British territory in the eastern Caribbean. His wife Lisa used to spend eight months out of the year running high-end restaurants on the island and during his visits, Anderson got to know the producers of Pirate Rum.
"They would buy all these beautiful rums from around the Caribbean and blend them there," he said. "She went to work and I got to know those guys and learned all about rum."
The rum ingredients are the exception to the rule at Whistling Andy — most of its raw materials are sourced locally from Lake's Glacier View Farm in Ronan and Moiese Valley Ranch in Charlo. Anderson is also working with local farmers to produce perennial barleys he hopes to experiment with in the future.
"We have some of the absolute best raw ingredients right here in our backyard," Anderson said. "We have access to some really amazing stuff — and some passionate farmers."
WHISTLING ANDY also makes a point to give back to their community. After the iconic Sperry Chalet caught fire in Glacier National Park in 2017, Anderson launched a huckleberry flavored vodka, the Spirit of Sperry, and donated 100% of the first year's profits to the Glacier National Park Conservancy's Sperry Action Fund. Anderson said the distillery contributed a total of $55,000 to the effort and will continue to donate 5% of profits from the Spirit of Sperry in the years to come.
Looking ahead, the distillery is focusing on growth and constant improvement. They've added barrel storage space and more than tripled the mashing and fermentation capacity to meet demand.
"We're looking to put up a lot of whiskey to keep up with the demand," Anderson said. "If I had another 200 barrels, we could sell it tomorrow."
They are also planning to upgrade the tasting room, adding a wall of reclaimed wood behind the bar this winter sourced from the old Somers mercantile.
The distillery also made a few recent additions to its lineup, including a spiced rum and the Bottled and Bonded Whiskey, released last week. The new whiskey is only available in the Whistling Andy tasting room for now, but will hit local store shelves soon. The Bottled and Bonded Whiskey is at least 100 proof and aged for five years, Spencer explained.
"If you are a bourbon drinker and like higher-proof spirits, you're going to love that one," he said.
It's just one more reason to flock to the tasting room — a place Spencer says has a warm, community feel.
"It's a cool place to gather," he said. "People that helped build the building still come in and share a drink."
Reporter Mackenzie Reiss may be reached at 758-4433 or mreiss@dailyinterlake.com.
---