House fire near Dayton leaves family of seven homeless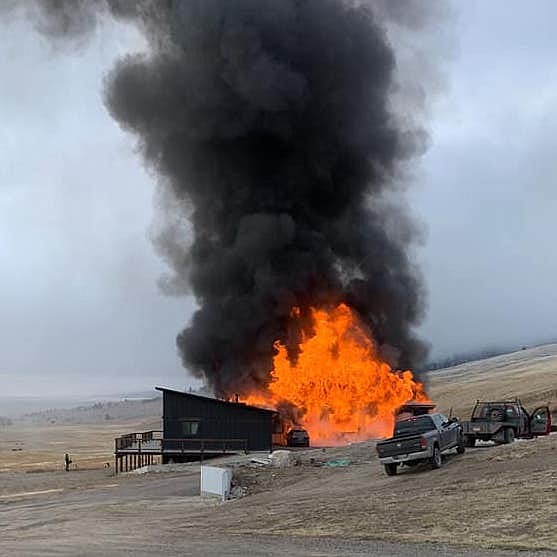 Flames pour from a home belonging to the McMahon family near Dayton, Montana, Monday afternoon. The home and garage were destroyed along with most of their possessions.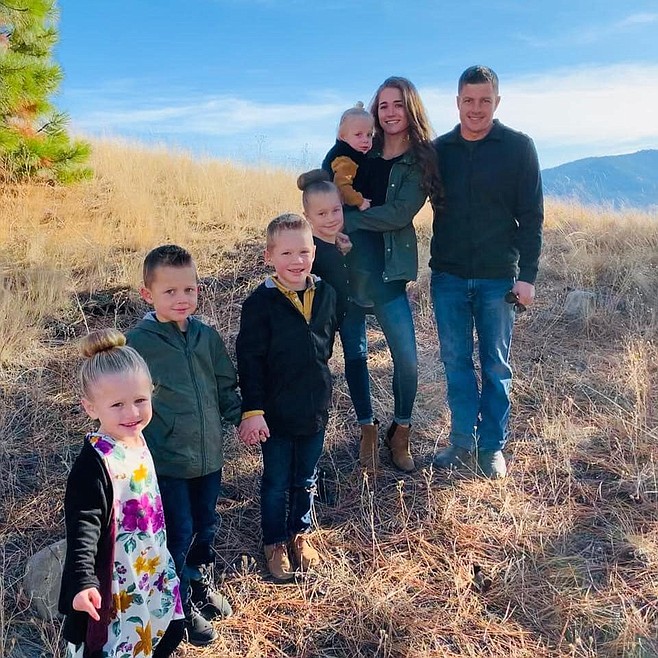 The McMahons are pictured in a recent family portrait near their home in Dayton. The home and garage were lost in a fire Monday afternoon. (Courtesy photo)
Previous
Next
by
SCOTT SHINDLEDECKER
Hagadone News Network
|
December 8, 2020 5:00 PM
A fire that destroyed a home on Gunbarrel Lane in the Chief Cliff area between Elmo and Dayton Monday afternoon has left a Northwest Montana family homeless a little more than two weeks before Christmas.
According to the Lake County Leader, the fire was reported around 1:30 p.m. at the home of a "young family with six kids," according to Chief Cliff Fire Chief Andy Learn.
The family includes Ladd and Kayla McMahon, parents of five children between the ages of 2 and 8.
A GoFundMe account has been set up for those who wish to help the family.
"We're trying to hang in there," Kayla McMahon said. "We're thankful we all got out OK, but rebuilding was not in our plans for this coming year.
"We were starting to feel like things were settling down."
Kayla and Ladd are the parents of 2-year-old Meela, who was born prematurely at 25 weeks and 6 days in 2018. She battled myriad of health problems, but has been living at home with the family.
"I'm thankful I was outside in the garage cleaning up," Kayla said. "We were getting ready to paint and it seemed very hot inside and that's when I noticed the fire.
"I got the two youngest kids out of the house, but we've lost just about everything," Kayla added.
One of the major items the family lost was a seven-seat, four wheel drive passenger van.
Ladd wasn't at home at the time and his pickup truck was spared.
"But you can't haul the family around in a pickup," said Sharon Love, Kayla's mother.
Love said her daughter and son-in-law had finished work on the house about a year ago and were getting ready to celebrate one of their boys' birthday on Friday.
"Titan's birthday is Friday," Love said. "How do you tell your kids everything is gone? They had birthday and Christmas gifts in the home. Now, they've lost everything."
Love said Fresh Life Church in Kalispell told the family it would cover the cost of Christmas.
She said Ladd works with a friend in a concrete business while Kayla is studying at Flathead Valley Community College to be a nurse.
No family members or pets were injured in the fire, according to Learn. He added that the family has been in touch with American Red Cross and temporary housing was established for the family at a motel in the Polson area.
Learn said it appears the fire originated in a wood stove in the garage, which was a total loss. The main house remained standing, but is heavily damaged.
Responding agencies included Chief Cliff Volunteer Fire Department, Rollins Volunteer Fire Department, Polson city and rural fire department, Ronan Fire Department, Montana Department of Natural Resources and Conservation and Lake County Emergency Management.
Scott Shindledecker may be reached at 406-758-4441 or at sshindledecker@dailyinterlake.com.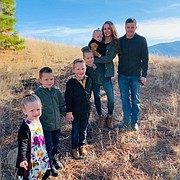 Recent Headlines
---