White Raven Winery opens in C-Falls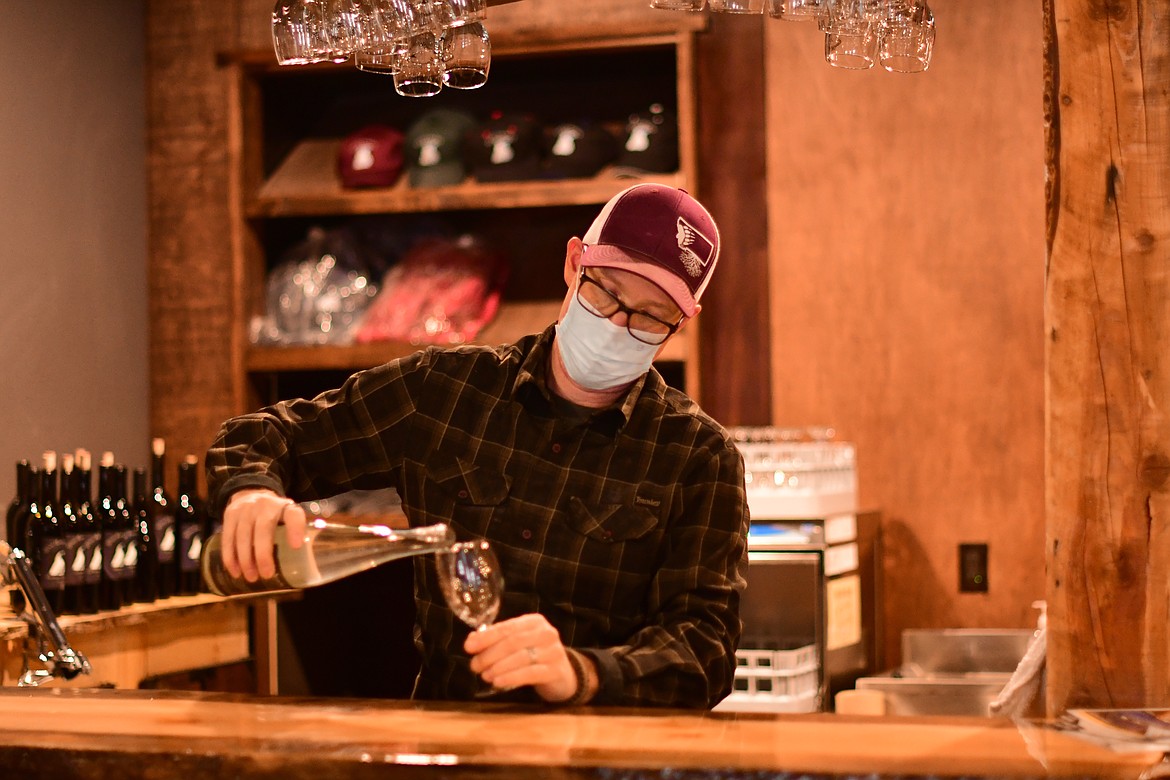 Wil Nieman, manager of White Raven Winery near Columbia Falls, pours a tasting for a customer Thursday afternoon, Nov. 19. (Teresa Byrd/Hungry Horse News)
by
TERESA BYRD
Hungry Horse News
|
December 13, 2020 12:00 AM
A winery that's able to pour a glass of red made from grapes crushed, fermented, aged and monitored in its own cellars, under the shadow of snow-capped Montana peaks near the banks of a glacier-fed river, is about as rare as a white raven in a murder of its charcoal black relatives.
Hence the name of White Raven Winery which officially opened it's tasting room doors in the old lap-sided auction house located in Columbia Heights, about a mile north of the junction of Highway 2 and 206.
The winery is the creation of Dan and Rebecca Murphy, high school sweethearts who have been together since graduating from Columbia Falls in 1988. Feeling a lack of economic opportunities in the area, Dan joined the Marine Corp after high school which eventually landed the couple in California.
Finding himself with an entrepreneurial spirit in the middle of wine country, Dan discovered a niche in the area's market and started a mobile wine bottling business 10 years ago that would travel to small and mid-sized wineries, bottling their wine on-site.
Over the years, Murphy became immersed in the trade, becoming familiar with the craft and taking notes on what did and didn't work for the wineries he bottled for.
After the bottling business began seeing a comfortable level of success, the Murphy's set their sights on returning to Columbia Falls, with the dream of bringing wine-making home with them. For the last several years the couple has returned to live in Montana seasonally and lay the foundation for what is now White Raven Winery, owned by the Murphy's and managed by Dan's longterm friend and recently returned Columbia Falls local Wil Nieman.
White Raven turns out 12 different wines, four of which headline the selection as being entirely Montana made, from "grape to glass," as manager Nieman says. The four wines, two reds, a rose and a white, are made using three specific types of grapes grown in vineyards throughout Montana's small banana belts like Thompson Falls and the Bitterroot Valley. Their nearest producer is Spotted Bear Vineyards off Finley Point on Flathead Lake.
Murphy and Nieman are very particular about the quality of grapes used in their wines, more often than not, picking the Montana-grown grapes themselves to check for ripeness and mildew, a common affliction for the densely-clustered fruit. Last year the owners picked about 1600 pounds of grapes from Spotted Bear Vineyards alone.
The grapes used in White Raven's Montana wines— Marquette, Frontenac and L'Acadie Blanc— are all cold-hardy varietals originally grown in cold mid-western states and bred to withstand temperatures reaching 30 below zero.
Murphy's eventual hope is to use grapes grown from their own 18 acre vineyard at the base of Columbia Mountain off Elk Park Road. For the past few years, Murphy and Nieman have been experimenting with several different varieties on a portion of the acreage to see what grows best and whether or not it will make good wine. Nieman says they're currently having tentative success with a variety called Petite Pearl.
White Raven, true to its name, is one of a handful of wineries in the state actually crafting wine from Montana-grown grapes. It recently became one of four members of the very new Winery Association of Montana, a membership contingent upon whether at least half a winery's selection offers wines produced in Montana, said Murphy.
White Raven of course crafts 100% of its wines in Montana, but given the state's still budding capacity to harbor vineyards, most of their wines are traditional European styles, made from grapes driven up from the warmer climes of, most often, west coast states.
However, the winery's main focus will always be to highlight Montana wines, said Nieman.
"People come from all over the world to see this place, it's a bucket-list destination," Nieman commented. "And what we want to do is, we want to show them that this is what Montana can produce when it comes to wine. We're never going to be Napa, we don't want to be Napa. … Our focus is going to be Montana grown, Montana made."
The tasting room, which features a warm fireplace, Montana decor, and custom-made oak-barrel furniture is open from 11 to 7 p.m. Thursday through Sunday and offers tastings, by-the-glass and bottle sales.
---