Flathead Valley health workers get COVID vaccine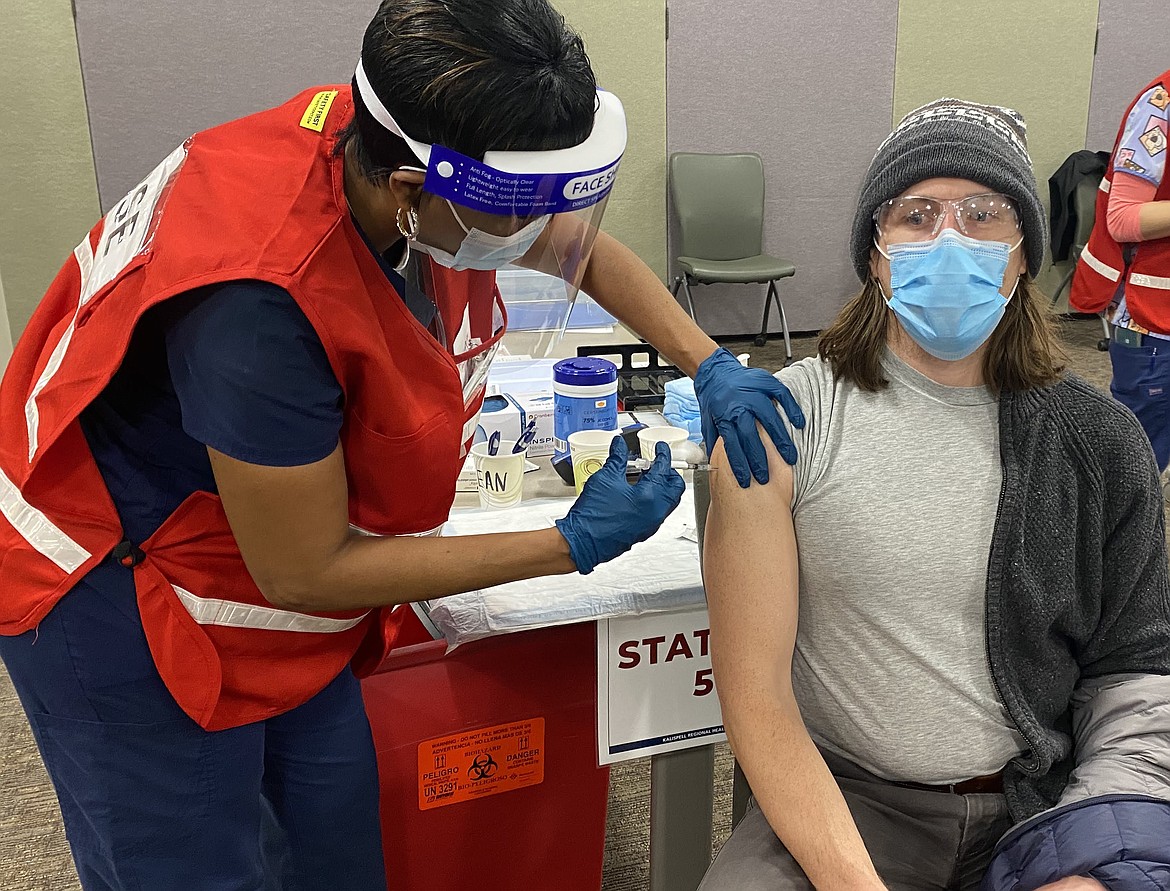 Frontline workers with Kalispell Regional Healthcare began receiving the COVID-19 vaccine on Thursday Dec. 17 (photo courtesy of Kalispell Regional)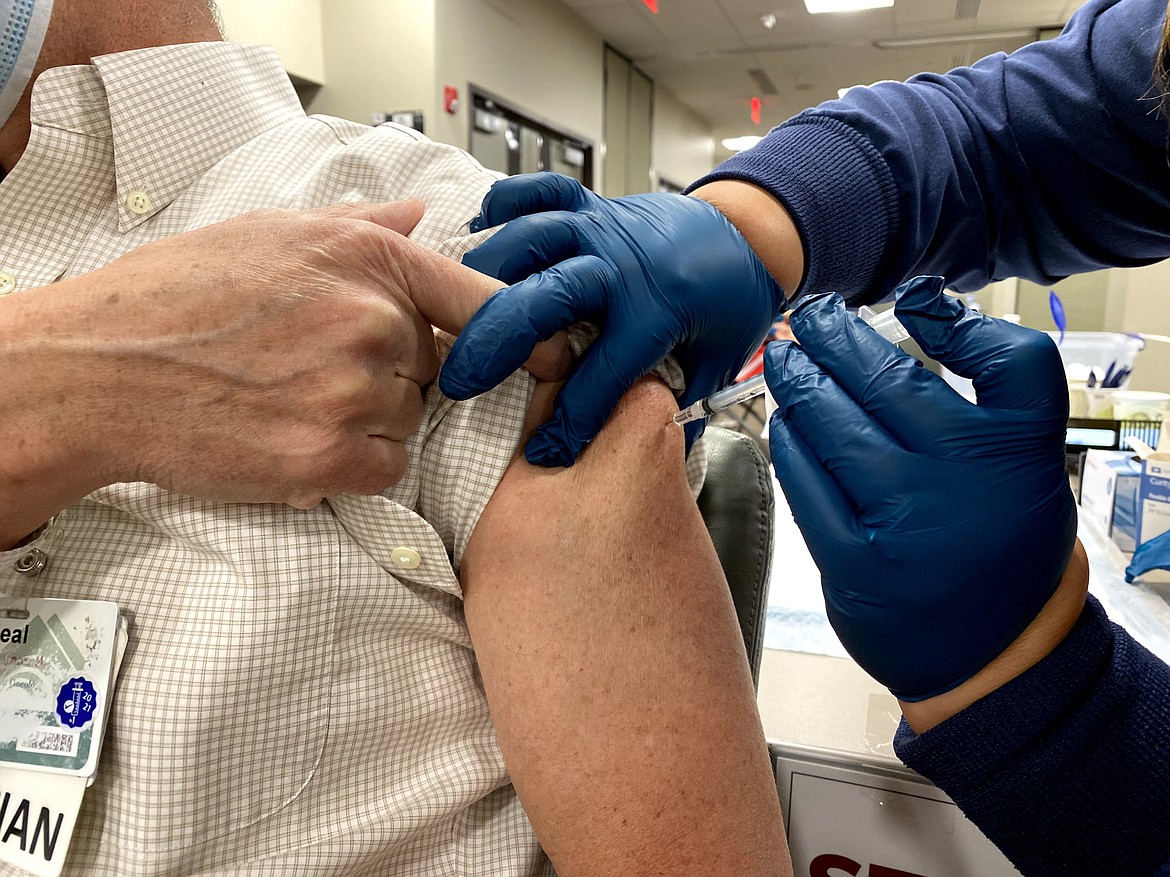 Frontline workers with Kalispell Regional Healthcare began receiving the COVID-19 vaccine on Thursday Dec. 17 (photo courtesy of Kalispell Regional)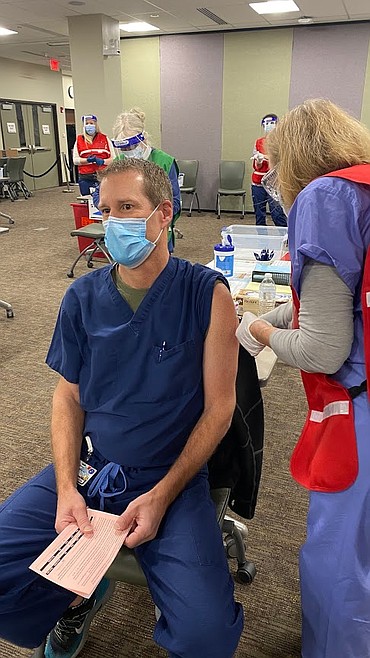 Frontline workers with Kalispell Regional Healthcare began receiving the COVID-19 vaccine on Thursday Dec. 17 (photo courtesy of Kalispell Regional)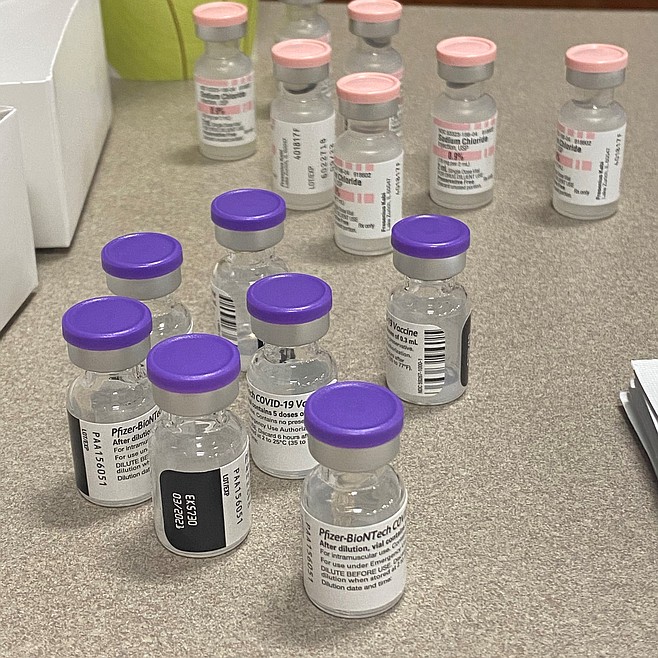 The COVID-19 vaccine, created by Pfizer and BioNTech, arrived at Kalispell Regional Medical Center on Dec. 15. Frontline workers began receiving the vaccine on Thursday, Dec. 17. (photo courtesy of Kalispell Regional)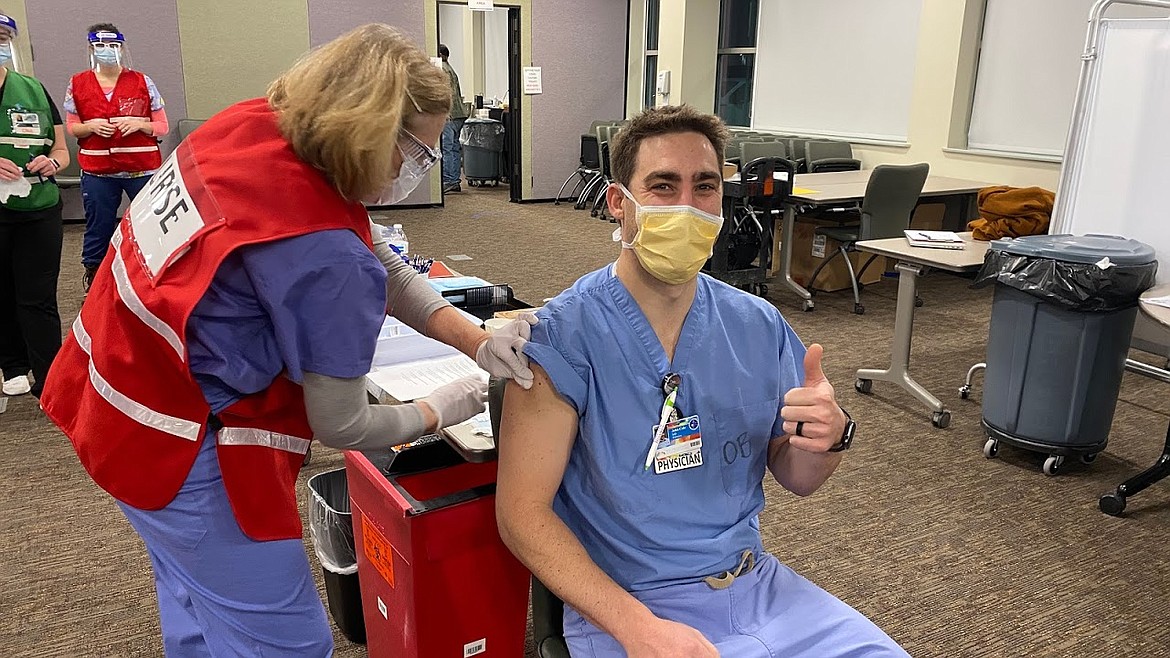 Frontline workers with Kalispell Regional Healthcare began receiving the COVID-19 vaccine on Thursday Dec. 17 (photo courtesy of Kalispell Regional)
Previous
Next
by
MATT BALDWIN
Daily Inter Lake
|
December 17, 2020 1:40 PM
Front-line staff at Kalispell Regional Healthcare rolled up their sleeves Thursday to receive the first round of the COVID-19 vaccine.
A total of 975 doses of the vaccine developed by Pfizer and BioNTech were shipped to Kalispell Regional Medical Center Tuesday. According to the hospital, employees who are most frequently at high risk of exposure to the virus were given top priority in its distribution of the vaccine. That group includes respiratory therapists, workers who conduct COVID-19 testing and those working in the COVID-19 unit and emergency department.
Kalispell Regional employees aren't required to be vaccinated for COVID-19, but many opted to get the shot Thursday and celebrated what could represent the beginning of the end of the pandemic that has infected over 75,000 Montanans and killed 849 in the state.
"As a nurse, I am thrilled to take the vaccine as I want to do everything possible to protect myself, my patients, family and community," said Tara Lee, a registered nurse at Montana Children's. "A lot of us are very excited this vaccine is finally here."
Pete Heyboer, a physician at Kalispell Regional and a member of the Flathead City-County Board of Health said he received his shot Thursday.
"Happy vaccination day everyone," Heyboer stated at the opening of Thursday's board meeting. "I just received my vaccine. The vibe in the room was very positive, which was great to witness."
Like Heyboer, many KRH health workers described excitement about the historic day.
"I signed up to be one of the first ones to get the vaccine because I was excited and proud to be able to be one of the first in line," said Chelsea Dunshee, a nurse practitioner at Family Health Care. "I just really felt compelled to try to be one of the first ones to do this because I'm so looking forward to being able to say this is an unprecedented time and I did what I could to protect myself and others to the best of my abilities."
Deb Hoffman, a doctor at Rocky Mountain Heart and Lung, said she got the shot to help convey confidence in the community about the vaccine.
"I'm really looking forward to tackling the pandemic and getting this over with," Hoffman said.
Under federal guidelines, health-care workers and residents of long-term care facilities are expected to receive the vaccine before other segments of the community. Ten health-care facilities in Montana's seven largest communities this week received a total of 9,750 doses of the vaccine produced by Pfizer.
Government officials project 20 million Americans will be able to get their first shots by the end of December, and 30 million more in January.
"I would say if you're on the fence, reach out to your health-care provider, a health professional or someone you trust within the medical field," said Dunshee. "They would be able to answer your questions with the best science-based literature that we have available to us. That would be the best resource to use."
Additional shipments of the Pfizer shot were going out nationwide on Thursday. Along with the Pfizer shot, a COVID-19 vaccine developed by drugmaker Moderna is currently under public review, and was expected to be OK'd by the Food and Drug Administration this week. Early results show the Moderna vaccine is more than 94% effective.
As of Thursday there were 9,241 active cases of COVID-19 in Montana, and 306 hospitalizations.
---