2020 Reflections: Montana's GOP sweep signals changes ahead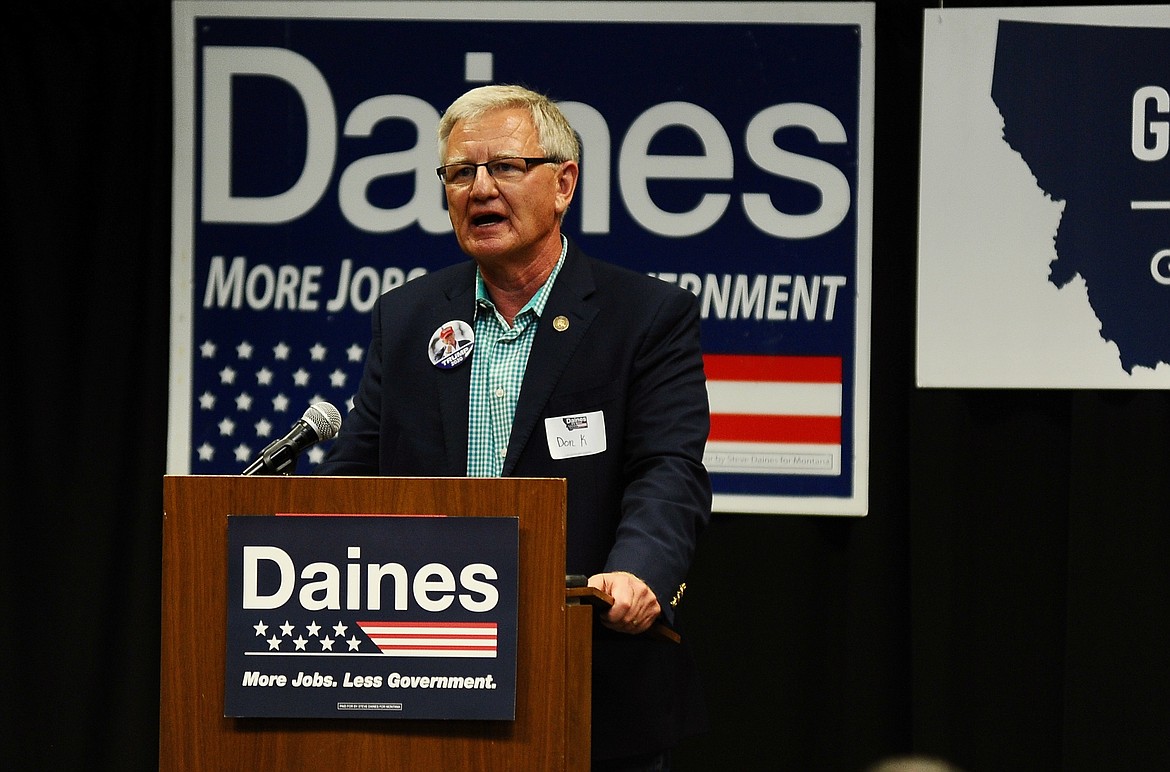 Montana Republican Party Chairman Don "K" Kaltschmidt speaks at a campaign event at the Red Lion Hotel conference center in Kalispell in this Oct. 19, 2020, file photo. (Matt Baldwin/Daily Inter Lake)
Republican U.S. Rep. and Montana gubernatorial candidate Greg Gianforte Greg Gianforte celebrates after the Montana gubernatorial race was called by the Associated Press in Bozeman, Mon., Tuesday, Nov 3, 2020. (AP Photo/Tommy Martino)
Previous
Next
by
CHAD SOKOL
Daily Inter Lake
|
December 27, 2020 12:00 AM
Montana turned deep red in 2020, as Republican candidates swept every statewide office on the November ballot and won the governor's office for the first time in 16 years.
Celebration among Montana Republicans has been tempered only by the realization that President Donald Trump lost his bid to remain in the White House – a fact that Democrats hope will lower the temperature of the state's politics and facilitate some bipartisan cooperation while they are outnumbered in both chambers of the Legislature.
"Most importantly, to start off with, I just hope that all Americans will be able to know that the election results are legitimate," said Don "K" Kaltschmidt, chairman of the Montana GOP and owner of a car dealership in Whitefish. "And even though we have a President-elect Joe Biden, enthusiasm in the Montana Republican Party has never been higher, and you can see why."
In interviews this month, leaders of both parties reflected on 2020 and laid out their hopes and goals for the new year. Top among their priorities is fixing an economy ravaged by the coronavirus pandemic, though Republican lawmakers also see an opportunity to cut taxes, roll back environmental regulations and push through other policies that stood little chance on Democratic Gov. Steve Bullock's desk.
"With Helena finally in Republican hands, we have an incredible opportunity to pass conservative legislation that will leave a lasting impact on Montana," Kaltschmidt said, adding that Republican voters "brought a red wave to Montana" and rejected Democrats' "far-left agenda."
Now, he said, "it's time to prove how effectively we can govern, and how our leadership will improve Montanans' lives."
Sandi Luckey, executive director of the Montana Democratic Party, said Democratic candidates came up short in November because Trump energized the state's Republican base, villainized opponents and spread falsehoods about progressive causes.
"Montana Democrats suffered with President Trump at the top of the ticket," Luckey said. "I think in Trump's four years, being in every story in the news, it consistently sowed seeds of division among Americans, and I think that division impacted Montana. And I just think there was so much misinformation – that was part of his strategy – that it was almost impossible for Montana voters to know what was true and who would really work in their best interest."
Additionally, Luckey said, Republicans successfully "nationalized" the state's politics by lumping in Montana Democrats with progressives from other parts of the country, including major cities that have endured protests over racial injustice and policing. Democrats might have done too little to rebut innuendo.
"The Republicans were the only ones talking about defunding that police. Montana Democrats know law enforcement to be essential to the safety of our communities, our roads and our public spaces," Luckey said. "Maybe we didn't get that out there enough, because it wasn't our subject. It was theirs.
"In Montana, we have always been very proudly our own people, and Republicans did successfully nationalize us," she said. "And I think they triggered a fear mechanism that, somehow, things that were happening in other places were ever going to apply to Montana. And obviously that's misinformation as well; that's not the case."
Kaltschmidt said Republican lawmakers and Montana's incoming governor, Greg Gianforte, who made a fortune as a software entrepreneur, will take cues from Trump's time in office.
"[Trump] showed us what a business Republican can do for the economy, and I think the governor [Gianforte] and our legislators down there are cut out of the same mold," Kaltschmidt said. "So I think you're going to see bills to make Montana a business-friendly state. I think you're going to see bills that will cut regulation and kind of open things up for the state. You're going to see bills coming forward that will create good-paying jobs, cut taxes and get the economy going again."
Luckey suggested Democrats will need to put more emphasis on their economic arguments in future elections.
"When you look at the credentials, we're the party of balancing the budget and making sure government lives within its means," she said. "We're the party that opens pathways out of poverty, and it's earning a good living. And we're the party of freedom, because better jobs means more financial freedom. And I think we just have to go back to those basics, and stick to them."
Luckey criticized Republican lawmakers for moving to hold the next legislative session in person, despite pleas from Helena's local elected leaders and public health officials to conduct it remotely.
"COVID is a job killer. It's a wrecking ball to small businesses. And masks and distance are a cheap and easy job saver," she said, adding that committee rooms and other parts of the Capitol are typically crammed with people during the session. "Having an in-person legislative session has all the potential of being a super-spreader event."
In addition to passing conservative legislation, Kaltschmidt sees an opportunity to bring together factions within his party. A rift was clearly evident in 2019, when hard-right conservatives in the Legislature opposed Montana's Medicaid expansion, while moderate Republicans worked with Democrats to approve the measure, with work and community service requirements in place for Medicaid recipients.
"We're a big tent," Kaltschmidt said. "We have different ideas, all along the spectrum, and we have a place for everybody. And as we work together, we're going to come out somewhere in the truth, because Montana is a middle-right state – that's where we're going to end up."
With Gianforte as governor, Kaltschmidt added, "I have no doubt that there will be unity going forward. We'll have a vigorous debate and move forward."
And he said Republican lawmakers should maintain good working relationships with their Democratic colleagues.
"The election is over now, and we have to respect that all the legislators were elected from their different parts of the state, and different parts of the state have some differing politics," Kaltschmidt said. "When it comes down to governing, we're going to have to work together … Good ideas will come out of both sides, and we're going to work together, and that's what Montanans want us to do."
Reporter Chad Sokol can be reached at 758-4434 or csokol@dailyinterlake.com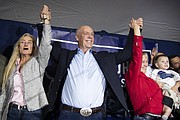 Recent Headlines
---