Motor manufacturer wins Exporter of the Year
by
BRET ANNE SERBIN
Daily Inter Lake
|
December 27, 2020 12:00 AM
Engineers are somewhat stereotypically known for being a socially reserved bunch. Maybe that's why Burgi Engineers has kept such a low profile while building a global empire out of a nondescript manufacturing center along U.S. 2.
"I don't think most people understand," said Vice President Dan Burgi.
But that's beginning to change. The makers of one of the most advanced electric motors in the world, Burgi Engineers was recently recognized with the 2019 Montana Exporter of the Year Award by The Montana District Export Council and the Montana Department of Commerce. This honor is helping Montanans start to realize what Burgi's customers across the globe have known for nearly two decades.
Founded in 2002 by Bob Burgi, Burgi Engineers makes high-performance rotating machinery out of two Flathead Valley locations, one in Kalispell and one in Columbia Falls.
Burgi's liquid-cooling technology leads the electric motor industry, providing their products with more power in a smaller-sized motor than simpler models have been able to achieve.
Their three main products are motors, gear boxes and test stands, which are primarily used in research and development for larger products from electric cars, to petroleum refining equipment, to jet engines.
At their Kalispell manufacturing center, for instance, there's a gear box underway that will eventually go into place on a Navy warship. This particular motor has already taken 300 hours of computer design work to get about halfway to the full drawing.
The process is so meticulous because each Burgi product is custom-made with hundreds of individualized components. Even though a layperson might see one set of wires and metal as indistinguishable from another, Burgi Engineers never makes the same exact system twice.
In fact, Burgi's systems are so advanced, they often have to educate their customers about exactly what they're getting from the local manufacturer, even though Burgi sells to some of the most technologically savvy buyers in the world.
Burgi primarily works with the automotive and aerospace industries. They count among their clients the U.S. military and multinational Fortune 500 companies across the globe. In a year, Burgi fills about 50 orders, which end up around the U.S., and in Japan, Brazil, India and other distant destinations.
"We got this award because we had a lot of increased sales in other places," Dan explained, pointing out the majority of their sales remain domestic. "We've made a name for ourselves. I guess we're gaining global recognition."
From 2017 to 2019, Burgi's exports increased almost threefold. But it hasn't always been easy running an international manufacturing hub in Northwest Montana.
Founder and president Bob Burgi said he decided to move to the Flathead from Palm Springs, California when he first caught a glimpse of Flathead Lake.
"My main focus was getting my family into a place where I could raise my kids, and I just brought my business with me and built it from here," Bob recalled. "It's been a struggle, to some degree."
Finding qualified staff and building business networks out of the Flathead proved to be the biggest drawback of relocating to the Kalispell area. In fact, Burgi still doesn't sell to any clients in Montana, so most of the time their massive machinery has to be boxed up and shipped by freight to the East or West Coast, often before traveling many more miles overseas.
But lately, business has been speeding up to the pace of one of Burgi's high-power motors. Industry trends toward electric motors have substantially increased demand for products like Burgi's. The company has also gradually built international connections in places like Japan, where Burgi has an exclusive distribution deal in place.
"A lot of our growth has just been word of mouth, getting a good reputation from previous successes," said Dan. "You build a name for yourself when you have success."
The company has grown to include 15 people, and they hope to bring on many more. Dan said the company is actively seeking engineers, machinists and assembly-people. Burgi is also on the lookout for a new space where they could merge all of their operations under one roof.
"We're this really high-technology, high-end, high-performance motor company, doing big things out of small Kalispell, Montana," Dan emphasized. "We've got a global presence. We're growing and we're looking for help."
Burgi Engineers can be found online at https://www.burgiengineers.com
Reporter Bret Anne Serbin may be reached at (406)-758-4459 or bserbin@dailyinterlake.com.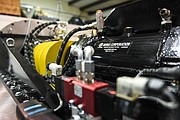 ---