ImagineIF hosts Montana wildlife art exhibits
|
February 13, 2020 1:54 PM
Stop by ImagineIF libraries this winter and view the vibrant scenery and wildlife depicted in the latest art exhibits on display by two local artists.
"Around Montana," an exhibit by Vernon Anderson, is a lively exploration of wildlife scenery featuring playful imagery of various animals native to Montana. The hills and mountains of Montana were an important part of Anderson's youth growing up in Lewistown. After graduating from high school, a tour in the Navy and photography school allowed him to pay for a college education working as a photographer. With a degree in business, he and his wife moved to Bainbridge Island, Washington, where they raised three boys. Retirement took them back home to Montana. The Andersons now live in Columbia Falls. Retirement has allowed Vernon to explore the art of oil painting in the great outdoors of Montana; especially Glacier Park. He now spends much of his time on the never-ending quest to learn and improve his artwork.
See Anderson's work on display at the Kalispell library branch through February and then at the Columbia Falls branch in March and April.
"Wild Montana Big Game and History" is a collection of work by local artist and art educator Tom L. Roberts. Many of his oil paintings focus on big game and historical events, showing the struggles that were faced when first exploring the untamed West. Roberts earned a degree in art education from the University of Northern Iowa in 1978. He has taught art for 40 years in Iowa, Virginia, Austria, Japan and currently in Kalispell. His love for Montana was inspired in part by the 20 years that he and his wife, Cindy, spent as seasonal park rangers in Yellowstone National Park. Roberts worked as an interpretive guide and reenacted many live histories. These experiences continue to influence his art, which prominently features historical figures and events. Through his exhibit, Roberts hopes that viewers will learn how our interactions with nature have shaped Montana history.
See Roberts' work on display at the library in Columbia Falls through February and then at the Kalispell library in March and April.
ImagineIF Libraries encourages exploration, fresh ideas and self-discovery. ImagineIF offers activities and services for all ages. For more information, visit www.imagineiflibraries.org.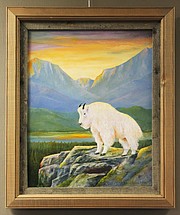 Recent Headlines
---