Project moves forward with furniture, playground equipment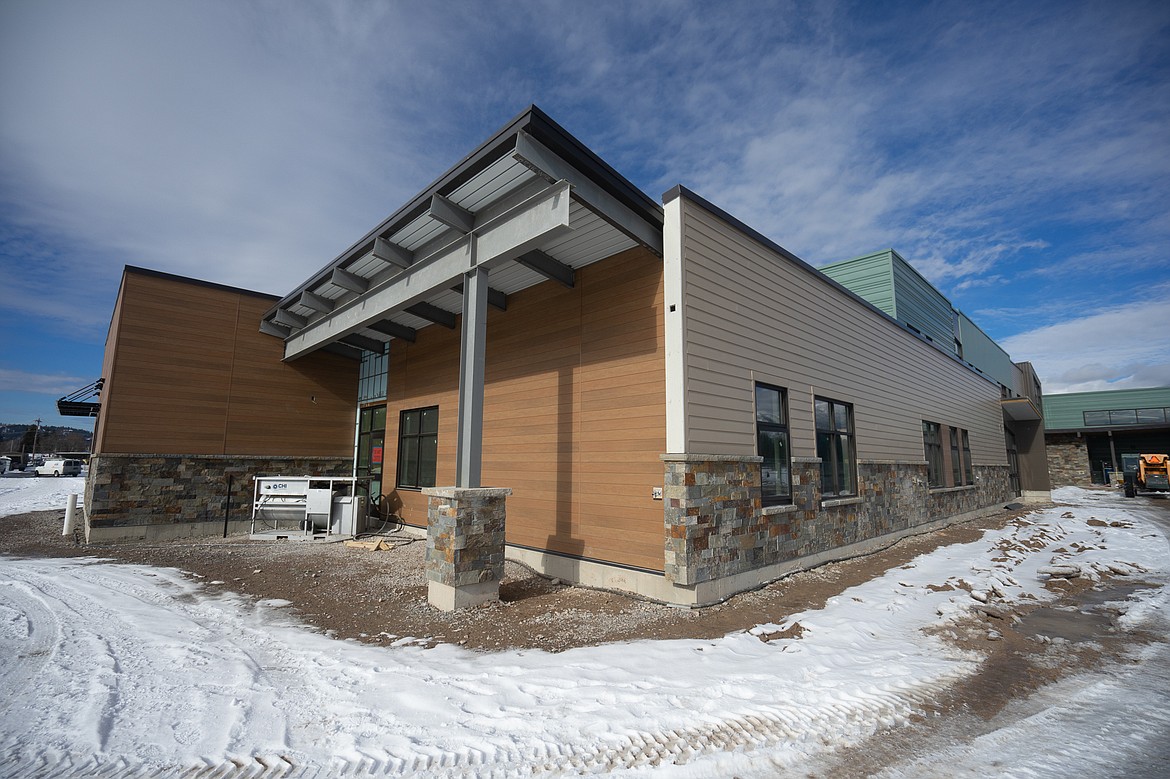 As teachers prepare for a May move-in, the Muldown Elementary building is beginning to take shape.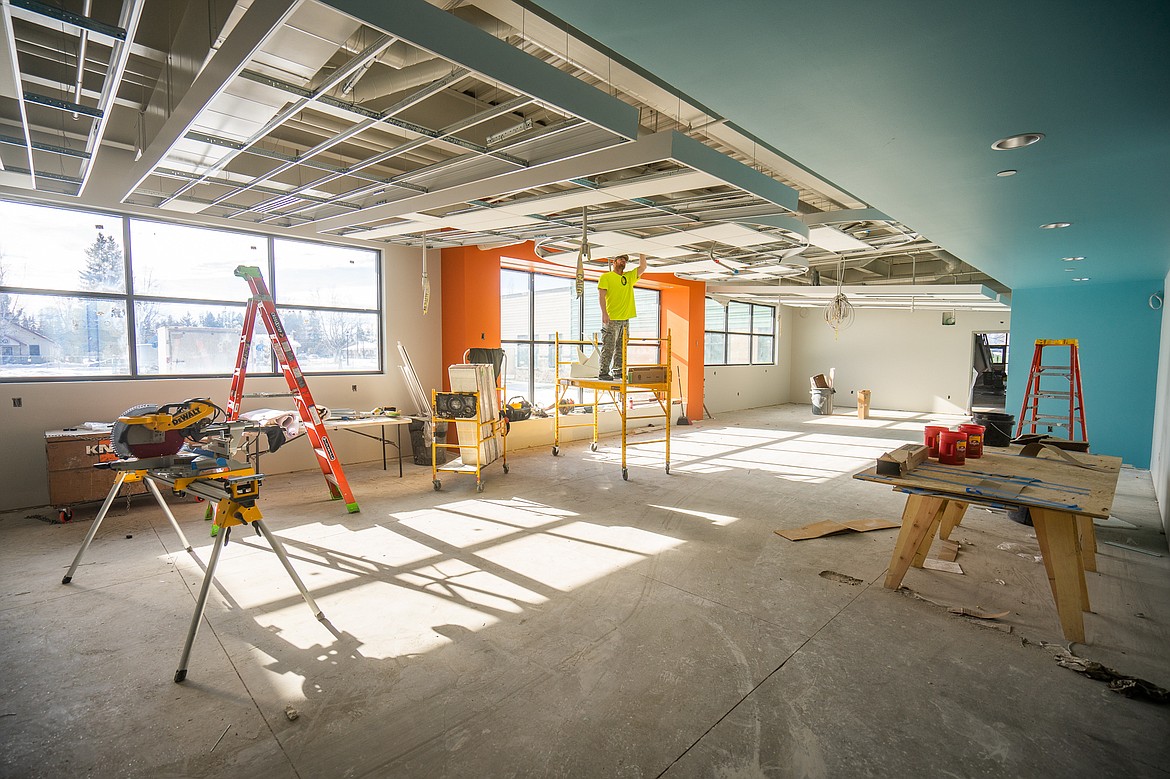 A worker installs ceiling panels in the library of the new Muldown Elementary School.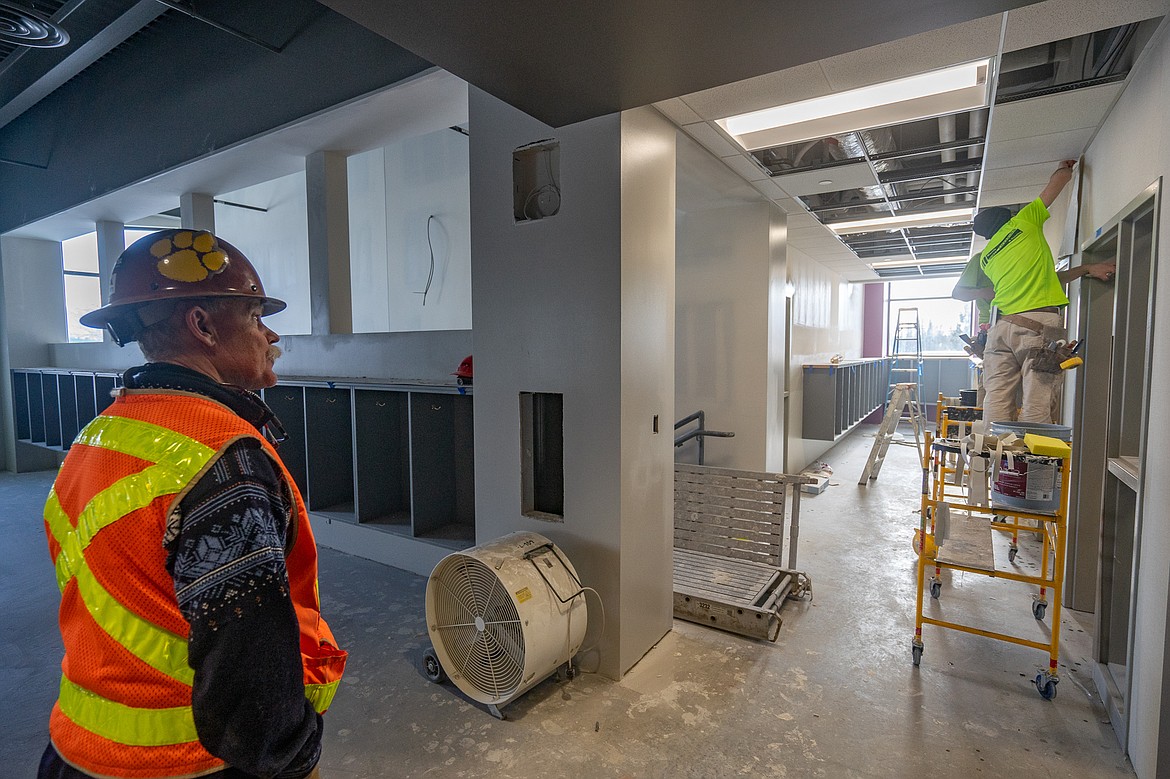 Dow Powell, Whitefish School District's owner's representative on the Muldown Elementary construction project, watches a pair of workers install wallpaper in the fourth-grade wing of the new building. (Daniel McKay photos/Whitefish Pilot)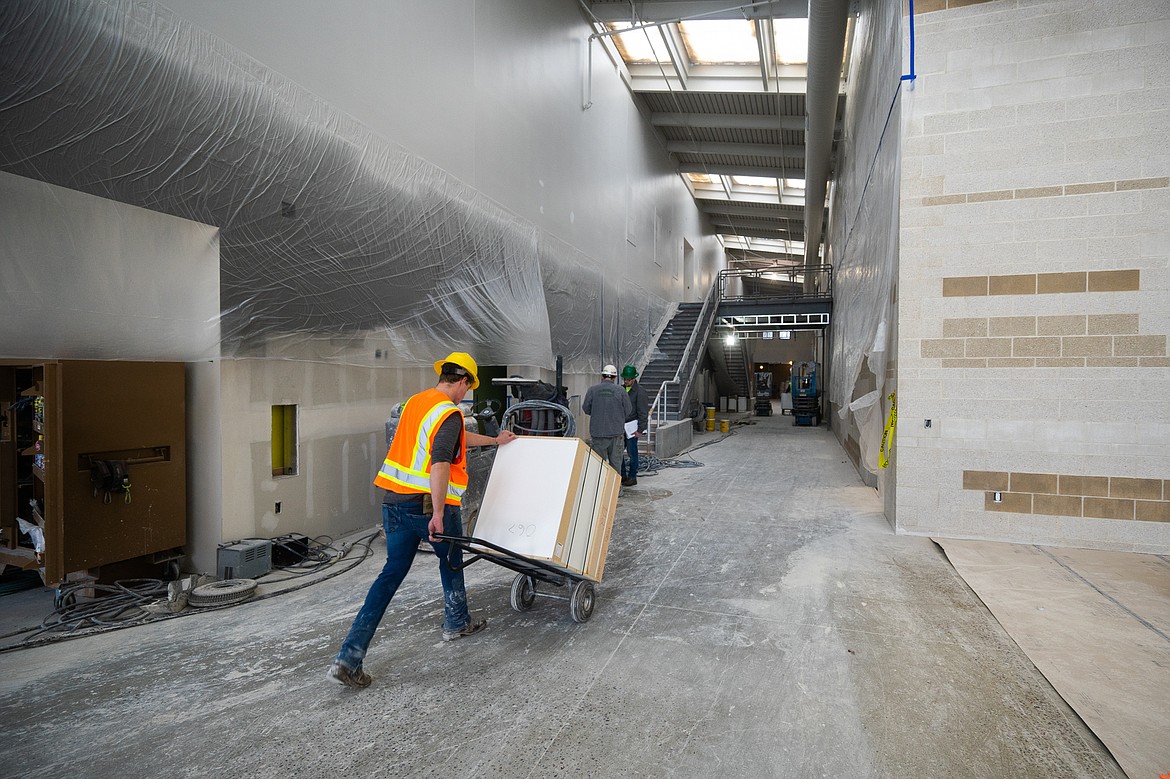 Construction workers haul in equipment as the new Muldown Elementary School begins to come together. (Daniel McKay/Whitefish Pilot)
Previous
Next
by
Daniel Mckay Whitefish Pilot
|
February 25, 2020 4:00 AM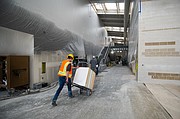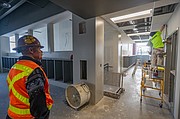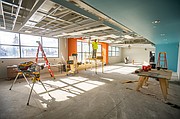 The new Muldown Elementary School is coming together, and the Whitefish School Board last week approved bids for furniture and playground equipment for the new building.
On Feb. 11 the board approved a bid with J2 Business Products for $559,899 to furnish the new school, including installation.
The owner's representative on the project, Dow Powell, said the bid comes in below what he expected to budget for the project, leaving more room to purchase janitorial equipment and other items that fall under the furniture, fixtures and equipment portion of the budget.
"There's still some money there for those things," Powell said. "We did very good there. I had a goal of $625,000 for the furniture."
There have been some adjustments to the bid price after changes to the order were made based on teacher feedback, Powell added.
Teacher feedback became the main point of discussion during the meeting.
Trustee Betsy Kohnstamm stressed the importance of meeting teachers' needs as part of constructing the new school.
"As you know, I'm always really concerned about trying to make sure the staff are pleased with our decisions, and during the tech and during the playground [meetings] I think there was some lack of communication and I think that happened again here with the furniture. I'm hoping that everybody is OK with the decisions now," she said.
Powell said he hopes so, too.
"We met with the staff or groups of grade levels in April and again in October, and then there was a survey sent to entire staff — not all the staff responded — then they received drawings last week, this is where changes have come from."
Second-grade teacher Bonnie Hannigan was one of the instructors selected to test-drive new furniture that could make it into the new school.
During public comment, Hannigan said a lot of work went into the suggestions made by herself and other teachers, but she didn't feel like they were met with the same level of consideration.
"I just want to make sure that everyone understands that the changes that were made, we were not trying to be nitpicky. We went through a lot of Google forms ... and then we got the layout for second grade and every single room was wrong. It was really frustrating because there was a lot of work that went into that pilot program and there was a lot of furniture in our rooms that we didn't pilot. We don't want curved bookcases, they take up too much room. Fourth grade put those immediately in the pod because they took up too much space," she said.
"It was kind of frustrating, and my concern is there's going to be some overspending that isn't necessary," Hannigan added.
"The curved bookcases came up because of the want of some people to be able to create some of the softer furniture in your classrooms," Powell replied. "It's a whole school, it's not 46 separate classrooms. We have to have it semi-interchangeable."
The board voted unanimously to award the furniture bid to J2, though it did ensure that future changes to the order could still be made, if necessary.
Also unanimously approved was a $432,000 bid from Northwest Playgrounds to build the new playground equipment.
Whitefish voters in 2017 approved a $26.5 million levy to construct the new school, as the current Muldown faced overcrowding and infrastructure problems.
The new school is set to open to students this fall.
---