Realtor association presents annual awards
The Northwest Montana Association of Realtors gathered at the Majestic Valley Pavilion on Wednesday evening for their annual awards celebration.
The 2020 NMAR Realtor of the Year Award went to Kayla Warburton of Keller Williams Realty Northwest Montana. Other nominees for this award were Tara Harbin, Brenda Miller and Tracy Rossi.
Warburton has not been a real estate professional for decades, but she has done decades worth of work since becoming a Realtor. She began her career in 2011 and was quickly nominated for the Rookie of the Year award. She was also nominated for Realtor of the Year in 2016, 2017 and 2019. Warburton has been on the association board for five years and was president for the 2018-2019 year. She has served as state director, as well as a state communications committee member.
The 2020 Rookie of the Year winner is Mark Beck of ReMax Glacier Country. Other new Realtor nominees included Chelsea Goldberg, Matt Ernst, Jill Hinrichs, Krista Orona and Dema Weil.
Beck went straight into the real estate profession full time and made a commitment to succeed right from the start. In his first year of real estate, he listed or sold 11 properties, totaling nearly $2.8 million. Beck's church is the foundation of his values and he has spent many hours teaching and leading classes and discussions with others in the congregation. His father was also a Realtor for ReMax, so the transaction tradition runs deep. Both of his grandparents were veterans of the Korean war and when he donates to the veterans pantry, he takes his grandpa with him. Beck's involvement with the association includes his participation in the Government Affairs Committee and the YPN Committee.
In 2014, NMAR created the Jean Carter Spirit Award, named in honor of an individual who went above and beyond every measure for her Realtor community. This award goes to a Realtor who truly portrays the Realtor spirit and the meaning of the golden rule. This award may not be given out every year and is a big honor to receive. This year's recipient of the Jean Carter Spirit award is Louise Barker with Montana Brokers Inc. Barker began her career in real estate in 1992 and has been a shining example of generosity, kindness and professionalism throughout the years. When there is a gap to be filled, she steps in and gives her dedicated and competent service.
The Northwest Montana Association of Realtors is a local trade association that supports more than 1,000 members serving land, commercial and residential real estate needs across Northwest Montana. Call 406-752-4313 or go to www.nmar.com.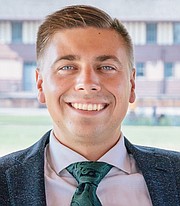 ---