Veteran Glacier scientist retires after long career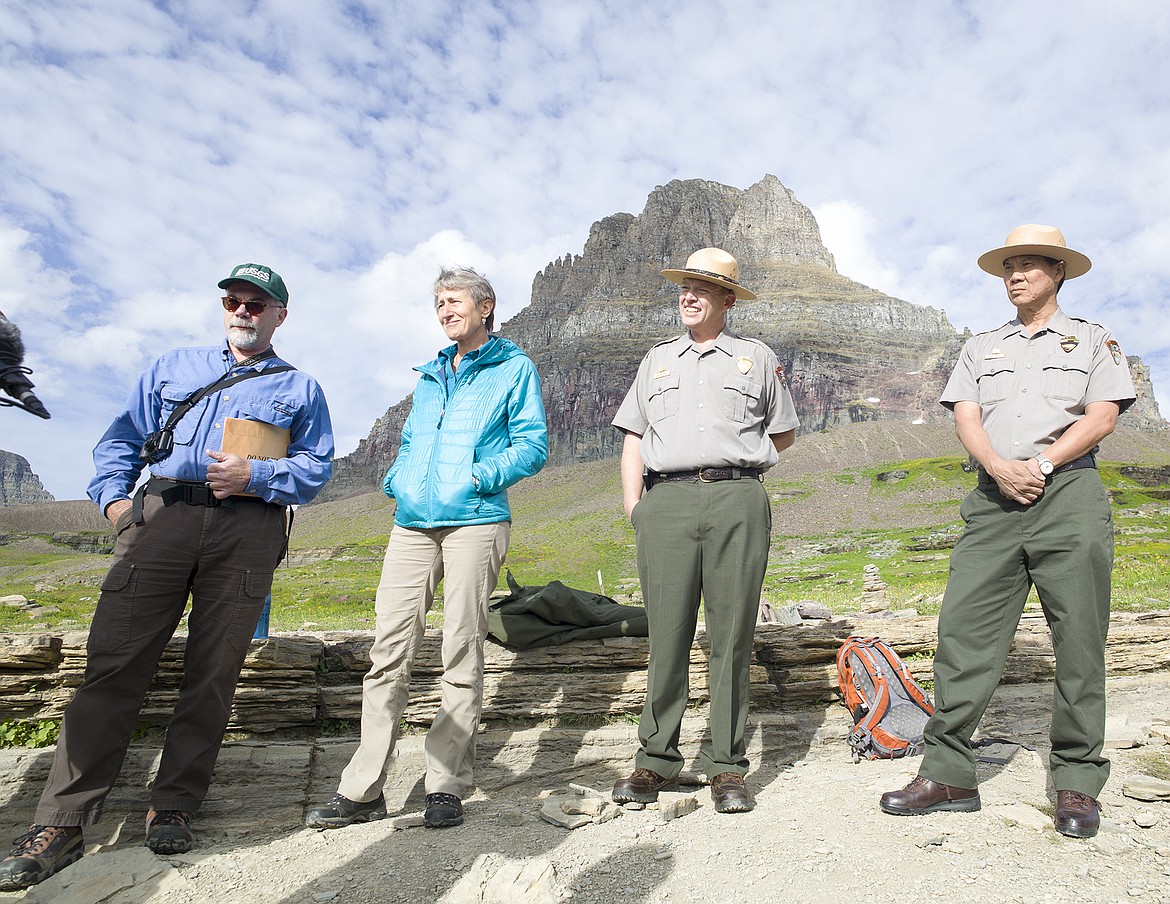 In this 2016 photo, U.S. Geological Survey Scientist Dan Fagre, left, stands with former Secretary of Interior Sally Jewell, Glacier Deputy Superintendent Eric Smith and Glacier Superintendent Jeff Mow on the Hidden Lake Trail at Logan Pass in Glacier National Park. (Chris Peterson/Hungry Horse News FILE)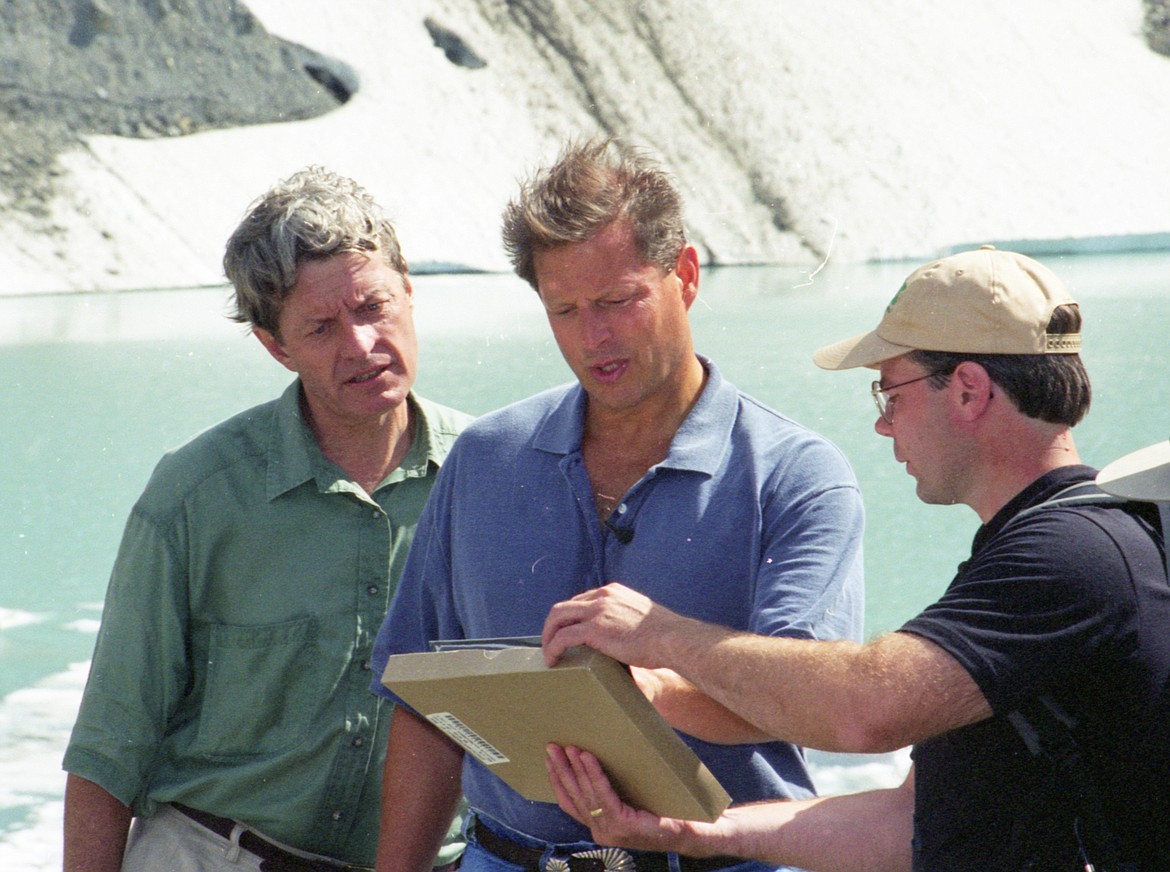 A young Dan Fagre shows former Vice President Al Gore, center, photos of Grinnell Glacier while former Sen. Max Baucus looks on in this photo from the summer of 1997. Gore hiked to Grinnell Glacier.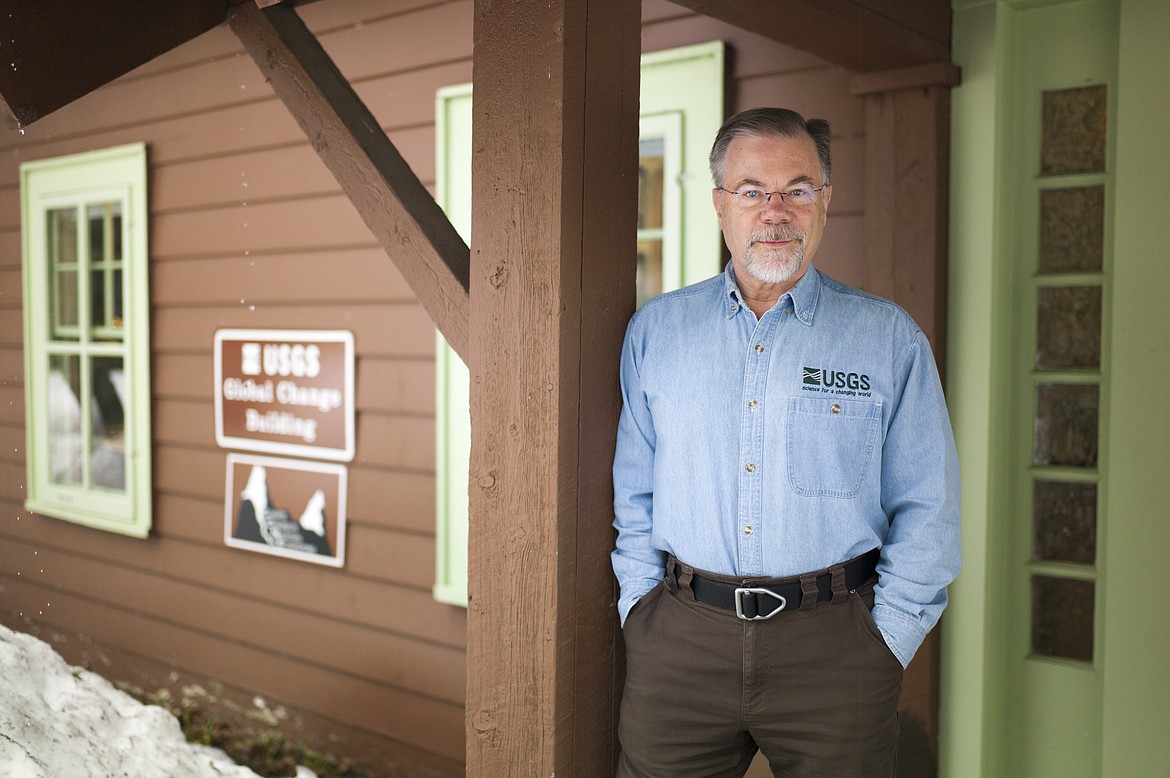 Dan Fagre at his office in Glacier National Park in 2018. (Hungry Horse News FILE)
Previous
Next
by
CHRIS PETERSON
Hungry Horse News
|
July 11, 2020 1:00 AM
For three decades, U.S. Geological Survey Scientist Dan Fagre has been willing to talk about climate change to anyone willing to listen. Over the years he's bent the ear of former Vice President Al Gore, numerous government officials and hundreds, if not thousands, of average everyday folks.
Last week he retired, leaving his small office tucked away in the headquarters complex of Glacier National Park for good.
"I've turned it over to Erich Peitzsch and it's in good hands," Fagre said. Peitzsch will continue to head up climate change research in the park and surrounding ecosystems for the USGS.
Fagre has a home in West Glacier and has no plans to leave the area. He said he'll still help in an advisory capacity and an adjunct role. He has 44 years of documents to go through, he noted during a recent interview.
Fagre came to Glacier in 1991, but has been studying environmental science since 1975 as an undergraduate at Prescott College in Arizona.
He rose to prominence in the field of climate change studying the melting glaciers in Glacier National Park as well as the rapidly changing influences of climate change.
In 2018 Fagre received the U.S. Geological Survey's Shoemaker Lifetime Achievement award. The Eugene M. Shoemaker Award for Lifetime Achievement in Communications is presented annually to a USGS scientist who creates excitement and enthusiasm for science among non-scientists using effective communication skills.
Fagre has dedicated his career to understanding and communicating science about the interactions between climate, mountain ecosystems and snow-glacier dynamics in Glacier National Park and across Western North America.
In past summer months, it would not be unusual to see Fagre trudging up the Hidden Lake Overlook Trail at Logan Pass, a journalist in tow busily scribbling notes in a notebook as Fagre explained the importance of mountain ecosystems.
They are indeed important, Fagre pointed out repeatedly.
He noted that 50 percent of drinking water comes from mountain ecosystems. They store tremendous amounts of water in the form of ice and snow in winter months and then slowly release it into rivers and streams in the summer.
Entire human populations and ecosystems rely on them for their very lives.
That's just one reason why climate change is so important, he stressed. Less snow and ice in the mountains means less runoff in rivers and streams. It's incredibly important, not only for humans, but for the way global ecosystems function.
Fagre said one of his most enjoyable research projects came just recently, when they looked at the difference of glaciers in the park today compared to the Little Ice Age of 1850, when there were a multitude of glaciers, and the water they held.
The study found that the 1850s era held far more water than glacier does today. But the fun in the science is that they were able to determine the extent of the 1850s glaciers from high resolution photography from aerial photos and satellites — technology that wasn't available until recently.
Fagre has met with dignitaries around the world to discuss climate change through the course of his career, including Vice President Al Gore, Robert F. Kennedy Jr. and numerous Secretaries of the Interior over the years.
But the park recently came under fire by some conservative outlets because it had to take down displays that predicted the demise of the glaciers in 2020, but that hadn't happened.
Fagre said the critics missed the point — the glaciers are still melting and they're melting more rapidly than they ever have because of climate change. The process normally happens over thousands of years. Now it is happening over decades.
He said one of the most rewarding moments in his career was when he went to Congress about 10 years ago and was able to sit down with lawmakers from across the country and tell them about climate change face-to-face.
"We had an opportunity to talk to them about the science," he said.
For Fagre, it's always been about the science.
While the world continues to warm, Fagre said he's optimistic we can still change.
He notes that utilities continue to develop renewable energy, like wind and solar power and those systems are becoming more efficient. The small country of Denmark, for example, recently ran for an entire month on renewable energy.
"Those are the kinds of things that keep me optimistic," he said.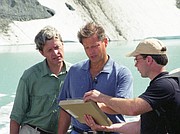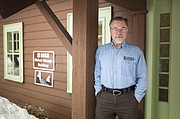 Recent Headlines
---