Adventure-seeker shares passion for living the dream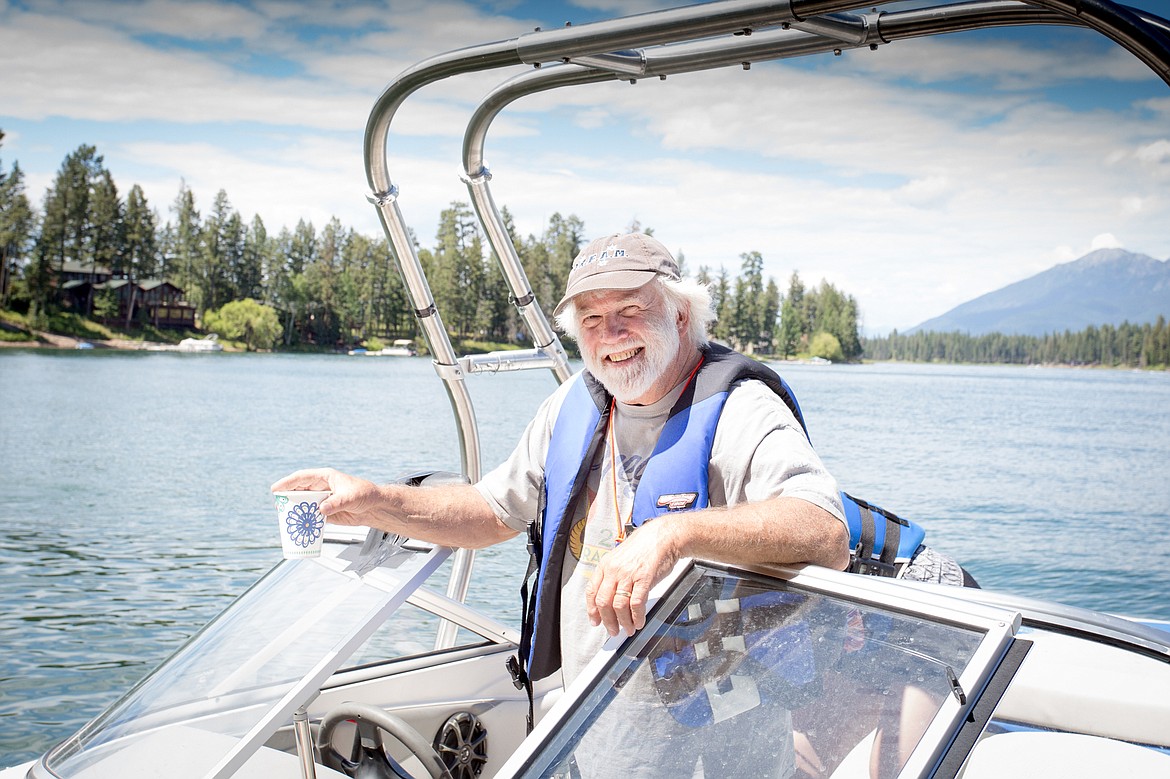 Kalispell local and longtime DREAM Adaptive volunteer Jerry Mahugh. Mahugh started volunteering 34 years ago and in 2009 was inspired to further share his passion for the outdoors as he headed up the water sports adaptive program. (Photo provided by DREAM Adaptive)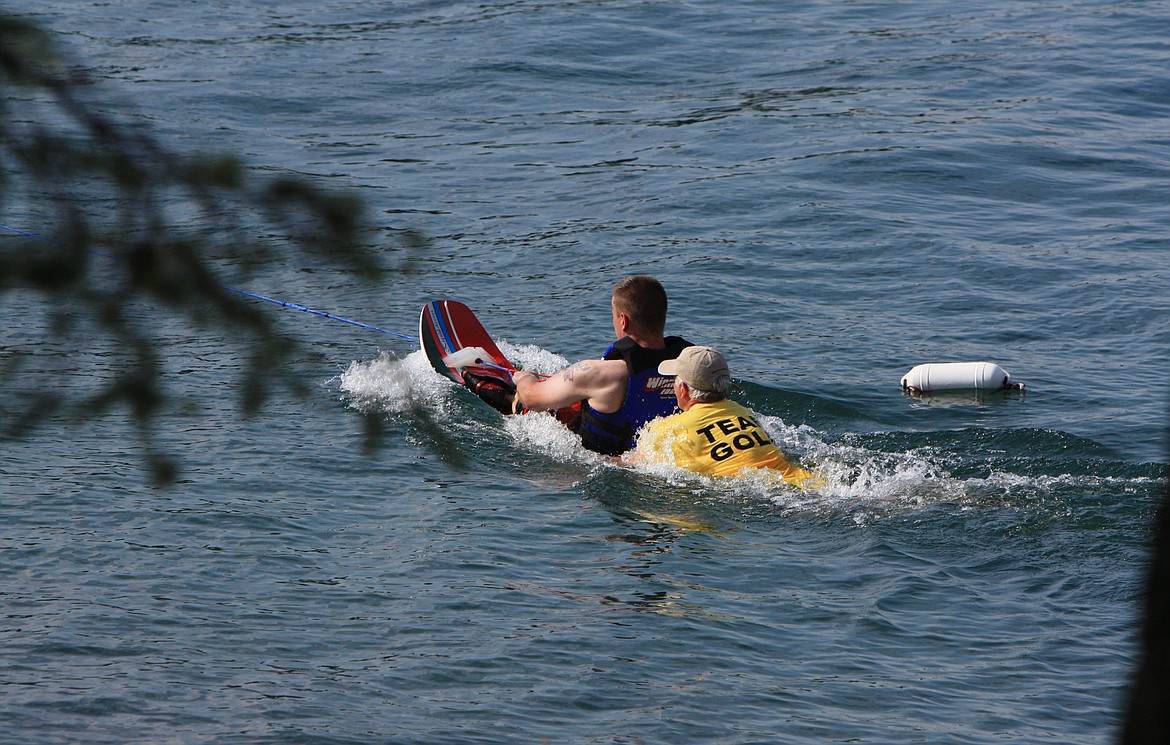 Jerry Mahugh assists a DREAM Adaptive athlete learning how to sit ski on the water during the first year of the water sports program in 2009. Mahugh was instrumental in starting the program. (Photo provided by DREAM Adaptive)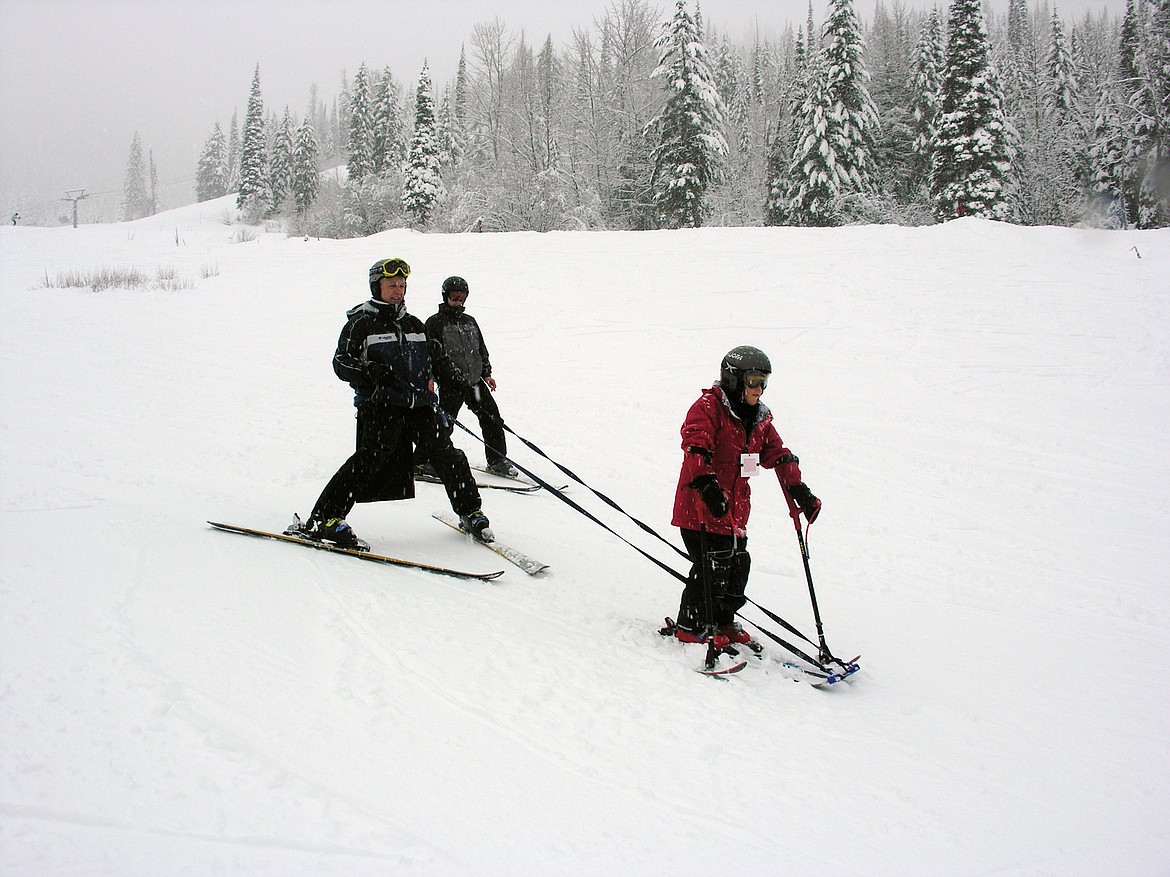 Jerry Mahugh helps a local man with cerebral palsy learn to ski. (Photo provided by DREAM Adaptive)
Previous
Next
by
WHITNEY ENGLAND
Daily Inter Lake
|
July 13, 2020 1:00 AM
Third-generation Flathead Valley outdoor enthusiast Jerry Mahugh has spent a lifetime of sharing adventures with his family and strangers alike.
Mahugh can often be spotted on Flathead Lake in an assortment of boats during the summer and skiing the familiar slopes at Whitefish Mountain Resort in the winter. Adventure is the word he uses to describe the theme for his own life and raising his family. Mahugh has spent years hunting, fishing, hiking, bike riding and water skiing, just to name a few, and is always thrilled to also give others the opportunity to experience the endless joys of outdoor recreation.
"We're so fortunate to live in this area, this is a recreational paradise," he said.
Mahugh is now 75 and only slowing down ever so slightly. Although you'd never know it, given his jolly voice and upbeat perspective, he is also a two-time cancer survivor and has a completely rebuilt pelvis following a horseback riding accident — these setbacks all occurring in recent years. But according to his wife of 41 years, Lorraine, he is strong; he is a survivor.
Around eight years ago Mahugh beat prostate cancer, not realizing that would only be the start of a string of medical hardships. In 2016 he endured what he calls an unexpected "rodeo experience," when a horse bucked him off into a ditch on Airport Road. After medical professionals fixed his shattered pelvis with metal plates and screws, he was wheelchair bound for two months and used a walker for a while after that as well. Being physically active is an important part of his life and the sudden temporary handicap created a struggle he did not expect.
After Mahugh recovered from his broken pelvis, he then found out he had cancer once again, only this time it was Hodgkin's Lymphoma. He made a full recovery and is currently cancer-free.
"I've been a good boy for the last couple of years, no new incidents," he said with a chuckle.
Despite his own challenges, Mahugh never stopped giving back to the community. Even as a school teacher for 29 years and then a number of years as a Realtor, he always made time for nonprofit work.
He has volunteered alongside his own children at Big Brothers Big Sisters, helped with DeliverFund's human-trafficking awareness events and contributed to various causes with his church for many years. But his largest passion project is his ongoing work as a DREAM Adaptive volunteer instructor and board member.
As described by his wife, "He's very educated, smart and social; he loves visiting with folks and especially helping the needy. He loves helping people do what they never dreamed they could do, that just makes Jerry so happy."
Mahugh started with DREAM basically at its origin. Thirty-four-plus years ago he saw an advertisement in the newspaper looking for volunteers to assist disabled people learning to ski, and in return the volunteer would be given a free day ski pass. He was a school teacher without a lot of money at the time and thought it would be a good opportunity to get some time in on the hill, not realizing he would still be doing it three decades later.
"It was kind of a little bit of a selfish motivation at first, but after a few sessions I just fell in love with being able to help people do something that they never thought they'd be able to do," Mahugh said. "I got a lot of satisfaction from seeing the joy, the sense of accomplishment and the confidence that people got (participating in DREAM)… So I got hooked and I've been doing it ever since."
After reflecting on his numerous experiences with DREAM Adaptive, Mahugh expressed he could talk for hours about the many lives he's had the pleasure of influencing through the program. As he recalled the memories of several adaptive athletes he worked with, pride beamed after every word.
Mahugh started with DREAM's ski program, but one of the largest contributions he's made to the organization is heading up the adaptive water sports program in 2009. After Mahugh had several years of experience instructing adaptive snow skiing, he began considering the possibility of offering adaptive summer activities as well.
He researched the few other programs in the United States with adaptive water sports as well as equipment requirements. After forming a solid plan, he took his ideas to DREAM's board of directors and staff.
"I love to water-ski and I've taught hundreds of people to water-ski; I thought, you know, if we can do this for skiing why not on the water..." Mahugh explained. "It basically grew out of my interest and a bunch of other people jumped on board."
Since then Mahugh said they have even helped quadriplegics water-ski, and Mahugh has the opportunity to share his joy of being on the water with many deserving people. The water-sports program has grown to include paddle-boarding, kayaking, wake-boarding and many other summer pastimes.
After Mahugh's horseback riding accident and temporary handicap, he can further relate to the people he helps through DREAM. He had his favorite activities stripped from his life for that period of time, but he remains more inspired than ever to provide accessibility to the outdoors for all.
"I'm thankful to be able to still do the things I do, and to get out and enjoy God's creation," he said. "I'm just going to stay active as long as I can and I'm very appreciative."
Mahugh's involvement in DREAM Adaptive has also trickled down to his children. His wife and kids have all been involved in the organization at different times as well, and now his children as adults are still involved in nonprofit work.
With plans to continue playing and recreating in the great outdoors surrounding him for as long as he can, Mahugh will also carry on his passion for inclusion of everyone around him and making dreams come true for people with differing abilities.
"[Volunteering] has just brought a lot of personal satisfaction in helping other people… I see people grow in confidence, in self-worth, and enjoy outdoor things that they might not otherwise have enjoyed," he said.
Reporter Whitney England may be reached at 758-4419 or wengland@dailyinterlake.com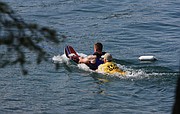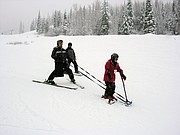 ---