Maine Man: Nuce stood out in 2 seasons at Glacier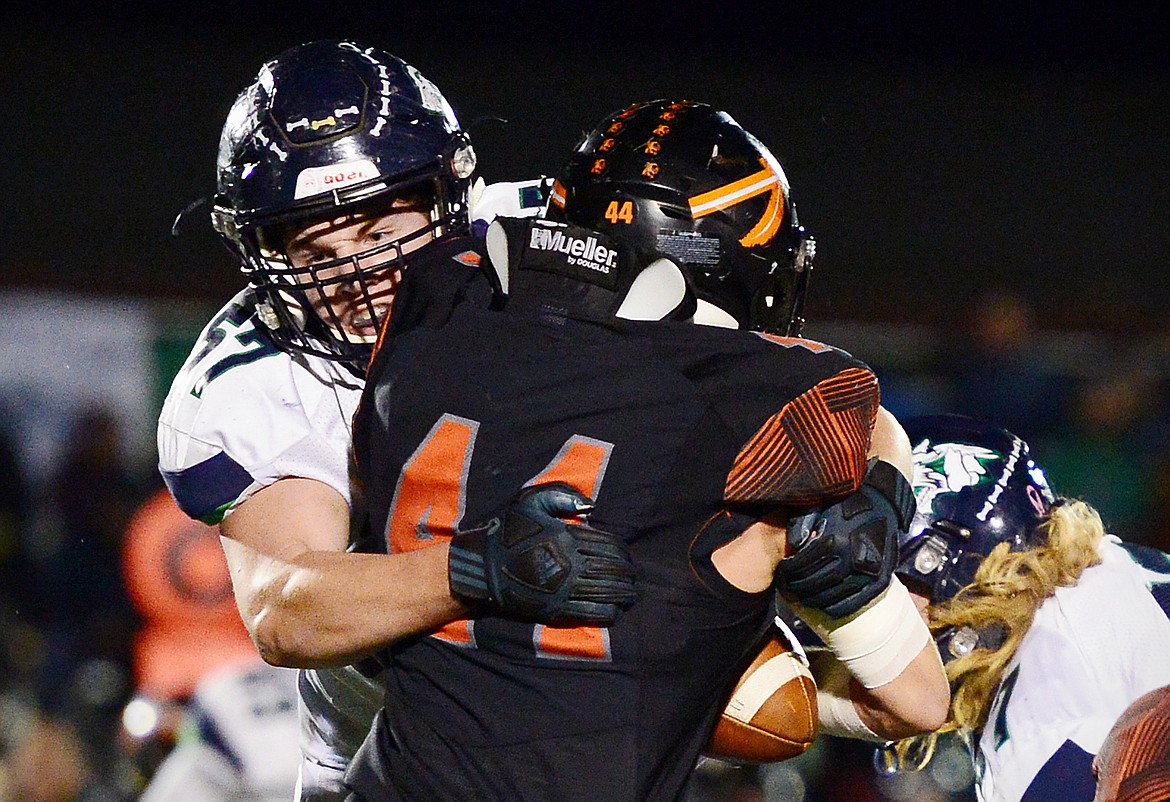 Glacier defensive lineman Hank Nuce (57) stops Flathead running back Tanner Russell (44) in the first quarter during a crosstown matchup at Legends Stadium on Friday, Oct. 18, 2019. (Casey Kreider/Daily Inter Lake)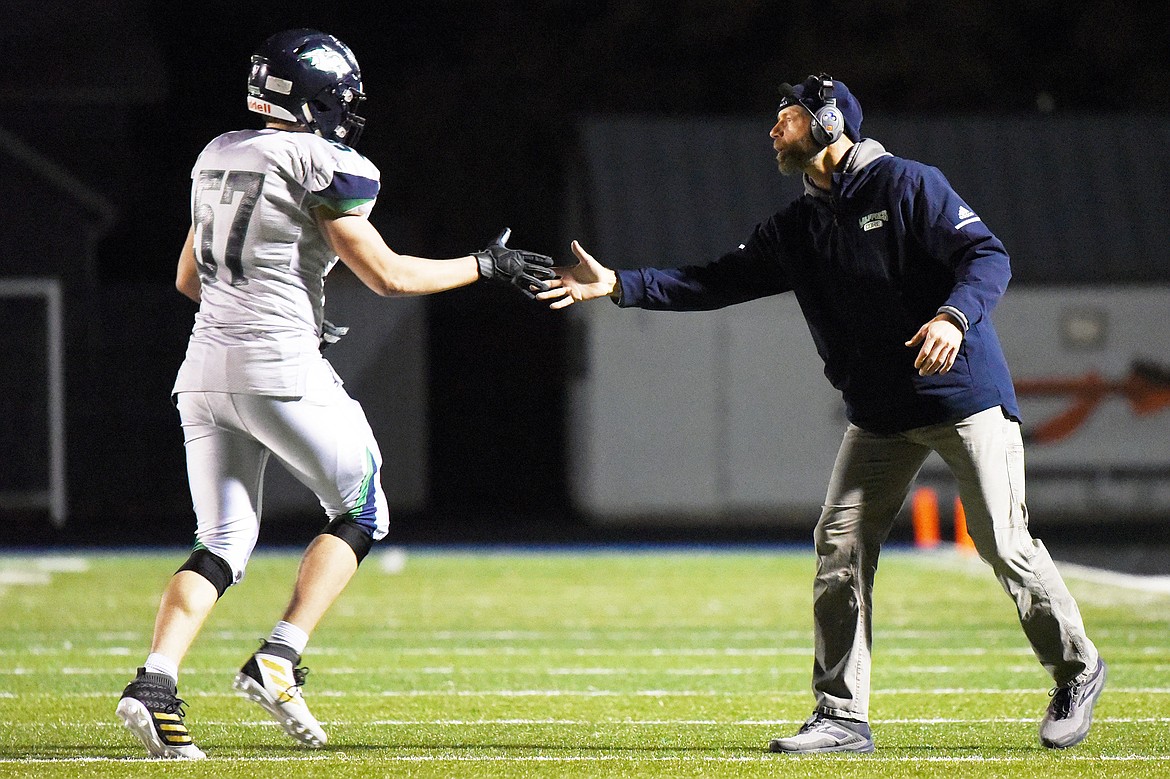 Glacier head coach Grady Bennett congratulates defensive lineman Henry Nuce (57) in the second half against Flathead during a crosstown matchup at Legends Stadium on Friday, Oct. 18, 2019. (Casey Kreider/Daily Inter Lake)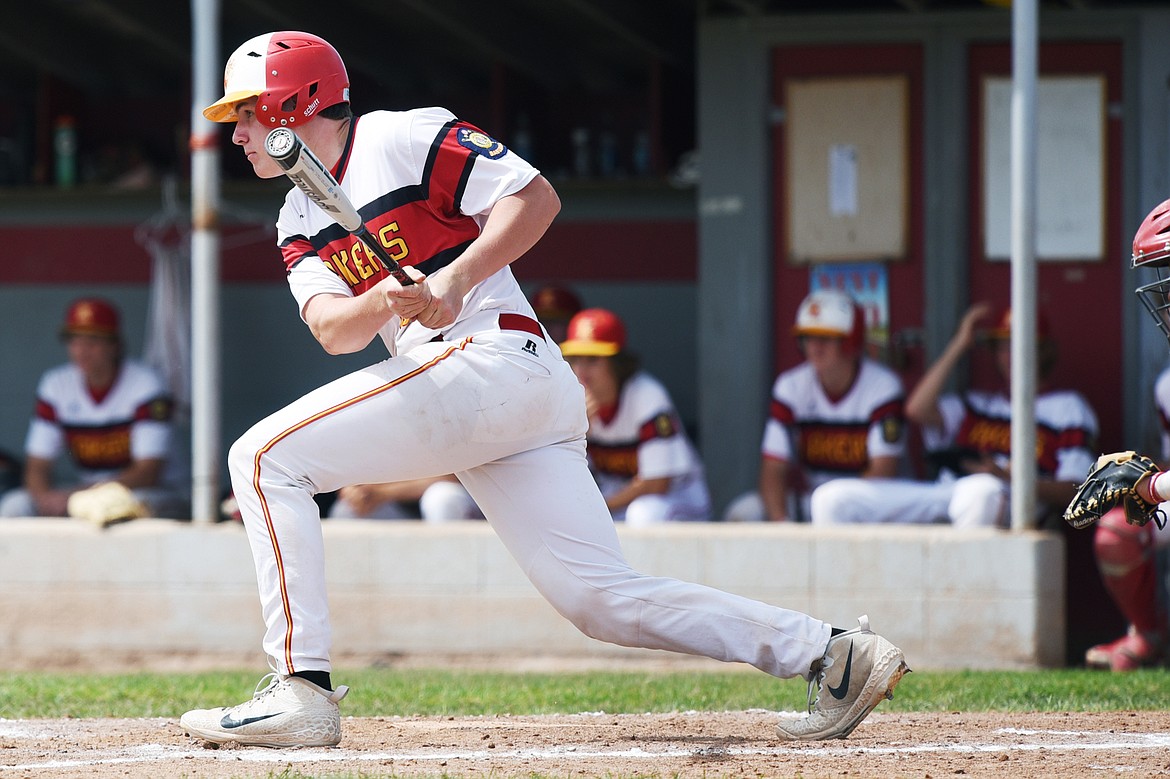 Previous
Next
by
FRITZ NEIGHBOR
Daily Inter Lake
|
July 23, 2020 7:52 PM
Kalispell might not be a metropolis to many but for someone coming from Winthrop, Maine, the difference was stark.
"Well, it was a big change," says Hank Nuce, who moved with his family to the Flathead Valley the summer before his sophomore year. "In Maine I was at a Class D school – a really, really small school. And the football was a lot different – we didn't really have to learn any plays on defense.
"We just went out and played."
Enrolling at Glacier High School, Nuce suddenly found himself holding a thick playbook, assigned football homework and expected to study film.
"Meetings before school," he said. "There's a lot more responsibility to your teammates. My first year I was just getting used to it. And I didn't play very much at all."
Now, as he prepares for fall camp for the University of Montana Grizzlies, Nuce talks about how much he appreciates the experience. It seemed like drinking from a firehose then, but now…
"Having Saturday film sessions with your position group, doing film work outside of practice," he began. "That all – 100 percent – made me a better player. I mean I kind of hated it at first, but I definitely grew to love it. That's what football is. You have to put in the work to be good."
By comparison to Montana, Winthrop is a Class B town or maybe even Class A. Nuce was in a school with roughly 200 students in grades 9-12, and Glacier has 300 a grade.
He went from a JV linebacker in Maine to trying the same position at Glacier and was a bit overwhelmed.
"We didn't know where he really fit," Glacier coach Grady Bennett said. "As a sophomore, he was kind of out of sight, out of mind."
He was 185 pounds then; he says he's 250 now, spread over a 6-foot-3 frame. As a junior he lined up at defensive end for the first time and eventually – Nuce remembers it being a game against Sentinel – things began to have a little more clarity.
"First game I played against Billings Senior, I didn't really know what I was doing," he said. "We played Sentinel and I'd say it was around that time it began clicking. I started being able to read the offensive plays."
"As a junior we saw his development," Bennett said. "I thought he might have got cheated in terms of postseason recognition – but by gosh maybe that motivated him.
"He was excellent. I felt like he was a solid player that maybe deserved more than honorable mention all-conference defensive end."
Told this, Nuce refers back to the start of that season.
"I don't think I got shorted, really," he said. "I don't know. It's tough for me to tell. The first part of the year, I didn't do well."
That summer before his senior season he attended football camps at Montana State and Montana. He didn't feel he did well at MSU's camp, felt better about his performance at Montana's and then got ready for the season.
Twelve sacks and 84 tackles later, first the Griz and then the Bobcats offered scholarships (Wyoming came in later, offering a preferred walk-on spot). He accepted the offer from the Griz.
"The jump he made from solid player to completely dominant game-wrecker," Bennett began. "I think he could have been the (State AA defensive) MVP if we had done a better job as a team.
"There's nobody that changed the game, dominated the game, made the plays like him. He was just phenomenal."
Nuce is the son of a physician, which explains his peripatetic upbringing: He lived in Grenada and Michigan before Maine.
"My family wanted to move to someplace different," he said. "We're a big winter family, and we like the snow and outdoors. My dad found a great job opportunity out here. We visited once and a couple months later we moved."
He has an idea he'll follow in his father's footsteps, saying: "I'm kind of a premed course with an undeclared major."
Bennett, who has spent several Saturday's doing color commentary for Griz telecasts, wonders if Nuce might play right away in Missoula – and if Nuce's 345-pound power clean could put him near the top in the weight room.
"There are a few guys I've gone out on a limb on and said, 'This guy can play' – even above what the coaches that recruited them thought," Bennett said. "Josh Hill, who had an outstanding career at Montana State. And (current Griz defensive end) Patrick O'Connell. Man, I tried to sell him big-time."
Nuce is on the list. O'Connell, coming off a sophomore season in which he led the Griz in sacks, gave him a tour of the campus after signing day. Soon they'll be teammates.
"From whistle to whistle he just has a great motor," Bennett said of Nuce. "He doesn't quit. And those guys are hard to find."
The idea is that Nuce will have it click again. He reports to fall camp on Aug. 2.
"I've got about a week and a half left," he said. "I'm just preparing physically and getting everything ready for college."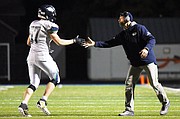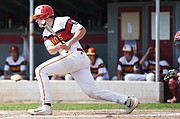 ---