Letters to the editor July 27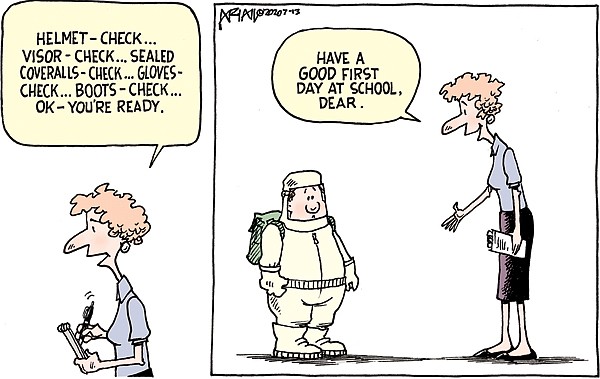 Nobody has ever had to fight a forest fire in a global pandemic before, at least not in our lifetimes. But, as fire season approaches in Montana, it's becoming increasingly clear that COVID-19 will make an already dangerous job much harder.
Social distancing will require that we all make small adjustments, like not standing in line when it's time to grab food. But there are more serious concerns, too, like the fact that some of our experienced team leaders are older and at higher risk from COVID-19. We also likely won't have enough protective gear or testing kits to keep us safe from exposure to the virus.
But I'm most worried about the threat to the resources that we normally use to keep other people safe. Normally when there's a big fire, there are lots of agencies that work together to contain it. In 2017, we had firefighters from 34 different states representing federal, state and local crews collaborating to fight the Lodgepole Complex fire here in Montana. But the coronavirus that has already stolen more than 149,000 American lives is also threatening to rob state and local governments of the ability to provide services, like fighting forest fires.
State and local governments are facing an economic crisis because of COVID-19 and are already slashing public services like education and healthcare. While Congress has approved some money to fight fires on federal land, the state and local officials are primarily responsible for fighting the fires on public and privately owned land are being forced to cut their firefighting budgets along with everything else because of increasing demands from COVID and shrinking revenues
Congress has already approved, for the first time ever, paid sick leave for federal fire crews, but it's not clear if state or contract firefighters will qualify for it, even though we're all usually fighting the fires alongside one another. Like most things, it's a step in the right direction but not nearly enough.
Some leaders in Congress are saying that there's no urgency to pass more COVID relief funds for local and state services, Montanans like me who have seen the dangerous blaze of wildfire destroy land, livestock and homes disagree. Congress needs to stop political stalling and get back to work now, before the fire season begins. Our states and towns need hundreds of billions of dollars in support just to maintain the public services that we need in this crisis. All frontline workers, including firefighters, healthcare workers and everybody else that's essential to keep our country safe and functioning, deserve the protective gear, testing kits and paid sick leave to protect themselves and their families from this virus as they work day in and day out to protect our families and communities
All I'm asking of Senator Daines, Senator Tester and Congressman Gianforte is to stand up in the U.S. Capitol in Washington and say "Yes, I will defend the public services that people are depending on and approve the money necessary to keep people safe from harm." Whether it's COVID infection or annual wildfires, lives are at risk. We all have a responsibility to take action to do the most we can to protect one another.
—Zachary J. Rubin, Coram
I have three questions for those who support "Black Lives Matter" to the exclusion of "All Lives Matter."
As a prelude to my questions, I note that it is my understanding that "Black Lives Matter" is based on three concepts:
1. Black people have been discriminated against in America.
2. Black people were slaves in America.
3. All white people are guilty of slave ownership because some white people owned slaves.
Question 1: My Irish ancestors came to America during the potato famine in Ireland. They were greeted with signs in the windows of businesses that read, "No dogs or Irish allowed." When they went to apply for jobs they were told, "Irish need not apply." Have the Irish been sufficiently discriminated against in America so that Irish lives matter?
Question 2: Many of my Irish ancestors couldn't afford to pay for the journey from Ireland to America, so agreed to become Indentured Servants in order to pay for the cost of getting here. As indentured servants, they were treated like slaves. Is that slavery enough so that Irish lives matter?
Question 3: The Black people who were sold as slaves in America were initially sold to the Dutch merchants by Black people. Because it was Black people who initially sold Black people, are all Black people guilty of selling Black people into slavery?
—Mickale Carter, Columbia Falls
In a July 19 guest opinion, Dan Graves labels those responsible for the repainting of the Big Mountain Jesus statue as vandals and admonishes their behavior. It is true, this was an act of vandalism and acts such as this should not be celebrated. However, the tone and substance of Mr. Graves' letter reveals the naiveté shared amongst those who have failed to educate themselves on the Black Lives Matter movement.
The letter provides only a one sentence nod to BLM, saying "As a concept itself, the importance of respecting black lives is practical and noble, just as it is practical and noble to recognize that every life matters. Yes, every life." This sentence is rife with the major problems that BLM is attempting to address. It fails to acknowledge the systemic racism which exists in our country, it equates the adversity faced by racial minorities to that of the white majority, and it belittles those whose lives have been cut short at the hands of police brutality. Systemic racism is not a concept, it is a fact and any rhetoric which fails to acknowledge this slows our progress as a society.
Mr. Graves makes a call for open civil discourse and responsible expressions of opinion. I support him in this call. However, in failing to recognize the importance of the BLM movement at a critical moment in our nation's history his call for discourse feels empty. I write this response to inspire others to educate themselves on this issue because I want to live in a community where all voices are heard, all voices are equal and Black lives matter.
—Matthew McGady, Missoula
---