SMART move — Support group facilitator draws on her own recovery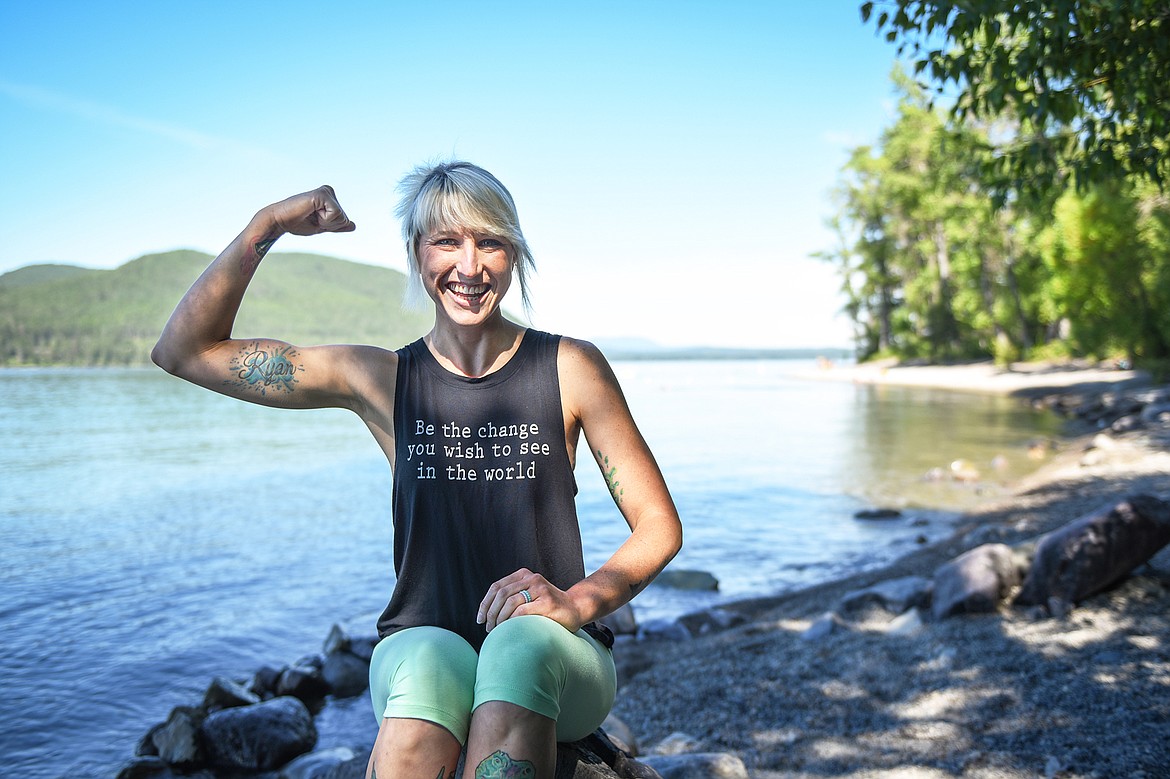 Brett Rinebold shows a tattoo on her bicep she got in memory of her brother Ryan, who passed away in December, at Les Mason State Park in Whitefish on Tuesday, July 21. Les Mason was a place the siblings spent summers together. "It was always the place to run into friends and have a good time. We found it so peaceful," Rinebold said. (Casey Kreider/Daily Inter Lake)
by
HILARY MATHESON
Daily Inter Lake
|
July 27, 2020 1:00 AM
Self-empowerment is the reason Brett Rinebold became a SMART Recovery support group facilitator.
The vibrant 34-year-old has been through addiction and recovery. She's experienced the fallout of substance abuse and addiction among family and friends who never made it to recovery.
"I started my personal recovery journey four years ago," Rinebold said.
She started drinking alcohol around the age of 13 or 14.
"Not heavily, but I had behavioral issues. I was very aggressive. I had a rough childhood and I never found the right coping skills," Rinebold said.
At 16, her family moved to Whitefish. By college, Rinebold began to see she was using alcohol as a coping mechanism.
"I know in college clearly thinking I use alcohol for my anxiety and depression," she said. "I moved back to Whitefish after college and went out of my mind a bit."
Drinking remained very much a part of the social scene and she didn't think the amount she drank was out of the norm. It wasn't until she and her husband, Nick Ferrington, moved out of the state that her drinking habits stood out.
"I didn't have a huge social network. It became drinking by myself and me realizing more and more I needed it to have fun, to be social. I needed it to get out of my head and have a good time," she said.
Rinebold said there was a period of denial before she sought help.
"Someone telling me to be sober was like telling me I would never get to have fun again, or never have friends again," she said, but physically, her body couldn't handle it.
An ultimatum from her husband got through to her.
"My husband was like 'this is it. We're done or you're going to do something about this,'" Rinebold said. "In that moment, it clicked. In that moment, I got sober. But finding how to learn how to be sober was another year's journey.
"I tried the whole gamut of things. Luckily, I was back East so there were many options for me to try," she said.
She didn't have insurance and couldn't afford an expensive treatment center, yet she remained motivated to get help and discovered SMART Recovery meetings, which were free.
"Once I get something in my head good or bad, I'm like a dog with a bone. I just go at it," a trait people have called her superpower, she said.
The cognitive behavioral approach of the program resonated with her.
"I didn't feel like the definition of an alcoholic. I felt I had an alcoholic problem and my mental health was the bigger issue. That's why SMART, to me, is such a great program. It takes the focus off you and your behavior, to let's find the real problem that is causing the behavior," she said. "Recovery was learning a lot about the tools — learning how to live with my emotions," she said.
While life improved for Rinebold, she knew her brother was still struggling with alcoholism back home in Whitefish. She and her husband were planning to return to Whitefish this summer to help with the family laser tag business before making the move to Nevada. Plans suddenly changed in December, however, with a phone call that her brother, Ryan had died. He was 31. She said his excessive drinking exacerbated health issues with his pancreas.
"It's hard because I wasn't here. We were the best of friends. When I got sober it put a big wedge between us," Rinebold said, but it didn't stop her from trying to encourage him to seek help, which was a fine line because she didn't want to increase his anxiety.
"Part of my sobriety was that I wanted to learn how to do it to help my brother," Rinebold said, recalling one of her last conversations with him was about SMART Recovery. "He was part of my motivation, and my husband."
What still sticks in her mind is how much pain, physically and mentally, he must have concealed from others as the drinking escalated.
"He was the best person, but he couldn't," she said, pausing, "He was too sensitive for this world.
"Everybody loved him," she added.
What she holds onto are the qualities they shared, from looks to laugh.
"We always considered each other twins even though we're two years apart. We're both super into art," Rinebold said.
For now, her and her husband's plans to move to Nevada are on hold as she has taken up the reins her brother once held in helping her mother operate the outdoor laser tag business.
She facilitates SMART Recovery free weekly support group meetings online due to COVID-19. Rinebold completed SMART Recovery facilitator training, but is not a professional therapist or counselor.
SMART, which stands for Self-Management and Recovery Training, is a nonprofit organization. The program uses "science and self-empowerment to help people overcome any addiction, including problems with drugs, alcohol, and harmful behavior such as gambling, eating disorders, and excessive shopping and internet use," according to www.smartrecovery.org.
Participants focus on four things: "building and maintaining motivation; coping with urges; managing thoughts, feelings, and behaviors; and living a balanced life."
"SMART's stance is recovery is your own; what works for you," Rinebold said, whether that means a person comes to one meeting, or attends every week. "That's your decision."
"We teach abstinence-based recovery. If you're not there yet, you don't have to be sober to come to our meeting. You can come to the meeting whatever state of mind you find yourself in.
"If their goals are not complete abstinence they're welcome to come to the SMART meetings. It's about spreading the tools and knowledge and figuring a path that works for you to maintain a healthier and happier life."
Meetings are fairly relaxed and start with a check in.
"Everybody unloads what they need to unload. I'm there to listen and direct the meeting, not preach," Rinebold said.
If there is a particular area participants are struggling with, she'll direct the conversation to that focus.
"After open discussion we work on a tool," she said. "The main thing is seeing where everybody is at and going into the smart toolbox to decide what to work on that week, or find out what people are hung up on. What are you trying to relieve? What are you stressed or anxious about? You have a community to talk about yourself and what you've learned.
"The goal is we're going to teach you how to identify behaviors and then you take that knowledge and replace negative behaviors with healthy behaviors," she said. "Where recovery isn't number one in your life that's a good thing. You can go after your bigger goals."
What has Rinebold regained through recovery?
"Pretty much my entire life. All my relationships. My health. A big thing is getting back to my passions, being artistic again, finding new interests in life and wanting to learn," Rinebold said with excitement in her voice. "My new mantra is I want to learn everything. I want to experience life rather than numb it out, or be overwhelmed by it."
For more information about meetings visit www.smartrecovery.org or email Rinebold at brettybetty@gmail.com.
Reporter Hilary Matheson may be reached at 758-4431 or hmatheson@dailyinterlake.com.
Recent Headlines
---