For Twins' Price, nine is just fine
by
FRITZ NEIGHBOR
Daily Inter Lake
|
July 30, 2020 6:45 PM
Last year Kevin Slaybaugh noticed that the Glacier Twins Legion baseball team had the perfect No. 9 hitter in Jack Price: Fast, can bunt like nobody's business and doesn't mind moving a guy up a base.
This year Slaybaugh moved from general manager of the team to coach, and saw that Price was striking the ball with more authority, which you might expect from a veteran player who's been in the program three years.
So he left him right there in the nine-hole.
"He's usually our nine guy," said Slaybaugh, whose Twins play in the Western A District tournament Friday at 2:30 p.m. against either Libby or the Bitterroot Red Sox. "After that first at-bat, he's like another lead-off hitter. We have Stevyn Andrachick and Mason Peters at the top, and then Jack at the nine; I always figure we can get our 1-2-3 guys on then we have our bangers behind that.
"That's what we're trying to do here."
It's worked well enough: The Twins are 31-19 and owners of the top seed into districts. Price is hitting .297, just shy of the .300 mark that seven other Twins (Zach Veneman, both Stevyn and Austyn Andrachick, Payton Davisson, Cade Morgan, Trenton Tyree and Peters, with Jacob Polumbus at .299) have surpassed this season.
"Last year we had a really good, solid lineup," said Peters, a 2020 graduate of Columbia Falls High School. "And this year it seems like it got better. We don't really have a weakness.
"I don't think me being in the nine spot means anything – everybody is out there contributing. It doesn't matter – it only takes one at bat to change the ball game."
Price comes from a baseball-playing family: Two sisters played on Columbia Falls' fast pitch teams, and he remembers starting Tee-ball at either 4 or 5 years of age. Both his parents coached travel teams.
Now Price looks around the diamond and sees a lot of familiar faces.
"We lost a few seniors that had gone through All-Stars and played in the World Series and stuff (the 2018 Twins surged to the Northwest A Regional crown)," Price said. "They'd been there and done that – they led by example and that was awesome. But this year we have a lot of seniors and we've played together since we were really young.
"It's easy to get in the flow and get going. It's just been a lot of fun playing with them."
Price played Babe Ruth ball in 2017, then hopped onto the Twins' B roster in 2018. He had designs on being a shortstop but when he got up to the A team in 2019?
"We had Coby Clark-Dickenson," he said. "An absolute stud. That's when I moved to second. I've been there ever since."
"He might be one of the best second basemen I've ever coached," said Slaybaugh, who came to the Twins as President/GM in 2016. "It's kind of always been his spot, and he's just gotten better at it every year."
The Twins are talented, which they often are. But Price noted that last year the Twins went into districts as the No. 1 seed, dropped their first game to the Mission Valley Mariners and then eventually lost in the if-necessary championship game on a Mariners' grand slam.
"We had beat them all year long," Price said. "It was really rough. Pretty heart-breaking loss.
"Obviously we're going to look to take it all."
The top two teams in the tournament will move on to the State A Legion tournament in Lewistown Aug. 6-9. The Twins will be tough to top, thanks in no small part to a lineup that turns over often.That's partly because Price continues to take what the defense gives him: He estimates half his 28 singles have come via the bunt.
"Don't tell the other teams," he joked. "I mean, if they give you the opportunity, might as well take what you can get."
"I guess he's kind of a late bloomer," Slaybaugh said of Price. "Some kids are really athletic when they're real young and it took a little longer to come together for him. He's tremendous now.
"He's still a tremendous bunter and on-base guy. He never misses a sign. Probably no other team has a nine-hole hitter like him."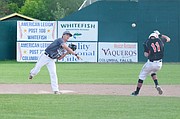 ---