Letters to the editor July 30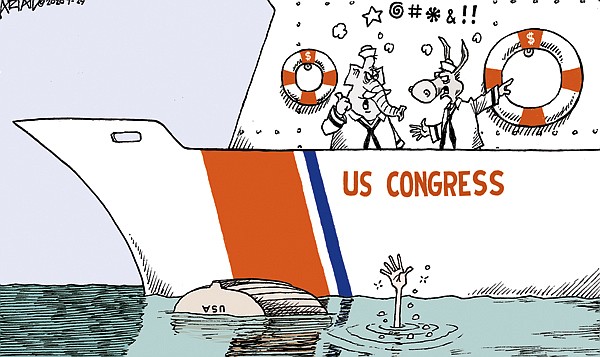 Recently, Rep. Mark Noland said unemployed Montanans are "enjoying this" and staying off work longer than needed because of the added weekly CARES unemployment payment. Really? I haven't talked to anyone that is enjoying our country's crises. Noland has such a jaundiced view of human beings and our communities. And most Republicans won't shell out one thin dime to help a fellow human being if it means someone might get a penny they don't "deserve." Noland has stated, "I do not believe in a government that has to take care of all people."
The extra unemployment assistance was for families to purchase lost health insurance, to cover increased costs like food, to prevent jobless families from becoming homeless in the middle of a pandemic, and so consumers could still spend and support our flailing economy. People are not going back to work because wages are insufficient to cover the added risks of rising infection rates, not because they are having too much "fun." People are not going back to work because childcare or school schedules are still unpredictable and we continue to see everything go to hell in a hand basket.
Representative Noland and the Montana Republican Party are talking only about what they won't do – no taxes, limited government, no social safety nets and cutting programs. It's all about "individual responsibility." How does "individual responsibility" apply when you lose your job in the worst pandemic in our lifetimes? We saw what "limited government" really meant when we couldn't count on a free COVID-19 test.
In this crisis, we need a robust public health system, strong social safety nets and plans to get through this together. When November comes, don't elect someone that feels we shouldn't have that.
—Jennifer Allen is the Democratic candidate for HD10
Has Montana devolved back into the Washington Territory? History affirms that the Montana Territory was born in 1864, after leaving the Washington and Dakota Territories in 1863. Statehood bloomed in 1889. Despite, here we are in 2020 with individuals and organizations from Washington, D.C., encouraging a specific trail blazing route through our mountains, valleys, forests, and rivers for an astigmatic vision of a long "through-hiking trail" with a clear disdain of the people, wildlife, and land of our state.
There may not be grizzly bears in Olympic National Park, but there are in the Yaak Valley of Northwest Montana, and these grizzlies are a treasure and symbol of wildness worth more than Starbucks coffee, development, or gold sluiced from the creek. Interstate 90 may connect us, just as the Mullan Road yoked us in 1862, but the existing route of the Pacific Northwest Trail through the Yaak Valley does not.
A transparent, uncomplicated reroute is recommended for the Pacific Northwest Trail, and luckily a proposed reroute already exists. But, it needs Congressional approval, and this is paramount because the Yaak Valley has little to concede in her badge of a wild, free-roaming grizzly bear population.
Please consider and help reroute the Pacific Northwest Trail and let those bears have a chance to represent to the world the wild of Montana.
—Matthew Chappell, Choteau
The Bible proves no man caused climate change.
When God created the world, He had everything in perfect balance. The world had temperature's in a range that was proper for all living creatures including mankind. And rain for keeping plant life growing, animal life and plants to drink. The carbon and oxygen was controlled by various things like volcanoes and the sun. Volcanoes spew more carbon in one eruption than we have reduced in a year's time.
The Dems and a Joe Biden may shut down cars, trucks and airplanes, but they can't shut down volcanoes. Carbon is required for all vegetation to survive and produce oxygen. We don't know what the temperature was 200 or more years ago because the thermometer was not invented until 1714 and was not deployed worldwide until maybe late 1880s or early 1900s. So how can we say the world is warming or cooling?
We do know (according to the Bible), of climate changes as early as Genesis Chapter 41, 1715 BC, when the Israelites had to go to Egypt for food due to a drought . God told Joseph (Israel's son) through Pharaoh's dream to save seven good years of grain for seven years of famine (caused by lack of rain) in the land. For many years other parts of the world also had famines and drought caused by severe lack rain.
There are other times recorded in the Bible that famine occurred. See Second Samuel 21, First Kings 8, Chronicles 20 and several other places in the Bible how is the climate any worse today.
Study tree rings near Sequoia National Parks, in 2,000-year-old redwood tree stumps and see many signs of climate change.
What is so different today except someone wants to make a name for themselves by trying to remake history or changing science by making models to fit their dreams of being superior to others.
—Dexter Hamilton, Kalispell
In just a few weeks, Montana has jumped to over 3,000 cases of COVID-19. On June 30 we were tracing and isolating contacts for 100% of new cases in less than 48 hours. Now we're tracking down and isolating contacts in a timely fashion only 33% of the time.
According to CovidActNow.org, we are one of 10 states with an "active or imminent outbreak." Montana has some natural advantages: low population density, no big cities, a sensible governor. We're not Arizona or Texas —- not yet. But we do need action from officials, not just expressions of grief and sympathy.
What can we do? Impose a mandatory statewide face mask rule for inside public spaces, and exclude guests from states like Arizona, Texas, and Florida, as many other states are doing. Close bars for a while, as this is a really bad time for bars, according to Dr Anthony Fauci.
Needless to say, with numbers exploding instead of declining, and as national guidelines require, we can't re-open schools or colleges. An urgent program to hire and train more health workers to trace close contacts would help.
Let's get serious, Montana.
—Dr. Jerome Walker, Missoula
---