School district in throes of accommodating on-site learning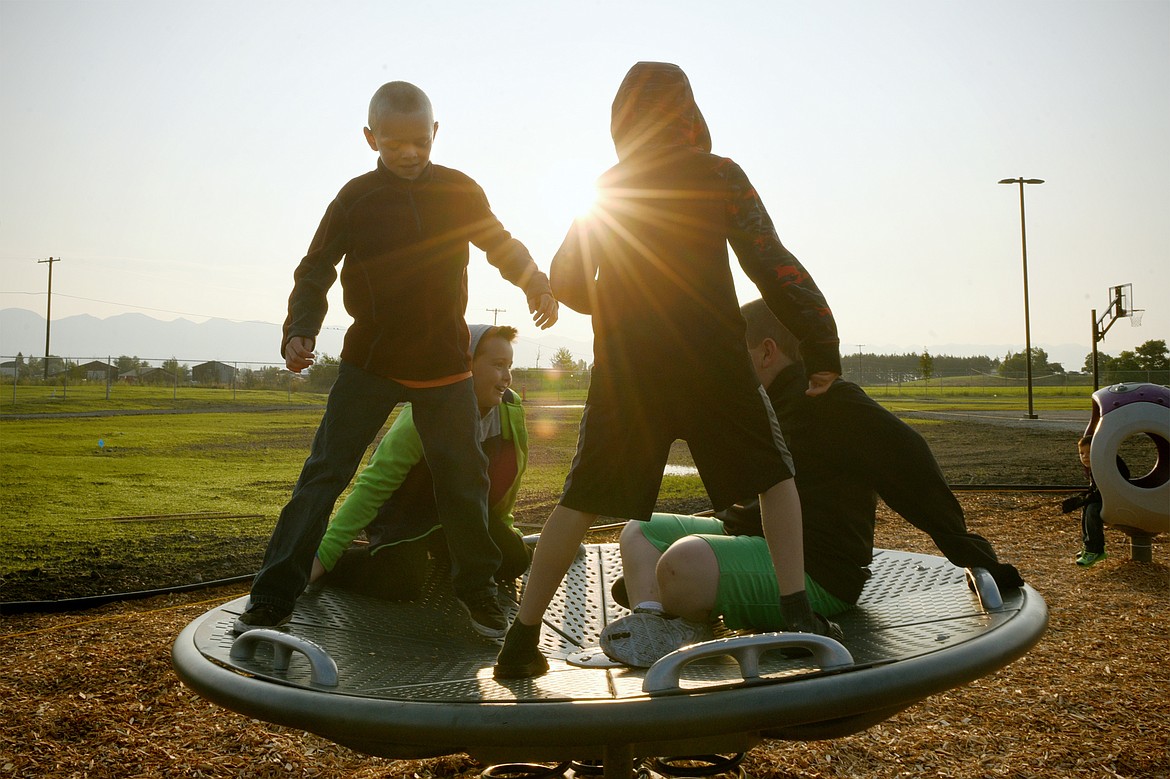 Students play on the playground at Rankin Elementary School in Kalispell. (Casey Kreider/Daily Inter Lake FILE)
by
HILARY MATHESON
Daily Inter Lake
|
July 31, 2020 1:00 AM
A majority of respondents to a survey emailed to Kalispell Public Schools families regarding whether or not they want to return to school were favorable to on-site learning for the 2020-21 school year.
The district has received 4,747 responses, and 84.7% of those respondents plan for their children to return to school for on-site learning, with 13.9%, selecting remote learning. The remainder chose an option that they are either moving/relocating to another school district.
Schools will reopen with on-site learning. Remote learning opportunities will be created for students that chose to learn off-site, according Kalispell Public Schools Superintendent Micah Hill.
The deadline for families to register for remote learning is Aug. 7. Parents or guardians can register for remote learning by signing into their PowerSchool accounts. If parents can't access the "parent portal" they may email psadmin@sd5.k12.mt.us for assistance.
"Our goal is to formalize a remote instruction cadre of teachers by Friday, August 14. There will be more information on this aspect of our planning in the near future," Hill stated in an email to families.
For on-site learning, the first day of school is Aug. 28 for grades sixth and ninth. An open house for kindergarten through fifth-graders is also planned on Aug. 28. First- through 12th-graders start school on Aug. 31. Remote instruction will start Sept. 8.
Teachers who return to the classroom are expected to continue developing online instruction such as setting up a "Google classroom." Staff are also asked to "be ready to accommodate alternative schedules with short notice depending on district, county and state directives," among other items. It is recommended staff use virtual meetings when possible.
Remote learning guidelines have been established. Students must have a means to access remote classes and traditional grading practices will be used for report cards and transcripts. The district will work to make accommodations for remote learners with individualized education plans or 504 plans. Teachers who are delivering remote instruction will have the office hours of a regular school day, Monday through Friday. Remote learners will be eligible for Montana High School Association activities.
Elementary and middle school students will not be able to do a combination of remote and on-site learning according to the guidelines. If elementary or middle school students want to return to the classroom, they will be allowed to do so at the start of each trimester and there isn't a guarantee they will return to their neighborhood school.
For high school students who want to return to on-site learning, they can do so at the start of second semester and their class schedule subject to change. High school students who need a particular class to graduate that is not offered remotely or through correspondence will need to be taken on-site, according to the guidelines.
The guidelines also outline "standards, behaviors and expectations," for students and parents as they learn remotely.
For students, this means adhering to their respective school's code of conduct; attending mandatory class meetings; completing coursework on time — failure to do so could result in failing the class; communicating with teachers in a professional/respectful manner; seeking help when needed; and acknowledging the district's Acceptable Use Policy regarding technology/internet.
For parents, this means providing a safe and appropriate place for students to work at home; being aware of assignment deadlines and checking that work is being turned in; encouraging students to seek help when needed; ensuring tests are completed without the aid of others; communicating concerns with instructors as needed. Parents are also reminded that if a student has a job outside of school, it should not interfere with attendance or completing assignments.
The district has also updated a "Pandemic Operational Guidance" document that provides more information on requirements and recommendations for students and staff in regard to physical distancing as it pertains to student arrival/departure, classrooms, common areas, bus transportation and instruction; hygiene measures, such as wearing masks; and other items such as health screenings and COVID-19 testing and reporting. Educating and monitoring students in understanding hygienic and social distancing practices is a common theme throughout the document.
"Our schools face considerable operational constraints that are out of our control," Hill stated in the email. "Parents and teachers have a range of perspectives on the reopening of school campuses. To that end, this document reflects the best judgment of Kalispell Public Schools as to the practices that our schools should follow while also considering local conditions and considerations."
To view the full documents for reopening schools visit https://www.sd5.k12.mt.us.
Reporter Hilary Matheson may be reached at 758-4431 or hmatheson@dailyinterlake.com.
Recent Headlines
---