Wilderness advocates seek stiff penalty for heli-fishing couple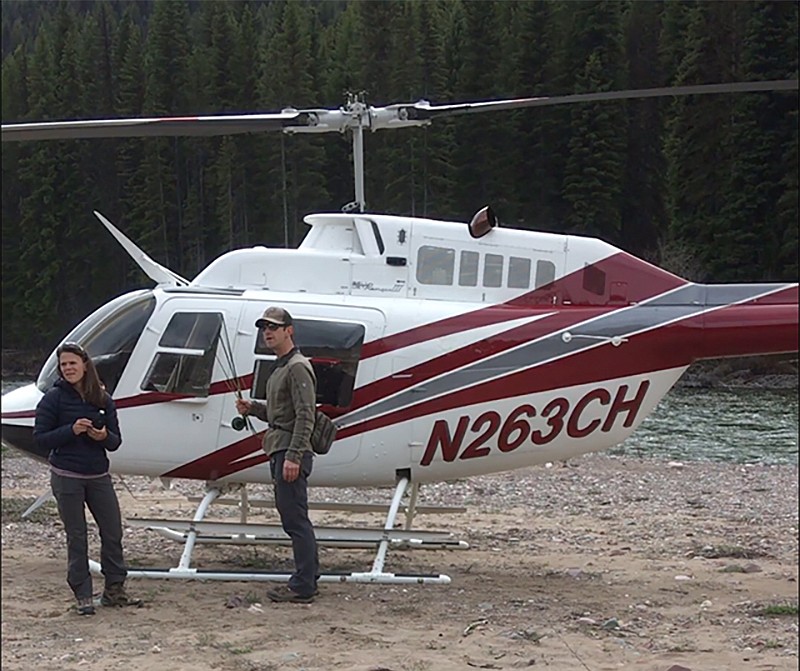 This cell phone photo provided to the Hungry Horse News appears to show a couple who allegedly flew into the Bob Marshall Wilderness and landed on the South Fork of the Flathead River bank to do some fishing.
by
CHRIS PETERSON
Hungry Horse News
|
June 11, 2020 1:00 AM
Wilderness advocates are seeking a stiff penalty for a wealthy Bozeman couple who admitted they landed their helicopter in the Bob Marshall Wilderness on opening day of trout season.
"The egregiousness of the action, the disdain it shows for the sanctity of wilderness, and the sense of privilege and entitlement displayed by the helicoptering couple argues for the strongest possible punishment," wrote Wilderness Watch Executive Director George Nickas in a recent letter to U.S. Forest Service Region 1 Regional Forester Leanne Marten. "A thousand dollar fine would be like no more than a parking ticket to these law breakers."
On May 16, two horsemen from the Flathead Valley came upon Sam and Sara Schwerin after they landed their helicopter on a sandbar on the South Fork of the Flathead River near Black Bear, a good 10 miles into the Bob Marshall Wilderness.
The men took photos of the couple. Mr. Schwerin clearly has a fishing rod in his hand in one of them, though the couple claimed in a later apology to the Bozeman Daily Chronicle that they thought they were outside the wilderness boundary.
The horsemen saw it differently, noting the helicopter had been buzzing up and down the river prior to landing. They also claimed to the horsemen that they were OK because they were below the high water line.
Wilderness Watch isn't buying the couple's excuses.
"The purpose of this letter is to urge you to pursue the strongest possible penalties against the pilot, and passenger of the helicopter and that includes — if the law allows — confiscating the helicopter and, working with the FAA, revoking the pilot's license," Nickas wrote in his letter.
A petition on Change.org also calls for Sara Schwerin to forfeit her pilot's license and for both of them to lose their fishing licenses. They'd also like to see them barred from residing in or visiting the state for 60 years.
The petition had nearly 11,000 signatures as of presstime.
Flathead National Forest spokeswoman Lauren Alley said the matter is still under investigation.
---