Local businesses struggle to find seasonal staff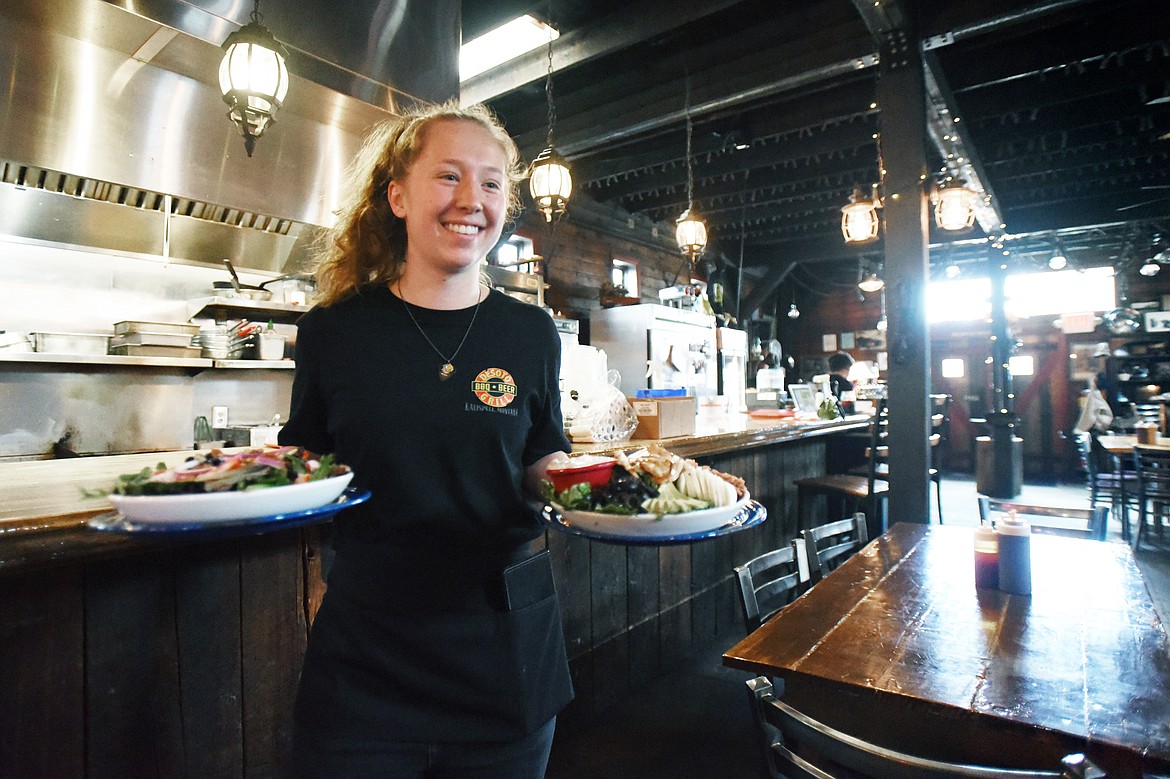 Kylee Meredith, a server at The Desoto Grill in Kalispell, delivers two dishes to patrons at the restaurant on June 10. (Casey Kreider/Daily Inter Lake)
by
BRET ANNE SERBIN
Daily Inter Lake
|
June 14, 2020 1:00 AM
As local businesses have been ramping up again in the wake of the coronavirus restrictions, many employers are finding they don't have the seasonal staff to resume operations.
Employers around the region are confronting a slew of unforeseen challenges with their summer workforce, from travel restrictions, to housing challenges, to unwilling participants still receiving sizable unemployment payments.
With traditional unemployment benefits, Pandemic Unemployment Assistance and Extended Benefits, Montanans could receive as many as 54 weeks of unemployment benefits. Montana Department of Labor and Industry Public Information Officer Lauren Lewis said "the unemployment insurance program is designed to ease the burden of unemployment and provide a bridge to returning to work."
But most local employers haven't seen enough employees crossing that bridge just yet.
Compounding the issue is the near-impossibility of bringing in international workers amid the pandemic.
"There have been some special COVID-19-related changes to the H-2B program, which is the type of visa provided to temporary non-agricultural workers," Lewis said. Department of Labor and Industry data indicates about 250 international workers were approved to come work in Montana through this program this season, but Lewis added, "it is unclear how many of these workers were able to arrive in the U.S. and begin work, given the travel restrictions."
This confluence of challenges is creating a seasonal staffing shortage that's affecting a cross-section of industries and locales throughout Northwest Montana.
"It's absolutely impossible, and it's impossible for everyone," said Shawnna Steele, the owner of The Desoto Grill in Kalispell. "We're begging people to work."
Steele depends on high school students and international workers to round out her restaurant staff in the summers. Travel restrictions have eliminated the option of bringing in international workers, and Steele said some high schoolers who are receiving unemployment benefits are no longer interested in working.
Her returning staff members have remained loyal, she said, but she hasn't been able to bring on any new hires for the season. "I don't see that changing for the summer," she predicted.
Roger Elliott, one of the owners of Big Sky Waterpark in Columbia Falls, doesn't see any end in sight to the staffing shortage, either. About 10% of the park's previous employees are returning this year, and they aren't seeing any applicants from their typical labor pools, including high schoolers and Canadian workers who currently can't come into the country.
"We're having a tough time finding seasonal workers," lamented Elliott, who depends exclusively on seasonal staff at the popular waterpark.
To try to attract new workers, Big Sky Waterpark upped its hourly lifeguard wage to between $11 and $12. The waterpark also covers the cost of lifeguard training for new guards, which Elliott hopes will help them find guards for the five to eight lifeguard positions left to fill before the tentative opening date on June 20.
Due to the staffing shortage and coronavirus safety requirements, Big Sky Waterpark will have to limit some of its hours and services this season. Some slides and other attractions won't open at all, while others, like the tube slides, will operate on a rotating basis to allow for sanitation. The park will be closed on Mondays and only open from 11 a.m. to 6 p.m. on the other days of the week to give the staff time to complete deep cleaning.
Increasing wages seems to be the solution for other local business leaders, too. Lisa Cloutier said her Bigfork and Woods Bay businesses start off with comparatively high wages, but they had to increase them further this year to staff hard-to-fill positions. She said front-of-house staff hasn't been too hard to find, but positions such as kitchen staff are presenting a real challenge.
"We're definitely having issues with back of house," Cloutier noted.
As they wait to fill positions in the kitchen, she said The Montana Bonfire will have a limited schedule starting at 4 p.m., Wednesday through Saturday. She was optimistic, however, that her other area businesses—The Raven, The Islander Inn and Whistling Andy Distillery, won't see any disruptions in services or hours.
Other employers expect to be able to remain fully operational this summer, despite the dearth of workers. The Izaak Walton Inn at Essex, for example, plans on being one of the only Glacier National Park employers to run all of its regular services this summer, including the hotel, bar and Eddie's Cafe & Mercantile in the park.
When both the inn and the café are at full capacity, they employ more than 100 seasonal workers, according to Director of Sales and Marketing Holly Dumay. In a normal year, about 40% of those workers come from foreign countries. This year, Dumay said they were not able to bring in any foreign workers.
Even so, Dumay said the iconic lodge has been "very fortunate" in finding U.S. candidates and bringing back previous employees. Although they still aren't fully staffed, she said the Izaak Walton has been "able to staff up" and doesn't expect to restrict any operations.
"So many people are out of work across the U.S. There's that many people looking for a job," she pointed out.
That seems to be the case at Whitefish Mountain Resort as well. Public Relations Manager Riley Polumbus said a lot of candidates now are "more available than in the past" because schools have closed, most events have been canceled and workers across the country are hunting for jobs.
"We haven't had that much trouble with our seasonal hires," said Polumbus, who reported the resort employs about 180 seasonal summer workers.
Whitefish Mountain Resort opened its summer activities Saturday with a slightly smaller staff and a few restrictions in the interest of safety. Polumbus admitted it was "tricky" trying to figure out summer staffing since they initially did all their seasonal hiring in February, before the pandemic arrived in the U.S. Their international workforce has been limited to 10 employees from Turkey, but Polumbus said they rely much less on foreign workers in the summers than the winters.
It helps, Polumbus noted, that most jobs on the mountain take place outdoors with plenty of space, making them an attractive option amid the pandemic.
"We got lucky," Polumbus said gratefully, as she reiterated a sentiment that has become somewhat of a mantra in the age of COVID-19: "We weren't sure what to expect."
Reporter Bret Anne Serbin may be reached at (406)-758-4459 or bserbin@dailyinterlake.com.
---