Whitefish campaign promotes responsible tourism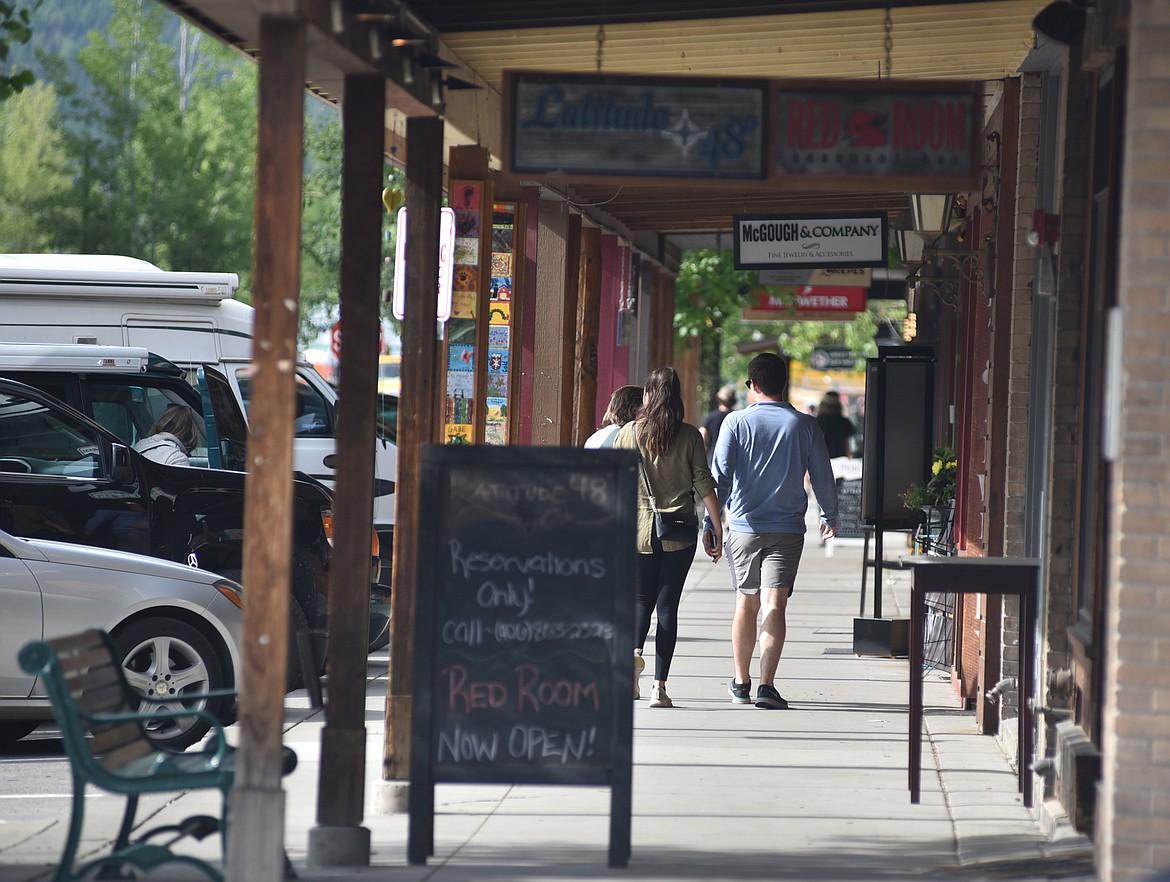 Shoppers walk down Central Avenue. (Heidi Desch/Whitefish Pilot)
by
HEIDI DESCH
Whitefish Pilot
|
June 14, 2020 1:00 AM
Visitors are returning to town, and Whitefish wants to make sure they do so with some safety guidelines in mind.
The Whitefish Convention and Visitors Bureau, along with the city of Whitefish, is working to mitigate the spread of COVID-19 while reopening to tourism through a recently launched campaign of responsible tourism.
The message asks folks to follow three guidelines — Clean, Careful and Connected. The clean guideline means remembering to use hand washing and use of hand sanitizer, careful means practicing 6-feet of social distancing and wearing cloth masks in public areas, and staying connected is a reminder to obtain information at whitefishcovidcares.com.
Dylan Boyle, executive director for the Visitors Bureau, said Whitefish is joining with Jackson Hole, Wyoming, and other national park gateway communities in a message reminding visitors, community members and business owners to take steps to keep the community safe.
"We had actively been telling people now was not the time to visit, but now that the quarantine has been lifted, visitors will now be here," he said. "We want to provide information about how to travel responsibly."
On June 1, Montana entered into phase two of reopening related to the COVID-19 pandemic allowing for gatherings up to 50 people and increased operation of businesses. That same day a 14-day quarantine for out-of-state travelers was also lifted.
"We're trying to balance the economic vitality of business with the safety of the community," Boyle said.
How exactly the summer season will unfold remains to be seen. One day before Gov. Steve Bullock announced that the state would move to phase two and the quarantine would lift for travelers, the WCVB polled its lodging members on summer reservations to get an idea of the impact of COVID-19.
The survey was for June through September with all months showing a significant decrease in advance reservations compared to last year.
June and July were showing the largest decreases. All respondents reported that reservations were down 50% for June and half reported advanced reservations for July were down 75% or more.
While reservations were also down for August and September, there was some indication that a portion of the reservations were being kept for those months.
Boyle said there is optimism that summer lodging reservations have the potential to see an increase, which is important for all businesses who rely heavily on the summer season for operating the rest of the year.
"Hopefully we see some up tick, this has a lot of impact on our businesses," he said. "For September, some reservations have been kept, so hopefully we can gain some traction there."
Visitors are being asked to "Wander lightly" by showing respect and kindness to others, but also come with a backup plan if encountering closures or overcapacity areas due to limited resources.
"We are grateful to Jackson Hole for allowing us to team with them on this important campaign," Boyle said. "As potential guests travel around the West, we'd like to see this repeated message greet visitors as they enter small towns that are susceptible to the virus being spread from outside areas."
The website whitefishcovidcares.com provides resources for both travelers and local businesses to help prevent a new spread of COVID-19.
For visitors, the website provides information about when popular spots like Glacier National park and Whitefish Mountain Resort are opening, and the status of restaurants, retail and lodging establishments.
For local businesses, the website includes a COVID care kit that provides resources for how to safely re-open, along with tools to help promote the Clean, Careful and Connected campaign guidelines.
A link to a "Covid Care Kit" provides resources for local businesses to prepare to safely re-open, along with tools to help promote guidelines.
The WCVB is shifting its marketing efforts in response to COVID-19. While it typically looks to attract visitors from out of state, it's now targeting visitors from places closer to Whitefish.
"The appetite to travel is now returning, but it's likely going to be people looking to travel to places where they can drive to," Boyle said.
Initially, marketing is set to focus on Missoula, Great Falls and Helena. In a phased plan, later marketing would move farther geographically by expanding to Spokane, Washington, Coeur d'Alene, Idaho, and Bozeman, and then Calgary, British Columbia, and Seattle, would be added to the list.

The marketing plan is adaptable, Boyle noted, as the situation changes. The U.S.-Canada border remains closed to nonessential travel until at least June 21.
For more information visit www.explorewhitefish.com.
---