Amtrak to reduce Empire Builder service to three days a week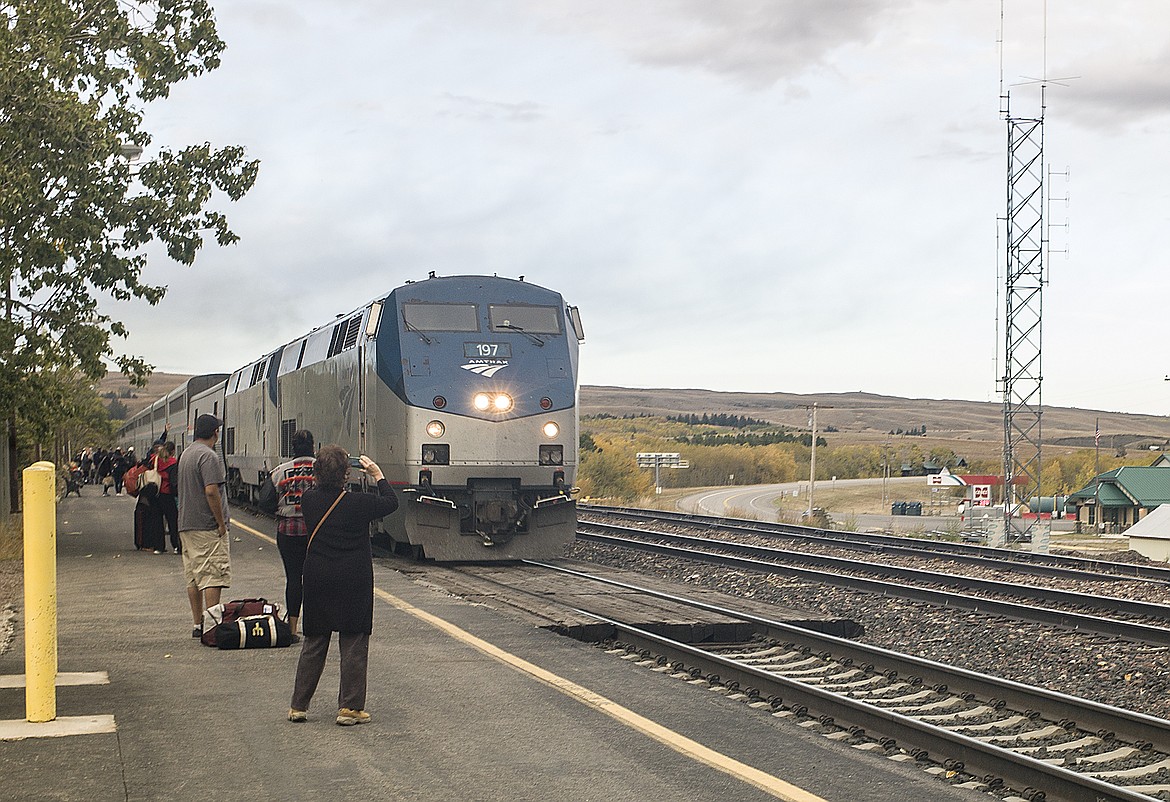 The Empire Builder rolls into the station at East Glacier in this file photo. (Daily Inter Lake)
by
LYNNETTE HINTZE
Daily Inter Lake
|
June 18, 2020 7:00 AM
Amtrak will cut its passenger train service on the Empire Builder to just three days a week starting in October, due to ridership declines from the COVID-19 pandemic, the company said this week.
Whitefish historically has been one of the busiest stops on the Empire Builder, which runs daily from Chicago to Seattle and Portland. The train makes stops in many small communities across the upper tier of North Dakota and Montana, including daily stops in Essex, East Glacier Park, West Glacier, Whitefish and Libby in Northwest Montana.
"Due to the long-term impact of COVID-19 on ridership, Amtrak has made the decision to operate with reduced capacity through fiscal year 2021," Amtrak spokesman Marc Magliari said Thursday in a prepared statement. "As we have already made adjustments to our NEC and state-supported services, the next adjustment is with our long-distance trains, which we plan to reduce to three days per week, beginning Oct. 1, 2020. Our goal is to restore daily service on these routes as demand warrants, potentially by the summer of 2021.
"Amtrak is adjusting its workforce to better match this reduced demand," Magliari said. "As a first step, we are offering employees a voluntary incentive package. We are not expecting staff reductions beyond the already announced 20%."
Whitefish Chamber of Commerce Executive Director Kevin Gartland acknowledged the Amtrak service cutback is another blow to an already challenging year for the local tourism industry due to COVID-19.
"This loss adds to everything else that's piling on," Gartland said. "It's my understanding Whitefish is the busiest stop between the West Coast and Minneapolis. Amtrak has brought us a lot of visitors and business through the years. Hopefully this [train service cutback] will be a temporary thing for us."
The Empire Builder schedule is time perfectly for skiers arriving from the West, Gartland noted, because the eastbound train pulls into Whitefish early enough in the morning to enable skiers to hit the runs at Whitefish Mountain Resort right away.
Amtrak also is cutting back service to three days a week on most of its other long-distance trains, including the California Zephyr, Capitol Limited, City of New Orleans, Coast Starlight, Crescent, Lake Shore Limited, Palmetto, Southwest Chief, and Texas Eagle.
News editor Lynnette Hintze may be reached at 758-4421 or lhintze@dailyinterlake.com.
Recent Headlines
---