Kalispell man encouraged by Black Lives Matter movement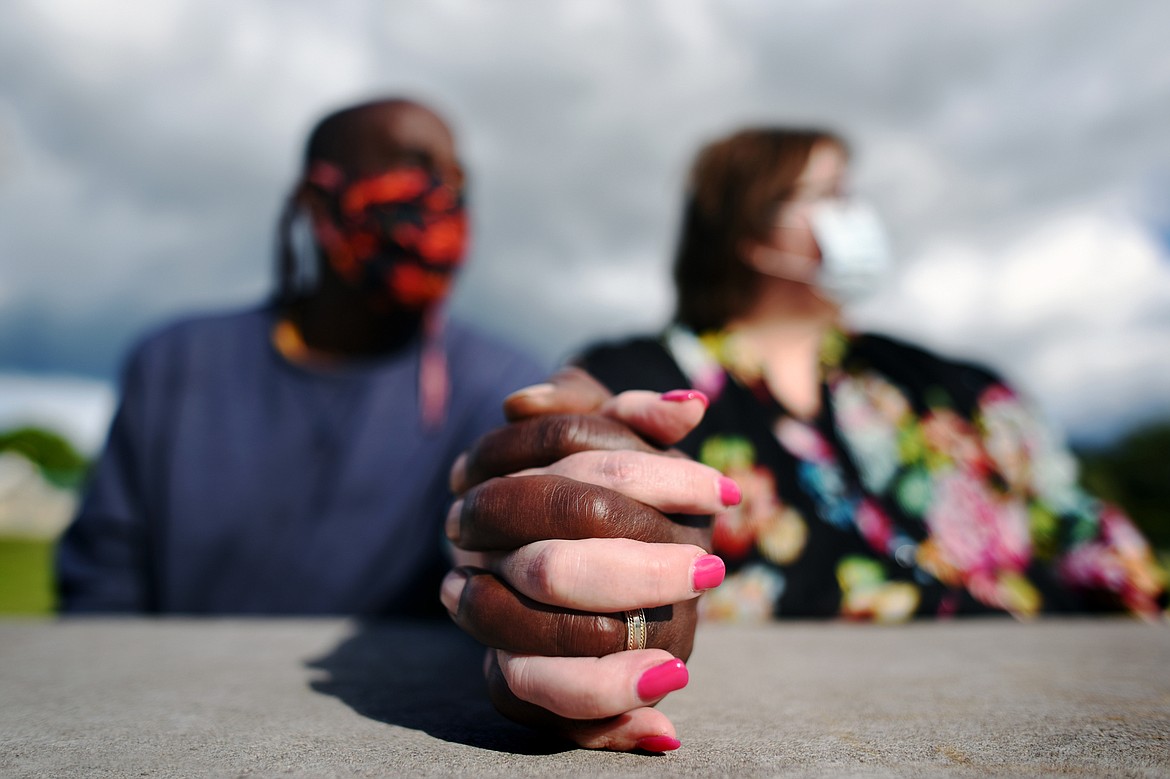 "RJ" and his wife in Kalispell on Tuesday, June 16. (Casey Kreider/Daily Inter Lake)
by
KIANNA GARDNER
Daily Inter Lake
|
June 18, 2020 1:00 AM
RJ, a longtime resident of the Flathead Valley, said unified moments like the recent Black Lives Matter protest in Kalispell are hopeful signs of meaningful change for racial equality. He knows all too well about being "the only one" or "one of a few."
He described the time he became the only black male student to attend an all-white school in California after the U.S. Supreme Court ruled segregated schools were unconstitutional. The first day his bus pulled up to his new school, RJ said he was greeted by carloads of white families telling him he didn't belong there.
He recalled the time his parents, who always pushed him to get a "proper education," enrolled him in a middle-school course designed to prepare children for a pre-college education. He was the only black student among 35 classmates and on the first day of class, he said his teacher approached his desk and told him there must be a mistake because "colored people don't go to college."
And 13 years ago, when RJ's family made the decision to move from California to his wife's hometown of Kalispell, he thought a similar degree of separation might follow him to Flathead County as well, where the population is less than 0.5% black — a statistic that is not lost on RJ.
"I've never really been fearful about being the only one," said RJ, who preferred his last name remain anonymous. "It's just how it's always been, in a way."
But he said when Flathead Valley residents showed up in force a couple of weeks ago to peacefully protest the officer-involved killing of George Floyd and join the global Black Lives Matter movement, he felt a little less isolated in his community. Aside from the group of armed individuals that attended the demonstration as well, RJ said he was pleasantly surprised to witness white people and people of color across multiple generations come together in his town for a similar purpose.
"It warmed my heart," RJ said. "It was such a powerful moment of solidarity and love and it was happening right here, in Kalispell, Montana. I went up and down the line of protesters high-fiving them and thanking them for showing up for people like me and for my family."
At 65, RJ has lived through some of modern America's most blatant acts of racism and injustice toward the nation's black community. He can recall the assassination of Martin Luther King Jr. in 1968 and the brutal bludgeoning of Rodney King at the hands of Los Angeles police officers in 1991, and said he mourned the killings of Trayvon Martin in 2012, Eric Garner in 2014 and Ahmaud Arbery just months ago.
He said he also vividly remembers the varying degrees of demonstrations, protests and riots that followed each of their deaths as thousands took to the streets and to the steps of city halls demanding justice and change. And while RJ said each of those moments should be remembered as what they are — as "tragedies fueled by deep-rooted racism" — he said it wasn't until Floyd's killing that justice and change felt more obtainable.
"It feels different this time. Not because of how gruesome Floyd's murder was, but because his death had been built up on all of these other incidents and you can finally feel the consciousness of America shifting," RJ said. "When you look back on our history, you see this country was built by white America putting its knees on the necks of minority populations. It feels like people are finally waking up to the systemic racism that has existed in this country for hundreds of years."
RJ ACKNOWLEDGED how it can be easy to feel somewhat removed from revolutions such as the Black Lives Matter movement in predominantly white areas like Kalispell. He said that is particularly true in communities where instances of police brutality, especially toward people of color, are considered rare, and racist incidents in general tend to be less overt and aggressive.
"Just because our officers here aren't murdering black people and doing so on video, that doesn't mean we don't experience racism and discrimination in the valley," RJ said.
In 2010, RJ said he was standing at the checkout counter at the Super 1 in Evergreen when an elderly white man called him the n-word and told him to hurry up. And a few years before that incident, RJ said he was on a bike ride in Kalispell with the eldest of his three children when a truck full of young men drove by and screamed the n-word at them.
The situation prompted RJ and his wife, a white woman named Carla whom he met decades ago in California, to have yet another discussion with their bi-racial children about discrimination.
"We've been careful to tell our children that as they grow up, there will be people who do not like them because of the color of their skin," said RJ, who has a degree in educational psychology and early childhood development from the University of California, Santa Cruz. "But we have also taught them to rise above racist encounters and that hateful, derogatory words like what those white people yelled have no power over us anymore."
While RJ said Montana is obviously not immune to hatred, he said overall, he considers the Flathead Valley to be filled with warm and welcoming people. He said he experienced more bouts of racism where he grew up in California than he ever has in Montana, where he first started spending time in the 1990s when he would visit his friend on Finley Point.
He and his five siblings were raised in the Haight-Ashbury district of San Francisco, in a neighborhood frequented by other black families. He grew up during the height of the Civil Rights Movement and at a time when desegregation had caused blatant racism to flare up, especially in big cities where hard lines had once been drawn between black and white areas and activities.
He said tensions remained tangible in San Francisco up until he left for Montana in the early 2000s, and that racism still runs deep in the city, although he added it feels like "things are slowly getting better." Much of RJ's family stayed in California and others moved to other large cities such as New York.
"I think about them all the time, especially when movements like these gain momentum," RJ said. "Sometimes I wonder if I should join my family to protest in these big cities, but I'm with them in spirit and I'll always remind them of that."
He said the Black Lives Matter protest in Kalispell reminded him that the long-fought battle against racial injustice can continue wherever one is, in any town, no matter the demographics and size.
"These issues impact all of us, no matter where we are. We need to continue confronting this nation's past in order to move forward, no matter how uncomfortable it is," RJ said. "We need to talk about race, we need to have those really hard conversations and we need to understand that yes, all lives matter, but at this particular point in time, the lives of our black brothers and sisters need to be at the forefront."
Reporter Kianna Gardner can be reached at 758-4407 or kgardner@dailyinterlake.com
Recent Headlines
---