Veterans connect on cycle trip in Glacier Park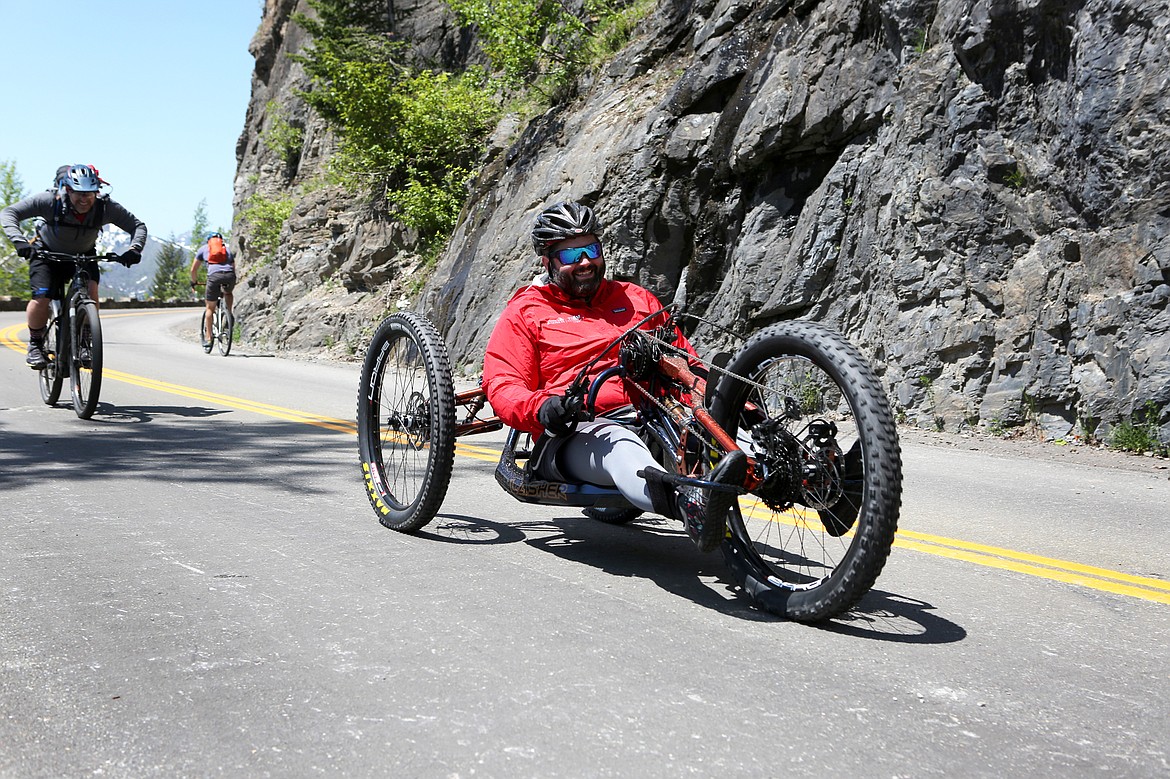 A cyclist joins DREAM Adaptive and the Kalispell Vet Center on a ride up the Sun Road in Glacier Park.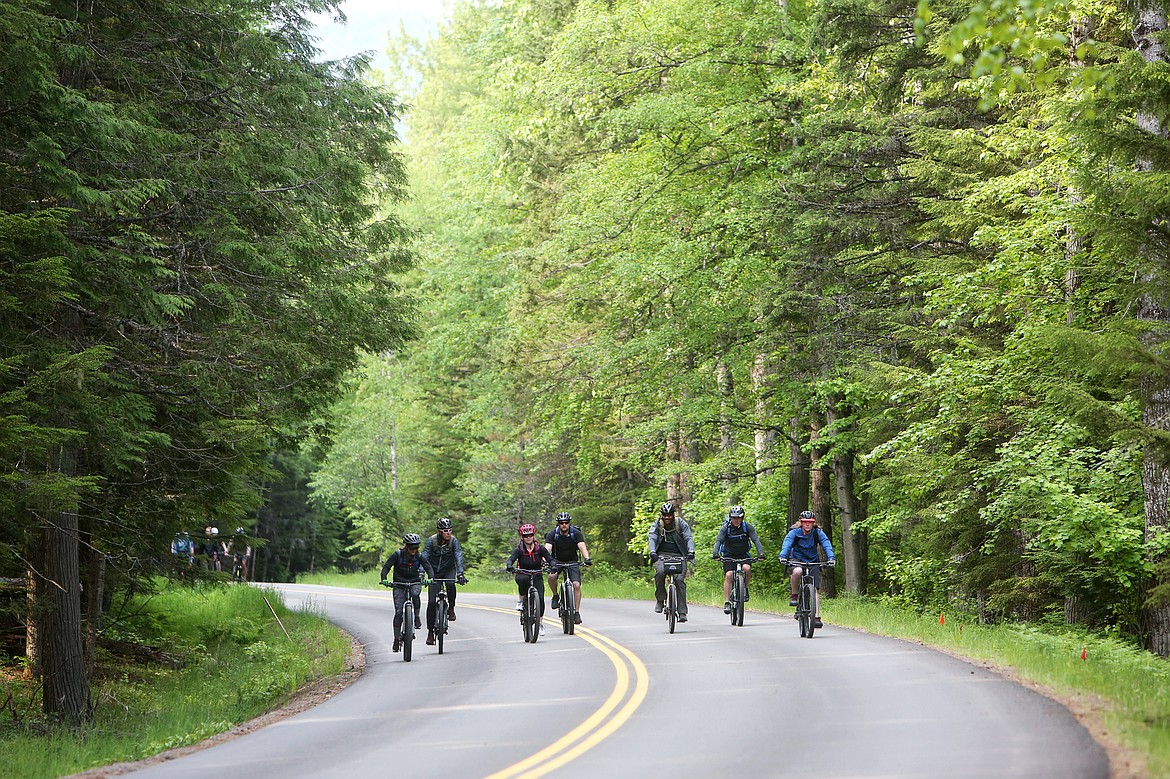 Local nonprofit DREAM Adaptive and the Kalispell Vet Center recently teamed up to lead veterans on a bicycle ride up Going-to-the-Sun Road in Glacier National Park. (Mackenzie Reiss photos/Daily Inter Lake)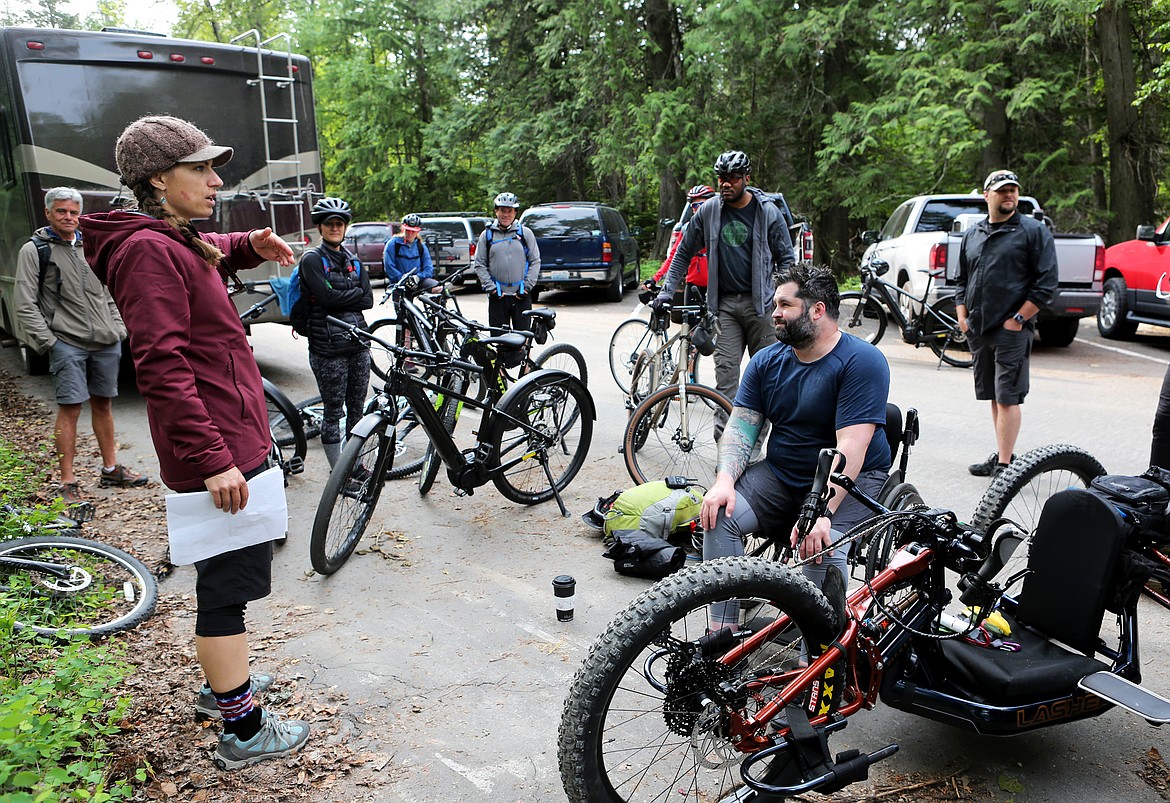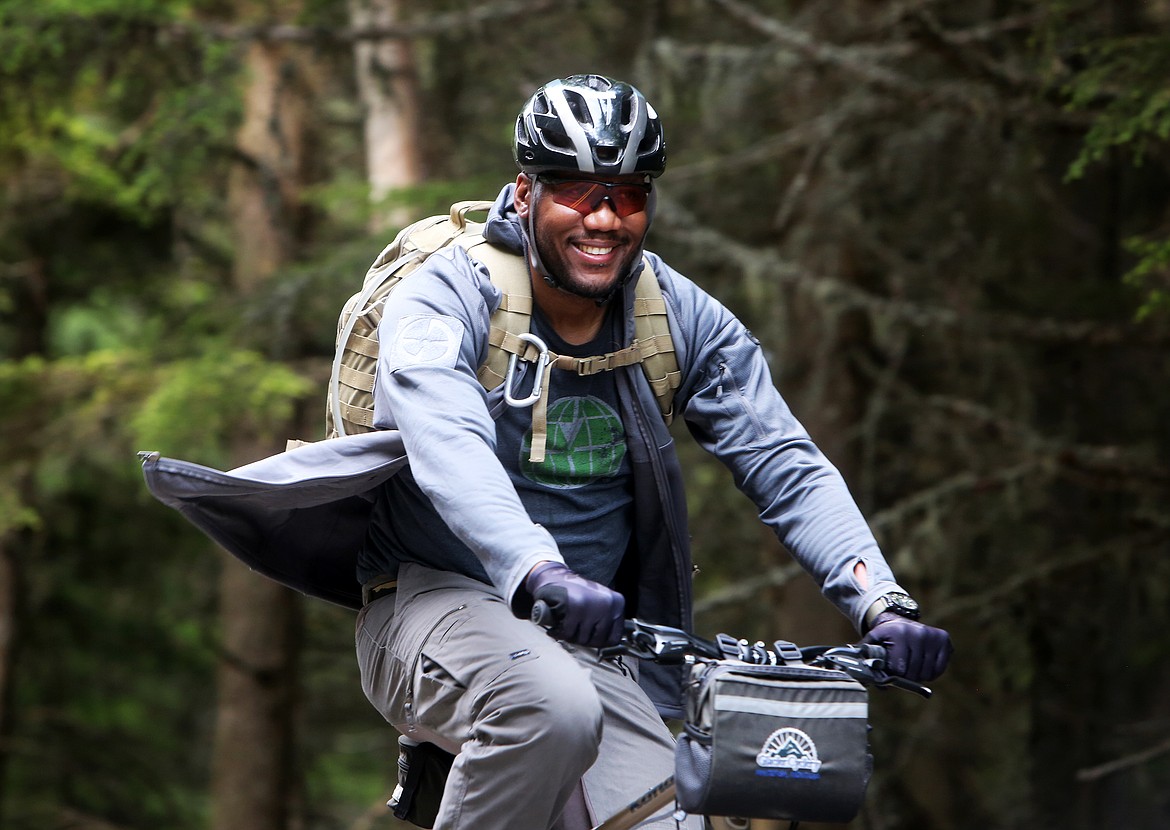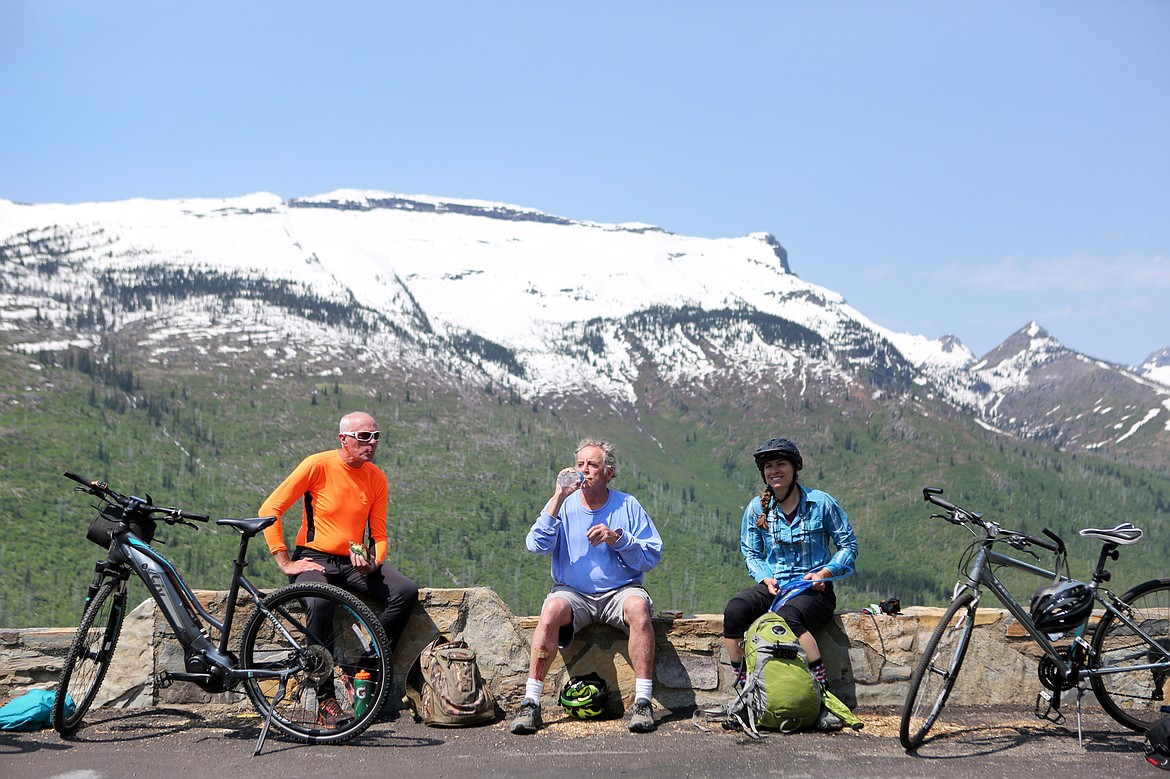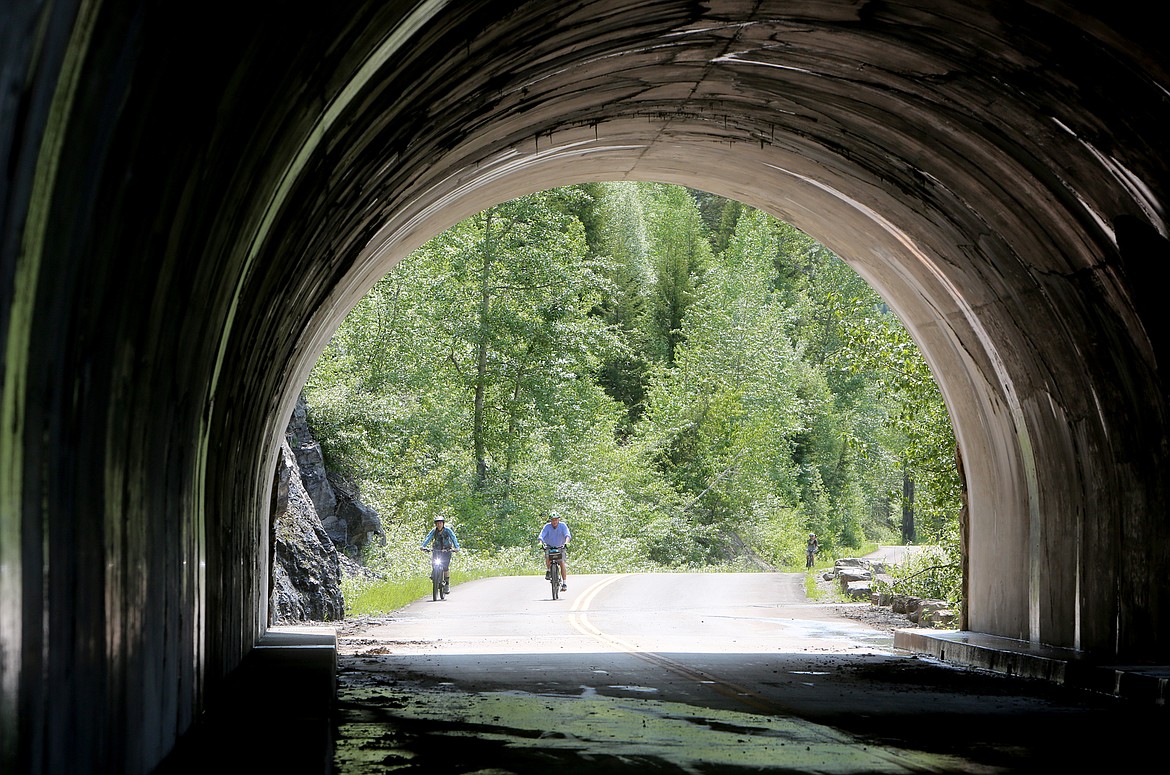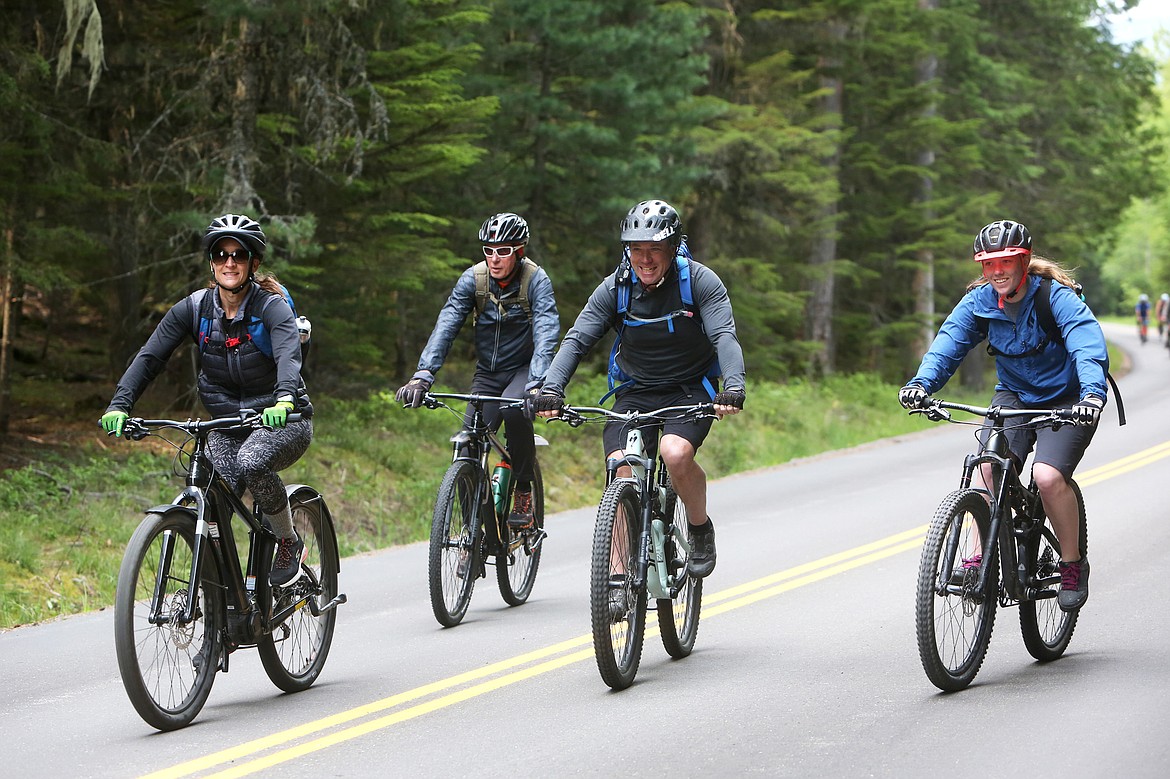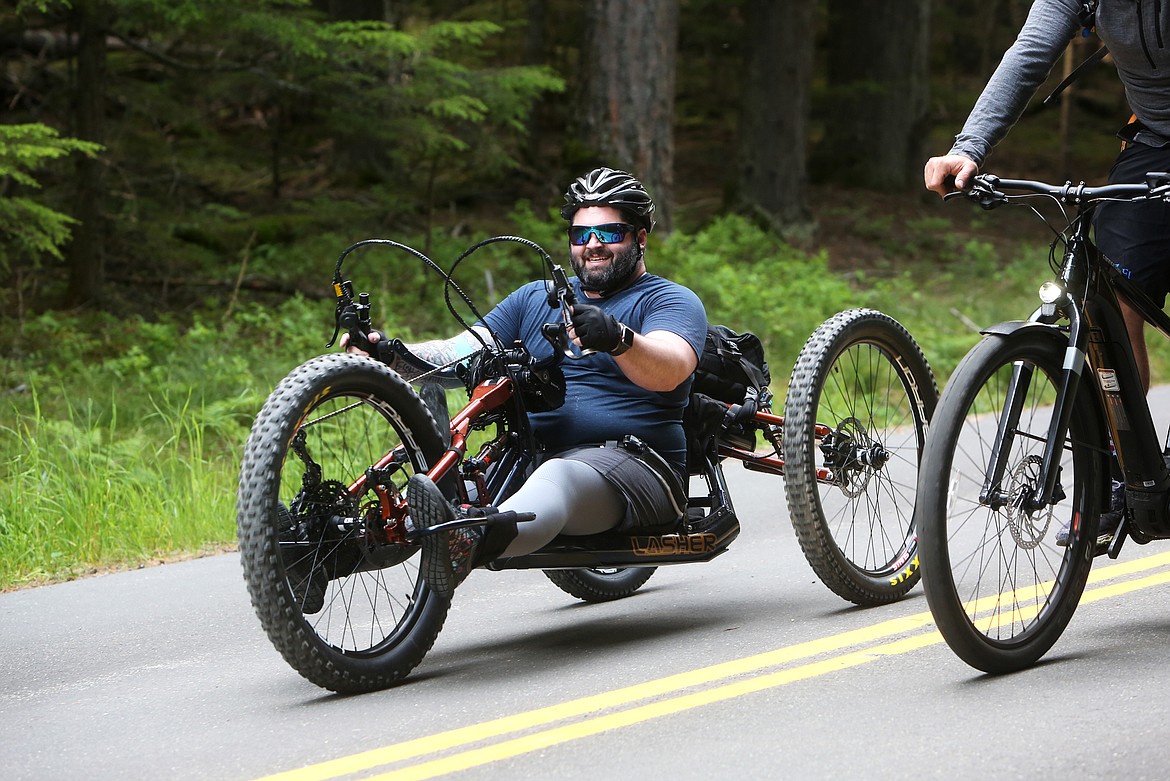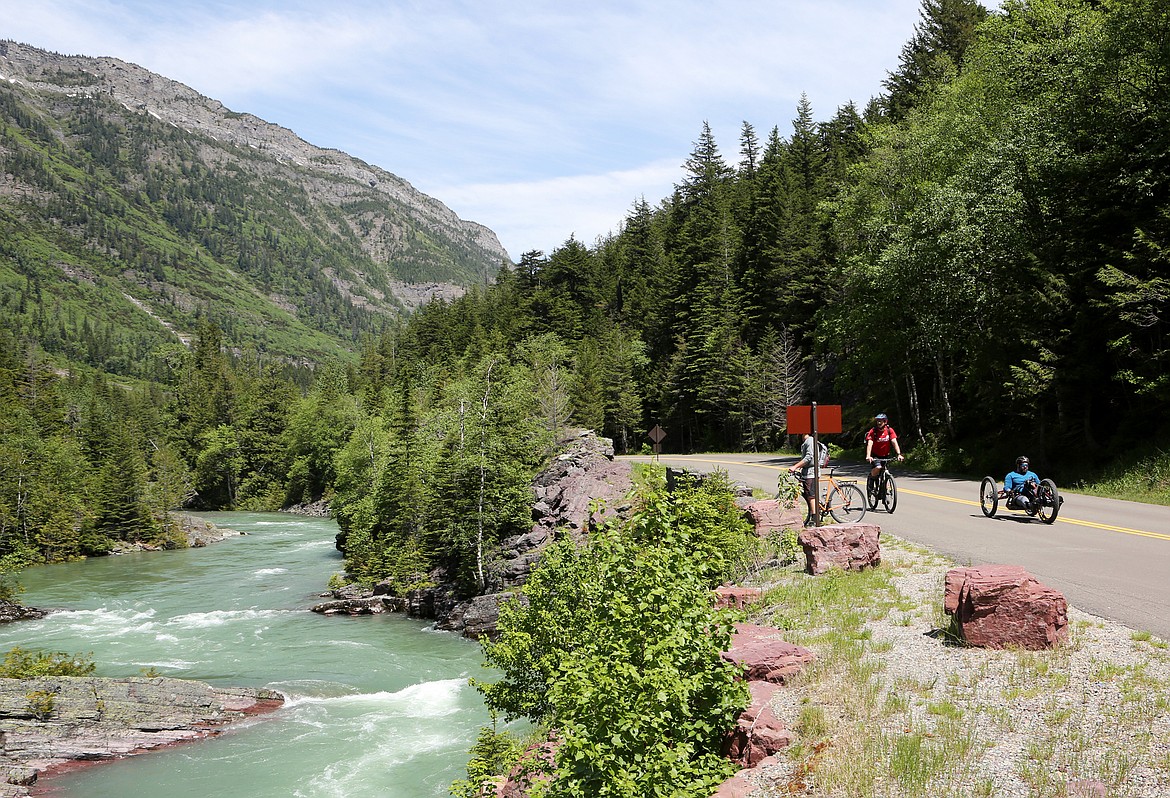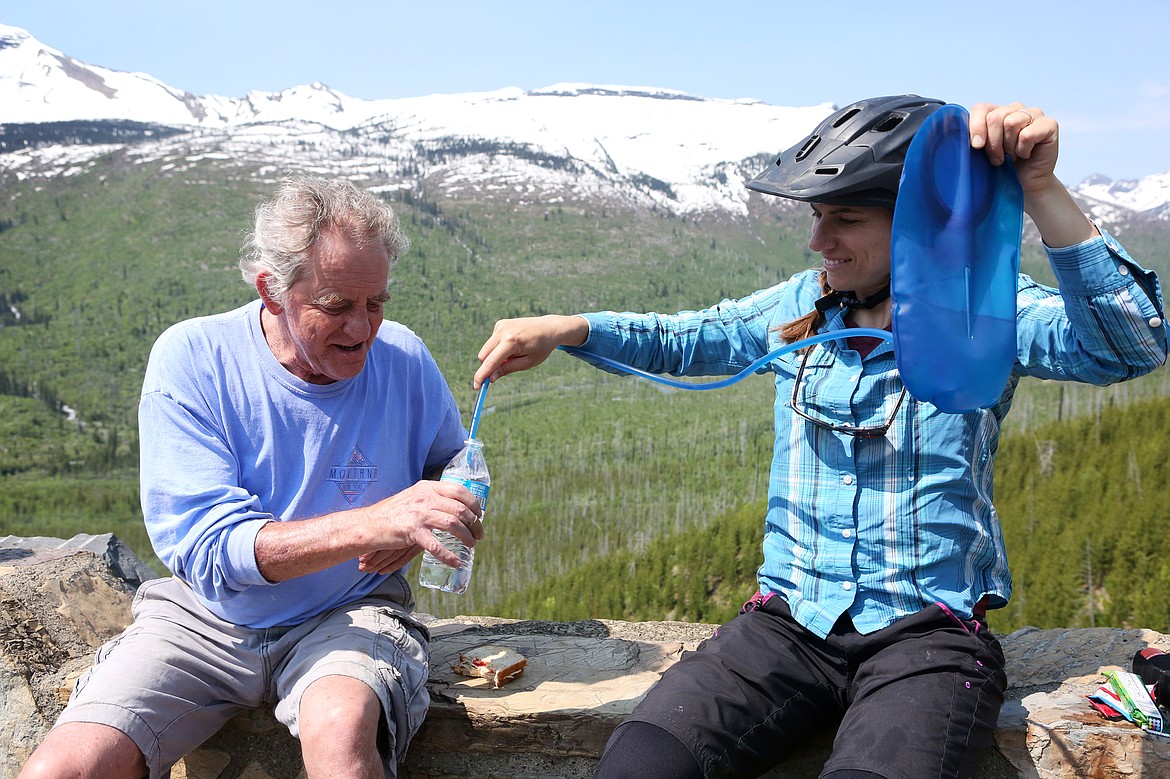 Previous
Next
by
MACKENZIE REISS
Daily Inter Lake
|
June 21, 2020 1:00 AM
Last Saturday, Glacier National Park belonged to the cyclists.
By 8:30 a.m. the parking lot at Lake McDonald Lodge — the preferred starting point for many — was completely full. And among the colorful groups of Spandex-clad fitness gurus and gaggles of young families was a small group of local veterans. They were of different ages, different ability levels and had served in different wars. But together, they would tackle the steep incline that is Going-to-the-Sun Road.
The adventure was a joint effort between DREAM Adaptive, a nonprofit that provides outdoor opportunities for people with disabilities, and the Kalispell Vet Center, which offers group and recreational therapy, among other services, for veterans. Saturday's event was also a big step toward normalcy for the vet center, which had suspended its larger group outings due to the COVID-19 pandemic and transitioned a number of its therapy groups to online platforms.
"We wanted to make sure that the veterans could still get the therapy and the help that they wanted," said Adam Jones, veteran outreach program specialist with the Kalispell Vet Center. "We let the veterans dictate what that looked like. We took the precautions necessary in order to make sure that everybody was safe … We still saw quite a few people in person, but I would say a majority did end up wanting, especially during the height of everything, they did want to go more virtual."
Eight local veterans and a few staffers with DREAM and the vet center embarked on a ride that proved to be as challenging as it was scenic, enjoying the views and camaraderie along the way. Most of the riders used e-bikes, but one veteran powered up the hills with an electric-assist hand cycle and another pedaled on with a traditional bike. As the ride wore on, they naturally divided into smaller groups, with some ending their ascent at The Loop and others pushing all the way through to Logan Pass.
"Recreational therapy is progressively becoming more and more proven scientifically to help out in ways that traditional therapy can't," Jones explained. "You can have that camaraderie again, have that socialization, yet be away from everything and not be overly crowded with too many people around."
Outdoor programs, especially those targeted at treating post traumatic stress disorder, have grown increasingly popular in recent years. Participating in outdoor activities, such as cycling and fly fishing, among others, has been found to reduce stress levels and improve both physical and mental health, according to a 2013 study in Military Medicine.
For Army National Guard Reservist Amy Good of Columbia Falls, the outing was a great avenue for connecting with other veterans.
"I love coming in and meeting the other vets. It's nice to know there's so many of us from different eras in the veteran community — we have some Vietnam guys with us today," Good said. She also noted she sometimes finds it difficult to take advantage of free events like this, but was looking forward to slowing down and being able to take in her surroundings.
Marine Corps veteran Michael Wolfsen of Kalispell said he liked getting back into nature — this time, on his own terms.
"I think most vets find it hard to get back into nature because they're forced into it when they're training, so there's kind of a negative connotation to it," Wolfsen said during a break for lunch at The Loop. "It's cool to be in nature and find the therapy in it."
He summed up his experience in the Marine Corps with a story about a training exercise in which his unit was tasked with carrying a 20-foot-long log. It's something they had to do in complete unison with "one movement, one emotion, one heartbeat," he wrote.
"The log represents a lot of things but it mostly represents the burden we carry and the military is unique because we all carry that burden together. Transition afterwards is challenging because the log didn't disappear," Wolfsen said. "But 90% of the veteran community now struggle to carry that log alone."
The ride on Going-to-the-Sun Road was different; it was a chance for Wolfsen to share that weight.
"Those few hours in nature learning and being taught skills to be successful despite the effects of service, creates the space where I don't have to carry the log alone anymore," he said.
Among the veteran cyclists who made it all the way up was Austin Reese, a former Navy Senior Chief Petty Officer, who recently relocated from Virginia to Kalispell. Reese had a 14-year career in the Navy, including three deployments to Iraq, where he worked in explosive ordnance disposal. In addition to his EOD training, Reese also completed dive school and then jump school, where he learned how to do free-fall and static-line parachuting.
"My first deployment in 2005, we were in the western part of Iraq — Fallujah, Ramadi — and at that time it was very kinetic. It gave me a lot of opportunities to actually do my job. We took care of a lot of different explosives, from disarming IEDs, the improvised explosive devices, all the way to getting rid of munitions that the Iraqi army had stockpiled," Reese said. "In training, if you fail, it's not going to kill you or maim you — in the field it does. It was just part of the job. I made peace with the job, I knew what I volunteered for."
What he didn't expect was to sustain an injury in training that left him paralyzed at the L2 level. On Sept. 13, 2013, Reese was in the midst of teaching another instructor how to parachute from an airplane and miscalculated his altitude on the way down.
"I ended up hitting the ground at about 65 mph and it broke my back," Reese said. His paralysis begins in the lower lumbar area and he has a degree of function in his legs, but not enough to allow him to walk.
"You've gotta move forward and try new things and realize that things are going to happen in life and sometimes they're great and sometimes they're not so great," Reese said. "You move forward the best you can. I haven't found anything, really, that I can't do that I want to do."
Instead of focusing on not being able to do things as he once could, Reese sought out adaptive equipment or found new ways of doing the activities he enjoyed. He first sat in a hand-cycle in late 2013, not long after his accident, as part of rehabilitative therapy. Reese went on to compete in hand-cycle racing at the Warrior Games — the paralympics of the military community — and the Invictus Games in Canada.
Last Saturday's ride in Glacier National Park presented yet another challenge.
"I was skeptical that I was going to be able to make it up there but I think the [electric] assist helped out quite a bit. It was pretty awesome. To be honest, it was a little surreal to get up there," Reese said of reaching Logan Pass.
The ride down was perhaps even more thrilling.
"The seat on the bike is 10 to 14 inches off of the ground and you're doing 35 to 45 mph," he said. "It gets to be interesting."
But overall, Reese is just happy to be in a community where there are a variety of opportunities for veterans and people with disabilities to get outside and try something new.
"It's just awesome to have a program like DREAM up here that has the equipment and does the outreach and everything else," he said, "and not just somebody like myself who's in a wheelchair — but anybody who's got any type [of disability] — they can get out and be a part of it."
Reporter Mackenzie Reiss may be reached at 758-4433 or mreiss@dailyinterlake.com.
---