Decor experts prepare houses for real estate market
by
BRET ANNE SERBIN
Daily Inter Lake
|
June 28, 2020 1:00 AM
Real estate is one local industry that has stayed strong amid the COVID-19 pandemic, so it seemed like no better time for Jamie Wenzel and Kim Rose to debut their new business.
The décor gurus recently launched Hydrangea Home Staging out of Bigfork, a specialty service that helps sellers better prepare their homes to catch the eyes of potential buyers.
"Home Staging is a custom way to market a home to sell so that it appeals to the widest range of buyers," Wenzel explained.
The approach uses psychological insight, artistic touches and special training to set up each home to attract a buyer at a competitive price.
Wenzel and Rose focus on minute details like furniture arrangement and updated décor to spruce up spaces. Their expert eyes and tiny touches often mean the difference in quite a few dollars — and days on the market — for their clients' homes.
"The specific placement of furniture, décor, accessories and color helps accentuate the positive aspects of the home's architectural features, while downplaying any negatives," Wenzel said.
Their services include occupied home staging, which utilizes a homeowner's décor to strategically display a property; staging consultations, which educate homeowners about ways to make their homes stand out, including an 8-to-10-page staging report with information about preparing for a showing; vacation rental refreshes, which update vacation rentals to create "a stylish and comfortable space that their guests will want to return to time and time again"; as well as packing and decluttering services.
"Home staging is a custom way to draw in more buyers and ultimately more offers," said Wenzel. This approach "gives home sellers an immediate advantage over other homes on the market," according to Wenzel.
To their knowledge, Hydrangea Home Staging is the only business of its kind in the valley. It seemed like a natural fit for the business' founders given their backgrounds and the increasing popularity of real estate in the region. "Browsing the real estate photos, I realized that although home staging may be new to our area, it could be a very beneficial way to partner with Realtors and homeowners to increase a home's marketability," Wenzel recalled.
"I've always been interested in psychology and decorating/design," Wenzel said. "I look at real estate listings constantly for fun and I staged my own homes to sell without realizing what it was called."
Wenzel eventually transformed these interests into professional skills by earning a Bachelor of Arts degree in psychology and certification as an Expert Psychological Stager in affiliation with the Real Estate Staging Association. To become certified, she underwent "highly-specific training in furniture placement, décor, paint colors and accessories."
Through this preparation, Wenzel learned "home staging is selling a lifestyle to a buyer, with specific psychological reasons for each design decision."
Partner Kim Rose brings to the venture her artistic expertise and more than 20 years of experience in business administration and marketing. Rose, along with her artist husband John, is the co-owner of RoseworksMT, a hand-crafted copper jewelry and ornament company.
Wenzel said Rose "naturally has an eye for design and symmetry" and her attention to detail helps with photo styling.
"Ninety percent of homebuyers look at photos of homes on the internet first, and if they are not drawn in, the home won't make it onto their 'must see' list," Wenzel explained.
The pair met while volunteering at Threads — a volunteer program founded by Rose that provides free clothing to Bigfork middle and high school students experiencing homelessness or living around the poverty line. This past spring, they decided to combine their capabilities this spring to launch Hydrangea Home Staging.
They work with Realtors, homeowners and vacation rental owners to provide custom upgrades in marketability for each property. Small adjustments such as removing smaller pieces of furniture, replacing dark curtains with lighter ones and purging half of the items in all closets can help give the appearance of more space and a "bright, uncluttered place to live."
And Wenzel said they are already seeing the fruits of their labors: "The last home I sold received an offer in one day for full asking price," Wenzel said.
"Staged homes typically sell for more money and in less time than unstaged homes," Wenzel said.
For more information, visit hydrangeahomestaging.com or email hydrangeahomestaging@gmail.com.
Reporter Bret Anne Serbin may be reached at (406)-758-4459 or bserbin@dailyinterlake.com.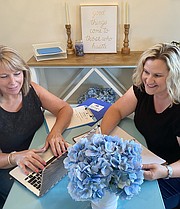 ---