Surreal scene as state tournament ends early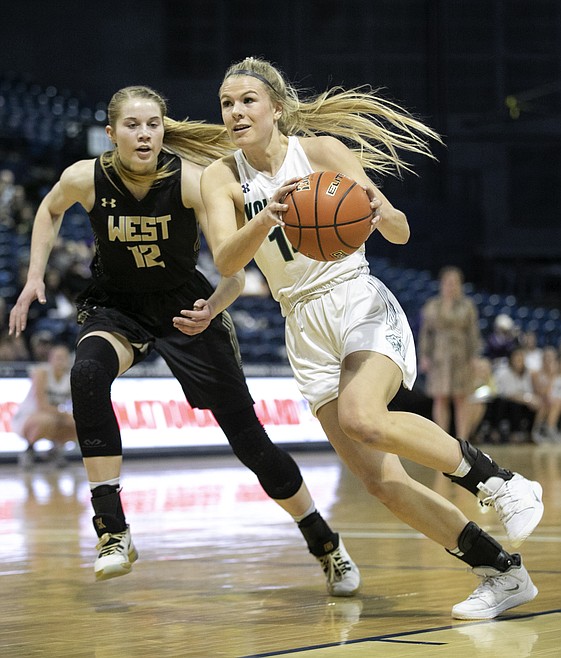 Glacier's Aubrie Rademacher dribbles down the lane against Billings West in a quarterfinal game of the Class AA State Tournament Thursday, March 12, 2020, at Worthington Arena in Bozeman. (Ryan Berry/Bozeman Daily Chronicle)
by
FRITZ NEIGHBOR & KATIE BROWN
Daily Inter Lake
|
March 14, 2020 5:29 PM
The unreal scene from Friday night at Montana's state basketball tournaments – teams battled in the semifinals not knowing it was their final game – had given way to uncertainty Saturday morning.
While Missoula County Public Schools announced it is canceling most school activities through the end of April, Kalispell's schools are so far taking a slower approach.
"We're going to be meeting as an administrative team on Monday," Glacier High School activities director Mark Dennehy said Saturday. "Talking everything from activities to classrooms to all the situations we might encounter."
The plan is for Kalispell students to be at class Monday morning, which is the same as Missoula.
"We do," Dennehy said. "Unless something radically changes."
Practices began March 9 for the spring sports – track and field, softball and tennis, with the first date of competition being March 20.
Given that the Big Sky Conference canceled its basketball tournaments and suspended spring sports and the University of Montana is going on-line only after its spring break ends March 22, it will be interesting to see if Montana has its spring state championships Memorial Day weekend.
"Right now it's practice as usual and monitoring the situation," Flathead AD Bryce Wilson said Saturday. Flathead also plans an administrative meeting Monday with the potential for more as the week progresses.
High school sports aren't the only ones that have been affected by the COVID-19 coronavirus outbreak. A host of other activities were halted Friday after the state tournament was called off.
The Glacier Freeze middle school basketball tournament, originally to be held March 20-22 at Glacier High School, was cancelled.
Organizer Scott Woll confirmed that the Mission Valley 3-on-3, initially scheduled for March 28 at Ronan High School, is cancelled, as well as the Mission Mountain All-Star game. That game was supposed to take place March 26.
Woll said he got the news of the cancellations Friday and hopes it will be possible for the events to be rescheduled.
Dennehy obviously hopes for the best. Meanwhile he was in Breeden Field House Friday night when Montana Gov. Steve Bullock announced four people in Bozeman had presumptive cases of COVID-19.
"As soon as I saw that – I was watching the Hellgate-Billings West game – shoot, I pretty much knew it was going to be over," Dennehy said. "I walked down to the floor and a number of other ADs felt the same thing. Then one of them got confirmation from (MHSA associate director) Brian Michelotti."
On the court the Hellgate Knights were pinning a 48-34 loss on Billings West, pushing their record to 23-0. The announcement that the tournament was over came immediately after the game.
It was surreal for everyone, including those who weren't there: Flathead boys' coach Ross Gustafson, noting the NCAA's cancellation of its own basketball tournament, opted not to travel to Bozeman for the State AA.
"I'm sure disappointed and feel really bad for Jeff (Hays) and Hellgate," said Gustafson, who was on Hays' staff before coming to Flathead. "They got two games in, and had just that one championship game, and it gets called. I feel bad for those kids."
"We did end up with the win but you look at our guys and it didn't look or feel that way," Hays told 406sports.com. "Bottom line is my team loves to play. They came to practice, competed every game and dominated every game."
Glacier's girls basketball team was just leaving Breeden Field House when word came of the COVID-19 patients. Wolfpack coach Amanda Cram was at her hotel room when the rest of the tournaments were canceled. Seconds later her players, who'd been monitoring social media, knocked on her door.
"They were devastated because we were still ready to play basketball," Cram, whose team was to play Hellgate's girls Saturday morning, said. "And felt like we were in a hunt for a trophy.
"We did make it to Saturday but that's unfortunately as far as it could go."
Saturday night might have been one for the books: Hardin's boys, led by the fabulously named Famous Lefthand, also came through Friday unbeaten at the State A in Billings. Same with the Loyola Sacred Heart girls of Missoula, playing at the State B in Butte.
"It's very sad for those teams had these amazing seasons," said Glacier boys' coach Mark Harkins, who attended the State AA. "They didn't get to culminate in a state title. I emphathize with those teams."
All the semifinal winners were named co-champions. Not all of them were happy.
"We should have had a protocol ahead of time," Hardin coach Andrew Round Face told the Billings Gazette. "We knew this was coming - everybody knew it was going to show up sooner or later, and we all hope it wouldn't show up until after tomorrow.
"We should've thought ahead and made accommodations where we could've went without fans and just had the teams there. Even with (Montana) being one of the last states to get (COVID-19), we should have went off of what other people were doing or set up something different."
Gustafson is mindful of the shortage of tests for U.S. citizens suspected of having the coronavirus and wondering when it might all level out.
"My mind's already ahead to the summer season," he said. "You don't know about two months out, or 2-3 months out – are things going to be normal by then? Or are we in for the long haul?"
"It's a great concern," Harkins said. "We're in uncharted territory. We don't know the scope — how long it might last. It's a concern to all of us."
All everyone can do is be cautious and positive.
"We're going to work hard and make good decisions and move carefully," Dennehy said. "Hopefully it goes OK. Time will tell."
---