New Bigfork lawyers hoping for small-town success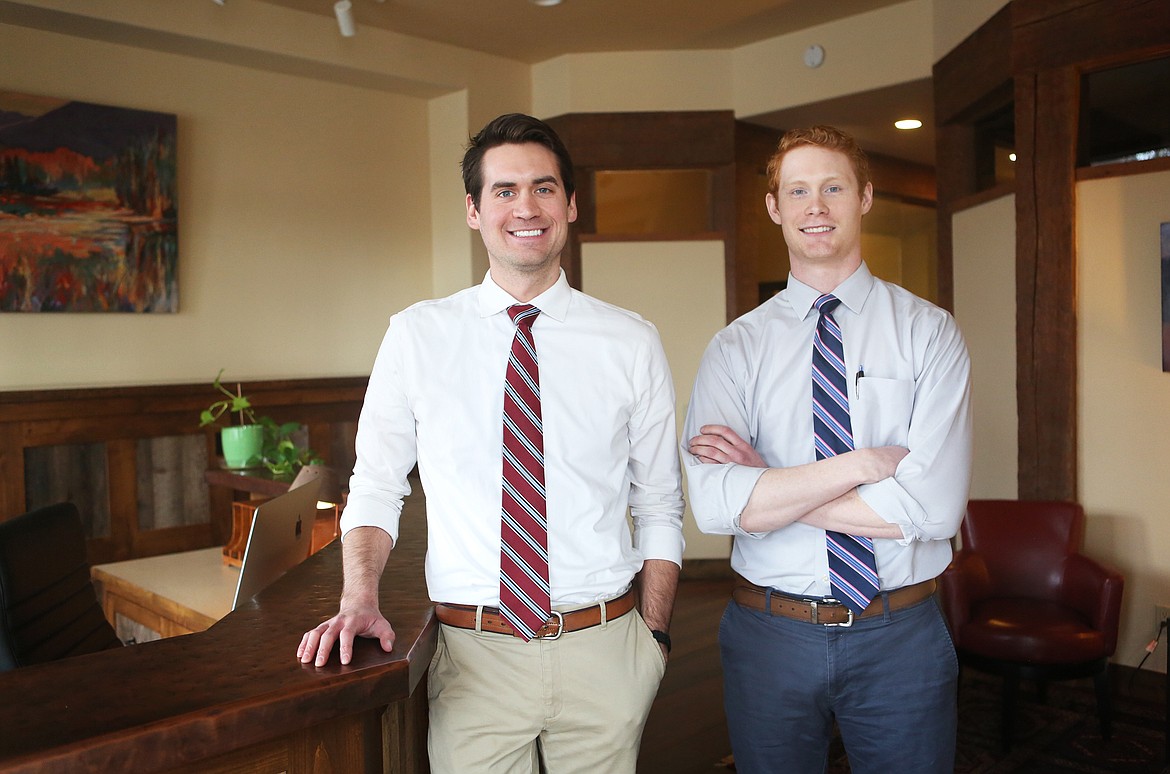 Bigfork lawyers Zac Peters and Eric Krown recently opened their law practice, Peters and Krown, PLLC on Osborn Avenue. (Mackenzie Reiss/Daily Inter Lake)
by
BRET ANNE SERBIN
Daily Inter Lake
|
March 15, 2020 1:00 AM
New Bigfork lawyers hoping for small-town success
Opening a new law office in Bigfork has been quite the adventure for Zac Peters and Eric Krown.
The young attorneys set out from Pennsylvania on a cross-country road trip last spring, with the eventual goal of establishing a new law office somewhere in the West. What followed was an unpredictable odyssey that led them to open Peters and Krown, PLLC, in Bigfork last month.
"It's been a work in progress over the past couple months for sure," Peters said as he sat in their new office with a view of the Swan River.
Last spring, the pair sold most of their belongings and headed west without a set destination or a fully formed plan. The intrepid young professionals drove across the country and encountered a few roadblocks along the way, including totaling Peters' truck in a 70-car pile-up and moving to Bigfork, sight-unseen.
"It's been a journey," Krown said.
The adventure all started when the Pennsylvania natives and longtime friends, who met at Penn State Law School, decided they weren't satisfied working at a large law firm in upstate New York. Even though they said the massive office gave them valuable experience to open their own office, they grew tired of working in what felt like a "lawyer factory."
"We decided we wanted to have a smaller, more specialized package," Peters pointed out.
So they headed west and spent the summer touring around national parks and scoping out a new place to set up shop. Although they originally anticipated they might end up in Bend, Oregon, they knew the search was over once they saw Montana. At first they settled in Missoula, but they soon realized Bigfork was a better location for their small firm.
"This has the perfect combination of everything," Peters observed. "Here everything has just fallen into place perfectly."
Even though Bigfork enticed them with its small-town charm and outdoor opportunities, they weren't sure if the rural community would be able to support their up-and-coming firm. But they said the interest in their practice already exceeded their capacity even before they officially opened March 18.
The attorneys believe the response has been so enthusiastic because, "the practice of law we do is something everybody needs."
Peters and Krown, LLC, offers estate planning, such as wills and trusts, as well as elder care and real estate law.
While some of these services are more popular among older clients, Peters and Krown emphasized they hope to educate younger people about the need to prepare by taking care of things like setting up power of attorney.
"It's important for younger people," Peters insisted. He and his partner would know, since they are both a little more fresh-faced than most people might expect of a stereotypical lawyer.
"People like that we're young and fresh off learning the laws," Peters said of their clients. "The laws are changing all the time. We're on the cutting edge and up-to-date."
They also think their practice is set apart by their tight focus on estate planning. "We're one of very few firms in this area that specialize in this," Peters explained. While other firms may offer services like wills and trusts, Peters and Krown said their practice hones in on these tasks with exceptional precision.
"We take the best parts of what the big firms are doing," Peters said, and they're working on refining those highlights at a specialized local firm that meets specific needs within the community.
And even though they are a small office, they have big plans to serve the greater Flathead Valley.
"We're not just serving Bigfork," Peters pointed out. "It's Whitefish, Polson, Lakeside — we really want to serve the whole valley."
Peters and Krown, LLC, is located at 443 Osborn Ave., No 114, in Bigfork.
Reporter Bret Anne Serbin may be reached at bserbin@dailyinterlake.com or 758-4459.
Recent Headlines
---