Eureka's Kindel sparks interest of Idaho Vandals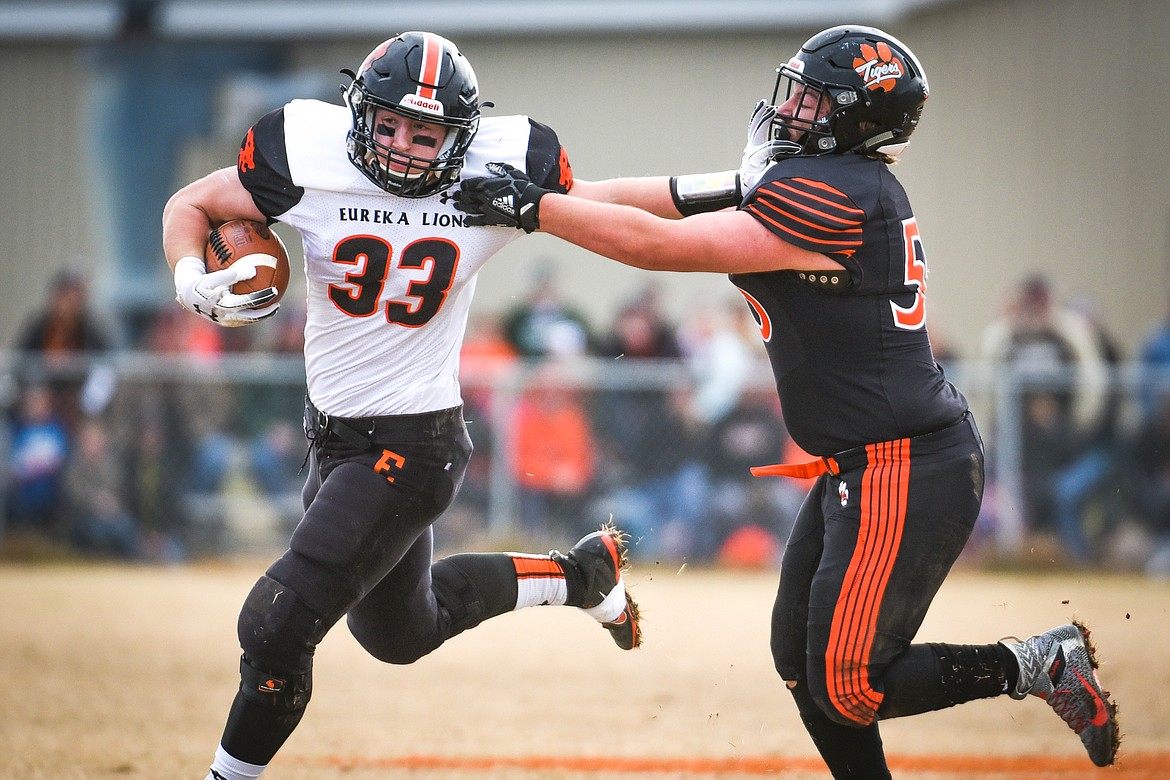 Eureka running back Jake Kindel (33) stiff-arms Manhattan linebacker Sampsun Martenson (55) in the Class B State Championship in Manhattan on Saturday. Eureka defeated Manhattan, 20-6. (Casey Kreider/Daily Inter Lake)
by
FRITZ NEIGHBOR
Daily Inter Lake
|
March 18, 2020 10:08 AM
It's not Montana, but there are many Montana connections and either way Eureka standout Jake Kindel is stoked to be an Idaho Vandal.
The 6-foot, 210-pound Kindel committed in February to the Vandals, after growing up dreaming of being a Montana Grizzly or a Montana State Bobcat.
The three-time All-State B player attended football camps at both places and drew interest, but when offers didn't materialize he sent a letter to the University of Idaho in Moscow.
"Basically a couple months ago I reached out," Kindel said Tuesday. "They replied and there was conversation back and forth, and they watched my film."
Kindel will be a preferred walk-on – meaning he will open fall camp with the rest of the scholarship athletes in early August. Most walk-ons cannot join the team until the onset of classes (Aug. 24 at Idaho).
The Vandals project him to be a linebacker, where Kindel started for four seasons at Eureka, winning three State B titles along the way.
"I'm super excited," Kindel said. "On a scale of 1 to 10 it'd probably be a 20."
Kindel's coach, Trevor Utter, feels the same way. Utter played for the Griz from 1995-97 and was puzzled no offers came from the in-state Big Sky Conference schools.
"Montana and Montana State were talking to him and those talks kind of went cold, which is too bad," Utter said. "He's a big-time player. He's great."
Utter noted that not only did Kindel make 292 career tackles at Eureka but he also cleared paths for a series of tailbacks while piling up 1,564 career yards at fullback. The in-state Frontier Conference schools noticed – except for Carroll College.
"That's weird, too," Utter said. "He's a Catholic kid and a 4.0 student – he seemed like a Carroll kid to me."
Taking the late recruiting lead was Idaho cornerbacks coach Vernon Smith, a standout at Montana from 2001-04.
The head coach at Idaho is Paul Petrino, whose father Bob had a legendary career at Carroll. The Vandals' defensive coordinator is Mike Breske, who held the same job two different times at Montana.
Utter said Idaho is getting an instinctive, sure-tackling player that is used to excelling in the class room, weight room and film room.
"He's excited to play at that level and I think he's very excited for the opportunity," Utter said. "And I think he's going to do very well.
"He's going to work himself into a job is what he's going to do."
Kindel also played basketball and was third in the javelin at last May's State B meet. He said he's thinking about studying business at Idaho, and then stopped himself.
"Right now I just want to finish out the school year and think about being a Vandal," he said.
---