Youth services librarian's passion sparks children's curiosity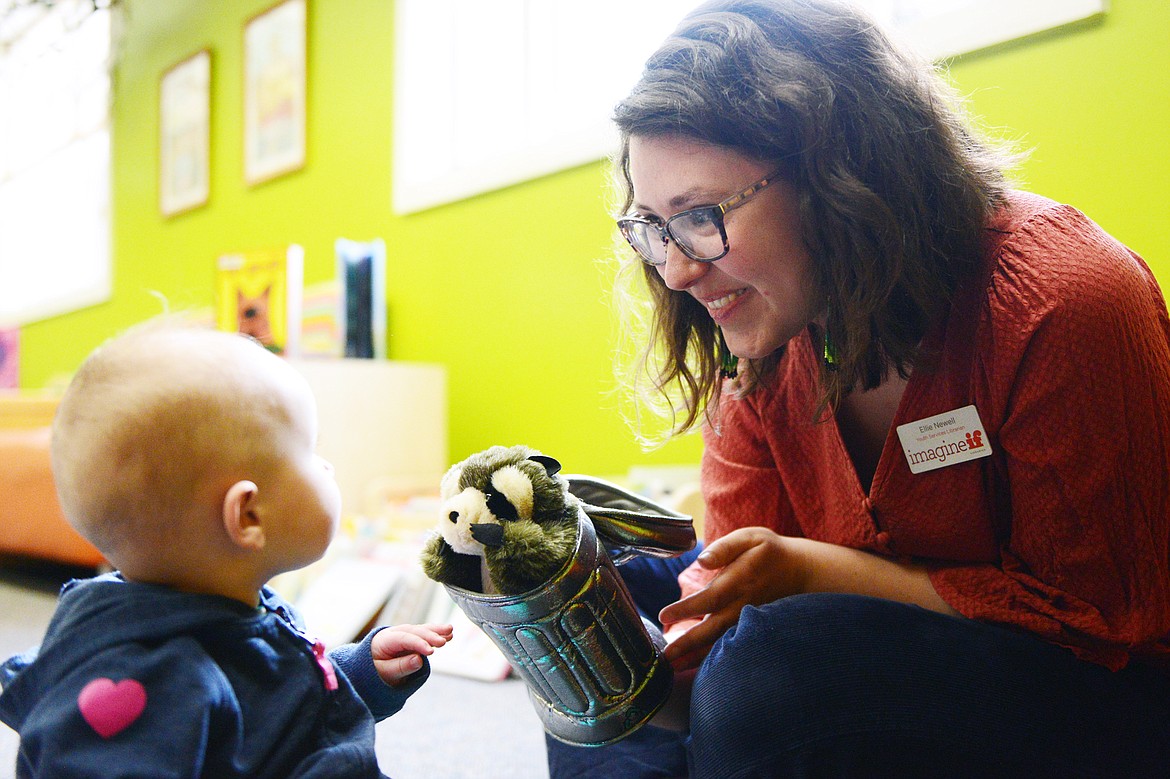 Ellie Newell, Youth Services Librarian at ImagineIF Library Kalispell, entertains a young visitor with a puppet on Friday, March 6. (Casey Kreider/Daily Inter Lake)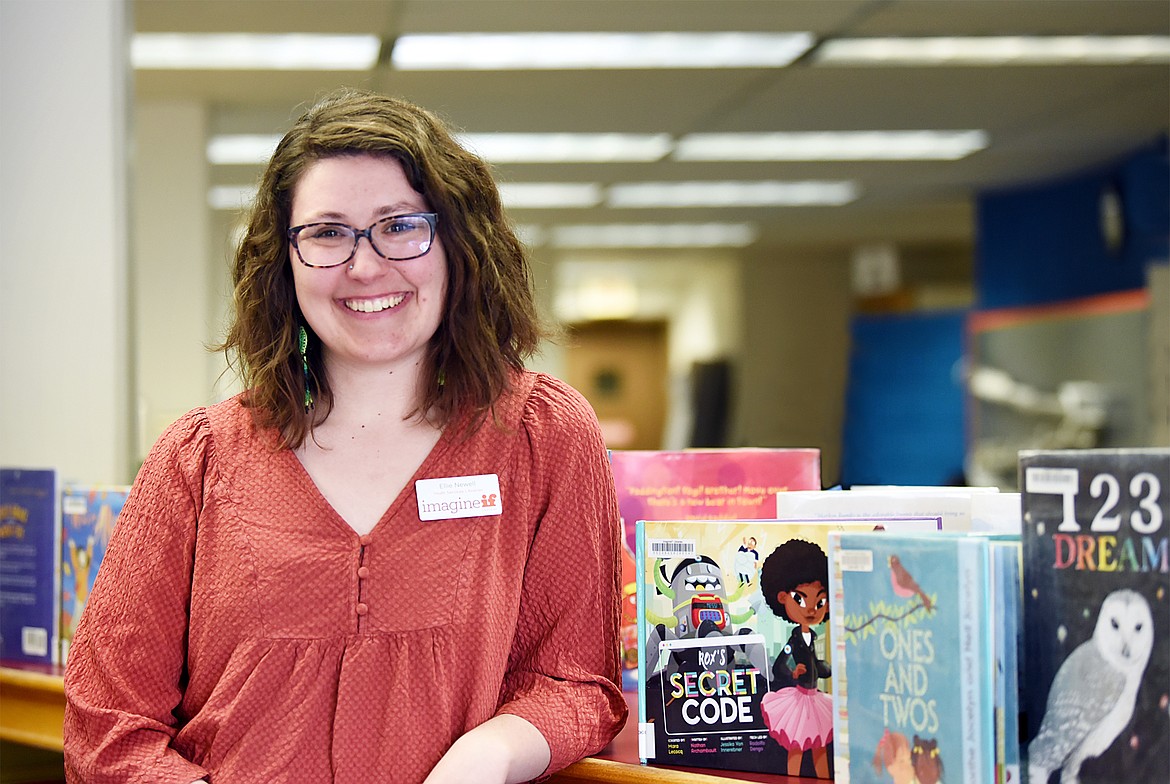 Ellie Newell, Youth Services Librarian at ImagineIF Library Kalispell, is shown at the library on Friday, March 6. (Casey Kreider/Daily Inter Lake)
Previous
Next
by
Whitney England Daily Inter Lake
|
March 23, 2020 1:00 AM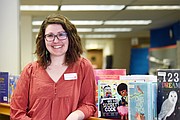 Children of all ages have an innate curiosity for the world around them.
As they discover what shaving cream feels like for the first time or pick up an object that is heavy and it surprises them, their young brains are constantly expanding with new information. As kids have various experiences sparked by their curiosity, their new discoveries ignite a change in their lives.
No matter how big or small that learning moment is, ImagineIF Youth Services Librarian Ellie Newell lives to facilitate and witness that spark of wonder.
"Kids are just so cool, they're so open to curiosities," Newell said. "The whole world is interesting to them… Every single time a kid has that 'wow' moment, it's like, oh, that's why I came to work today. I love this job, this is my absolute dream job."
Newell and her youth services team are responsible for stocking the shelves in the children and teen sections of the library and planning various learning activities throughout the week. But one of their biggest projects is designing and facilitating ImagineIF's Summer Experience program, which begins in June and runs through August each year.
This program gives children and teens the opportunity to participate in activities focused around science, technology, engineering, art and mathematics, while also building useful 21st century skills. The unique curriculum developed in-house is backed by science, and early childhood development learning principles.
Newell explained hands-on, tactical ways of experiencing materials, such as simply crunching up Rice Krispy treats or walking barefoot on rounded river rocks, builds neuroconnections.
"That's how we build brains; all of our work is informed by neuroscience," Newell said. "When you're a tiny child, like before the age of 8, your brain is so plastic, so elastic and you can make all these connections."
NEWELL NOT only leads the design of programs for small children, but also plans out the library's summer activities for grade school kids and teens as well. Summer Experience features 108 programs across three communities — Kalispell, Columbia Falls and Bigfork — and impacts thousands of youth across the valley.
Participating in the Summer Experience also helps prevent the "summer slide," where children have a hard time retaining the information they learned during the previous school year. Newell explained this is a known problem for all children, however, youth from families in lower-income brackets suffer even more from this learning slump.
"Every kid, no matter what economic situation you come from, has that summer slide, but it's especially exasperated based on class privilege," Newell said.
She further explained she is passionate about issues of equity, and is proud all the library's services are completely free, including the Summer Experience. She feels it is important for every child to have the same opportunities to learn.
"We are doing Summer Experience especially because we know that there is that privilege gap and some kids are accessing those rich experiences, but some don't have access," she added.
As ImagineIF hosts these engaging activities, Newell explained it also gets more people through the doors of the library and provides opportunities for learning in more ways than one.
"They come for the science and then they toddle away with huge stacks of books, which is fabulous. I mean it's all circular, it all feeds itself," Newell said.
GROWING UP in Helena, Newell lived in close proximity to the Lewis and Clark Public Library. She recalled as a child going on daily walks to the library with her mother, who has a degree in zoology and has always been a naturally inquisitive scientist, and being encouraged along the way to observe the interesting environment around her.
"Reading bird books as a baby on my mom's lap, that was definitely my childhood. It was like encouraging curiosity about the natural world," Newell said. "I feel like I had a very blissful childhood in that respect, like curiosity being really rewarded."
Newell also comes from a family of makers. Many of her female relatives are fiber artists and both of her grandfathers and her father enjoyed various building projects.
Her parents were both librarians and often encouraged their children to seek answers for any questions that came up. Newell said even at the dinner table they always had an encyclopedia, atlas, thesaurus and dictionary readily available, and if a question came up her parents' answer was always, "look it up!"
ALTHOUGH NEWELL grew up with librarian parents, her path to finding her passion as a youth librarian was not that simple.
After finishing her bachelor's degree in English literature at Whitman College in Walla Walla, Washington, she bounced around to many different jobs throughout her 20s. Newell worked with domestic violence victims and she was a reporter at an independent newspaper. She even studied and explored an apprenticeship in midwifery.
But through all this time of professional discovery, she found the common ground among these very different positions was taking pleasure in witnessing people's lives change through curiosity and access to information.
Her first library job was in rural Nevada at Douglas County Public Library. She said it had a small staff, but the librarians there took her under their wing and expanded her job to things well outside the original description. She fell in love with seeing people of all ages light up as they discovered how many books the library shelved to feed their passions.
"You'd think growing up with librarian parents, it would have come sooner," she said with a laugh.
This led her to obtain her master's degree in library and information science from the University of Washington and eventually work under an honorable mentor and now hero, longtime Seattle Public Librarian Nancy Pew.
Pew further fed Newell's passion as all of the work she did was based on vibrantly being part of the community, and embedding herself and the library in that community. Newell explained they would often take the library to parks and other places in the area to provide as many people as possible access to the library's resources.
"I've been really lucky to have mentors that believe in the power of abundant library services, the power of equity," Newell said.
IN HER time thus far as a youth librarian, Newell loves to see children at the height of discovery. However, she enjoys seeing people of all ages come in the door and fall in love with the library over and over again.
"Basically I believe that people are innately curious," she said. "What totally lights me up is people being lifelong learners, having curiosities, then finding more information and then their curiosity gets bigger. That is just my jazz."
As a passionate librarian, and lifelong learner herself, she is naturally interested in many topics. She and her partner of eight years recently bought a house in Kalispell, and Newell is now using the library's resources to read up on plumbing, gardening and other home ownership matters.
Newell also enjoys hiking in Glacier, backcountry skiing, being outdoors, cooking and, honestly, reading books with her cat Gimli.
"I mean it's true, I really do like to read books with my cat," she said. "It's such a stereotype, but I love it."
Newell's favorite books are what she calls tough books. Her all-time favorite book is "Voyage to the Bunny Planet" by Rosemary Wells, in which bunny children are all having lousy days, but travel to an idyllic bunny planet to imagine how their day should have gone.
Newell said she likes books where the author respects that children can handle tough topics.
"Children are so much more resilient and so much smarter than what we give them credit for," Newell said. "So I love books that respect children and give kids the benefit of the doubt."
At the library, she said it is all about connecting children and adults alike with information to transform themselves, their communities and the world.
"That's the process and it just happens to be the thing we are pedaling is something as wonderful as books," Newell said.
Reporter Whitney England may be reached at 758-4419 or wengland@dailyinterlake.com.
Recent Headlines
---