Candidates forced to adapt as campaigning grinds to a halt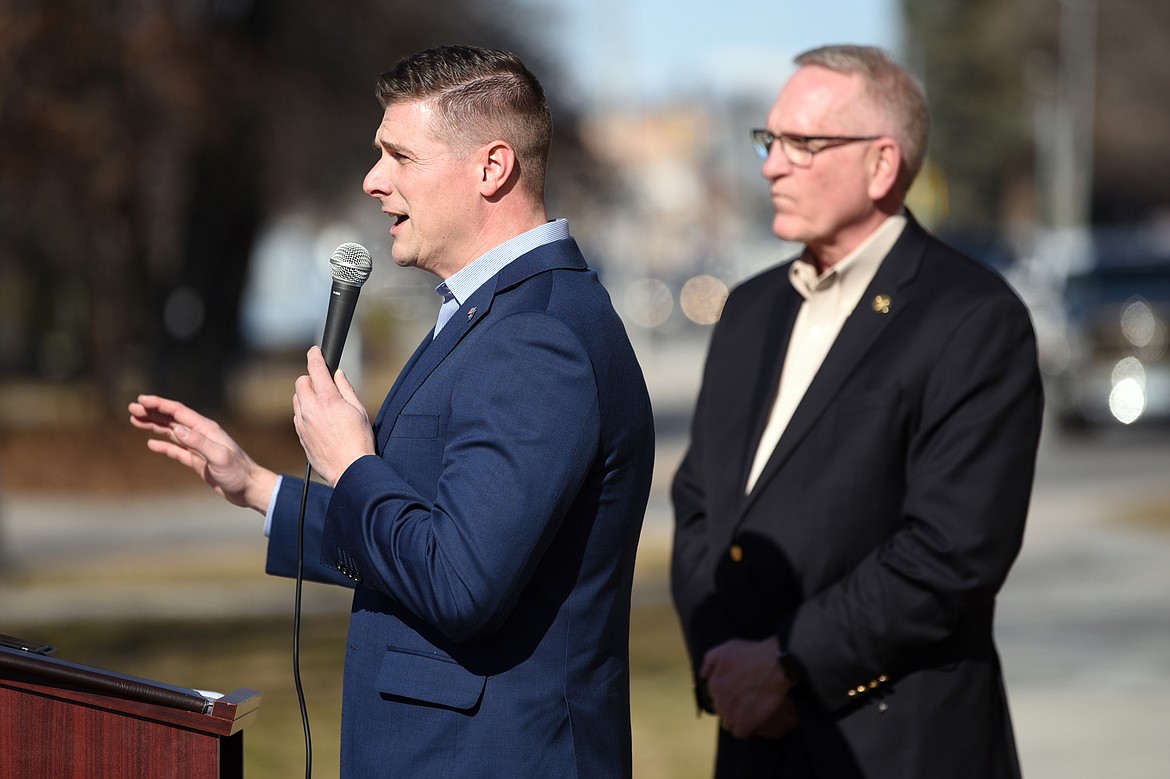 Republican lieutenant governor candidate Jon Knokey speaks during a press conference with Republican gubernatorial candidate Tim Fox to unveil the pair's public safety policy plan at the Flathead County Courthouse in Kalispell on Thursday. (Casey Kreider/Daily Inter Lake)
by
COLIN GAISER
Daily Inter Lake
|
March 25, 2020 1:00 AM
Montana Attorney General Tim Fox made a stop in Kalispell in late February as part of his campaign for governor, holding a press conference in front of the Flathead County Courthouse and courting voters over breakfast at Sykes Diner.
But now, these types of bread-and-butter campaign events are being put on hold in the face of the COVID-19 outbreak.
Mike Gulledge, communications director for the Fox campaign, said they had canceled most campaign events in accordance with Centers for Disease Control recommendations for containing the virus. Other candidates have been forced to do the same.
But while Fox is more of a household name, less well-known candidates are scrambling to make sure Montanans know who they are come Election Day.
Corey Stapleton, Montana Secretary of State and Republican candidate for Montana's U.S. House seat, said he "feels sorry for candidates who are trying to get known."
"These people paid the filing fee," Stapleton said, and now they "can't hit the doors," hold campaign events or do in-person fundraisers.
He said some candidates are requesting Montana postpone the June 2 primary election.
"It's a possibility" that Montana will postpone the election, Stapleton said. "But I don't think it's a likelihood." He added that June 2 is just outside the "danger zone" of predictions for how long the effects of the pandemic will last.
"It [delaying the primary] could solve some problems, but it could create other problems."
He said as an elected official, he feels like he is "campaigning," in a way, by doing his job as effectively as possible. The same goes for Raph Graybill, chief legal counsel for Gov. Steve Bullock, who has had to halt his campaign for attorney general to deal with the outbreak.
"I've been working around the clock to provide support for Montana with the Governor as our office responds to the public health crisis – not campaigning," he said in a statement.
"We're using all of our campaign resources to help educate our supporters about the virus, the state's response, available resources and measures we can all take to protect our friends and neighbors."
Other candidates remain on the campaign trail, even as that trail has gone digital.
Kimberly Dudik, Democratic candidate for attorney general, outlined her new strategy in an email statement after canceling all in-person gatherings and forums.
"I'm doubling down on call time to Montanans to talk with them to hear their concerns and to continue to build a strong statewide campaign," Dudik wrote.
"We are making sure we have the funds we need to run a highly effective paid communications plan, including mail and digital outreach, because we can no longer meet in person."
Lt. Gov. Mike Cooney, who is running for governor, recently came into contact with an individual who tested positive for COVID-19. While Cooney tested negative for the virus, he decided to self-quarantine for 14 days "out of an abundance of caution."
"During that time he stayed in contact with staff and supporters remotely, communicating via video conference calls and posting regular video updates on social media about the work being done to slow the spread of COVID-19," according to a statement from the campaign.
State Sen. Al Olszewski, R-Kalispell, is also ramping up his digital strategy in his campaign for governor.
"We were able to retool our grassroots campaign to a virtual grassroots campaign," Olszewski said, adding his campaign has a "sophisticated digital campaign" with a strong "millennial social-media team."
Olszewski's team is increasing activity on Facebook, Instagram, Snapchat and even TikTok, an app for circulating short, entertaining videos that is especially popular among Generation Z. He said one of his "TikToks" had drawn hundreds of thousands of views.
But as the primary election draws closer, candidates would clearly prefer traditional person-to-person contact to live streams, Zoom conferences and social-media outreach.
"My strength as a grassroots candidate is meeting people face-to-face, shaking their hand and sharing a story," Olszewski said. "I can't do that right now in good conscience."
"I'm just going to have to bite my lip and get on the phone and start calling people," he said.
Bryce Bennett, Democratic candidate for secretary of state, said he is "very sad" about not being able to hold in-person campaign events. But his campaign is trying to "find new and creative ways to connect with people."
He said fundraising is much more difficult now, especially as the "best part" about traditional fundraising is getting to interact with voters and potential donors at campaign events. But Bennett and the other candidates have had to pivot to phone calls to have those conversations.
Bennett said his fundraising calls can be more like "therapy calls," since "there's not a person I talk to where we don't have a conversation about COVID-19," he said.
"As tough as it is for us to campaign right now … it's a lot tougher for everyday Montanans," Bennett said. "My priority has to be with people who are really struggling."
Stapleton said the economic toll of the outbreak has made fundraising even more difficult.
"A lot of support in the Republican Party comes from small businesses," he said. "And they instantly had their customers turned off like a spigot."
The silver lining is that virtual campaigning is a lot less expensive, Olszewski said. He said he had put in 55,000 miles of travel between last May and when Gov. Steve Bullock issued a state of emergency on March 12, and the outbreak has eliminated those campaign travel costs.
He also pointed out that the outbreak has also "created a whole new set of issues" to discuss. Suddenly, the state's ability to prepare for a pandemic and mitigate the economic effects of a pandemic has become the topic of the moment in the campaign.
"We're in a state of emergency, and people are questioning what powers the governor has" during a pandemic, Olszewski said. He said these questions range from where the governor can access various emergency funds to whether people's personal firearms are safe and protected.
Bennett also addressed the issue earlier this week, releasing a nine-point comprehensive plan to "strengthen democracy" in the face of the COVID-19 outbreak.
Meanwhile, Olszewski is using live streams to connect with voters across the state and discuss the state's preparedness for the pandemic.
"I look at this as a challenge," he said, "and whoever can adapt to the challenge is going to be our next governor."
Reporter Colin Gaiser may be reached at 758-4439 or cagiser@dailyinterlake.com
---