New Glacier Institute director navigating park closure, uncertain summer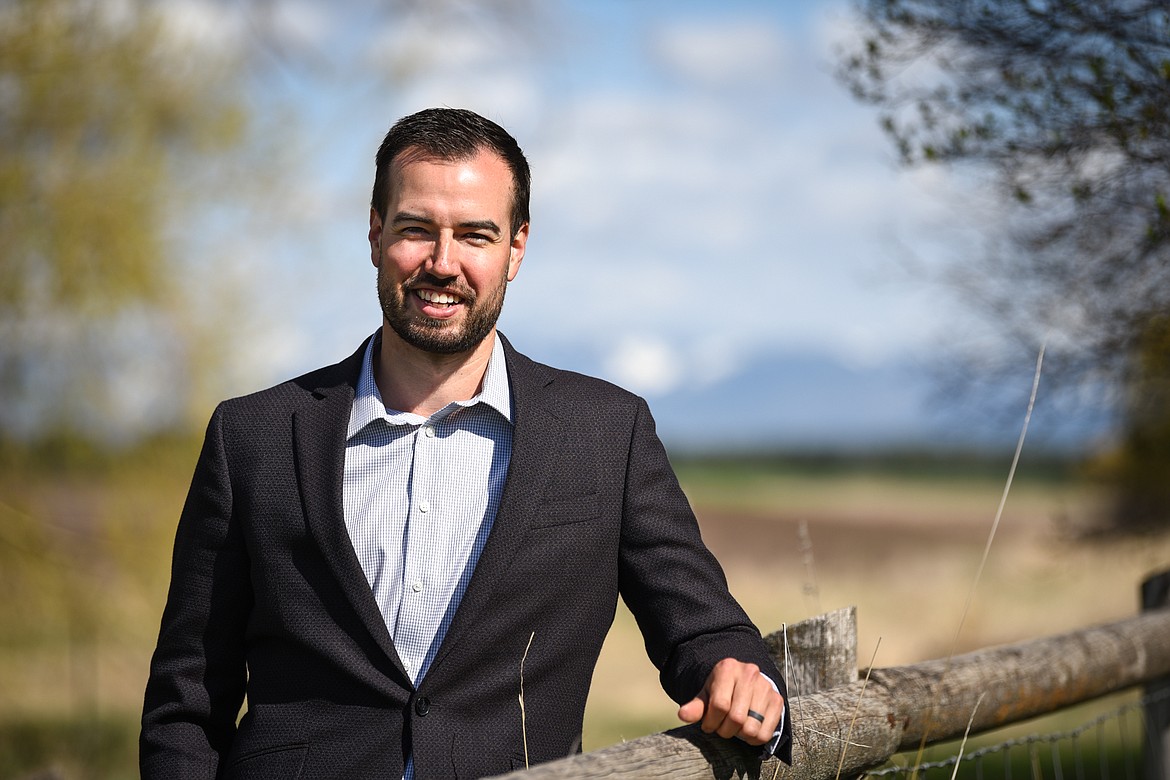 Anthony Nelson, executive director of the Glacier Institute, on Friday, May 1. (Casey Kreider/Daily Inter Lake)
by
COLIN GAISER
Daily Inter Lake
|
May 3, 2020 5:56 PM
When Anthony Nelson was a kid growing up in Minnesota, he already knew he wanted to retire in Northwest Montana near Glacier National Park.
"I was one of those kids who always visited every summer," Nelson said, and through those trips he fell in love with the Glacier Park and the surrounding area. On guided tours in the park, Nelson said he and his brother were "the annoying ones" who "always asked the tour guide a million questions."
But sooner than he ever expected, Nelson's career brought him back to Northwest Montana and into a role where he oversees outdoor education for children and adults alike. He was hired as the new executive director for the Glacier Institute in January after serving on the Institute's board.
Of course, like everyone, Nelson's position and duties have been temporarily altered by the COVID-19 pandemic. He is currently working from his home in Creston, where his wife, Allison, is home-schooling their three kids, all under the age of 5.
"We've got an old 1927 farmhouse we've been renovating as we're living in it," Nelson said.
The Institute is also taking part in the Day of Giving and Unity, a May 5 fundraising drive and collaboration between the Flathead Community Foundation and the Whitefish Community Foundation. The event seeks to raise funds for local nonprofits impacted by pandemic and its economic impact.
Nelson said the Institute had to cancel all the spring visits by local schools to the popular Big Creek Outdoor Education Center.
"It's a big loss for us, but the biggest loss is for the kids," Nelson said. "It's a really formative time and a great opportunity to make connections [to the natural world] for them."
He said a lot of school groups are rescheduling for the fall, which means Nelson is rushing to try and get the Big Creek cabins insulated "so the school groups don't freeze."
THE NEW role as executive director is a natural fit for Nelson, who has been involved in outdoor education for much of his adult life.
Before coming to Northwest Montana about two-and-a-half years ago, Nelson was working at the Cheyenne Mountain Zoo in Colorado Springs, where he was a zookeeper developing "interpretive education" for visitors. He also worked on various conservation projects, including one with African penguins.
"The zoo has no purpose if you're not learning about the animals' wild counterparts and falling in love with the animals," Nelson said.
Nelson explained his new position is similar to his old one. "Now I'm connecting dots to get people to fall in love with the natural world," he said.
Under his guidance, the Institute recently approved a change to a much more concise mission statement: "Strengthening connections to the natural world through outdoor education."
But instead of preparing for the summer onslaught of visitors, Nelson is now working to make sure the Institute's programming is up and running as the country slowly emerges from the pandemic. His team is having virtual meetings every morning at 8:30, and he is calling his seasonal staff of 12 each week to keep them updated on the situation.
Unfortunately, he has no choice but to continue pushing back his seasonal staff's arrival. But "this is gonna be a fantastic summer when we're able to come out," Nelson said.
Nelson said the Institute is "going to be more on the conservative side of things" when it comes to bringing people together for educational opportunities. He already said they will cut the sizes of camps to follow social-distancing and group-size guidelines, and they will be thoroughly cleaning out vans between trips.
NELSON IS still encouraging people to partake in one of the Institute's increasingly popular activities: personalized educational tours. This option gives a group of one to six people "a Glacier Institute staff member all to yourself" for a guided educational experience on a selection of Glacier Park trails, ranging from Siyeh Pass to Firebrand Pass to Avalanche Lake.
"This summer when we're trying to avoid large groups," Nelson said, "I expect this to be really popular."
Nelson said you might have seen a certain view or walked a trail "100 times, but to go through with an educator … it really adds some extra meaning you can carry with you all throughout your life."
Nelson said he is the kind of person who "refuses to stop learning," and said he has a stack of books in his house he is trying to get through during the pandemic.
"I'm soaking in as much information about Glacier Park and the Crown of the Continent ecosystem as I can," Nelson said. He is also trying to teach his children about the local wildlife, especially the birds that fly near his house and the nearby pond.
He said walking through Glacier Park makes him "really nostalgic … it reminds me of my childhood." He added he "always knew I'd be coming here and bringing my own kids."
Nelson said he knows people "are stuck in the basement" and itching to get outside, and he wants people to know the Glacier Institute is working as hard as ever.
"We're doing everything we can to prepare and provide a really, really awesome experience" for people, Nelson said.
Reporter Colin Gaiser may be reached at cgaiser@dailyinterlake.com.
Recent Headlines
---