Letters to the editor May 11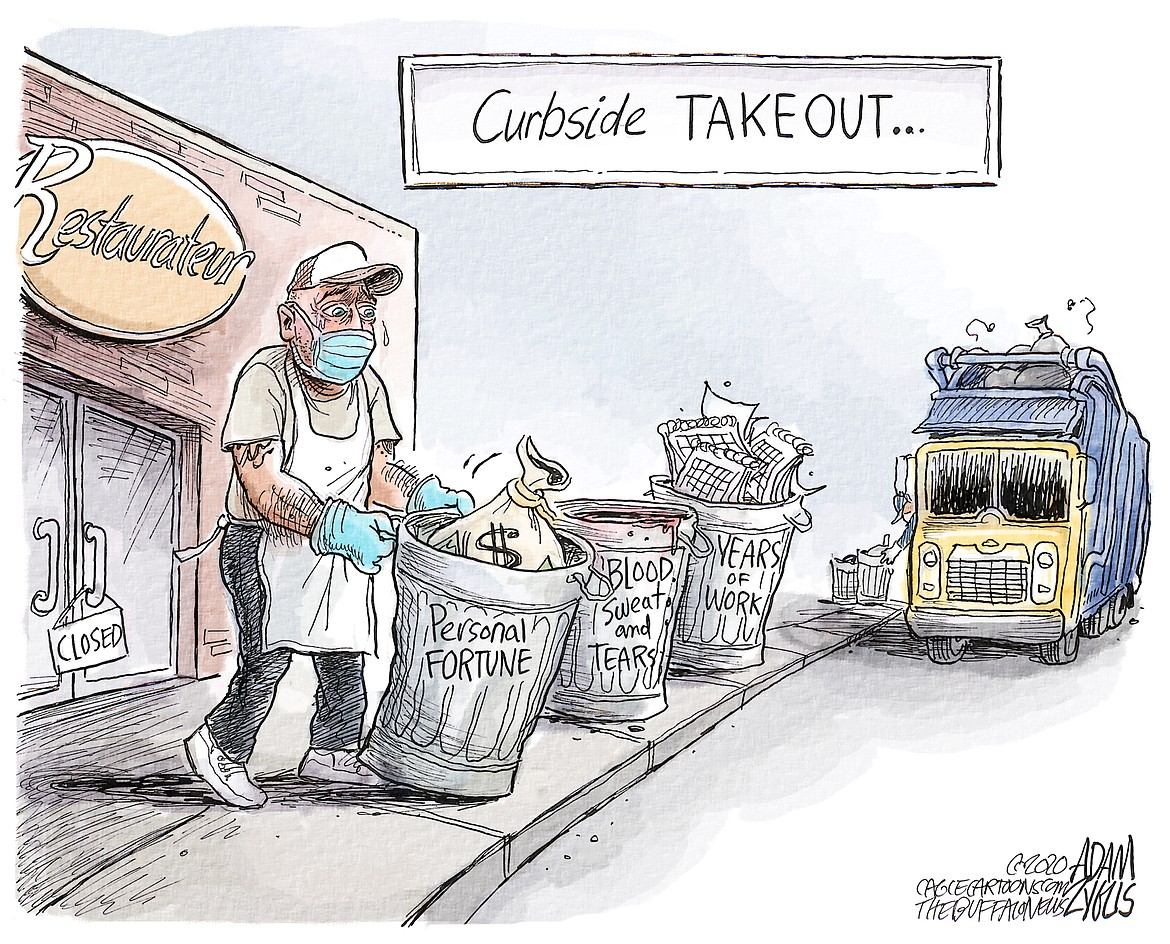 Restaurant industry: May 10, 2020
We need to put an immediate end to the phrase "social distancing." This phrase, I believe, has made people fearful of living life and has turned many into unkind and controlling people.
The definition of social is needing companionship or a social gathering. By using the phrase "social distancing," people have become fearful of even walking past another person. This type of behavior is already having a devastating effect on society and humanity.
I suggest we begin using the phrase "cordial spacing." The definition of cordial is warm and friendly. This is a phrase that indicates we are kind and respectful of each others space and health.
Let's not destroy humanity by having people believe that being social is dangerous and unlawful.
—Cassie Monaco, Whitefish
Federal employees provide vital services that benefit Americans every day, yet much of this critical work goes unnoticed. We see them when hurricanes strike, forest fires rage, floods destroy communities, and pandemics spread worldwide. We know that they help land our planes safely and perform inspections to maintain healthy food and water supply, and faithfully deliver our mail. But for every image you see on TV, thousands more work behind the scenes to keep this country running.
They process tax refunds, small business loans, stimulus payments, Social Security checks, and loans for college students. They track biological threats and alert Americans to treacherous weather conditions, among other critical and life-saving tasks.
COVID-19 is the latest crisis during which we expect our civil servants, many on the front line, to work tirelessly and often around the clock. I take comfort in knowing that our country is fortunate to have dedicated professionals who continue to serve their fellow man all for the greater good selflessly.
Throughout the year, but especially during Public Service Recognition Week, May 3-9, we should gratefully acknowledge their service. While we remain shuttered indoors to fight the invisible enemy among us, let's recognize and appreciate civil servants for what they indeed are: the heartbeat of America.
—Leland "Wally" Walbruch is Secretary/Treasurer of Flathead Area Chapter 646 of the National Active and Retired Federal Employees
Several months into the Covid-19 pandemic, it should be abundantly clear to all that we need to spend less money on bombers and tanks and more — much more — on our public health systems.
— Dr. George McLean, Kalispell
Dr. Annie Bukacek, a member of the Flathead City-County Board of Health, alleges her speech is protected by the First Amendment of the Constitution when she openly defied state and local policies guarding against the coronavirus outbreak. However the First Amendment does not include the right to incite actions that would harm others.
Her speech incites others not to follow a U.S. government restriction established to help keep Americans from contracting Covid-19. Her speech is causing harm to others by encouraging citizens of Montana not to protect themselves and others by following proven, proper, medical precautions that save lives.
Also, freedom of speech does not support her when dictating that vaccinations do more harm than good. Reports from the United States Centers for Disease Control and Prevention, the CDC, state that vaccinations will prevent more than 20 million hospitalizations and 732 deaths among children born in the last 20 years.
Dr. Bukacek may never had held a child in her arms as it died from a communicable disease which would have been prevented by a simple vaccination.
—Marion Gerrish, Kalispell
The Saudi Arabian family of twenty-four members were the first to come down with Corona-virus, while many members of the Iranian government also came down with Corona-virus. One wonders if they wandered into China's Wuhan village, as twenty-three thousand villagers died. Both countries only sell oil, a commodity whose price has fallen dramatically. Who needs the oil? China does. With over a million dead world-wide from the disease, we must count ourselves fortunate to know what Chinese city it originated in. Do you know where the measles, chickenpox, flu, mumps, or bubonic plague originated in? I don't think anybody does. But the Chinese knows exactly what city the coronavirus did.
We need to realize these people are led by the militant Communist Party and are either brilliant or very stupid. Maybe they wanted to trade biological-weapons for oil to one of the highest bidders, Iran or Saudi Arabia? Did some person dressed in a traditional regalia of flowing robes and turbans slip or fall, and then drop the bottles of biologically developed coronavirus?
We should consider that our own military leaders believe this and are working overtime to settle this matter with the Chinese. How does any injured party respond or make demands while avoiding WWIII? Since all Americans are shut-in for a month, we have already been warned and prepared for the worst if negotiations don't get resolved. I don't believe anyone, not Chinese or American, would be grandstanding or broadcasting this if it were going on. Nuclear war would be the most serious concern facing the world if it were. I'm certain this explosive disease originated in a laboratory, that the Chinese are responsible for creating it, and the silence of both our countries is now a good sign right now.
—Mike Donohue, Kalispell
Flathead County residents have an important decision to make this year regarding who represents us on the Flathead County Commissioner's Board. I strongly urge you to vote for Tony Brockman for County Commissioner.
The county commissioners oversee way more than just zoning... they oversee the county budget, appointments to boards operated by the county, the jail and sheriff's department, the health department, property rights within the Flathead, and they maintain relationships and partnerships within the county. This isn't a job that you want just anyone filling.
Tony has been serving the Flathead Valley and our state since 2004 within a wide variety of organizations. His volunteer resume is both lengthy and diverse which demonstrates a longstanding commitment to service. He is thoughtful, intelligent, not afraid to listen to a wide variety of viewpoints, and he truly cares about the future of the Flathead. If he isn't thoroughly educated about an issue, you can rest assured that he is going to be doing research before making a decision. The Flathead Valley needs independent minded leaders who will make informed decisions not based on opinion or blind alliance, but on the facts. Vote Brockman for County Commissioner this primary!
—Laurel Ekern, Kalispell
I am writing a letter in support of Representative Derek Skees and his re-election efforts to the Montana Legislature. My husband, Daniel Zolnikov, had the opportunity to serve with Derek during the 2017 and 2019 session in the legislature. Daniel served as the Chairman of the House Energy Committee and Derek served as the Republican Vice-Chair of the committee. Almost no one worked with Derek as much as Daniel did and when they disagreed on policy issues, they accepted each other's differences and moved on.
When I first went up to Helena, Derek was the one of the first people I met. He was polite, positive and treated me like my own person, not as another spouse of a legislator. My husband would comment on how hard Derek worked on legislation such as ensuring fair rates from small water utilities and how Derek was essential to not only helping him pass some of the nation's strongest privacy legislation protecting your data from government, but how Derek supported his efforts to successfully reform major energy and utility laws.
Derek is the next in line to become the Chairman of the House Energy Committee, and it would be a major loss to the state to lose his experience and leadership on these issues. I am now running for the state legislature in Billings and am looking forward to working not only with Derek, but all the Republicans elected across the state. Please support Derek Skees for re-election.
—Katie Zolnikov, Billings
I'm supporting Elliot Adams for Flathead County Commissioner. I appreciate Elliott's stand on small, limited government and citizens rights. Elliot is an honest, hardworking man; a man of integrity. I'm supporting Elliot Adams for Flathead County Commissioner.
—Jay Rickel, Kalispell
---