Brawlers reached highest point in 2008
Flathead's David Lau works toward a pin at the State AA wrestling tournament at Billings Metra Park on Feb. 9, 2008. Lau won the 160 lb title. (Photo courtesy Jeff Thompson)
Flathead's David Lau works toward a pin at the State AA wrestling tournament at Billings Metra Park on Feb. 9, 2008. Lau won the 160 lb title. (Photo courtesy Jeff Thompson)
Previous
Next
by
FRITZ NEIGHBOR
Daily Inter Lake
|
May 16, 2020 5:10 PM
There have been a lot of great wrestling teams out of Flathead High School, where after a long gap broken up only by the 1973 squad – eight state championships were brought home from 2004-18.
But no team in that run dominated like the 2007-08 version, which followed one record-setting title in February of 2007 with another in 2008. The 347.5 points earned in 2007 turned into 410 in 2008; the 18 state-placers in 2007 gave way to 19 in '08.
Nine state finalists and three champions in '07? Nice, but try on 10 finalists and five individual champs in 2008.
You get the idea.
The Inter Lake talked to many of the wrestlers on that team – though not a majority because there were around 70 athletes scattered among 15 weight classes – for this oral history. It was Jeff Thompson's eighth – and sort of final – season coaching the team. He became coach again in 2016-17.
It would be a lofty goal to build another team as good as the Brawlers of 2007-08.
David Lau (champion in 2008 at 160 pounds): I think I started wrestling in the first grade. I started out with Little Guy, did that until we started getting a little more serious – freestyle, Greco-Roman, some USAW stuff. I think it was eighth grade when I won a freestyle national title in Enid, Oklahoma. We all went to tournaments and we all went to camps.
Zach Reimnitz (second at 98 in 2008): Looking back it was one of the best experiences of my life. Our team was so diverse. I'd wrestle with our 112-pounders and everybody pushed each other.
Ryan Swelland (23-6 at 112 pounds): I remember a lot of things – the work ethic and the drive of that team. How tight-knit every one of us was, was so cool. Getting up for morning lifting, running the halls in our sweats. ...
Brian Ham (champion at 135): Those friendships were established well before high school. The coaches had done a fantastic job of coming down to the younger teams and making contact. They invited us eight graders to come watch the state tournament (in 2005). A bunch of us went to the tournament from Evergreen Little Guy. The following year when a bunch of us freshmen went back into the (Billings) Metra it was still pretty amazing, but we'd been there before.
Thompson: That's still a philosophy we have today – try to get those eighth-graders to the state meet. It's kind of like the movie Hoosiers, when that small Indiana team goes to the state basketball tournament. You show them, "Hey, this is a wrestling mat – this is where you've spent most of your life." (Laughs) Back in the day more kids watched Hoosier's, so we used that analogy.
David Lau: I think we were in sixth grade when (Thompson) started bringing us to high school practices. I don't think I missed a practice from sixth grade on.
Ham: Our freshman year we got second place – just the wind got taken out of our sails. I think we went something like 0-for-11 in the finals (it was 2-for-6). It was all building toward 2008 – "We're not going to get second again."
The 2007-08 season was part coronation, part culmination: Thompson's first two teams finished sixth at state in 2001 and '02. Then the momentum started building.
Assistant coach Suny Cheff: It took a while to build up – in 2003 and around there we had some decent teams. It's hard to get a kid to work that hard when they would rather be home playing Xbox.
Tanner Beaman (champion at 130): Ryan Swelland came out and he wasn't great and he ended up becoming great. He was thinking about quitting and Thompson talked to him. Whatever Thompson said, Ryan was back on board.
Swelland: My freshman year (in 2005) – my first-ever year of wrestling. Jumping on a Jeff Thompson team, it was a shocker – it was really hard. I was like, "You know what, I'm not doing this." I go in to tell him I'm quitting and he was like, "No, you're not. Put on your wrestling shoes." I said I'm serious and he said, "No you're not. Get your gear on."
Cheff: We used it to weed out some kids because – it was a tough room. But to a lot of kids we just said, "Stick it out for a year."
Beaman: My freshman year I was in Eureka. Thompson made the transition (to Flathead) easy – he introduced me to the upperclassmen. I didn't want to leave where I was – I had friends, my roots. And he made the transition easy for me, he helped me every step of the way.
Ham: At some point everybody wanted to make everybody better. I'd see other teams and there's kind of a disparity between varsity and JV and at Flathead, it was mostly, "Next man."
Reimnitz: The biggest thing was the team dynamic: We just didn't have two tough kids at each weight – we had 3-4.
Bryce Stacy (second at 145): One, it guarantees you a wrestling partner, and having that caliber of wrestler to go against every day - iron sharpens iron. And then having a JV squad that could beat most varsity squads in the state was a tremendous asset. Thompson referred to them as the Killer Bs and the Crazy Cs if we ever had three at a weight class. Which we did.
Cheff: It was definitely kind of a college wrestling room atmosphere. There was an expectation of excellence. (Thompson) figured out a formula where if you put in the work, you'd have success. Some wrestlers were just OK, some were a little better and some were great, but they all knew if you put in the work and did what was expected you would be a good wrestler.
The team put in the miles while winning tournaments in Coeur d'Alene, Bozeman and Missoula (the Jug Beck Invitational). They won all eight they entered.
Reimnitz: Everywhere we went we were the team to beat.
Beaman: We had the athletes but it was the coaching staff that really made the program. Not only did they sell it to the wrestlers but they sold it to the families. Our home duals the stands would be packed.
Cheff: (Assistants) Jim Anderson, Jim Sipe and Dallas Stuker – all of us coached to our strengths. We kind of had an unwritten rule where the coaches had to do 70 percent of practices. We did the workouts with them – the conditioning, one-on-one wrestling. It just created an atmosphere that was like a college wrestling room. It was a lot of fun – all of us coaches were like big kids ourselves.
Shawn Lau (second at 112 in 2008): Sipe, we usually had pretty tough practices with him, a lot of live (wrestling), lots of drilling. Thompson had a lot of one-on-one – the coaches were always wrestling, they weren't just telling us what to do, they were leading by example. Coach Anderson's were usually right before we had to compete. He'd say, "Short and sweet, just like me."
Beaman: A huge part is the mental aspect, and Thompson always harped on that. The coaches took the time to talk about it, and they made sure every coach participated in like 70 percent of practice. They were right there in it. … I wasn't a good technical wrestler, and without that staff I wouldn't have won state.
Stacy: It was awesome watching a lot of those upperclassmen – Ham, Decker, Lau, Wells. They all competed. For a lot of them it was their year to win a state championship. It was a big learning year for me – I really took that '08 year as motivation into my senior year.
Beaman: The formula was you need to wrestle one dude you know you can beat, and one dude who's even with you and one dude that will stomp you. And the dude that would usually stomp me was Brian Ham. Every so often I would get something on him and that would be the highlight of my day.
The Brave Brawlers had gone 17-1 in duals the season before; this season they went 20-0, including a 7-0 record at the Pat Weede Invitational in Gillette, Wyoming in December 2007. In a dominant campaign this trip stands out: The hometown Campbell County Camels had a great squad, including a beast at the lower weights in Tyler Cox. Cox got his match but the Brawlers won the dual 45-23.
Beaman: Our plans were to go to Minnesota and wrestle "The Clash" jamboree, in Apple Valley. I wish we would have gone out there, but instead we went to Wyoming, because they heard about us and wanted to beat us. I think they'd won like five straight state titles in a row. Hadn't lost a home dual in years.
Stacy: It was a lot of fun. And it got pretty elaborate during the Gillette match because tensions were high. Some of it was comical and some of it was racial slurs being thrown about. It was a different experience for a lot of us high school kids – we hadn't been in that kind of environment.
Beaman: We crushed it. One dual was 90-0. When we finally went up against Gillette all the other teams hated them. Their fans were out of control. I pretty much remember fans drinking beer in the stands.
Reimnitz: Almost all of their wrestlers had pink Mohawks. And Thompson said, "You guys are not losing to somebody wearing a pink Mohawk." That's how it started, and we got rolling.
Beaman: Joaquin Calderon had Tyler Cox – that was their big wrestler – on his back. That's when the fans got out of control.
Reimnitz: They had to stop the matches. We had Joaquin and he wrestled their top middleweight Tyler Cox. They were yelling racial slurs.
Ham: Coach Thompson was saying, "Stay in our stance and wrestle," and that's what I did. But it was so weird – all those distractions.
Cheff: We had to stop our female managers from going at the crowd. They were more ready to fight than the wrestlers were. Those girls were not going to take any lip.
Thompson: I forgot about that (laughs). They were all sorts of fired up.
David Lau: My sister was one of the managers… Thompson calls it, "The Big Mo." Once we got the momentum going we just hammered them.
Beaman: One thing that Thompson and the other coaches had talked about was the sportsmanship. We didn't get into the whole getting riled up. But anyways, we handed it to them.
The rest of the tournaments were less dramatic, including the State AA: Billings Skyview was a distant second at 264.5 points. The main drama came from four guys – Beaman, Tyler Wells, David Lau and Luke Fischer – chasing elusive individual championships.
For all their team success the Braves hadn't piled up the individual crowns: the 2004 team championship came with just one of eight finalists winning a title; they went 3-for-9 in 2007.
Fischer had worked his way back from a serious arm injury as a freshman to excel. Ham was gunning for a second straight title and had a bump along the way as well.
Fischer: We played Duck, Duck Goose before of our duals because – I can't remember which team it was – the other team was late. After that we kept playing. Thursday night in the dome (Metra), we were playing it and Brian Ham collides with Jeff Sipe. Thankfully Jeff was the guy that got hurt. He was on crutches all weekend.
Sean Lau: They hit pretty hard.
Thompson: I was really hoping that it was Sipe that go hurt. He was pretty upset about it, but deep down all of us coaches were happy it was him.
Fischer: My freshman year, I think right before New Year's, I dislocated and broke (the elbow). It was at the end of practice and my partner tried a lateral drop. I posted so I wouldn't get thrown and my hand landed ever so slightly wrong and I just folded at the elbow.
Ham: To watch him break his arm in the wrestling room … Bad break. It was his throwing arm. Just crazy.
Fischer: (Laughs) I wondered if you talked to Brian. We played a lot of PlayStation2 after that, because I couldn't do anything else.
Thompson: I would've broke my heart if those workhorses wouldn't have won a state title to top off such amazing careers.
Wells (state champion at 152): It was one of those times where. … We felt if we didn't win, why did you even do it. David and Luke and I, we had north of a decade of youth wrestling experience and it was kind of coming down to the wire. One last shot.
Thompson: We'd always been really good at building up a team, putting kids into the finals. Then we were like, "Hey, we need to win some of these matches." We had a very good showing that year and still had a couple that we thought we were going to get, too. That's wrestling, too – we lost some close matches.
Beaman: Right before my state match (against Great Falls Russell's Trenton Starkey), Thompson talked to me and said, "Watch for this move." He and I practiced that while we were warming up. (Starkey) would lace my legs… my counter was grabbing an inside leg and shooting a knee to my chest. I escaped with about 30 seconds left to go. I was able to snap him down, switch my legs and get the takedown (for a 3-2 win).
Cheff: There were a lot of matches where the kids were behind going into the final period where we were pretty confident they would win. A lot of our kids had a "tank" on them.
Wells: It's a testament to how good the team was but my match was anticlimactic – I faced Caleb Allen-Schmidt, who also went on to be a state champion for Flathead High School (Wells won by fall; in 2010 Allen-Schmidt won at 160). I'd wrestled him 100 times that year, and it shook out that he had a great tournament. We wrestled for the divisional and state championships.
When it was all over Ham had 138 career wins and David Lau had 132; the Brave Brawlers had been ranked as high as No. 9 nationally by Amateur Wrestling News and No. 12 in WIN magazine. It was their third straight state title and fourth in five years. Then, in May, they were suddenly looking for a new coach.
Thompson: I had a young family. I think my competitiveness can be a good thing, but it's a double-edged sword. I didn't think I could put that amount of time in and still be a good father and be that person at home. It takes me over – I just love it. It's such a passion, but it's addictive.
Beaman: It hurt a lot of us. People were shocked. But it was totally understandable – when he does something he goes all in. The coaches were living wrestling 24-7.
Stacy: It caught us all off guard, being punk 17-year-old kids. … There were tears. Being an adult now, he made the right choice, he did what he had to do for his family. We were let down in the sense that we felt we had one more year.
The Braves did have one more year – actually two. They won the next two AA championships under Matt Owen, who'd been a Flathead assistant before moving to Glacier when it opened its doors in 2007. Stacy came back to claim a state title in 2009.
The 2008 graduates moved on and excelled. Fischer set his high school record for the javelin and then – after Tommy John surgery – winning an NAIA national title at Northwest University in Kirkland, Washington. Beaman has made a career of the armed forces. Reimnitz is going back to school for nursing ("I have a whole family of nurses," he said). The list goes on and on: Swelland, who wrestled one year at the University of Mary alongside Beaman, is a civilian pilot and an ultra-marathoner.
Fischer: I was a state finalist my junior year and won it my senior year. I didn't even think about anything other than getting back and being successful on the mat. Wrestling being an individual sport you really have to have the mental toughness – that definitely helped me get through the long process of rebuilding my arm.
Swelland: Wrestling taught me the mental toughness to try for (endurance running). It was a pretty special team and I think it changed all of our lives. Most of the guys came out pretty successful.
Cheff: There's teams that we had that had punks and kids that annoyed everyone including the coaches and probably their own parents. That team – they were good kids and that was a big part of the joy of seeing them succeed so much. They were just quality people. That's saying a lot; I've coached a lot of teenagers.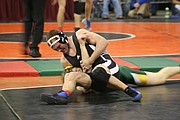 ---