Local economy and businesses need Glacier Park's support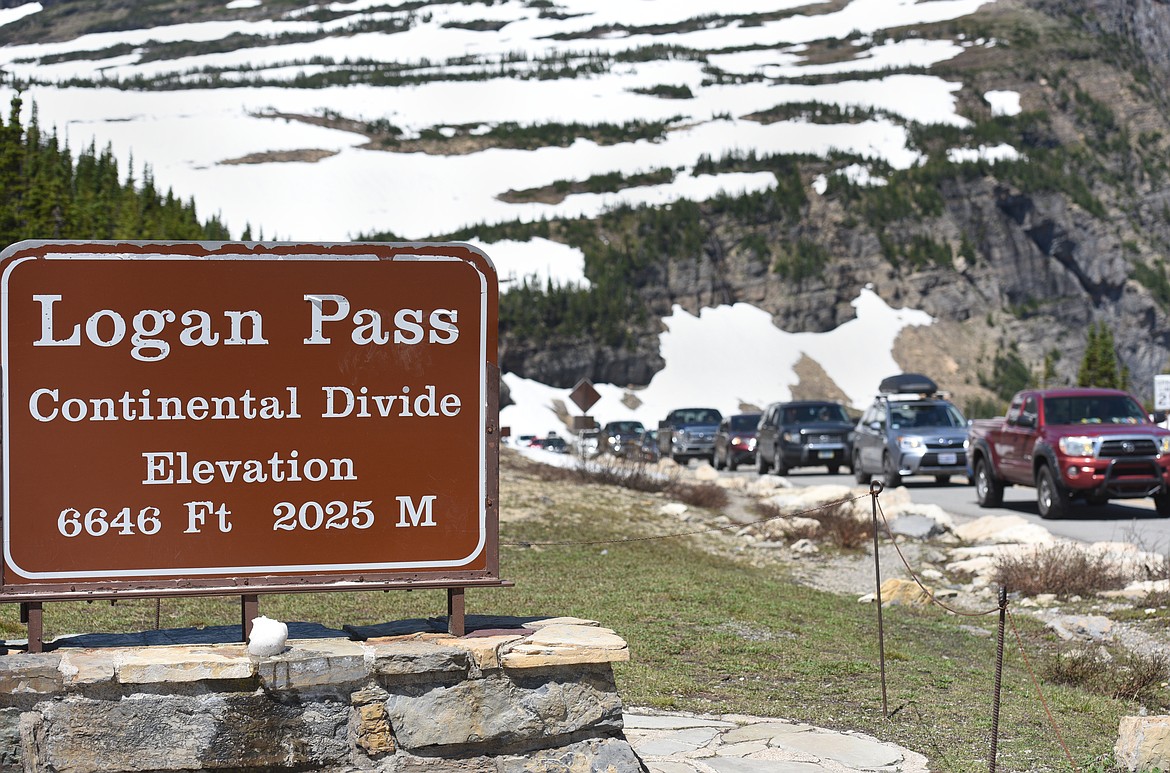 Cars crawl up the Going-to-the-Sun Road near the Logan Pass Visitor Center. (Aaric Bryan/Daily Inter Lake FILE)
[This letter was sent to Gov. Steve Bullock, Glacier Park Superintendent Jeff Mow and Flathead County Sheriff Brian Heino.]
The coronavirus has created many challenges and difficulties for all of us when it comes to making decisions and planning for this summer. We understand that Glacier National Park is also facing many of these same challenges such as deciding on a timetable to open, how many staff to bring on, and under what health recommendations and guidelines staff will be expected to operate.
Recently, many of the local businesses and Park concessionaires met to discuss these questions and trade ideas on how best to approach the upcoming summer season. We are reaching out to you to communicate ways that Glacier National Park can help support the local economy and businesses that depend heavily on visitation to the Park. We have often heard you say that you view us as your business partners, and we need your help now more than ever. The reality is most of our businesses are already down in revenue 40%-60% and we expect these numbers to get worse. The cancellations are coming in droves and for the businesses and their employees who depend on this revenue for their livelihood, it is devastating.
There are glimmers of hope. We are still getting some phone calls with guests who are optimistic they will be able to travel and visit Glacier National Park. We still believe we can salvage part of the summer (late June, July, August and September) if we focus on the right messaging. Whenever the opportunity presents itself, we need to have a positive attitude and focus on what services and activities are open versus what is closed or unavailable. It is imperative that Park resources are prioritized to get the Going-to-the-Sun Road open as soon as possible and make other social distancing options available first so we can have a draw for the public. The sooner the Park gives the public positive indications that they will be opening along with a more definitive timeline, the better the chance the local economy will have to weather this storm.
Our hope is that the 14-day quarantine period will be lifted as Montana continues to progress through the three phases of reopening. If it is still in effect come June or July, it would essentially kill the possibility of visitation for out of state visitors. Who is going to travel to Montana only to sit in their hotel or cabin once they arrive at their destination? If this happens however, there are still opportunities for local Montana residents to travel and visit the Park and we hope you can help us promote them visiting the area. We recall when the Park was faced with unprecedented visitor counts, you had proactively communicated that there is plenty to do and see outside the Park in the greater Gateway to Glacier collaborative area. We believe that this same messaging would be appropriate in this situation especially if you alter access to Glacier National Park.
We realize this is a difficult time for everyone and the situation has been very dynamic and uncertain. We are asking that you keep us in mind when making decisions and strategizing how to move forward in the future as well as be cognizant of the ripple effect any communication you have to the public has on the potential business volume for gateway businesses that surround the Park.
Thank you for your time and consideration.
Jeff Baldelli and Darwon Stoneman, Glacier Raft Company
Aubrie Lorona, Crown of the Continent Discovery Center
Dave Leishman, Bar W Guest Ranch
Greg Mcclure, West Glacier KOA
Trudi Medrano, Heavens Peak Lodge & Resort
Sen. Dee Brown, R-Hungry Horse
Christie Dunn, Reclusive Moose Cabins & Glacier View Vacation Rentals
Joe and Cheri Hoff, Glacier Highland, Vista Motel
Sue McCadden, Glacier Trail Cabins
Randy McMillian, Glacier Haven Inn
Mac Minard, Montana Outfitters and Guides Association
Bob Jordan, Flathead Convention and Visitor Bureau
Rebekah King, Bigfork Area Chamber of Commerce
Keisha & Chris Fisher, Glacier Highline
Don Bennett, Freedom Bank
Don Jermunson, Waterton Glacier International Peace Park Map
Tim Seward, Three Forks Grille
Richard and Georgia Zapata, Montana45
Janelle Gentry, North Forty Resort
Ted Chase, Summit Mountain Lodge
Cathi Beers, Great Northern Resort
Alan and Mary Ruby, Hungry Horse Liquor Store
Pamela and Michael Roessmann, The Nest on Swan River
Dennis Johnson, The Party Store
Rob Schuttler, Stumptown Vacation Rentals
Jason Holmes, Moose Creek Resort
Shawnna Steele, Desoto Grill
Jennifer Mooney, Jennifer Mooney Weddings
Marianne Wiest, Marianne Wiest Photography
Josiah Baer, Big Sky Electric
Emily Baer, Diamond B Weddings
Carrie Doyle, Carrie Ann Photography, Aspen Ridge Cabin
Shawna Benson, Shawna Benson Photography
Marion Foley, About Montana
Jacob Thomas, Northwest Montana Historical Society
Larry Parsons, Secretary of the Middle Canyon Land Use Advisory Committee
Lana Grolinsky, Bridal Bliss Hair & Makeup by Lana
Laurie Mason, Holt Stage Hideaway
Evelyn Pace, Evelyn Pace Photo + Video
Jack Saunders, Electric Buffalo Gallery
Stacey McGough McGough & Co.
Joanna Adams, Joanna Adams Photography
Leah Lamberson, Leah Lamberson Photography | Cabin Coffee
Kate Gunderson, Huckleberry Wedding & Event Planning
Sheri Campbell, Blooms to Heirlooms
Justin & Jenessa Stewart, Love Life Creative Media
---