Premier fence firm continues to grow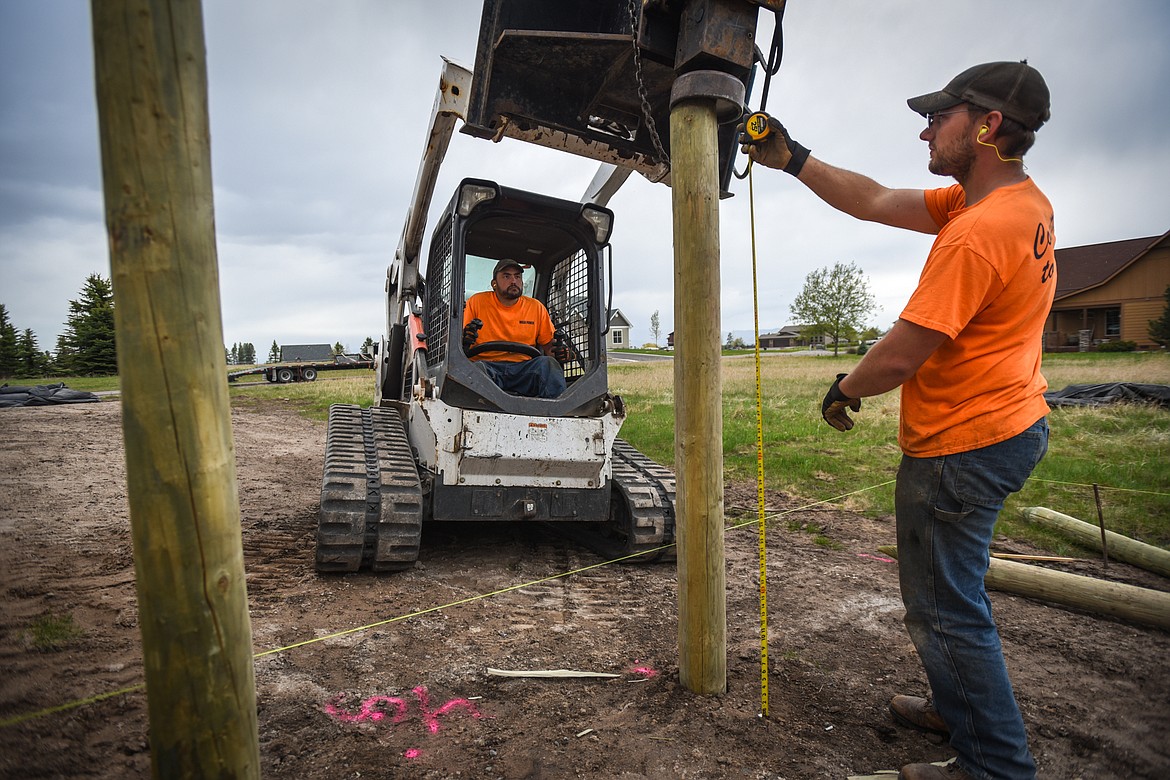 Robert Romero, left, and Jacob Christman drive posts into the ground during an installation near Creston on Wednesday, May 6. (Casey Kreider/Daily Inter Lake)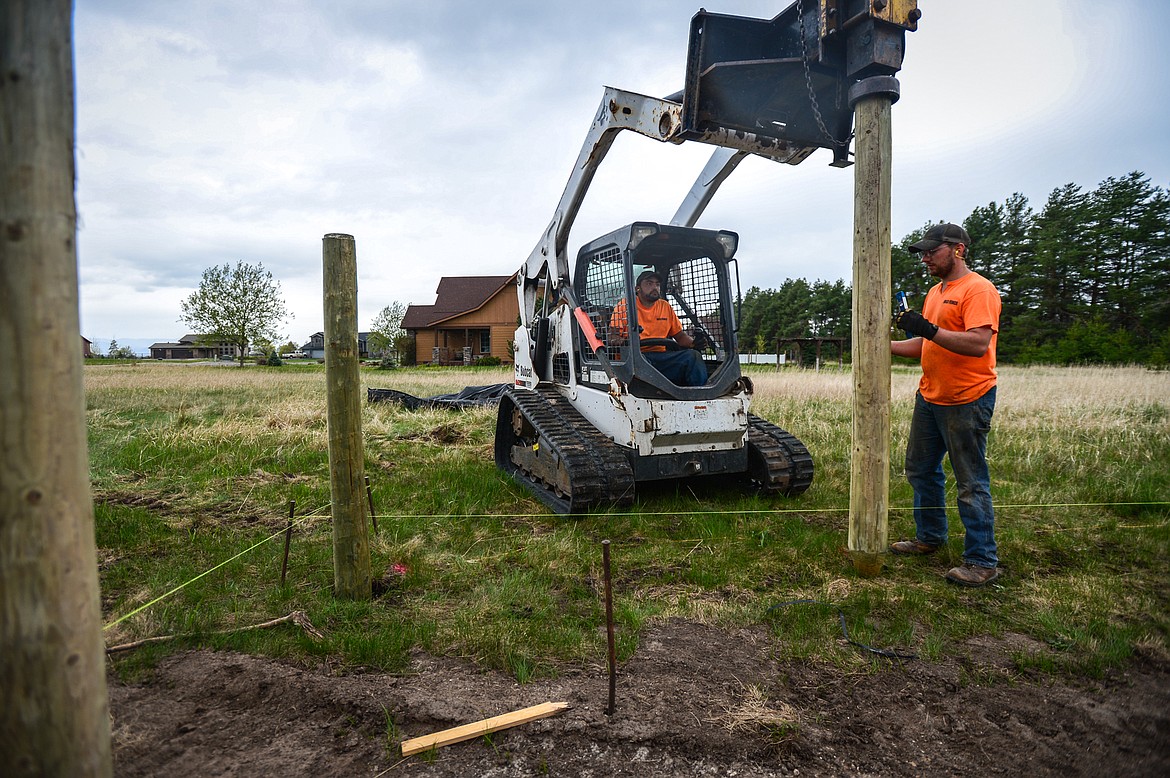 Robert Romero, left, and Jacob Christman drive posts into the ground during an installation near Creston on Wednesday, May 6. (Casey Kreider/Daily Inter Lake)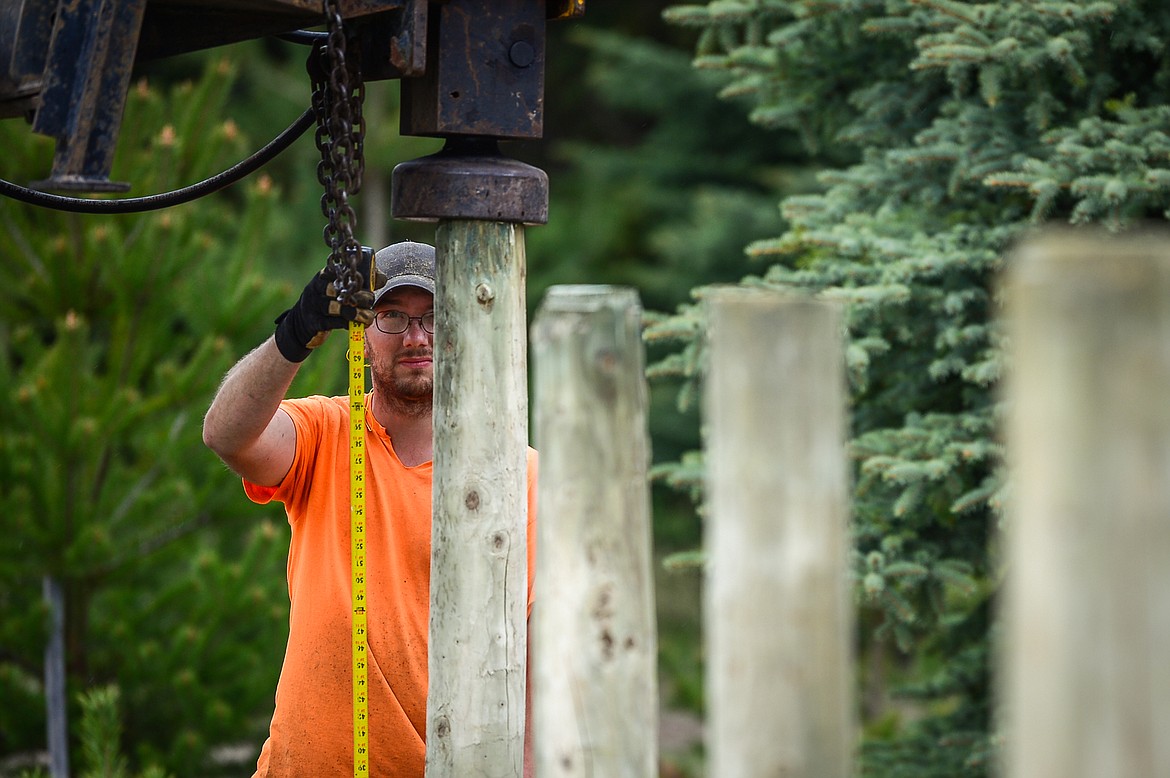 Jacob Christman, with Mild Fence Company, measures the height of a post as its driven into the soil during an installation near Creston on Wednesday, May 6.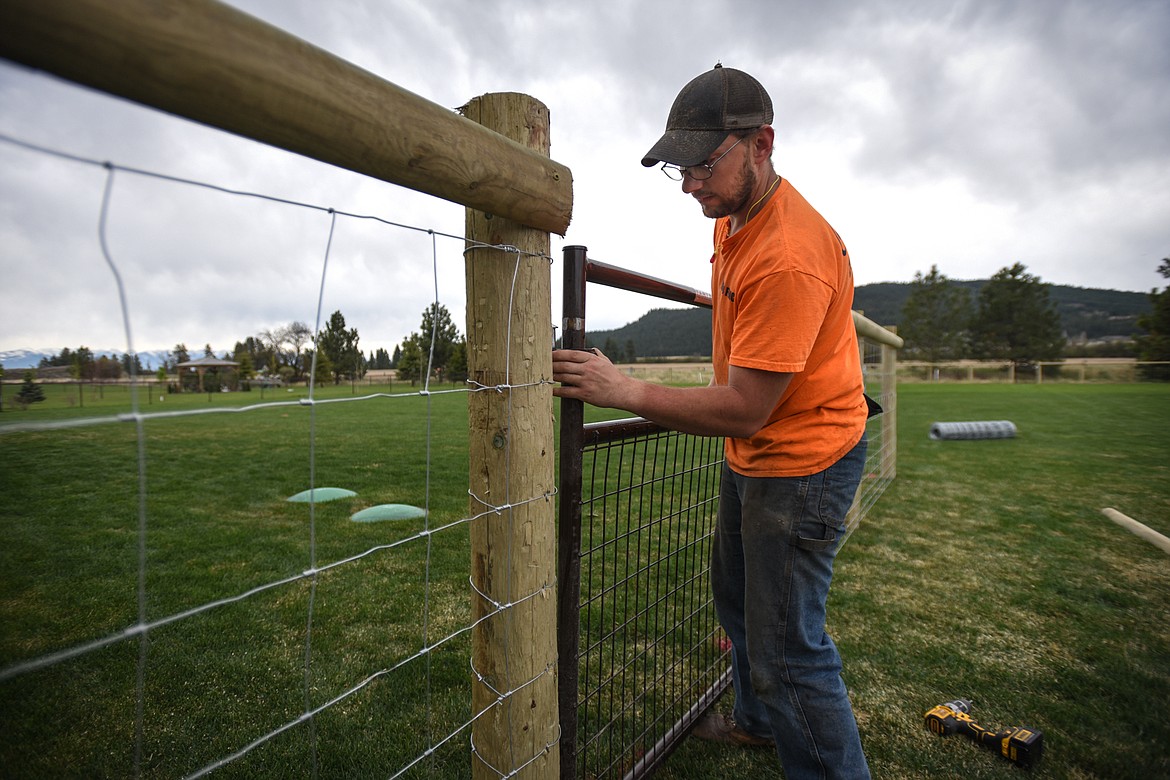 Jacob Christman, of Mild Fence Company, attaches a gate to a client's fence during an installation in Kalispell on Wednesday, May 6. (Casey Kreider/Daily Inter Lake)
Previous
Next
by
BRET ANNE SERBIN
Daily Inter Lake
|
May 17, 2020 10:25 AM
Mild Fence Company is what one might call a quiet giant in the Flathead Valley business sector. The local fence company has been in business for almost 50 years, growing from a humble one-man operation to the largest fence contractor in the state.
Eric Wutke attributes Mild Fence's long-running success to quality products and employees, years of experience and competitive buying power. Wutke inherited this legacy from his father, Dennis, who ran the business for more than 40 years.
Founder Gary Mild, who started Mild Fence Company in 1972, sold it to Dennis and his wife Emma Jane in 1977.
Emma Jane's family had been living in the Flathead Valley even before Montana was officially designated as a state. The couple—who met at Blacktail Mountain when it was a U.S. Air Force base—decided to raise their family in the valley after moving all around the country for Dennis' service in the Air Force and his later job with Boeing. Wutke's sister estimated the family of six moved about 30 times in 15 years before settling back in the Flathead.
Now, all of the siblings live in the valley, and Wutke and his sister continue to work together at the business their parents operated for decades. Over time, the company has evolved in both its size and inventory.
"In the beginning years we installed only chain link, followed by ornamental steel," Wutke recalled. "Within the last 20 years we began installing vinyl, interesting agricultural fencing for hobby ranches and commercial work statewide."
Mild Fence now works with everyone from the Montana Department of Transportation to remote ranchers in Eastern Montana, and they believe this scope gives their employees a diversity of experiences unlike any other fence company.
It also helps that the company has more locations and a higher volume of sales than any other Montana fence company.
Wutke has expanded the Kalispell company to include four other locations, in Billings, Great Falls, Bozeman and Post Falls, Idaho. During their busy summer season, Mild Fence Company employs more than 50 employees, and many of them have stuck around for years with the long-running company.
"We have great employees that do quality workmanship," Wutke said.
And their success clearly starts from the top. Wutke gained his business acumen working for his parents at the company and later studied business at the University of Montana.
Now, he said, "I… really enjoy the business aspect of successfully running five companies," referring to Mild Fence's five locations across the state and into Idaho.
And even though the company has gradually grown into a small powerhouse, many locals still don't seem to fully realize just how far their fencing business stretches. But Wutke isn't bothered by the company's low profile. Their size has allowed them to maintain strong buying power, competitive prices and a good wage for their employees, as well as an opportunity for the family to stay close to their deep Flathead Valley roots.
To Wutke and his relatives, that opportunity is worth a lot more than recognition, even as the company is now taking on its busiest season yet.
Right now, they don't have any active plans to expand into new territories, but Wutke didn't rule out that possibility.
"I always have my eyes open for opportunities," Wutke said.
Mild Fence is located at 3465 U.S. 93 North in Kalispell. Their hours are 8 a.m. to 5 p.m., Monday through Friday and 8 a.m. to 2 p.m. on Saturday.
Reporter Bret Anne Serbin may be reached at (406)-758-4459 or bserbin@dailyinterlake.com.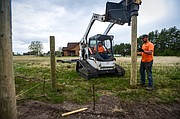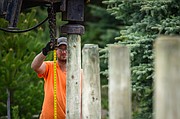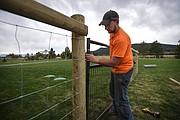 ---