Kalispell's alternate care center nearly finished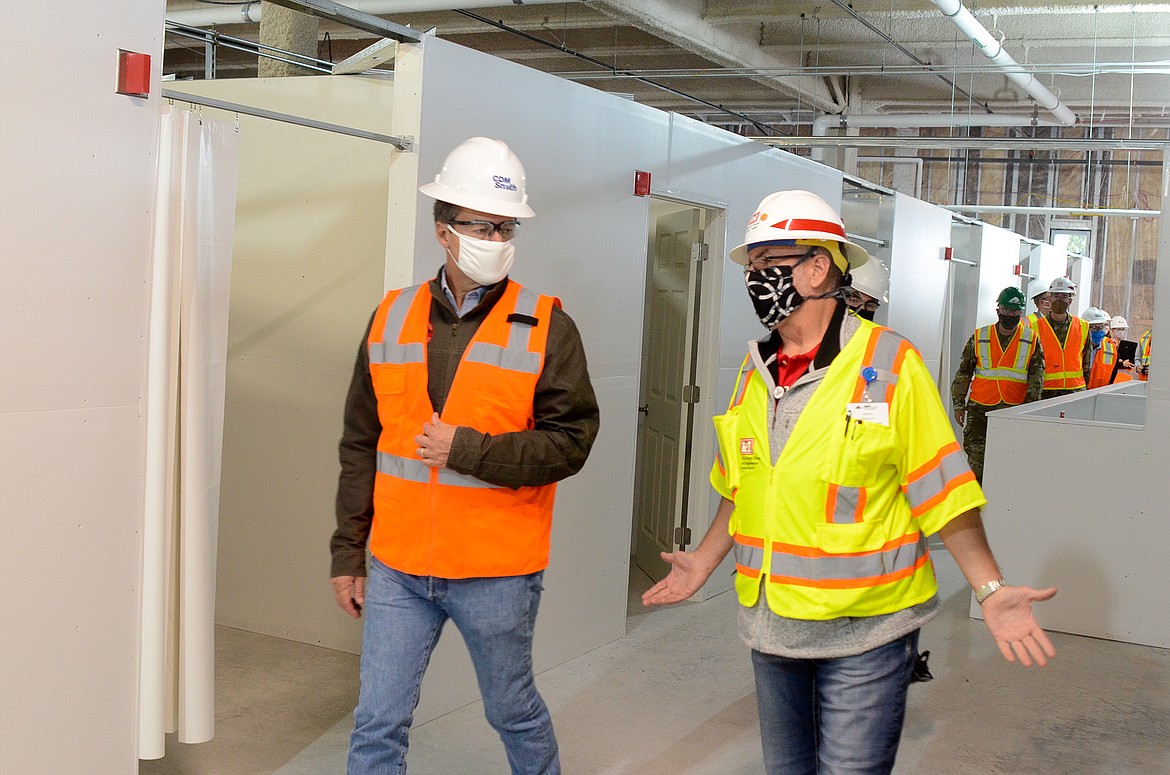 Montana Gov. Steve Bullock, left, tours the alternate care facility at Montana Children's in Kalispell on Thursday. The space would be used for non-COVID-19 patients to create more capacity for treating patients infected with the virus in the hospital's acute-care settings. (Matt Baldwin/Daily Inter Lake)
by
MATT BALDWIN
Daily Inter Lake
|
May 22, 2020 1:00 AM
Construction work is progressing swiftly on a temporary care facility in Kalispell that will handle an overflow of patients should a new wave of coronavirus cases overwhelm Montana's health care system.
Kalispell Regional Healthcare was recently selected by Montana's COVID-19 Task Force as a location for an "alternate care center" to serve Western Montana. A second care center is being built in Billings.
The space would be used for non-COVID-19 patients to create more capacity for treating patients infected with the virus in the hospital's acute-care settings.
The temporary facility is being built on an unused floor at the new Montana Children's hospital on the Kalispell Regional Medical Center campus. What was essentially an empty floor a week ago now resembles a sophisticated medical unit with seven nursing stations and 101 private patient rooms.
The U.S. Army Corps of Engineers led the project effort under a mission assignment from the Federal Emergency Management Agency. Local construction crews were hired for the work and are expected to wrap up by this weekend.
"It's been a lot of teamwork to deliver this project ahead of schedule," said Brigadier Gen. Peter Helmlinger, Division Commander for the Corps of Engineers Northwestern Division.
"Everybody understands the priority for this project and has worked hard to expedite the process," he said. "It's really appropriate with Memorial Day coming up that we're able to provide this space as an insurance policy for the state of Montana."
There are no immediate plans to use the space, "which is good news," Helmlinger said. "But if it is needed it can be turned on very quickly."
Montana Gov. Steve Bullock toured the site Thursday. While impressed with the facility and the coordinated effort to get it done quickly, he said he hopes the work is all for naught.
"It's something that, hopefully, we can marvel at, but never use," Bullock said. "But we know that if something comes up, we're ready for it."
He called the project a great partnership between the Corps of Engineers, FEMA, the state, local tradesmen and Kalispell Regional Healthcare.
The facility is funded by FEMA without any cost to the hospital. The state is responsible for the supplies and equipment outside of the FEMA-funded construction. The federal agency is funding the 75% federal cost share for the project and the state will fund the remaining 25%.
---