Dairy operation adds hamburger sales
by
BRET ANNE SERBIN
Daily Inter Lake
|
May 24, 2020 1:00 AM
Kalispell Kreamery is finding a creative new way to navigate the uncertain food supply amidst the COVID-19 outbreak. The beloved farm started selling hamburger meat at their farm store after the pandemic disrupted their normal out-of-state meat markets.
"The market dropped out for cull cows because of COVID-19," explained Mary Tuck, who co-owns Kalispell Kreamery along with her husband and parents.
Cull cows, Tuck clarified, are the population of cows that are no longer producing milk. These cows, typically the older members of the herd or ones with health problems, are usually sold at out-of-state meat markets at the end of their lives. Due to the changes with COVID-19, Kalispell Kreamery decided to start sister company Kalispell Beef Company to keep the meat in the valley.
"In the dairy industry, there are always cull cows," Tuck explained. "This is the most humane way of an end-of-life plan for these animals."
She stressed that the cows are treated with extreme care throughout their time at the creamery, without any antibiotics or hormones.
"It's really important for us that our milk drinkers know that these cows have had happy lives," she said. "We're a small dairy who does really respect our cows. We love our cows."
Since Kalispell Kreamery uses Holstein cows, their meat options are mostly limited to ground beef. Tuck explained Holsteins, which are bread for their milk, generally produce lower-quality meat when it comes to other cuts like filet mignon or prime rib. Kalispell Beef Company therefore currently offers extra-lean hamburger meat, processed locally by Vandevanter Meats, in one-pound quantities at their farm store.
Milk is still Kalispell Kreamery's number one priority, Tuck insisted, but now they are also able to use their herd for meat as well. She recognized regular customers might be a little surprised about the new venture, and this hesitation kept Tuck from making the transition prior to the pandemic. But with the new normal in the meat industry, she said, "We have to have somewhere for those cows to go… We figured it would be a really good time to make that leap."
It's good timing, Tuck pointed out, because adding this local meat option contributes to a more sustainable local food chain at a time when reliable food sources are becoming increasingly important.
"People are really looking for local food they can trust," Tuck noted. "They want food that's reliable and not depend on food coming from a long way away."
Beef, in particular, has been an increasingly hard-to-find grocery item, so Tuck and her family were encouraged to provide hamburger meat to local customers during this crisis situation. "Everyone else in our community was looking for hamburger too," Tuck realized. "We did this to provide to the community because of Covid, and because of the way the market has changed."
It's helped, too, because customers visiting the Farm Store to try the new product have also been purchasing a lot of ice cream during their visits, which is helping carry the dairy through this challenging time.
Tuck said Kalispell Kreamery hopes to continue their meat sales and eventually consider expanding into different cuts if the new business remains popular. She said Kalispell Beef Company will stick around, "As long as that positive community support continues."
Kalispell Beef Company extra-lean hamburger meat is available in one-pound portions at the Kalispell Kreamery Farm Store, 480 Lost Creek Drive, from 7 a.m. to 3 p.m., Sunday through Thursday.
Reporter Bret Anne Serbin may be reached at (406)-758-4459 or bserbin@dailyinterlake.com.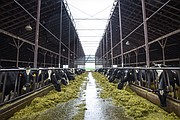 ---