Kalispell Chamber CEO to step down this fall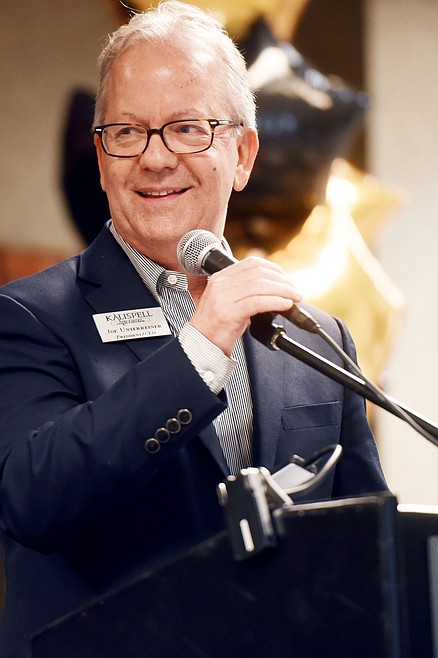 Joe Unterreiner, president and CEO of the Kalispell Chamber of Commerce at a Chamber event. Unterreiner plans to step down as CEO later this fall. (Brenda Ahearn/Daily Inter Lake FILE)
by
BRET ANNE SERBIN
Daily Inter Lake
|
May 26, 2020 2:28 PM
Small businesses across the Flathead Valley are facing a fluid future as they navigate the state's gradual reopening, and an upcoming transition in business leadership is sure to bring even more changes to the local business sector. After 24 years with the Kalispell Chamber of Commerce, President and CEO Joe Unterreiner will be stepping down from his position this fall.
"It's been great," said Unterreiner, who joined the Chamber in 1996 and has guided its local efforts ever since. "I think that's long enough."
Unterreiner has been in conversations with the Kalispell Chamber Board of Directors about his departure since the beginning of the year. He said he has no immediate plans to follow up his long tenure at the Chamber, but he felt like he was ready to step aside after almost a quarter-century with the organization.
He promised he'll stick around until this fall in order to oversee the transition. Mike Smith, Senior Vice President of Glacier Bank, is leading the search for Unterreiner's replacement.
"He's looking for a top person to carry things forward," Unterreiner reported. He was confident: "I'll be here to assist smooth that transition."
But it will no doubt be a tall task to fill Unterreiner's shoes after the pivotal role he has played in the valley's development since the 1990s.
Before coming to Kalispell, Unterreiner first worked in Washington, D.C., with the Reagan Administration's Executive Office of the President and the Federal Home Loan Bank Board. There he met his wife, a native of Belt, Montana, and the couple traveled to Greece to spend three years in the American Embassy in Athens. When they returned stateside, Unterreiner spent the next 10 years in commercial real estate and leasing in Los Angeles.
Like a lot of visitors to the valley, their family spent many vacations hiking and skiing throughout the area, so when the position at the Chamber opened up, Unterreiner and his family decided to fast-track their plans to eventually retire in Montana.
Since then, Unterreiner has helped transform Kalispell into an economic hub.
"This time period has really been the story of the evolution of Kalispell," Unterreiner remarked.
He remembered when he first moved to the area, Kalispell "used to be satellite of Missoula." Over the years, the chamber's focus on tourism, business advocacy, health care and innovation has helped Kalispell cement its place as an industry destination for a variety of professions.
Unterreiner has championed these priorities throughout his time with the Chamber, from meeting elected officials in Washington, D.C., and Helena to discuss legislation; to working with the hospital and local school districts to start the new Bioscience Alliance; to being "consistently out there banging the drum" to get support for transportation projects like the U.S. 93 Bypass.
He was pleased at the ways these initiatives have helped create well-paying jobs, preserve downtown Kalispell and provide services unmatched anywhere else in the state, like Montana Children's at Kalispell Regional Medical Center.
He emphasized the integral role that the Chamber Board, staff and local collaborators have played in all of these developments, and he was certain they would be able to carry the torch after his departure.
"Part of an organization like this is really responding to the needs of businesses," he pointed out. "Those needs are constantly changing…As the needs of business changes, the goals of the Chamber will change."
He was therefore optimistic about the Chamber's ability to continue to adapt without their longtime leader. He recognized the COVID-19 pandemic adds some uncertainty to the outlook, but he was encouraged by the state's gradual trend toward reopening businesses and inviting in tourists once again.
"We're trending upward for our economic potential and opportunity here," he insisted. "There are still some big challenges ahead of us: focusing on reemployment and getting things back to the high level where they were."
But with his characteristic upbeat attitude, he said, "hopefully we're back in full swing by the end of the transition in October."
Reporter Bret Anne Serbin may be reached at (406)-758-4459 or bserbin@dailyinterlake.com.
---