Mack Days fishing tourney resumes June 2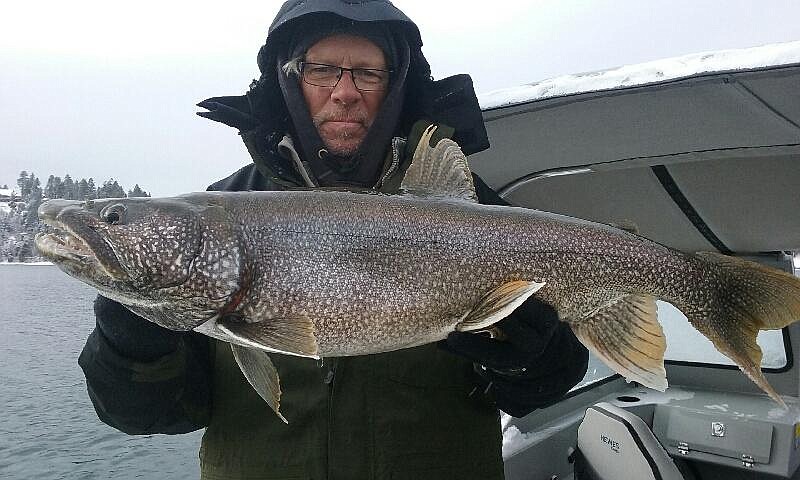 Mack Days champion Mike Benson with a lake trout. (Tim Mooney / courtesy photo)
by
SCOTT SHINDLEDECKER
Daily Inter Lake
|
May 30, 2020 1:00 AM
Many thought the 2020 Spring Mack Days fishing tournament on Flathead Lake wouldn't return, but it has.
Event organizers sent a news release reporting it will resume Tuesday, June 2, with an extended schedule and under strict safety measures.
The Confederated Salish and Kootenai Tribal Council approved the extension, provided the event can be conducted safely and without any social gathering.
The extended event will end Sunday, June 28, making it a total of five weeks. The contest began March 20 and was suspended March 27 out of concern over risks from COVID-19.
"We will require that all anglers follow social distancing guidelines and other specific safety measures. We hope for sunny skies and calm water for anglers during June so everyone can enjoy being out on the lake catching a lot of lake trout," event manager Cynthia Benson said. "Mack Days are a management tool used to reduce the numbers of non-native lake trout in Flathead Lake to increase native bull trout and westslope cutthroat trout.
"The Tribal Council recognized the importance of these events and chose to proceed cautiously with the understanding that anglers will follow strict safety protocols," she said.
There is up to $225,000 in cash and prizes which will be awarded at the conclusion of the event. Tagged lake trout are still out there. There is one fish worth $10,000, three worth $5,000, five worth $1,000 each and more than 6,000 additional tagged fish with values from $100-$500.
All anglers who turn in 11 or more fish qualify for bonus amounts for their totals. Every fish anglers enter gives them a chance to win in the lottery style drawing that begins at $450 and up to $1,000.
"We will have a few changes to the event and anglers can count on more changes as it progresses so should stay tuned and watch the Mack Days website," Benson said. "We are trying to make the event fair and safe for everyone. "
Beginning June 2, fish will be accepted every day until June 28. Fish pickup sites are:
• Yellow Bay-6:30-7 p.m.
• Big Arm-6-6:30 p.m.
• Wayfarers-6-6:30 p.m.
• Westshore-5-5:30 p.m.
• Somers-5:30-6 p.m.
• Salish Point-7-7:15 p.m.
Blue Bay is open for reservation residents only. Fish can be turned in from noon to 8 p.m. by any participants at Blue Bay if you deliver your fish to the Blue Bay dock.
Anglers wishing to deliver to the dock should call 406-270-3386 to reach Cindy.
Here is the protocol for turning in fish at designated locations:
1. Only one person at a time to turn in fish.
2. Anglers bring their cooler to vehicle and count their catch out loud into Tribal container
3. Staff confirm the count and record the catch
4. When angler is done, angler steps back and next angler moves in place.
5. There will be no contact between anglers and staff and no tickets exchanged. The drawing will be done electronically at the end of the contest.
Leading the anglers in the event with four perfect 100 fish days is Jason Mahlen of Kalispell. Top 10 anglers will be placed by their best 12-day average. Kolton Turner of Kalispell is second with 337, Mike Benson of Lonepine third with 335, Scott Bombard of Missoula is fourth with 272, Bob Turner of Kalispell is fifth with 354, Sam Cusker of Bigfork is sixth with 233, Ken Varga of Kalispell is seventh with 227 and John Gauci of Florence is eighth with 228.
Tyler Varga of Kalispell is ninth with 224 and Larry Karper of Florence 10th with 219.
Julie Perkins of Kalispell leads the ladies with 135, Debbie Paine of Polson is second with 49 and Connie Jones of Kalispell has 43. Matt Guckenberg Jr., of Kalispell, is leading the 13-17 age group with 118 and Brodie Smith of Kalispell leads the 12 and under with 29.
There will be no fish fry on the last day of the event to avoid social gathering. Cash awards will be drawn electronically and mailed out after the conclusion of the event.
Reporter Scott Shindledecker may be reached at 758-4441 or sshindledecker@dailyinterlake.com.
---